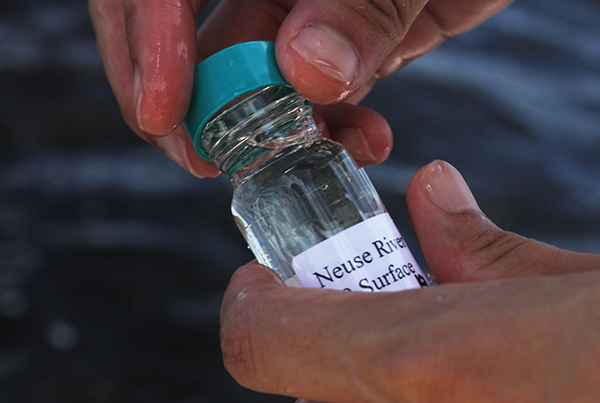 photo by Mary Lide Parker
Sequencing the Sea

UNC marine scientists unveil never-before-seen interactions between algae and bacteria that are thought to propagate their growth — a research finding that creates the possibility to forecast blooms and take measures to prevent them.

Welcome

A message from the Vice Chancellor: Establishing a network for research connectivity and convergence with creativity hubs

Research is in an era of unprecedented discovery and innovation in natural, social, and biomedical sciences. Innovative ways of connecting culture, meaning, narrative, and history promise an even richer understanding of our complex world. Powerful new tools and technologies allow for deeper understanding of the world in which we live.

As problems become more complex, researchers with divergent expertise are needed to work together to form new knowledge, generate new ideas, pursue groundbreaking research, and solve difficult problems. Creative inventions are nearly always accelerated through the formation of these new collaborative and cross-disciplinary teams.

We need to create an environment where investigators thrive — leveraging new advances to keep UNC-Chapel Hill at the forefront of creativity and innovation. Consistent with our standing as a world-class research institution, Carolina is greatly advantaged by already having a highly collaborative and interdisciplinary environment that crosses all boundaries. In fact, one in every three research dollars involves cross-school collaborations. Even still, we are not fully capitalizing on these advantages by rallying around major problems.

We are proposing the development of fluid, cross-disciplinary research by establishing proactive creativity hubs that nurture research innovation and risk. The hubs will seek answers to major problems by building a pervasive culture that promotes discovery and curiosity, and recognizes and rewards exceptional performance. They will bring together investigators across diverse disciplines to establish a virtual network, yet keep investigators housed in their own community environments so they can benefit from interactions and thinking of those within their disciplinary field. Such an approach also maximizes dollars of support to the research being conducted, rather than investing in new infrastructure that may undermine the very collaborations it seeks to promote.

As part of the university's strategic planning process, the Office of the Vice Chancellor for Research is developing plans to establish creativity hubs to enable convergent research at UNC. We look forward to sharing these plans with you as work continues.

Thank you,

Terry Magnuson
Vice Chancellor for Research

News & Updates

From around UNC Research

HPDP receives $1.5 million to develop diabetes self-management education toolkit

The Center for Health Promotion and Disease Prevention (HPDP) was awarded a $1.5 million contract to develop a national toolkit for public health and clinical providers to assure that people with diabetes have access to evidence-based education and support programs to help manage their condition. While proven to be cost-saving and have a positive impact on diabetes-related outcomes, diabetes self-management education and support programs remain underutilized among patients and health care professionals. The goal of this project is to expand access to these programs to ensure that all people with diabetes are able to receive the care they need. The research team will market the programs to state health departments and help them distribute the program across their states.

Highway Safety Research Center to lead one of five national transportation centers

UNC's Highway Safety Research Center has been selected to run a National University Transportation Center funded by the U.S. Department of Transportation. The university will receive $2.8 million in the first year, and up to $15 million over five years, for the creation and management of the Collaborative Sciences Center for Road Safety (CSCRS) — an opportunity for UNC to lead and influence the future of transportation safety research in the United States. In collaboration with the Department of City and Regional Planning and the Injury Prevention Research Center, the CSCRS will accelerate progress in reducing injuries and fatalities on our nation's roads by offering a new paradigm for how to understand and address traffic issues.

Coastal Resilience Center launches new blog

In October, the Coastal Resilience Center began a blog to share news and perspectives from researchers and directors; stories from students within its education projects; and collections of good reading, jobs, and other assorted items related to the natural hazards field.

Inside UNC Research

infographic by by Corina Cudebec

The Office of Research Communications kicked off 2016 with its new Women in Science Wednesday series, featuring one woman each Wednesday whose research focus falls within the fields of science, technology, engineering, or mathematics. The series has been an immense success, highlighting the work of 48 female scientists at all levels of their careers, from a variety of departments across campus. Visit research.unc.edu to view the full infographic.

December 9

Hepatitis A: New Insights into an Ancient Disease

This discussion led by UNC School of Medicine infectious diseases professor Stanley Lemon will delve into new findings surrounding hepatitis A, a liver disease. Sponsored by UNC Institute for Global Health and Infectious Diseases.

December 11-12

Winter Wildlife at Mattamuskeet and Pungo Lake

This field trip to Mattamuskeet and Pocosin Lakes National Wildlife Refuges will help both novice and seasoned birders identify waterfowl, raptors, and other bird species. Sponsored by the North Carolina Botanical Garden.

December 16

HIV and the Mouth

This presentation by UNC School of Dentistry's Jennifer Webster-Cyriaque will discuss HIV, opportunistic infections, and inflammation within the mouth. Sponsored by UNC Institute for Global Health and Infectious Diseases.

January 17

Gluten, Lactose, Allergens, Oh My!

This "Appetite for Life" talk by UNC nutrition professor Martin Kohlmeier will focus on an online application that calculates a user's total energy intake and determines key nutrients and food groups needed to remain healthy. Sponsored by Nutrition Research Institute.

photo by Kaylyn Gootman

Tools of the trade in UNC's Cable Lab, which focuses on the hydrologic processes at the land-sea boundary. These samples were taken along a stream and are being processed for sediment grain size analysis, among other characteristics. Such measurements provide information to researchers about the physical properties of a streambed.

Research Spotlights

Discover amazing findings from UNC Research

Well Said: UNC's HIV Research

Thanks to UNC's growth as an HIV research hub since the 1980s, treatment for the disorder has undergone a drastic transformation — it's no longer a death sentence but a virus that can be managed with medication.

The Next Flint Water Crisis

A new study by UNC Gillings School of Global Public Heath researcher Jacqueline MacDonald Gibson suggests a number of minority American neighborhoods are at risk of having unhealthier water than their white counterparts.

60
percent of Georgia's 4-year-olds are served by the state's pre-K program, shown to bolster growth in language/literacy, math, self-knowledge, and social skills.

1,500
years ago, humans began domesticating turkeys — a new finding that pushes domestication back another 100 to 200 years.

100,000
acres from Alabama to Virginia have burned due to wildfires caused by unusually dry conditions, possibly due to La Niña.