Images not displaying properly? View the online version.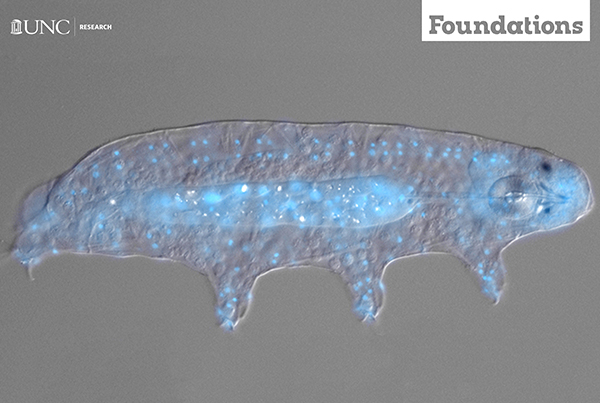 photo courtesy of the Goldstein Lab
The Survivors

Heat-resistant. Cold-weather tough. Outer space savvy. If anything, tardigrades are survivors above all else. But what makes them so resilient? Thomas Boothby strives to figure that out and hopes to discover how these microscopic animals can be used to preserve biological samples like blood, human tissue, and vaccines.

Welcome

A message from the Vice Chancellor

In December, Science announced its 2018 Breakthrough of the Year, which highlighted a trio of innovations in tracking embryo development cell by cell. These breakthroughs are the result of technical advances that allow scientists to isolate large numbers of cells from a living organism, sequence the genetic material inside each cell, and track the movement of the cells over time to understand better how they work together to create complex organs — creating great potential for new discoveries in basic research and medicine.

This breakthrough work follows the 2002 Nobel Prize-winning research of John Sulston, who studied the developing roundworm. By painstakingly tracking each cell during subsequent cell divisions, Sulston was able to determine the complete cell lineage of the embryo. One of my own papers examined the cell lineage of a mouse embryo by focusing on a gene that, when mutated, disrupted its development.

Just last year, scientists revolutionized single-cell analysis and tracking using advanced technology. Through research studies using cells from organisms such as flatworms, fish, and frogs, investigators discovered new cell types and developmental trajectories previously unknown. We now know, for example, that some damaged tissue reverts to an embryonic or undifferentiated state, allowing the cells to build a new limb from scratch. Engineered markers make it possible to track cells and understand their molecular states as they develop into a complex organism.

Although these techniques cannot be used in developing human embryos, similar approaches have led to an international consortium that is defining the Human Cell Atlas — an effort to identify every human cell type, where it is located in the body, and how cells integrate to form organs.

I am proud of the innovative work of my colleagues here at UNC who are contributing to the understanding of cell movement and development. Amy Gladfelter, for example, studies how cells organize in time and space. Bob Goldstein examines how cells move to specific positions during development. Amy Maddox combines high-resolution microscopy with other techniques to study cell shape changes. Paul Maddox combines quantitative image analysis with other high-resolution techniques to study cell division. Jim Bear uses live-cell microscopy to track migration of cells to understand development of tissue architecture. Sreeja Asokan has developed microfluidic assays to study cell migration in response to external cues.

Because of the technological advances and the computational ability to integrate data, many exciting breakthroughs in both normal and abnormal cell development are leading to a greater understanding of disease. I am delighted to witness this revolution and eager to see the discoveries yet to be made.

Terry Magnuson
Vice Chancellor for Research

News & Updates

From around UNC Research

$65 million UNC Pinnacle Hill funding opportunity now open

Short-form pre-proposals are now being accepted for novel drug therapy projects through UNC's Pinnacle Hill partnership with Deerfield Management. This new campus funding opportunity offers Carolina researchers pursuing novel drug therapy solutions the opportunity to tap a $65 million resource to fund studies designed to move therapeutic discoveries to the investigational new drug (IND) stage. Vice Chancellor for Research Terry Magnuson serves on the Pinnacle Hill Joint Steering Committee, along with School of Medicine Vice Dean for Research Blossom Damania and Eshelman School of Pharmacy Interim Dean Dhiren Thakker. The pre-proposal application portal went live on Monday, January 7, and the deadline for pre-proposal submissions is Sunday, February 10. Visit the Pinnacle Hill website to learn more.

Submit a proposal for a UNC Idea Grant

The UNC Idea Grant is a pilot funding program that encourages researchers to develop novel ideas that address important problems or roadblocks to a current line of inquiry. Open to researchers across all disciplines, the grants range between $10,000 and $20,000 for up to one year. Applicants must hold a primary tenure-track or research-track faculty appointment and demonstrate how their proposed research project will enable competitiveness for future extramural funding. Complete application instructions may be found at the Office of Research Development's internal funding page and are due by 5 p.m. March 15. Awarded projects will have a start date of July 1.

Research division to serve as pilot for hiring initiative at UNC

Executive Vice Chancellor and Provost Bob Blouin announced this fall that UNC is in the beginning stages of a "journey to excellence" with the Carolina Excellence Initiative. The goal of the initiative is to create high-functioning administrative operations that will improve services for end users and align with the operational priorities in The Blueprint for Next, the university's strategic framework.

There are two early impact development areas underway: hiring and procurement. These two areas will serve as a model for redesigned protocol in human resources, finance, and research administration. The Research Division recently was chosen to pilot the hiring redesign. The new hiring procedures have already demonstrated improvement in the speed of the hiring process within the division.

Hiring managers with open recruitment should work closely with their unit's human resources representative to learn about changes in the hiring process.

$1 million gift creates new environmental internships for undergraduates

A new $1 million gift from Pavel Molchanov, an expert in energy sector analysis, creates an endowment to fund summer professional experiences for undergraduate students at UNC. Each year, the Pavel Molchanov Scholars program will provide eight to 10 students with a $5,000 stipend to pursue environmental-themed internships at regional businesses, nonprofit organizations, and government agencies. The aim is for students to have the opportunity to supplement their academic studies with hands-on experiential training.

"This generous gift allows us to invest in the next generation of leaders in the environmental realm by funding transformational professional experiences for Carolina undergraduates," Institute for the Environment Director Michael Piehler says. "We are grateful to Mr. Molchanov for his generosity and commitment to preparing students for environmental careers."

Hurricane Matthew recovery reports available on CRC website

The Hurricane Matthew Disaster Recovery & Resilience Initiative, an 18-month effort led by the Coastal Resilience Center (CRC), has produced final reports on efforts to aid the recovery process in six eastern North Carolina communities hit by Hurricane Matthew in October 2016. Through disaster-recovery appropriations and the N.C. Policy Collaboratory, the initiative was funded by the State of North Carolina, as well as the Flood Apex program within the Department of Homeland Security Science and Technology Directorate.

Spring software program training at The Odum Institute

The Odum Institute is offering a series of software trainings this semester. Enroll in their four-part course on SAS analysis software, from January 28-31. Learn about syntax, data files, analytical procedures, graphics, merging files, and how to convert data into other formats using SPSS Statistics software in another course, offered January 28, January 30, and February 1. Lastly, on February 5 and 12, delve deeper into the coding and qualitative text software ATLAS.ti 8, which provides numerous options for attaching memos and comments to text segments, documents, and codes. No registration required; students, faculty, and staff must show their UNC OneCard for all course admittance.

HPDP expands project promoting healthy eating and exercise for kids

The Children's Healthy Weight Research Group, part of the Center for Health Promotion and Disease Prevention (HPDP), is excited to announce that eight new states are joining the Go NAPSACC program, which promotes best practices in healthy eating and physical activity for early childhood care and education programs. Alabama, Connecticut, Illinois, Indiana, Kentucky, Missouri, South Carolina, and Texas have joined 12 existing states. To accommodate the program's expansion, the Go NAPSACC team has redesigned its website, which offers a web-based toolkit for child care providers based on the latest research and guidelines in the field. To date, the program has been implemented by 1,500 child care programs serving 73,000 children.

Inside UNC Research

Five Questions with Gail Whitfield, Office of Research Development & Office of Postdoctoral Affairs

photo by Mary Lide Parker

What is your role within the UNC Research Division?

I am the executive assistant to Nathan Blouin, director of the Office of Research Development (ORD), and Sibby Anderson-Thompkins, director of the Office of Postdoctoral Affairs (OPA). I am also the internal funding coordinator, which means I manage the funding program, from collecting applications and preparing them for faculty review to making sure funds are transferred and receiving final reports.

You've been at UNC for more than 20 years. Where did your career at Carolina start?

I started as a temporary employee in the Office of Technology Development in November 1995. By May, I was hired permanently as an office support and then as assistant to the director, Francis Meyer. In September 1997, I became the first permanent support staff employee in the then Proposal Development Initiative, which, in 2000, became a permanent department called the Office of Research Development.

You are a founding member of the Office of Research Development. What would you consider to be your biggest achievement there?

As the first permanent employee of ORD, I would have to say helping the director at the time, Jacki Resnick, build the office presence on campus and helping the campus understand what research development was since, at the time, it was a new field. In fact, Resnick was instrumental in developing the National Organization for Research Development Professionals. ORD also established the protocols for limited submissions grants and awards, which the office manages.

In your experience, how has the research enterprise grown during the last two decades?

It has grown tremendously. It went from serving a few faculty and departments to hundreds of faculty, departments, and schools — which amounts to millions of research dollars awarded with the help of ORD's collaboration and research team building. In 1998, about 10 annually funded limited submissions and grants were awarded; in 2018, approximately 65 were awarded.

If you left the administrative side of the research division to become a researcher, what field of study would you choose and why?

Public policy — specifically health disparities in underrepresented communities and disabled children. I have a disabled grandchild who has many health issues, and I get frustrated that the doctors do not work together as a team to address his needs.

February 12

NINR Campus Visit

Learn about the current funding opportunities, grant mechanisms, and priority areas for the NIH NINR.

February 12

Plasticity, Epigenetics, and Evolution

Celebrate Darwin's birthday with this Darwin Day Lecture from UNC biologist David Pfennig, who will examine how environmentally induced changes to organismal development affect evolution.

February 13

N.C. Child Hunger Leaders Conference

Network with educators, nutrition professionals, elected and appointed officials, community leaders, and others who are working to find innovative ways to feed more children.

February 28 - March 1

Clean Tech Summit

Discover the latest innovations, trends, and challenges in the clean technology industry and how North Carolina is playing a key role in leading the way to a global clean energy economy.

Research Spotlights

Discover amazing findings from UNC Research

The New Young Person's Disease

A third of heart attacks now occur in women under the age of 55, according to a new study lead by UNC cardiology fellow Sameer Arora.

African-American Teachers Impact Black Students

Research from School of Education professor Matthew Springer found that black elementary students scored higher on reading and math test scores when they had a teacher of the same race.

2.5
percent increase in salt consumption from fast food in China is linked to an increase in chronic illness across the country.

250
private wells in Robeson and New Hanover Counties will be tested for contamination in the aftermath of record flooding from Hurricane Florence.

15,000
white dwarf stars observed by researchers leads to evidence of their crystallization, a discovery predicted more than 50 years ago.