Images not displaying properly? View the online version.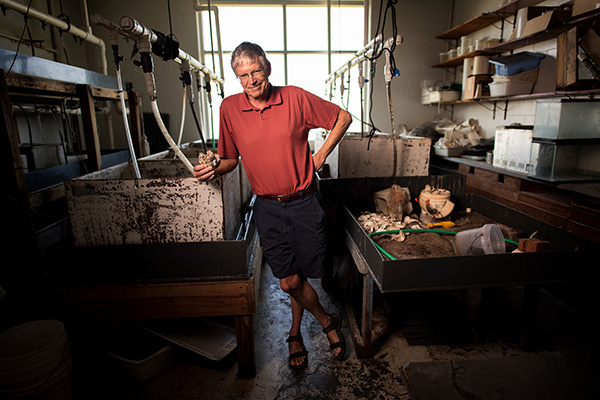 photo by Jon Gardiner
Captain of the Coast

From the shores of New Jersey to the North Carolina coast, Pete Peterson has always loved the ocean. He's spent nearly five decades researching its marine life, fighting for its protection, and guiding the next generation of marine scientists to do the same.

Welcome

A message from the Vice Chancellor

I live in a neighborhood of artists: painters, potters, and sculptors, all highly motivated to interpret the world around them through their crafts. I witness the same environment here at UNC, where scholars and students alike strive to understand humanity through creative expression. The Arts Everywhere initiative, founded by the departing Emil Kang, has illustrated how the arts are a fundamental part of our campus life and our work. A collaboration between many departments, units, and organizations, the goal of Arts Everywhere is to inspire original ideas and provoke change.

Though our subjects, methods, and audiences are different, our goals as researchers are similar to artists', and often merge. In his 1906 Nobel Prize-winning work on brain structure, Santiago Ramón y Cajal discovered that individual cells (neurons) comprise the brain. His findings challenged the belief of the day that the brain was a continuous, interconnected structure. Today's research on the brain and brain-related diseases, such as Parkinson's and Alzheimer's, are based on Cajal's findings. Fundamental to his work was his artistic training and more than 3,000 original drawings of the brain. During last Spring semester, UNC's Ackland Art Museum hosted 80 of his pieces in the exhibit "The Beautiful Brain: The Drawings of Santiago Ramón y Cajal."

In another example, the North Carolina Museum of Art recently showcased images created by UNC neuroscientists entitled "The Art of Science and Innovation." The exhibit illustrated how experimentally produced images are used to understand structures within biological systems. UNC System President Bill Roper said of the works that, "The images in the exhibition showcase the unexpected beauty found in the life-changing medical and scientific research that happens every day at UNC." Emily Kotecki, manager of interpretation at the museum, added: "Integrating the arts helps collapse the walls of traditional subject matter and makes all learners more aware of the interdisciplinary world they inhabit [...] to make connections, foster creative and critical thinking, and develop awareness of multiple perspectives."

In 2015, Frank Wilczek, a Nobel Prize recipient, published the highly acclaimed book, "A Beautiful Question: Finding Nature's Deep Design." I highly recommend it. In the book, he connects the arts and sciences as disciplines that both "strive for a deeper order of beauty in nature [...] the hallmarks of which are harmony, balance, proportion, and economy." Wilczek explores the idea that beauty and art are intertwined with the scientific understanding of life by asking, "Does the universe embody beautiful ideas?"

This philosophy that art is science and science is art is deeply embedded in Carolina's Blueprint for Next: of and for the people, innovation made fundamental. Art and science bring us together for the shared purpose of better understanding the world around us.

Terry Magnuson
Vice Chancellor for Research

News & Updates

From around UNC Research

Todd BenDor named director of Odum Institute

Todd BenDor has been named director of the H.W. Odum Institute for Research in Social Science, effective July 1. Since last September, BenDor served as the institute's interim director. A member of the faculty since 2007, he was previously the director of the Department of City and Regional Planning's PhD program and PhD admissions in the UNC College of Arts & Sciences. He also serves as a professor within the department. In his research, he uses quantitative and qualitative techniques to better understand the impacts that human activities and development can have on sensitive ecological and environmental systems.

As director of the Odum Institute, BenDor leads a team of analysts, consultants, and technical experts in their mission to enable UNC researchers to broaden the scope and impact of their research. The institute trains and equips social science researchers through consulting, teaching, and maintaining a digital social science archive. On an annual basis, the Odum Institute serves more than 2,000 unique users in their computer labs, provides 3,200 individual consultations, and offers 3,600 seat hours of instruction through 70 workshops. The institute is a key resource for scientists at Carolina and is a world-renowned resource for social and data science research and education.

Four teams receive Creativity Hubs awards

What if data on the devastating impacts of extreme storms and floods could inform and predict future problems for people who live along a coast? What if scientists could develop a therapeutic capable of suppressing a wide variety of viral infections, saving lives and billions of dollars in direct medical and economic costs? What if powerful chemical and genetic tools are combined to alter how genes are modified to treat human disease? And what if artificial intelligence could help identify the best way to harness solar fuels?

These are the questions being explored by the winning teams of this year's Creativity Hubs awards. The 2019 awardees of two-year funding are:

The Dynamics of Extreme Events, People, and Places (DEEPP) Hub collects and integrates data that has not previously been compiled on all of the dynamics that extreme storms and flooding create, aiding in the prediction of impacts of future storms on the multiple facets of coastal habitats and inhabitants.


Addressing a critical unmet public health need, the ID3@UNC Hub brings together scientists across the fields of virology, proteomics, bioinformatics, chemical biology, and drug discovery to provide new antiviral therapeutics useful for treating multiple viral diseases.


The Chemical Epigenomics Hub combines chemical biology approaches with epigenetics to identify, develop, and apply chemical tools to better understand epigenetic processes, ultimately improving the treatment of human disease.

Additionally, the AI Accelerated Discovery of Solar Energy Materials project has been awarded one year of Creativity Hubs funding for further development. The project seeks to capitalize on recent advances in data science and artificial intelligence (AI) to analyze existing data and devise completely new ways to enhance current solar fuel technology.

OVCR releases commitment to diversity statement

The Office of the Vice Chancellor for Research (OVCR) has released an updated statement on its commitment to diversity:

The Office of the Vice Chancellor for Research is committed to building and supporting a diverse, inclusive, and welcoming research culture at UNC-Chapel Hill. The OVCR supports UNC's Diversity and Inclusion mission statement, "to build understanding across differences, create conditions to ensure the equitable educational and social benefits of diversity, and cultivate a welcoming and supportive environment." We implement the statement by training and supporting diverse students, postdoctoral scholars, faculty, and staff members who contribute to the excellence of our research enterprise. Our goal is to recruit and nurture inclusive research teams to foster a creative scientific workforce.

Request for information on diversity, equity, and inclusion

UNC Research would like to highlight the outstanding work being carried out across the division that supports diversity, equity, and inclusion in research. Please share how your units and teams:

exemplify UNC Research's commitment to diversity;


support efforts to broaden participation in the research workforce, or improve access and opportunities for underrepresented populations among your students, postdocs, faculty, staff, or community partners;


create and sustain a climate in which respectful discussions of diversity are encouraged; or


conduct or support research that advances our understanding of diversity, equity, and inclusion.

Direct your submissions to Sibby Anderson-Thompkins at sibby@email.unc.edu.

IE joins U.S. General Services Administration Schedule

The Institute for the Environment (IE) recently joined the U.S. General Services Administration (GSA) Schedule to offer environmental services to federal government agencies. The GSA Schedule offers the federal government a centralized procurement portal for federal agencies to seek products, services, and facilities to effectively and efficiently perform their functions.

Not only can IE be selected for a contract, but anyone at UNC doing environmental work can now bid on and provide services for a federal agency seeking environmental consulting services. Once a contract is established with an agency, that agency can work directly with a UNC entity on-demand to perform research related to the environment. "This gives us a much larger avenue in terms of securing federal dollars for conducting research at UNC," IE Deputy Director Sarav Arunachalam says. "It allows us to continue to grow."

FPG wraps on second Summer Institute, launches impact center

The second annual Summer Institute on Implementation Science took place on June 10-12 and featured an impressive panel of experts from across the globe who gathered to tackle important issues related to supporting equitable implementation and outcomes for people and communities. Cohosted by the Frank Porter Graham Child Development Institute (FPG), UNC School of Social Work, and National Implementation Research Network, the event provided an opportunity for social workers, public health professionals, and implementation scientists to share practical tools and resources that public agency and nonprofit professionals can use to support change efforts to advance equity and social justice.

FPG also recently launched its newest unit, The Impact Center at FPG. The center focuses on catalyzing the impact of effective programs, practices, and policies with implementation science and support. Through the center's portfolio of projects, FPG team members contribute to the capacities that communities and public systems need to successfully scale effective prevention and wellbeing strategies.

Learn more about the ADCIRC Prediction System

The Coastal Resilience Center has launched a new website focusing on the ADCIRC Prediction System (APS). APS combines the ADCIRC model, ADCIRC Surge Guidance System, and CERA mapping tool to provide timely, high-resolution information on coastal storm surge, waves, flooding, and winds. Learn more about APS and the tools that make it work at adcircprediction.org.

NC TraCS funds research for life-saving drones

Researchers from Carolina and NC State conducted a feasibility study of automatic external defibrillator (AED) delivery via drone to test whether drones could deliver the life-saving devices faster than bystanders could locate one from a nearby building. The study was funded by a North Carolina Translational and Clinical Sciences (NC TraCS) Institute and N.C. State University Collaborative Translational Research pilot grant award. The pilot grant brought together Wayne Rosamond, professor of epidemiology at the UNC Gillings School of Global Public Health; Jessica Zègre-Hemsey, an NC TraCS KL2 scholar and assistant professor at the UNC School of Nursing; and Evan Arnold from the Institute for Transportation Research and Education at N.C. State.

UNC Research Organizational Chart

Find the latest organizational chart for UNC Research here.

Special Feature: Creativity Hubs

CPC Director Elizabeth Frankenberg discusses a new project she leads, funded by the OVCR's Creativity Hubs

Climate change is generating more frequent and more powerful extreme weather events along the Eastern seaboard and Gulf Coast. Hurricanes, forest fires, and floods cause damage to the natural and manmade environments and have long-term effects on the people who live in or near the areas of impact. But research on these natural hazards is typically reactive and short-term — and rarely involves interdisciplinary research teams.

An interdisciplinary research team led by Carolina Population Center (CPC) Director Elizabeth Frankenberg has received a 2019 Creativity Hubs award to explore how exposure to extreme weather events affects both people and the environment they live in over time. The project includes experts in engineering, environmental science, population science, policy, and planning. Frankenberg shares more about this project below. To read the full interview, visit the CPC website.

How do you plan to use the Creativity Hubs funding?

Extreme weather events are going to affect more and more people in the United States in the coming decades. We plan to use the Creativity Hubs opportunity to develop the proof of concept that will lead to a set of methods that we believe work, and that will lead to new opportunities to address these questions on a larger scale.

How did this team come together?

There were three or four people that were the starting kernel for this research. They brought different skills: an understanding of using social science survey and census data, an understanding of the physical processes that generate hurricanes and developing models for where and with what force they hit land, and [an understanding of] remote sensing data to measure landscape change over time.

You've chosen to focus specifically on hurricanes. Are there implications for other types of natural disasters like forest fires?

We're focusing on hurricanes first. Those in NC have generated impact both right on the coast and further inland because of the rain that induces flooding. We're focusing on the eastern third of the state. Some of the tools we develop might be relevant for other natural disasters like fires — there may be applications for some of the measures we are developing from remote sensing imagery. But the visible signatures of a fire in the natural landscape will look different than that of a flood post-hurricane.

What kinds of tools will you be creating?

We are planning to create a series of open-source tools. The toolkit will contain things like questionnaires, as well as algorithms for processing remote sensing data.

July 22-26

Qualitative Research Summer Intensive

Explore the ins-and-outs of qualitative research during this five-day short course series cosponsored by The Odum Institute and ResearchTalk, Inc.

August 1

Navigating Conflict: Fight, Flight, or Freeze?

Address how to better manage conflict with partners, friends, or colleagues at this lunch and learn from the The Graduate School, led by Shahnaz Khawaja from Student Wellness.

August 12-16

Data Matters

Attend this week-long series of one- and two-day courses hosted by the National Consortium of Data Science to learn about a wide range of topics in data science, analytics, visualization, curation, and more.

August 17

Morning of Mindfulness

Ease your stress at this Program on Integrative Medicine event by learning mindfulness techniques that are useful for a variety of acute or chronic health issues such as insomnia, anxiety, pain, and more.

Research Spotlights

Discover amazing findings from UNC Research

graphic courtesy of RENCI

Serendipity by Design

Each day, people create 2.5 quintillion bytes of data — if each byte was a penny, that'd be enough to cover Earth five times. In a world awash with information, RENCI works to create algorithms that find relationships in seemingly random data.

photo courtesy of Pixabay

Sonograms on Smartphones

On this episode of "Well Said," Jeffrey Stringer, a professor of obstetrics and gynecology, discusses two studies that address the role of technology in predicting and revealing key risk factors associated with pregnancy, labor, and delivery.

65
genetic variants uncovered in understudied minority populations could lead to improved precision medicine for those groups.

135+
Jane Austen enthusiasts from around the world visited UNC to explore the author's impact on society and literature.

790,000
Americans suffer from heart attacks each year, leaving survivors with scar tissue that limits the heart's ability to beat efficiently.