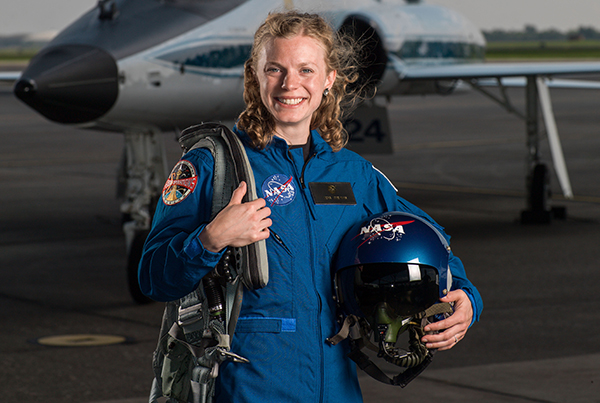 photo courtesy of NASA
The 0.3 Percent

From the basalt lava fields of Hawaii to the vast white expanse of Antarctica, UNC alumna Zena Cardman has ventured to some of Earth's most unique and remote places. Now she's setting her sights on the ultimate frontier — space. Over 18,000 people applied to be in NASA's newest class of astronauts, and Cardman found out on May 25 that she was among the top 12 accepted. She reports to NASA's Johnson Space Center in August to begin her training.

Welcome

A message from the Vice Chancellor

During the FY17 academic year, we asked this question: What is research at Carolina?

To answer it, we have been holding biweekly meetings with the research deans of the 13 schools and the three divisions of the College, along with the directors of the 14 pan-campus centers and institutes. The goal was to identify the key research strengths and priorities of each of the units and to understand common thematic areas for interdisciplinary collaboration. From these meetings, five "research pillars of strength" were identified that aligned with most of the units on campus, as well as with funding priorities of federal and private agencies. The pillars identified include: brain, cancer, environment, precision health, and data science.

Collaborative key investments in these areas will advance UNC's competitiveness and preeminence. The creativity hubs described in a previous Inside Research provide a mechanism to stimulate cross-campus activity in these areas. In addition to the targeted areas, it is important to encourage campus teams to compete for pilot funds that address national challenges not aligned with the five pillars, but still uniquely suited to Carolina's strengths. Several examples have already been identified. We look forward to an exciting year with new research initiatives.

One of the main goals of the OVCR for the coming year is to lead with vision. This means continuing to develop and to enable a bold, inspiring vision around the research of UNC schools, the College, and our center and institutes. In addition, we need to lead by having our offices not only manage risk and compliance in a manner that protects our researchers and the university, but also facilitates and enables their work. It is our job to find solutions to the problems faculty, staff, and students face in pursuing their goals.

We can achieve this by integrating the overall strategic vision of the institution, building upon its unique characteristics and strengths, and focusing on those specific activities that align with funding opportunities. Strategic planning is an iterative process. We will continue to review vision and priorities regularly to ensure that they are fresh and still reflect the university's strategic direction.

I hope you all have a productive summer.

Terry Magnuson
Vice Chancellor for Research

News & Updates

From around UNC Research

FPG recognizes former director, James J. Gallagher

The Frank Porter Graham Child Development Institute (FPG) invited friends and colleagues to a special ceremony on Friday, May 19, to honor the life and legacy of James J. Gallagher. Gallagher was a psychologist, teacher, and seminal researcher who worked for more than 60 years on behalf of children and youth with developmental disabilities, children with gifts and talents, and the field of early childhood education at large. He was Kenan Professor of Education and former director of FPG, which, under his leadership, became one of the nation's most respected institutions working on behalf of children.

"Throughout his illustrious career, Dr. Gallagher sparked, shepherded, and inspired an age of enlightenment as a pioneer in the disciplines of child development and social policy, and as the nation's premier scholar in the fields of giftedness and developmental disabilities," FPG Director Sam Odom says. To further memorialize Gallagher's legacy, FPG is developing the James J. Gallagher Conference Room within the institute's main building and encourages those who knew him to send photos, vignettes, and memorial gifts in his honor.

IE releases short video of 2017 Clean Tech Summit

The 2017 UNC Clean Tech Summit convened more than 1,000 students, professionals and speakers from around the world, providing unique opportunities for discussion, collaboration, mentoring, and networking. The summit continues to build on its success year after year and strives to explore growth for the future. Hear more from Chancellor Carol L. Folt and others in this video from the 2017 summit. Also, save the date for next year's summit: March 1-2, 2018.

NRI hosts new core merging nutrition and genetics

Located at the UNC Nutrition Research Institute, the new Nutrigenetics and Nutrigenomics (NGx) Core — created by the UNC Nutrition and Obesity Research Center — will assist investigators in conducting studies that lead to a better understanding of the impacts lifestyle and genetics have on health and disease. "We want to help investigators realize that neither nutrition nor genetics should be studied in isolation," Saroja Voruganti, NGx director and NRI nutrition professor, explains. "Our goal is to popularize this idea and help scientists understand how genetics play a role in metabolism."

Norman Sharpless named next director of NCI

On June 9, President Donald Trump announced his intention to appoint UNC Lineberger Comprehensive Cancer Center Director Norman "Ned" Sharpless to be the next director of the National Cancer Institute (NCI). Sharpless would succeed Harold Varmus as the head of NCI — the largest of the institutes at the National Institutes of Health, with a budget of about $5.4 billion this year. Sharpless is the Distinguished Professor of Cancer Research, professor of medicine and genetics, and a practicing oncologist at UNC. His program uses genetically engineered mouse models to study cancer and aging. Most recently, he and his team have been using IBM's Watson to pull information from millions of medical papers that could be potentially relevant for treating specific patients' diseases. The Trump administration expects to make a final decision about the appointment within the month.

Special Feature

One of the most destructive hurricanes in the past decade, Hurricane Matthew delivered 350 millimeters of rain over the course of just 24 hours in North Carolina alone. It caused $1.5 billion in flood damage to 100,000 houses, businesses, and government buildings, took the lives of 28 North Carolinians, forced more than 4,000 people to evacuate, and slammed into 50 counties across the state, according to the North Carolina Department of Public Safety.

In the months following Hurricane Matthew, various UNC research teams began storm-related projects on topics like water quality, buy-out programs, and coastal resilience. Check out this interactive map to see how our researchers are impacting the state, helping develop plans and guide policy for when the next storm hits.

June 16

Learning Exchange Launch Party

Celebrate the launch of the UNC Research Compliance Learning Exchange website at this event, from 11 a.m. to 1 p.m. in the Toy Lounge (Dey Hall, fourth floor). Bring ideas for how to increase research compliance. Prizes will be given to those who present the top-three ideas. For more information or to RSVP, email Lisa Ross.

June 27-28

Opioid Misuse & Overdose Prevention Summit

This event will engage, energize, and educate North Carolina partners about evidence-based, innovative policies and practices that prevent opioid misuse, addiction, and overdose. Sponsored by Injury Prevention Research Center.

June 29

Science Writing from the Reader's Perspective

This course, led by retired Duke University English and law professor George Gopen, will educate researchers on how to write for the reader and control what their readers learn. Sponsored by NC Translational & Clinical Sciences Institute.

July 14

Data-Driven Storytelling

This meeting brings together a community of policymakers and data storytellers to visualize insights from data that generate effective communication. Sponsored by South Big Data Hub, West Big Data Innovation Hub, and American Association for the Advancement of Science.

photo by Mary Lide Parker

When Hurricane Matthew hit Seven Springs, North Carolina, the town's post office flooded. For the past nine months, residents have been picking up their mail from a U.S. Postal Service van. UNC researchers from the Department of City and Regional Planning and the Coastal Resilience Center are working to help communities in eastern North Carolina that were most heavily impacted by Matthew.

Research Spotlights

Discover amazing findings from UNC Research

photo by Alyssa LaFaro

Folklore FX

The experimental environment at WXDU provides an artistic haven for Duke University students and Durham locals alike — a sentiment that UNC archivist and folklorist Jaycie Vos hopes to capture.

photo courtesy of Real Talk

This App Could Bring Sex Ed to All Students

Gillings School of Global Public Health graduate student Liz Chen discusses how she co-created Real Talk — a sexual education app that uses real teenagers' stories to address questions about sex, puberty, gender, relationships, and more — with Yale MBA student Vichi Jagannathan.

396
milligrams — that's how much less sodium packaged foods contained in 2014 compared to 2000.

2040
— the year that more than half of U.S. jobs are predicted to be automated.

10,000
students visit the Ackland Art Museum each year to attend one of 300 courses taught there, using art to study disciplines like science.