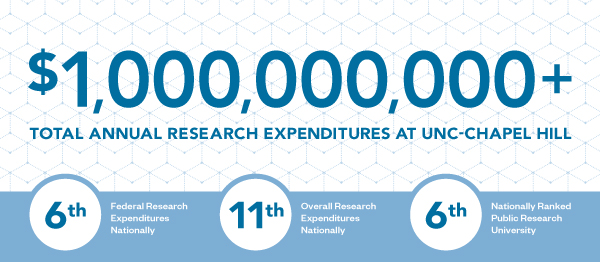 graphic by Corina Cudebec
Breaking $1 Billion

Continuing a decade-long rise as one of the world's top research universities, UNC-Chapel Hill has surpassed, for the first time, $1 billion in annual research expenditures, according to the National Science Foundation's annual Higher Education Research and Development survey. Carolina also ranked 11th nationally among all research institutions in overall research and development (R&D) expenditures, sixth nationally among public institutions, and sixth nationally in overall federal R&D funding.

Welcome

A message from the Vice Chancellor

David Harkey has served as the director of the UNC Highway Safety Research Center (HSRC) since 2006, and is retiring from the university this month. In January, he will assume the role of president of both the Insurance Institute for Highway Safety and the Highway Loss Data Institute.

With over 30 years of experience in the field of transportation safety research, including the past 23 with HSRC, David has managed more than 30 major research projects and authored over 70 articles and research reports for federal, state, and private sponsors. He currently serves as the principal investigator for the Federal Highway Administration's Highway Safety Information System. Managed out of HSRC, this system is the only national database capable of conducting comprehensive risk analysis by linking crash data with roadway inventory and traffic operations data.

During David's direction, HSRC, an internationally recognized leader in transportation safety, continued and improved upon its sound research expertise, innovative approaches, and translation of research knowledge into practical interventions and programs. HSRC leads the Collaborative Sciences Center for Road Safety, one of the U.S. Department of Transportation's five national University Transportation Centers. It is home to several other major initiatives as well including the Highway Safety Information System described above, Pedestrian and Bicycle Information Center, Road Safety Academy, and Buckle Up NC, all of which aim to translate research into practice.

Thanks to HSRC — the only transportation center in the country focused solely on highway safety — being on the road today is much safer than it was 50 years ago when the center was founded. Dedicated to the promotion of the multidisciplinary interest in highway safety, HSRC has made a special effort to share expertise and research with communities, students, researchers, and practitioners.

A search committee has been established and will be working to identify HSRC's next director. I'd like to recognize the chair of that committee, Mark Holmes, director of the UNC Sheps Center for Health Services Research, as well as the committee members: Raghavan "Srini" Srinivasan, senior transportation engineer, HSRC; Laura Sandt, director, Pedestrian and Bicycle Information Center, HSRC; Alice Ammerman, director, UNC Center for Health Promotion and Disease Prevention, and HSRC Advisory Board member; Noreen McDonald, chair, Department of City and Regional Planning; and Herb Garrison, professor, Department of Emergency Medicine, East Carolina University, and HSRC Advisory Board chair.

Until the committee identifies a successor, Daniel Carter will serve as interim director and Caroline Mozingo as interim deputy director. Please join me in congratulating David on his retirement and in supporting Daniel and Caroline in their new roles.

Terry Magnuson
Vice Chancellor for Research

News & Updates

From around UNC Research

UNC and USFQ reaffirm commitment to Galápagos partnership

photo courtesy of UNC Global

From left to right: Melissa McMurray, Katie Bowler Young, Don Hobart, Terry Magnuson, Bob Blouin, Carol Folt, Carlos Montúfar, Diego Quiroga, Carlos Mena, Steve Walsh, Alexandra Velasco, Claudia Tobar.

President Carlos Montúfar of the Universidad San Francisco de Quito (USFQ) in Ecuador visited UNC-Chapel Hill from November 6-8, joining Chancellor Carol L. Folt in reaffirming their commitment to the UNC-USFQ partnership and to the institutions' collaborative activities in the Galápagos Islands. At a ceremony on Nov. 8, Folt and Montúfar signed an agreement to commit continued support and funding for the Galápagos Science Center on San Cristóbal Island in Ecuador, operated jointly by the two universities. In addition, the two leaders executed a Letter of Intent with the Ecuadorian Ministry of Environment and the Galápagos National Park to explore collaboration on a bio-specimen bank for biological material collected from the Galápagos Islands.

RENCI leads data commons initiative at University of New Mexico

The University of New Mexico (UNM) Health Sciences Center will participate in a pilot led by the Renaissance Computing Institute (RENCI) to create the NIH Data Commons — a cloud-based virtual lab that will allow institutions to share research data, tools, and applications. The $9 million project is one of 12 Data Commons Pilot Phase awards provided by the National Institutes of Health (NIH). RENCI and UNM teams will collaborate with Jackson Laboratory and Oregon Health and Science University to process animal and human data to gain better insights on the role of sex as a biological variable.

Three UNC researchers named AAAS Fellows

Three UNC faculty members have been named American Association for the Advancement of Science (AAAS) fellows: Blossom Damania, microbiology and immunology; Marcey Waters, chemistry; and Mark Zylka, cell biology and physiology. The AAAS gives this honor to distinguished researchers who have scientifically or socially advanced science applications. New fellows will be presented with an official certificate and a gold-and-blue rosette pin on Saturday, February 17, at the AAAS Fellows Forum during the 2018 AAAS Annual Meeting in Austin, Texas.

Damania has developed landmark discoveries and contributions to biomedical sciences in the fields of virology, cancer biology, and immunology, involving both basic science and translational research. Waters is being recognized for her fundamental studies of molecular recognition in water and its role in biomolecular recognition, with application to epigenetic regulation. Zylka has made distinguished contributions to the field of neuroscience, particularly for the study of autism-related genes and risk factors using high-throughput approaches.

Four UNC postdocs receive Pfizer-NCBiotech fellowships

The North Carolina Biotechnology Center has announced the inaugural class of Pfizer-NCBiotech Distinguished Postdoctoral Fellows in Gene Therapy. Four of the six new members are from UNC-Chapel Hill and include: Charles Askew, Gene Therapy Center; Carlos Cruz-Teran, pharmacoengineering and molecular pharmaceutics; Lauriel Earley, Gene Therapy Center; and Sara Powell, Gene Therapy Center. Their selection as fellows entitles them to receive two-year awards valued at up to $190,340 per person, enabling them to conduct research in laboratories of gene therapy-related investigators.

Sheps Center researcher Kathleen Thomas receives mentoring award

Kathleen Thomas recently received the 2017 Steven M. Banks Award from the Mental Health Section of the American Public Health Association in recognition of outstanding mentoring and sponsorship of diverse mental health services researchers. Thomas is a senior research fellow at the Cecil G. Sheps Center for Health Services Research and an adjunt associate professor in the Department of Health Policy & Management. For the past 17 years, she has served as principal investigator for PCORI, AHRQ, HRSA, CMS, and RWJF funded projects. Her research focuses on examining the impact of policies and interventions to improve access to care for underserved populations with mental health needs, ranging from minority populations to people with disabilities and autism.

CRC helps six communities with Hurricane Matthew recovery efforts

Since February 2017, Coastal Resilience Center (CRC) researchers and students across several North Carolina universities have developed studies, advised state and federal recovery programs, and helped communities create disaster recovery plans. Today, the Hurricane Matthew Disaster Recovery Resilience Initiative (HMDRRI) is addressing the needs of six communities: Fair Bluff, Seven Springs, Kinston, Lumberton, Princeville, and Windsor. A recent success involved a five-day workshop in Princeville, where teams of land use planners, engineers, architects, and landscape architects came together to collaborate with local, state, and federal officials to design a plan for a more flood-resilient future.

Inside Our Centers & Institutes

The Renaissance Computing Institute

photo courtesy of RENCI

Storm surge prediction. Genome analysis. Data science. What do these things have in common? They're all UNC foci that require the technical expertise of the computing power and software development prowess of RENCI.

The Renaissance Computing Institute (RENCI) was founded in 2004 as a "living laboratory" of data science expertise and software development tools and techniques to help universities across the state and the nation accelerate their research progress. Today, the institute helps North Carolina stay at the forefront of emerging technology trends.

RENCI has worked closely with Rick Luettich, director of the UNC Institute of Marine Sciences, for more than a decade to improve ADCIRC, a modeling program used by experts nationwide to predict storm surge and coastal flooding before major weather events like hurricanes hit. The North Carolina Clinical Genomic Evaluation by NextGen Exome Sequencing (NCGENES), which has tested the genomes of more than 750 people with undiagnosed diseases, wouldn't exist without RENCI's technical infrastructure.

But RENCI's biggest success, according to Director Stan Ahalt, is its support of iRODS, a "very geeky piece of middleware that is used across the globe," says Ahalt. iRODS helps companies, research centers, and governments of all sizes and specialties with data virtualization, data discovery, workflow automation, and secure collaboration. More recently, the South Big Data Hub — a project co-led by researchers from RENCI and Georgia Tech — has managed to build a solid base of public-private partnerships across the region. Only a few weeks ago, RENCI was named the lead institution in one of 12 projects funded by the National Institutes of Health to create a Data Commons, a shared virtual workspace for biomedical research.

"All of these things have the same theme," Ahalt points out. "RENCI builds technologies to enable scientific collaborations. It's about connecting people and connecting researchers and connecting science. Utilizing data to help mankind is the next wave to the future."

December 8

Hidden No More: STEM Women of Color

This panel discussion features UNC's Stephani Page — a biochemist and biophysicist in the Department of Pharmacology — and two other speakers who will share what it's like to be leaders in their fields and how to expand diversity in STEM education. Sponsored by Morehead Planetarium.

December 8

FoodCon 2017

This one-day conference will bring together a diverse audience of students, community members, and business professionals who have a shared interest in the sustainable food industry in North Carolina and beyond. Sponsored by Kenan-Flagler Business School, Duke University, and NC State University.

December 14

IRB Pop-Up

Institutional Review Board (IRB) analysts will be available at this event to answer questions from all research personnel about current or proposed research projects. Sponsored by NC Translational and Clinical Sciences Institute.

January 18-19

Emerging Insights from the Science of Gratitude

This two-day event will bring together researchers who study gratitude from different perspectives and disciplines, and feature speakers discussing new data on culture, health, clinical interventions, and more. Sponsored by Center for Developmental Science, John Templeton Foundation, and UNC's Positive Psychology Science Fund.

photo by Mary Lide Parker

Outer Banks Observations

Emily Pierce, a sophomore majoring in environmental science, observes the canopy of Nags Head Woods Preserve. Pierce and other undergraduate students participating in the UNC Institute for the Environment's Outer Banks Field Site program make several trips to this unique maritime forest over the course of the semester.

Research Spotlights

Discover amazing findings from UNC Research

photo by Jon Gardiner I UNC-Chapel Hill

Higher Ed Hierarchy

Students across the United States graduate with, on average, $30,000 of student loan debt, which can take years — sometimes decades — to pay off. How this affects the Latino community, specifically, is an under-reported story. But the UNC Center for Community Capital has partnered with UnidosUS in an effort to change that.

photo courtesy of UNC Health Care

Reducing Opioid Use While Managing Chronic Pain

Opioids are often used to treat the nearly one-third of Americans who suffer from chronic, non-cancer pain — but their effect is unclear, exposing individuals to potential risks. A new $9 million study led by RTI International, in collaboration with UNC, aims to provide strategies for how to tackle this problem.

24
state-of-the-art 3-D printers take up an entire wall in Carmichael Hall's new 3,000-square-foot makerspace.

43
states and the District of Columbia have enacted "parity" laws to prevent insurance companies from charging patients more for oral cancer drugs — but, now, many are paying an even steeper out-of-pocket fee.

430
gallons of water are needed to fill the UNC fluids lab's racetrack flume, which can simulate the movement of natural pollutants like clay through a streambed.