Images not displaying properly? View the online version.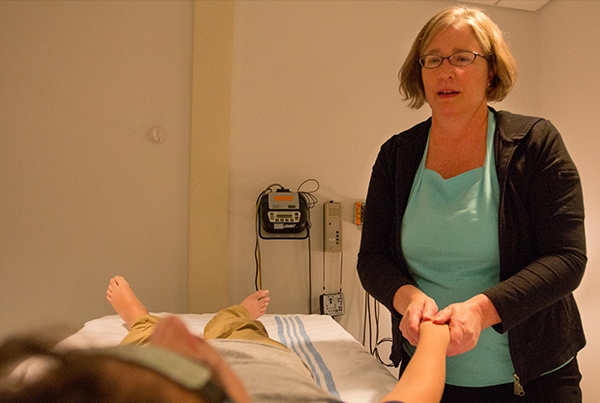 photo by Peggy Mullin
A Massage for Your Brain

A series of studies by one research group in Oregon reported that, on average, children move one full level down the autism spectrum after 20 weeks of Qigong Sensory Training (QST) — a type of massage therapy adapted from Traditional Chinese Medicine. UNC postdoc Kristin Jerger found these results so intriguing that she has published a feasibility study for a new line of research on the neural mechanisms of QST massage.

Welcome

A message from the Vice Chancellor

As we wind down one academic year and look to the next, I'd like to take the opportunity to acknowledge some of the outstanding achievements made within our organization over the 2017-2018 period.

This year, we successfully completed the critical reviews which grant us full accreditation for our animal care and use and our human research protection programs — feats that are time consuming, but also reflective of consistent dedication to research integrity. Also aiding in the continual improvement of our research compliance efforts, we created a new position that concluded with hiring Laurel Dean as the University's first export control officer.

The Office of Sponsored Research worked well through various transitions in both software and process, and has filled the open positions it needed to in order to achieve operational efficiency. The improvement in turnaround time as a result of their efforts is indeed something to be proud of.

As I mentioned last month, we launched Creativity Hubs and awarded two projects funding for further development. This is our first program implemented in support of the Chancellor's Strategic Framework and it fosters innovation by bringing together diverse teams of researchers to tackle big challenges. Collaboration was a major theme for UNC Research this year as we worked with the research deans and center and institute directors from across campus to develop a list of strategic research priorities. These priorities have led to detailed implementation planning for the Data Science Initiative, which is currently being considered for full approval by University leadership. We also launched a working group that is developing plans for a precision health and society initiative.

Lastly, we worked hand-in-hand with our research centers and institutes to ensure smooth transitions in leadership. Ayse Belger was appointed to lead the Frank Porter Graham Child Development Center, and Daniel Carter and Caroline Mozingo were appointed to co-lead the Highway Safety Research Center in interim as we search for a permanent director. On July 1st, Mike Piehler will begin leading the Institute of Environment as its next director, elevating the institute to serve as a University-wide coordinating entity for research, education, and engagement.

There are many more accomplishments and accolades I could mention, but for brevity's sake I want to sincerely thank all of you for the hard work you dedicate to improving research administration at UNC. I hope you have a productive summer.

Terry Magnuson
Vice Chancellor for Research

News & Updates

From around UNC Research

UNC Health Care CEO William Roper to step down in 2019

William Roper joined UNC-Chapel Hill as dean of the School of Public Health in 1997. In 2004, he became CEO of UNC Health Care, dean of the School of Medicine, and vice chancellor for medical affairs. In those roles, he has expanded the reach of the healthcare system and medical school, and helped improve the health of all North Carolinians. He's also been a passionate advocate for health issues that affect residents of North Carolina at the state and federal levels. Roper, who turns 70 this summer, plans to step down on May 15, 2019. The university and UNC Health Care soon will begin a national search for his successor.

"It has been a high honor to serve with so many talented and committed people," Roper says. "I know that our team is well equipped to continue taking on the challenges of a rapidly evolving medical and healthcare landscape. Our mission, our patients, and our providers are in good hands."

Collaborative Sciences Center for Road Safety to host first conference

The Safe Systems Summit: Redefining Transportation Safety offers a learning environment for a diverse group of cross-sector experts to explore the underlying systems driving the national rise in traffic deaths, share findings from innovative new research, and develop insights into reducing transportation injuries and fatalities by utilizing both Safe Systems and systems thinking principles, tools, and techniques. Led by the UNC Highway Safety Research Center in collaboration with the Department of City and Regional Planning and the Injury Prevention Research Center, the Collaborative Sciences Center for Road Safety will host this first-ever summit September 13-14 at the Durham Convention Center.

CRC and RENCI partner with journalism class to develop ADCIRC video

During the Spring 2018 semester, the Coastal Resilience Center (CRC) and RENCI worked with the School of Media & Journalism to produce a motion graphic video explaining products central to both groups' work: the ADCIRC storm surge guidance system and CERA mapping tool. The ADCIRC model uses multiple atmospheric inputs to predict when, where, and to what extent storm surge and flooding will impact a coastal community. This information impacts decisions made by federal, state, and local officials, including the U.S. Coast Guard and multiple state emergency management agencies.

Inside UNC Research

The Office of Sponsored Research launches new website

The Office of Sponsored Research (OSR) partners with the research community to support and advance the university's research mission by providing leadership and expertise in research administration. Led by Senior Associate Vice Chancellor for Research Andy Johns and Executive Director David Paul, the office is committed to ensuring compliance with all relevant regulations and providing the highest level of service, professionalism, and expertise to support and promote the world-class research conducted at Carolina.

OSR has released a redesigned website with updated content, staff information, and enhanced navigation. The Award Lifecycle page provides guidance for all stages of sponsored research, while the Roles and Responsibility Matrix highlights which offices to contact for each step of the proposal process. Policies and Procedures has been updated to Operating Standards & Procedures and is now consolidated into a single, searchable page. For further information on the redesigned OSR website, visit their FAQs page.

June 24

Ackland Family and Friends Sunday

Spend an interactive, art-filled day with family and friends at the Ackland Art Museum. Explore the exhibitions with a themed scavenger hunt, create portraits of loved ones in a variety of media, and play art games with family and friends. Free to the public.

June 28

IRB Pop-Up

Institutional Review Board (IRB) analyst Rod Galindo will be available to answer questions from all research personnel about current or proposed research projects. Hosted by Office of Human Research Ethics.

July 12

Summer Nourishment Tour

A tour of the Nutrition Research Institute (NRI) in Kannapolis featuring a look at one of only a few whole-room calorimeters in the United States, a body composition lab, and a research laboratory. Hosted by NRI.

August 13-17

Data Matters

A short course series providing education and training on topics like R software, information visualization, data mining, machine learning, introduction to Python, and much more. Hosted by The National Consortium for Data Science, NC State, The Odum Institute, and RENCI.

photo by Megan May

Nearly 300 local fourth-grade students visited UNC on May 15 for "Science is Awesome Day," hosted by the Department of Physics and Astronomy. Students learned about science fairs, made Rube Goldberg devices, and watched demonstrations of various — and fun — physics experiments.

Research Spotlights

Discover amazing findings from UNC Research

photo courtesy of University Gazette

For the Love of Dog

A dog may be man's best friend, but the relationship is far more complex than most folks think. That's what students in the Maymester course "Canine Cultures" discovered while using sociocultural anthropology research methods and concepts.

photo courtesy of University Gazette

Inventor of the Year

UNC chemist Mark Schoenfisch (second from right) has a record of bringing his decades-long research of the molecule nitric oxide to market, where it has the potential to improve the lives of patients through medical devices, pharmaceuticals, and drug development.

50
percent or more of people with Type I or Type II diabetes don't receive regular eye screenings, but they should — high blood sugar levels in the eye can cause blindness.

$16,557
is the average income for residents of Potrero Terrace and Annex — a public housing development within San Francisco's affluent Potrero Hill neighborhood.

75,000
years — that's how long it would take a standard computer to process calculations to determine axial coupling of the neutron. But supercomputers helped researchers calculate it this year.