Images not displaying properly? View the online version.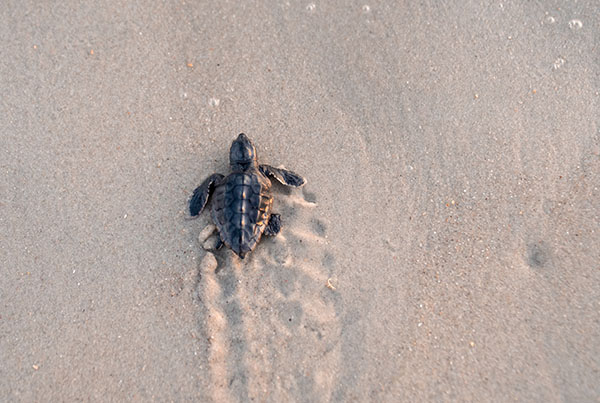 photo by Liah McPherson
Sea Turtle Secrets

How do sea turtles navigate using Earth's magnetic fields? To shed light on this incredible ability, UNC PhD Student Kayla Goforth observes the orientation of their eggs — often in the middle of the night.

Welcome

A message from the Vice Chancellor

A major priority of the Office of the Vice Chancellor for Research is to stimulate virtual research networks that concentrate talent and resources on bold ideas, while simultaneously freeing the development of those ideas from typical organizational boundaries. Our goal is to move new ideas and discoveries into practice.

To achieve that goal, we set out to change the way research and discovery happens at UNC by establishing a pilot-funding mechanism known as the Creativity Hubs. The program provides initial funding on new ideas and enables investigators to leverage interdisciplinary advances that keep Carolina at the forefront of creativity and innovation.

Two Creativity Hubs winners were announced and funded last year, and both teams have made significant progress:

-The Obesity Hub team, led by Penny Gordon-Larsen, is highly active and has used the pilot funds they were awarded to spur novel science and interactions that would have not been possible without such funding. The hub has published two position papers (find them here and here), has nine grants in progress, three spin-off grants, and a grant from the NIH valued at over $6 million, as well as a planned summer symposium on animal-human translational obesity science.

-The Sustainable Access to Safe Water Hub team, led by Theo Dingemans, has made quick progress on their development of an innovative, affordable membrane-based water purification tool that can safely remove a broad range of water contaminants. The team is hard at work preparing membranes for desalination testing in the Coronell Lab here at UNC and the Freeman Lab at the University of Texas at Austin. Hub team members continue to execute additional tests to address looming questions to engineering challenges.

Riding on the success of last year's inaugural round, the second call for Creativity Hubs pre-proposals was released in the Fall 2018 semester. We received 23 submissions that included 207 UNC researchers representing 46 departments across 12 schools. Eight finalists were selected to submit full proposals addressing a range of challenges.

Each team presented an oral summary of their proposals on May 2, and next month, at least two of them will be selected as recipients of funding to execute their proposals over the next two years.

Creativity Hubs awardees are guaranteed proposal development assistance from the Office of Research Development to pursue large-scale, follow-on awards that spring from the program's funding. The office will also work with unselected teams to build their projects and connect them to other funding opportunities.

The program has stimulated new, interdisciplinary groups addressing critical questions impacting our world. We are excited and inspired by the success of the inaugural Creativity Hubs winners and eagerly anticipate more advancements through the sustained progress of subsequent awardees.

Terry Magnuson
Vice Chancellor for Research

News & Updates

From around UNC Research

UNC Research responds to inappropriate foreign influence concerns

Inappropriate foreign influence is a topic receiving significant attention by Congress, the White House, law enforcement, and most federal agencies sponsoring research at U.S. academic institutions. UNC strongly supports and encourages international collaboration and values partnerships with universities and other organizations worldwide, so it is important that all faculty and staff members understand the concerns being raised and how we can address them together. The new "Foreign Influence" feature on the Research Compliance Learning Community website provides information regarding the underlying issues, as well as tools and resources currently available at Carolina to enable researchers' compliance.

Resources and links that can assist in understanding and complying with these obligations will be continually added to the site. Please send questions, comments, or concerns to research_compliance@unc.edu.

Three UNC researches elected to American Academy of Arts and Sciences

In April, the American Academy of Arts and Sciences (AAAS) named three UNC researchers as 2019 fellows: Kathleen Mullan Harris, a sociologist, Haar Distinguished Professor, and Carolina Population Center Fellow; Jodi Magness, an archeologist and Kenan Distinguished Professor for Teaching Excellence in Early Judaism; and Bryan Roth, a pharmacologist and Michael Hooker Distinguished Professor. Overall, the academy recognized more than 200 individuals with compelling achievements in academia, business, government, and public affairs. The new class will be inducted at a ceremony in October 2019 in Cambridge, Massachusetts.

IE leads $2.4 million U.S. Department of Defense-funded drone training program

UNC Institute for the Environment (IE) Associate Director Susan Cohen is leading a $2.4 million project to bring drone capabilities to Department of Defense (DoD) natural resource managers at Marine Corps bases in the Southeast. Drones can assist with bird and animal strike hazards and foreign object surveys for air fields, monitor prescribed fires, and document coastal erosion, among other uses. Cohen and her collaborators will begin to train and outfit DoD employees this fall.

Create your ORCID iD — an essential tool for publications and grant applications

The ORCID (Open Researcher and Contributor iD) team at UNC's University Libraries has been working with the Office of the Vice Chancellor for Research to promote ORCID iD — a unique and cross-platform digital identifier — and its benefits to researchers. UNC is planning future integration of ORCID iDs into campus research systems and encourages faculty and other scholars to register for an ORCID iD and to connect it to their UNC PID.

Publishers and funding agencies are increasingly integrating and requiring ORCID iDs in their publication submission and grant application processes. The identifier comes with an associated online record that links scholarly activities to the iD itself, which provides researchers with several benefits such as streamlined manuscript submission workflows, name disambiguation, a scholarly profile connecting all work, and increased visibility on research outputs. To learn more about ORCID integration at Carolina, consult the UNC ORCID guide and contact the ORCID team with questions.

CRC releases first impact video as part of upcoming series

The Coastal Resilience Center of Excellence (CRC) — a U.S. Department of Homeland Security-funded consortium that manages more than 15 research and education projects dedicated to protecting lives and property in U.S. coastal communities — has started a video series focusing on its work around the country. The series, called "CRC Impacts," begins with a look at how researchers use city and regional planning techniques to ensure communities are prepared for natural hazard threats.

Inside UNC Research

Five questions with Kelly Dockham, Office of Federal Affairs

photo by Megan May

What is your role within the Office of Federal Affairs (OFA)?

I am the director of federal affairs. In this role, I represent the university in advocacy before the federal government, regulatory agencies, and key policymakers.

What kinds of services and resources does OFA provide to researchers?

The office helps faculty and campus leaders identify opportunities and secure federal research support by developing relationships with members of Congress, their staffs, and representatives of federal agencies. Federal affairs also works to identify UNC faculty and staff experts and helps them to connect with key federal policymakers.

If a researcher wanted to work on advancing federal funding or advocating on the federal level for their work, what's a good first step?

I always urge researchers to reach out and engage with us. My slogan is, "Help me, help you." Also, I recommend that faculty and researchers involved with professional, national associations or societies find ways to engage with the government affairs or advocacy teams affiliated with those organizations.

Let's talk about the President's proposed budget. What is its potential impact on research funding?

There's an old saying in Washington: "The President proposes and Congress disposes." The President is required by law to present a budget to Congress — but it is Congress that controls the federal purse strings. Congressional appropriators are expected to treat the President's proposal as a mere recommendation, as they almost always do with any administration. That's why I recommend researchers get involved with their local representatives, who will then advocate for their needs to Congress.

If you left the administrative side of the research division to become a researcher, what field of study would you choose and why?

I have a real affection for the arts and humanities. I grew up in a musical family — my father was a band director — and I really enjoy history, particularly U.S. southern studies. As a child, I wanted to be a museum curator.

May 14

Semi-Structured Interviewing

Learn about the questions, probes, and skills required for semi-structured interviewing, a data collection method used in qualitative research.

May 22

Building a Network for Research on Aging

Join new and seasoned aging researchers from across campus to define the priorities Carolina should organize to pursue research across the aging spectrum.

May 23

IRB Pop-Up at Davis Library

Talk with Institutional Review Board (IRB) analyst Cat Collins, who will answer questions from research personnel about current or proposed research projects.

June 10-11

Health Equity Summer Intensive on Concept Mapping

Engage with community leaders, health care professionals, and academics at these interactive trainings for conducting concept-mapping activities from both a facilitator and participant perspective.

Research Spotlights

Discover amazing findings from UNC Research

photo courtesy of Injury Prevention Research Center

Beat the Heat

UNC Injury Prevention Research Center researchers complete one of the first studies examining the effectiveness of state-mandated guidelines for reducing exertional heat illness among high school football players.

photo courtesy of Pixabay

A Modern-Day Mid-Life Crisis

Indicators of despair — depression, suicidal ideation, drug use, and alcohol abuse — are rising among Americans in their late 30s and early 40s across most demographic groups, according to new research from the Carolina Population Center.

20
percent of all hires by Democratic campaigns are from just seven schools including Harvard, Stanford, and Yale.

$175
— the cost to teach one credit hour of a college-level math course, making it the cheapest discipline to teach.

258
million people live in a country they weren't born in — which improves decision-making, stress management, and job performance.