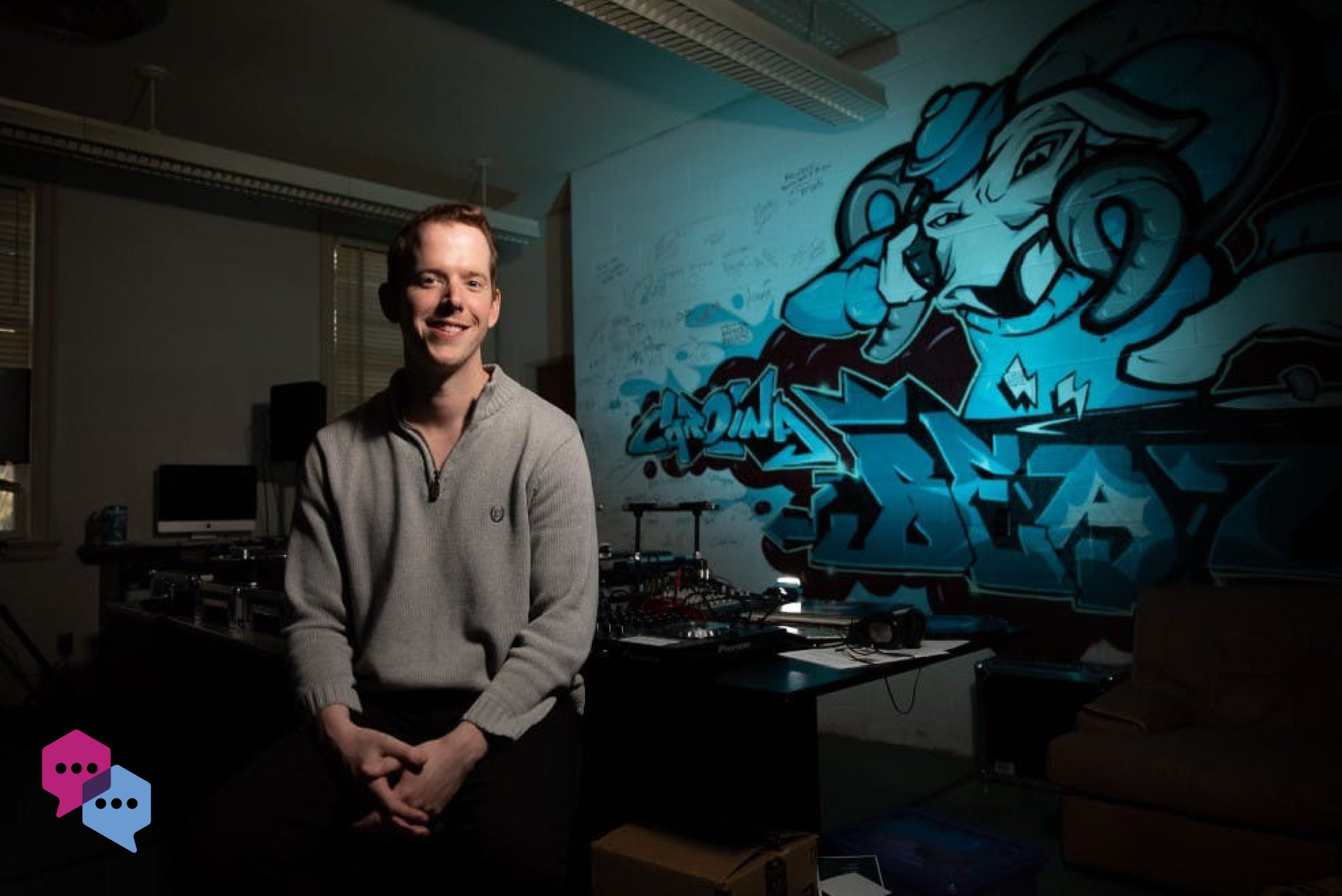 photo courtesy of Nash Consing, The Daily Tar Heel
January 29th, 2020
Q: When you were a child, what was your response to this question: "What do you want to be when you grow up?"
A: Music producer — and definitely not any form of academic, researcher, professor, whatever. No way. I come from an academic family, so it was almost like the family business and just wasn't interesting to me growing up. My parents are brilliant, but I wanted to carve my own path and had this special relationship with music. I was diagnosed with Generalized Anxiety Disorder in third grade and so making or listening to music was my most consistent escape from that.
Q: Share the pivotal moment in your life that helped you choose your field of study.
A: I realized you could get a job making music and gave every ounce of my being toward pursuing that, including moving to Los Angeles to become a music producer. I eventually realized that life wasn't for me and needed a change. So I applied to get my PhD, my interest in which was cursory at best. I only applied to UNC because I had family and friends nearby. My mentor at Cornell, Jeff Niederdeppe, recommended I work with Seth Noar in the journalism school. When I visited campus for my interviews, I was impressed with the program in the Hussman School and got to meet Professor Noar, who's amazing — along with everyone else I met there. It was a If-I-don't-now-I-never-will decision more than a well-planned or thought-out decision, but honestly I love this work so much.
The summer before I enrolled, I realized what a big role music plays in people's lives and how it helped destigmatize the idea of getting therapy for some of my close friends. So now I study how popular songs where the artists rap or sing about dealing with anxiety, depression, or suicidal thoughts can help to destigmatize mental health and what the other consequences of listening to these songs could be. This is really important, underexplored work.
Q: Tell us about a time you encountered a tricky problem. How did you handle it and what did you learn from it?
A: I worked for a startup called The Cut Buddy, which sells a haircut tool that one of my friends invented. It went viral and got a deal on "Shark Tank." Before we got on the show, we tried to get some press for going viral. As a music producer, I had gotten good at finding people's emails, so I contacted writers at GQ and Forbes, pretending I was a PR person working for some made-up company — and they ended up doing stories about our business. I feel like I would've probably been a great scam artist in a different life, but thankfully I'm using my deceitful powers for good.
Q: Describe your research in 5 words.
A: "Pay attention to popular music."
Q: What are your passions outside of research?
A: Music for sure is still a passion that I pursue on the side, but also just having a general social life is big. Grad school is difficult, and I want maintain balance as much as I can. Sometimes I fail at I, though. I've started getting into baking and cooking now, too, because they help with my anxiety. Now, my main non-academic career goal is to be a contestant on "The Great British Bake Off," where I'd make embarrassingly bad-looking but still somehow delicious baked goods and get eliminated first. Just to have Paul and Prue look down at my mess of a baked good, holding back their criticism in that polite British way as they prepare to eliminate me and send me back to America in shame — that's the dream.