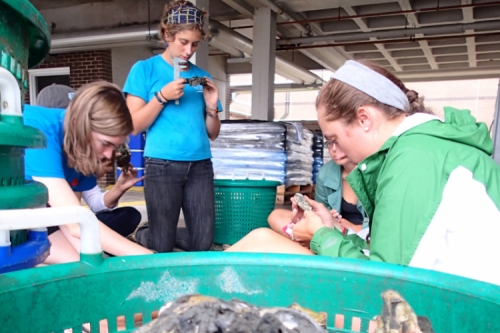 Photo by Michael Piehler
January 5th, 2015
Oysters may be one of North Carolina's most important organisms—and not just because they contribute millions of dollars each year to the state's economy. Oysters filter the water, their shells provide habitats for other organisms, and they can even help slow the process of erosion. But can oysters do all those things even when they're regularly being harvested for food?
Fifteen undergraduate students in a fall-semester capstone class at the UNC Institute of Marine Sciences (IMS) wanted to find out. "Oyster reefs provide vital services that benefit many species, including humans," says Jenny Hughes, one of the students in the class. "Our goal was to measure possible differences in a few of these services in areas open and closed to shell fishing."
Now in its eleventh year, the capstone program at the Morehead City Field Site is overseen by the UNC Institute for the Environment and allows undergraduates from UNC to spend a semester at IMS. While there, they conduct independent research projects as well as a team project, referred to as "the capstone." "The students who come here—many of them end up going on to graduate school and becoming scientists," says Mike Piehler, a professor at IMS. "And if you're going to become a scientist, the first thing you need to do is experience the process."
From the outside, coastal research often looks picturesque—beaches and boat rides. Who wouldn't enjoy that? "It can be physically challenging, and there are some people who absolutely hate it," Piehler says. "We slog around in the mud a lot, and if you're not going to like that, that's important to know."
The students had to deal with several challenges—primarily a short time frame. "They're dealing with processes that vary throughout the year, and they're just making an autumn measurement," Piehler says. "You just get a little snapshot if you only look at one season."
But even with a limited time frame, the students gathered findings that contribute to the wealth of coastal knowledge produced by the UNC Institute of Marine Sciences. Local officials and community members often attend the students' presentations at the end of the semester. "We like to see what's going on in the research community because those are all things that are important for regulators to look at," says Steve Murphy, a supervisor at the N.C. Division of Marine Fisheries.  "This has a lot of similarities to what we do—opening and closing waters to fishing. These projects really lend a lot to that."
The students took pride in designing and organizing the project on their own. "Most of the experimental design was ours," Hughes says. "All of the research into the literature was ours. We had guidance in the lab from experienced technicians, but we did the work ourselves.
"It's not something I had thought about going into before. It opened doors to experiences I wouldn't have had otherwise."
Historical evidence has shown that harvesting can be detrimental to an oyster reef's functionality. But in this study, the students found a high level of function in reefs that were both open and closed to fishing.
Imagine picking apples from a tree—you want to pick the apples and enjoy them without diminishing the other services the tree provides, like providing oxygen and shade. There may be a similar phenomenon, to an extent, with oyster reefs. "This study offers support for the idea that oyster fishing may not always decrease the services that oysters provide to ecosystems," Piehler says.
On the surface, the capstone class seems to act as a filter—to separate the hard core marine scientists from the land-loving scientists. But it's much more than that.
Even for the students who decide that slogging through mud is not their preferred method of data collection, Piehler says the semester-long experience is still highly valuable. "Identifying the problem, developing and executing a plan to solve it, generating data, and converting it into information—that is the nature of many people's jobs," Piehler says. "Anyone can come up with a number, but saying what it means is the real challenge.
"They come here with fresh eyes, and ask questions about things we take for granted. We are just so fortunate to have great groups of undergraduate students here year after year after year."