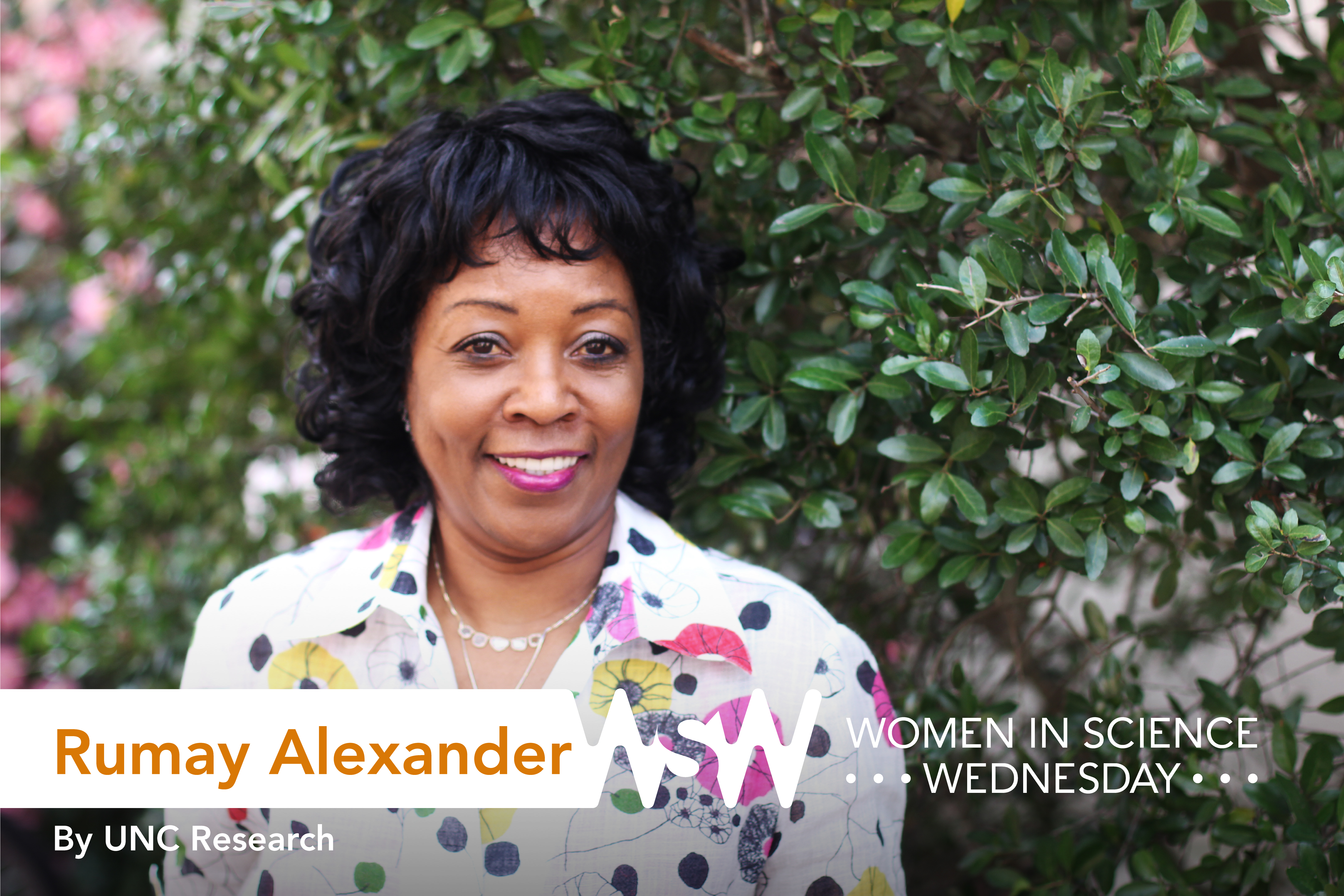 photo by Mary Lide Parker
March 1st, 2017
When you were a child, what was your response to this question: "What do you want to be when you grow up?"
Describe your research interest in five words.

"Emancipatory inquiry, culture change, justice."
I have always had a love for science! I won my elementary school's science fair with a project on how blood circulates through the heart. My father helped me create a heart out of wood, with doors and latches for valves, and I used marbles to show how blood is transported in and out. Neither of my parents went to college, but my father was a carpenter, so he did all the mechanics for the wooden heart, and I provided the science and the passion. Winning the fair gave me such a thrill. I got true joy from it, and I knew I wanted to pursue science from then on.
Share the pivotal moment in your life that helped you choose research as a career path.
As a child, I was a climber — I climbed over, and on, everything. One day, when I was 5 years old, I climbed from a sofa to a T.V. stand and fell. I hit the back of my head on the baseboard corners and sliced it open. I hit so hard that even the neighbors heard the fall. My parents wrapped me up and carried me to the ER. The physician made my father hold me down while he stitched my head, without anesthesia. I am told that every time he put the suture needle into my scalp, I would come up out of my father's arms, and he would have to hold me back down. Afterward, I had horrendous headaches, and I still have the scar, but the thing that bothered me the most was that a 5-year-old child would be put in that fearful, painful situation while their parent was forced to participate in the horror.
I knew somehow that the system didn't value me in the way it did others. I did not know then the term "health disparities," but I was aware of a lack of people of color in health professional roles.  I wanted to help the community that I was a part of, for whom I knew health issues were a concern, and for whom I also knew that care was not being received. I knew I wanted to pursue healthcare so that I could take care of people like me, and they wouldn't have to suffer like I did.
What's an interesting thing that's happened during your research?
I find it funny how often people are surprised when I walk into a room, and that has everything to do with my name. My birth name was supposed to be Renay. But the physician who filled out the information on my birth certificate must have had terrible handwriting because whoever transcribed his longhand read my name as Rumay. When the official document came back three months later, my mother thought it was divine intervention so she didn't have it corrected. Throughout my career, people have assumed that I was French, Italian, or most typically, male based on seeing my name before meeting me. So whenever I showed up in person, I could always tell when people were shocked or surprised. But there I was — because I belonged in the room, no matter my name.
In honor of Women's History Month, share an anecdote that shows why women need to continue breaking barriers.
Greatness doesn't have a gender or a racial preference. And neither does opportunity. We just need to do our part in the ways that are authentic to ourselves. Genius is equally distributed. I don't think we do ourselves any service by playing it small. I offer one of my favorite Mandela quotes for women: "Your playing small does not serve the world — who are you not to be great?"
What advice would you give to up-and-coming female researchers in your field?
Penetrate many fields of inquiry. Be careful of fear-based decision making. Fear is a self-centered emotion and it will curtail the impact of your research. You won't take the risk. You won't ask the questions that need to be asked. Ask the questions — in that way, we can transform the world.
People need a small circle of individuals, some of whom are outside of their profession, who have nothing but their best interests at heart, and who will speak nothing but honesty and truth to them. You need loving critics who want what's best for you. Everyone needs their own "private advisory board." Also, recognize what's in your control, what is not, and send your energy into the control space. Revolt at your own level.