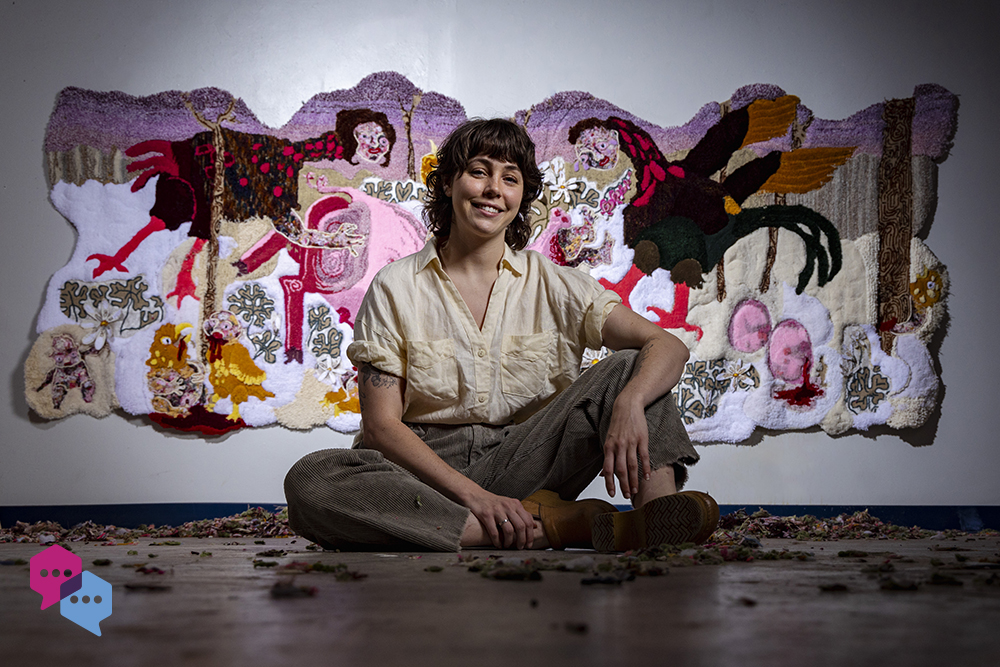 photo by Megan Mendenhall
September 20th, 2023
Molly English is a master's student in the Department of Art & Art History within the UNC College of Arts and Sciences. She uses fiber arts — a traditionally feminine medium — to help viewers intimately engage with the histories of patriarchal dominance and articulate a more hopeful vision for the future.
Q: How did you discover your specific field of study?
A: My lived knowledge of Midwestern girlhood, millennial queerness, Irish-Catholicism, animal relationships, homelessness, and famine have driven my current exploration into systems of dominance, the historical devaluation of domestic work, and possibilities for a more livable future.
Q: Academics are problem-solvers. Describe a research challenge you've faced and how you overcame it.
A: I've been painting with oils for the better half of a decade, but in 2022, I read Sylvia Federici's "Caliban and the Witch." This led me down a completely new path of inquiry, catalyzing an interest in the history of women's labor and driving my research-creation toward fiber arts. My paint was no longer qualified to carry the weight of the research, but I had no experience with fiber. I reached out to other artists and academics at UNC and was introduced to tufting — an art form that blends painting and rug-hooking and carries its own unique weight in the history of domestic labor. Tufting is now my primary medium for research-creation.
Q: Describe your research in five words.
A: Tufting toward a feminine future.
Q: Who or what inspires you? Why?
A: Plants! I'm so grateful for the little sensory joys afforded to me by living alongside plants as they express themselves and communicate with one another in their magical ways. A plant's experience as a living thing is absolutely unimaginable to me, but their variety, abundance, and seasons of celebration and rest are examples of a life I'd like to live.
Q: If you could pursue any other career, what would it be and why?
A: I have a hopelessly romantic vision of myself as a small-scale goat farmer, making little artesian cheeses and ice creams. I love animals, and I'm a bit of an escapist, so I'm easily seduced by a pastoral daydream.