Two undergraduates search for salamanders in western North Carolina — and find so much more.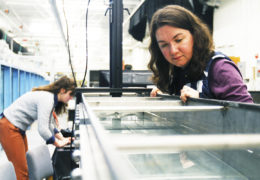 Streambeds act as natural water filters by trapping particles and pollutants. To better understand the dynamics of these small yet complex systems, a UNC hydrologist is creating (and clogging) her own stream.
Photo by Mary Lide Parker
A team of researchers uses cutting-edge technology to better predict when and how one of South America's most active volcanoes will erupt.