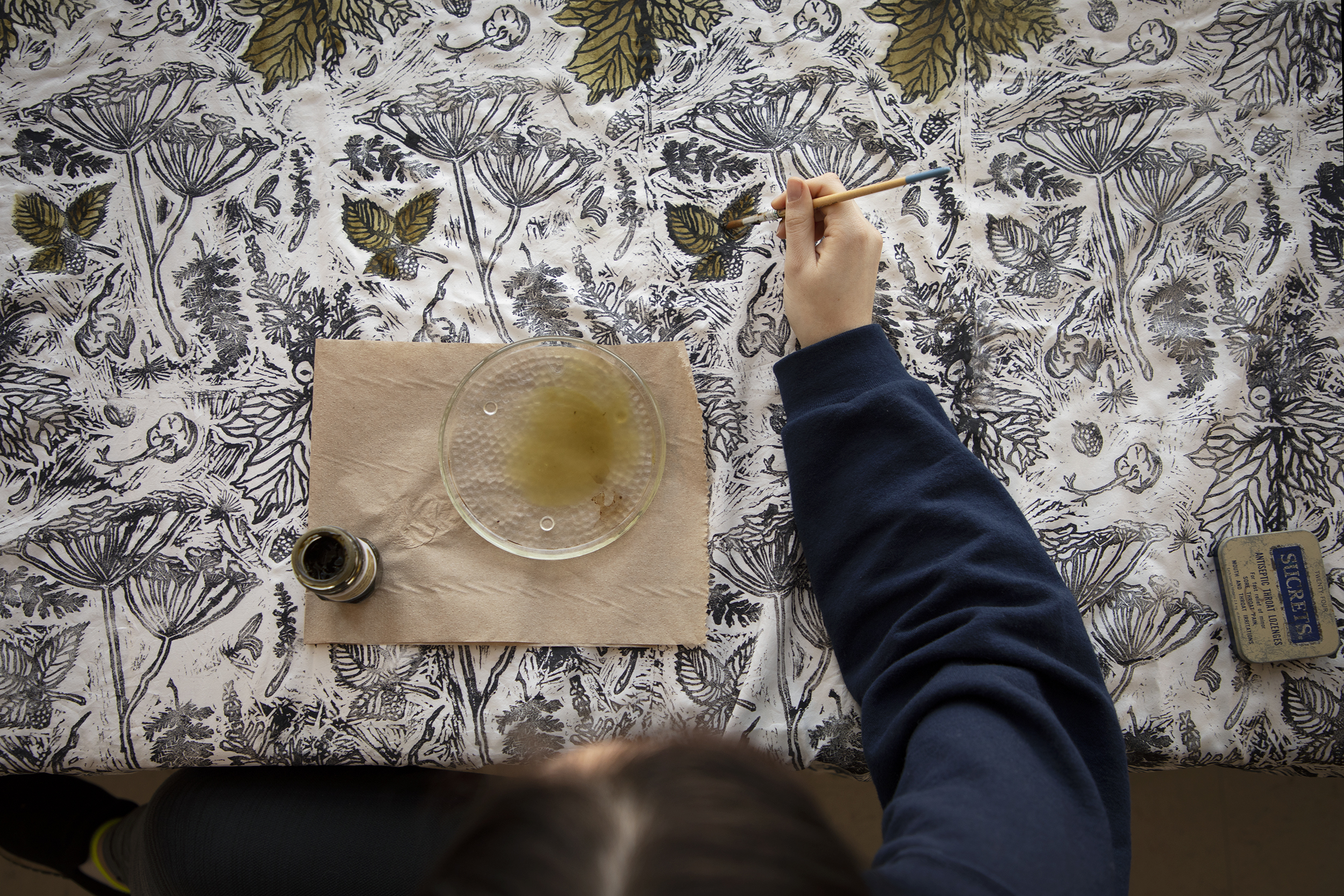 February 17th, 2020
Laura Jones sits along the sprawling windows in the Hanes Art Center print studio, headphones plugged in and paintbrush in hand. In front of her lies an eight-foot piece of fabric, covered edge to edge with relief prints of a variety of plants. Jones carefully fills in each intricate part with homemade dyes made from organic matter like acorns and tea leaves.
The biology undergrad with a studio art minor is working on her final project for the course "Art and Science: Merging Printmaking and Biology" led by art professor Beth Grabowski and biology professor Bob Goldstein. Made up of seven students with biology prerequisites and seven with art prerequisites, the course explores how these two disciplines can influence one another.
Throughout the semester, students used science — like visually interpreting microscope slides and creating images from motion software — as inspiration for printmaking projects.
"One of the lingering questions for us is: What does it mean to think like an artist and think like a scientist?" Grabowski says.
The students, she explains, often find that similarities outweigh the differences.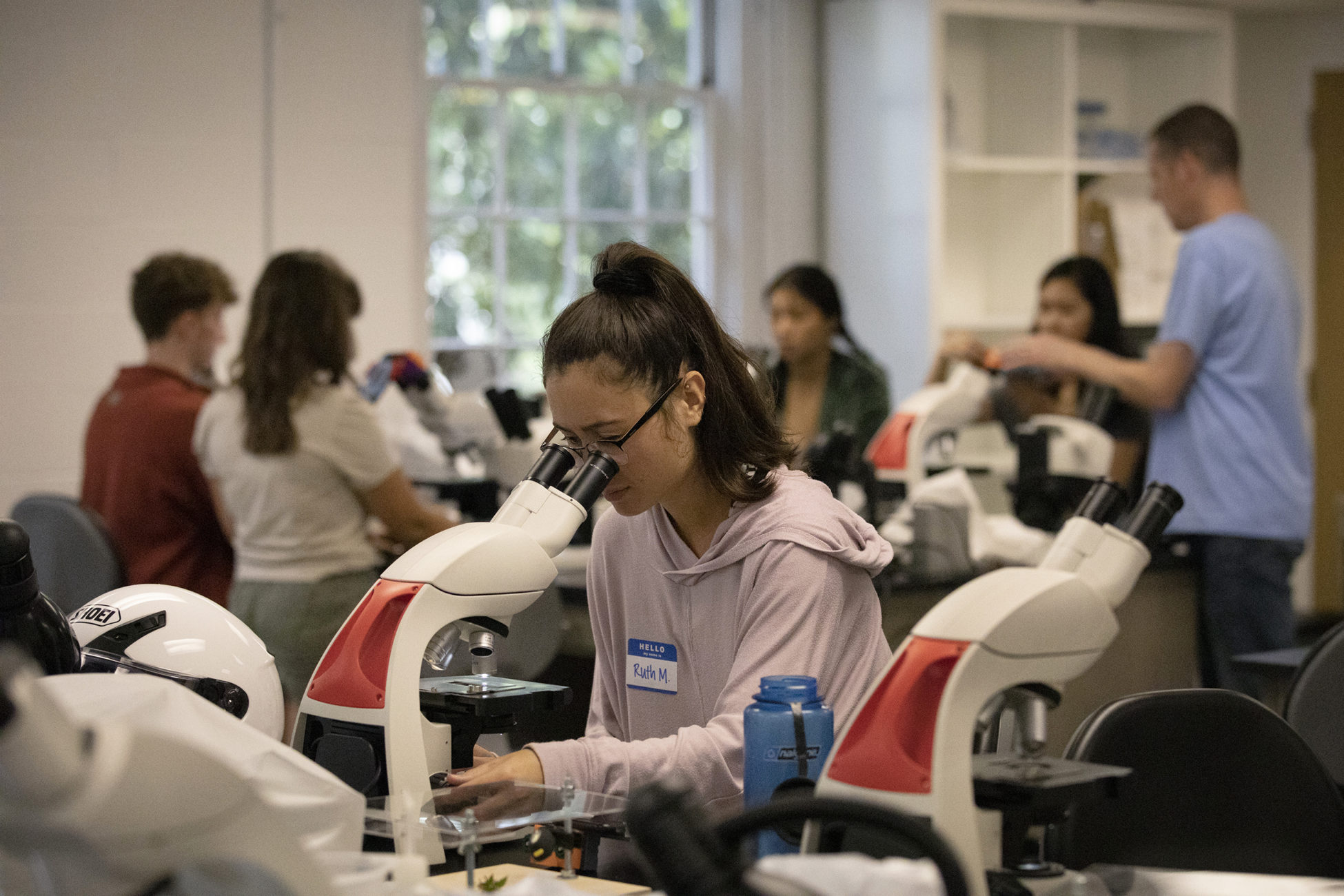 Ruth Moffatt, an art major, looks at a slide under a microscope. The students used images from the slides like those of human skin cells, soil, or an ant antenna as inspiration for later prints.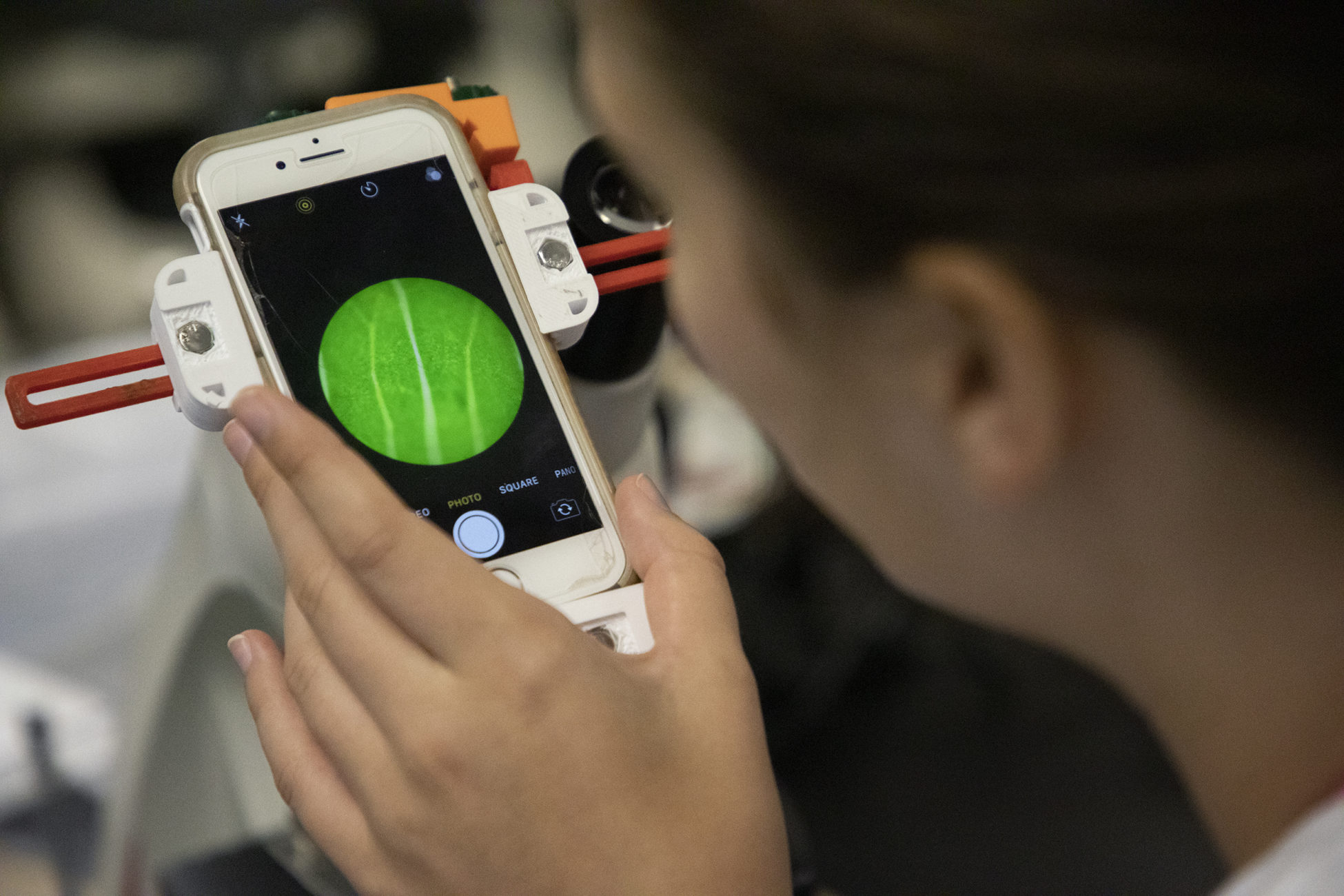 A student uses a smart phone adapter to take photographs of a microscope slide. While the ways in which science can inspire art may be obvious, how art impacts science is more complex and a question the professors often pose to their students. "We definitely have discoveries in our lab that are based on things that maybe people had seen before but hadn't really noticed," Goldstein says. "I think looking and really thinking about what you're looking at, like in art, I'm sure has subtle effects."
Aubrey Knier, a biology major with an art minor, and Luke Collins, a studio art major, look at microscope slides. One of the goals of the course is to bring together students from different disciplines. "They really inspire each other," Grabowski says. "I think the science curiosity is upped in the art students and the art curiosity and risk taking is upped in the science students."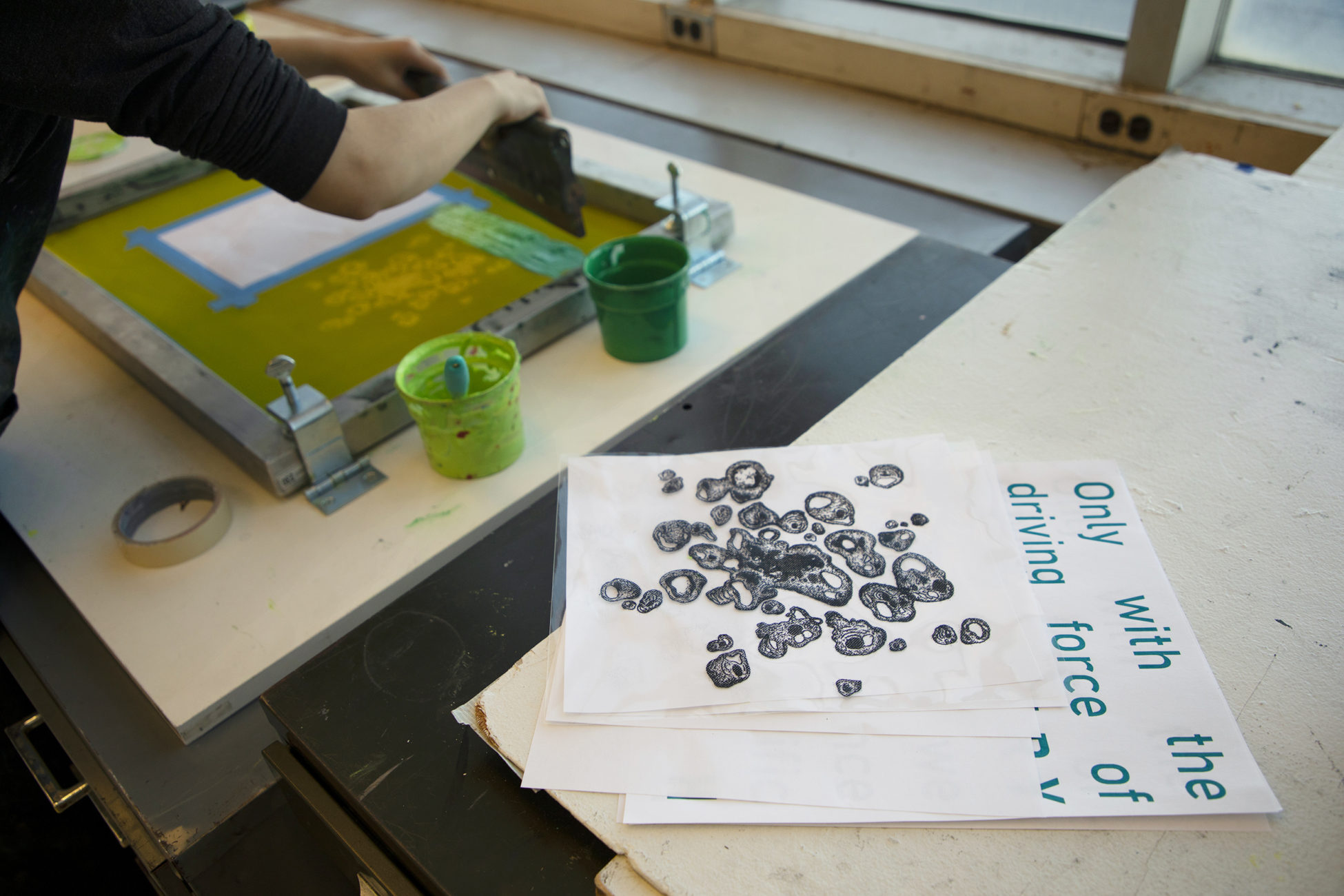 Kaylene Lu creates a screen print depicting apoptosis ­­­­— the process of cells dying as an organism develops. Grabowski notes depth of students' projects due to a strong foundation in research throughout the art-making process. "I always talk about art making as being a conversation between intuition and intellect," she says. "That intellectual exploration feeds the intuitive 'well' so you just have a lot more to draw on."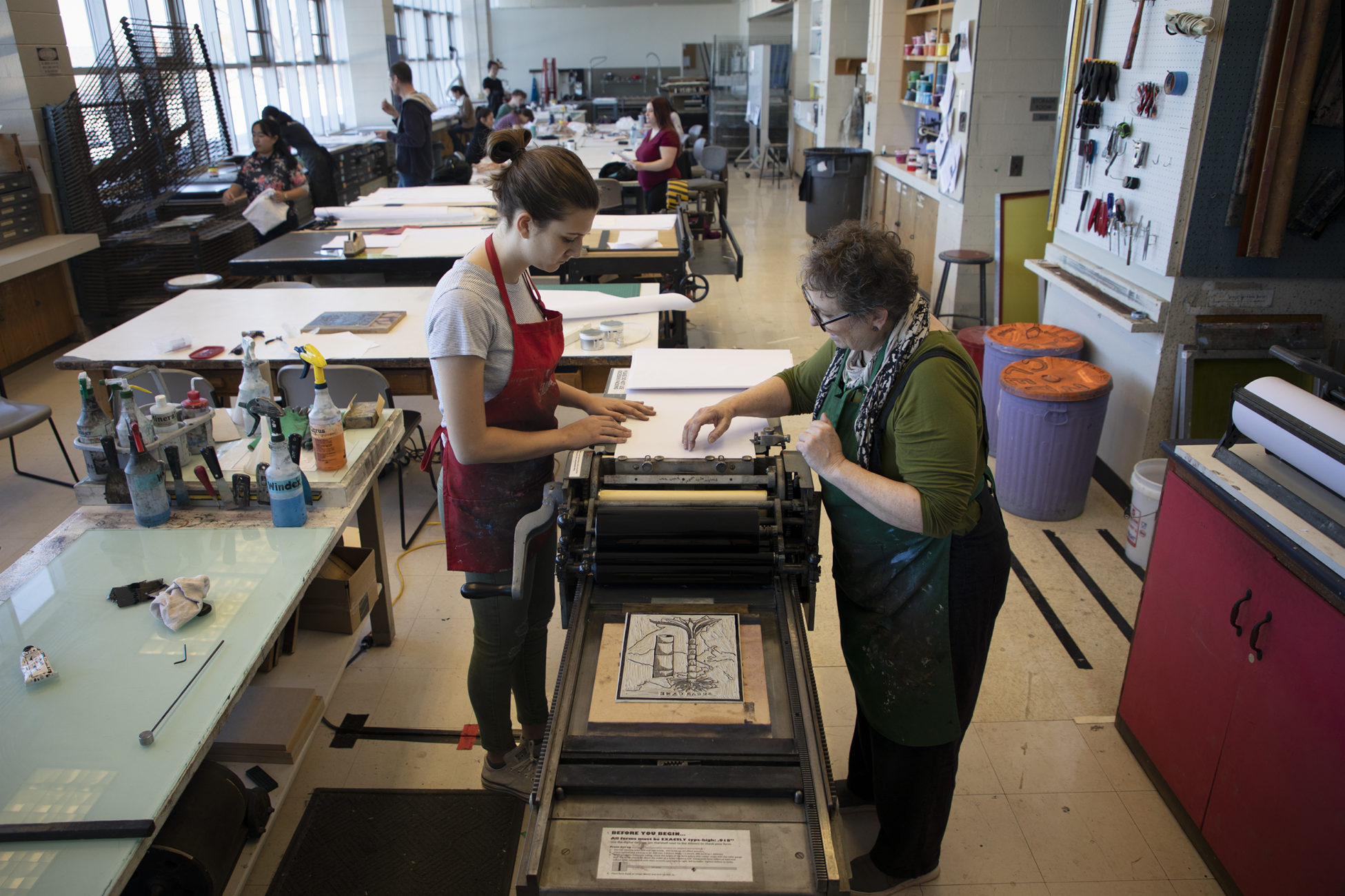 Beth Grabowski helps Emma Haseley use a Vandercook proof press, a machine used commercially from the early 1900s to the 1960s, to create a print about the sugar cane industry.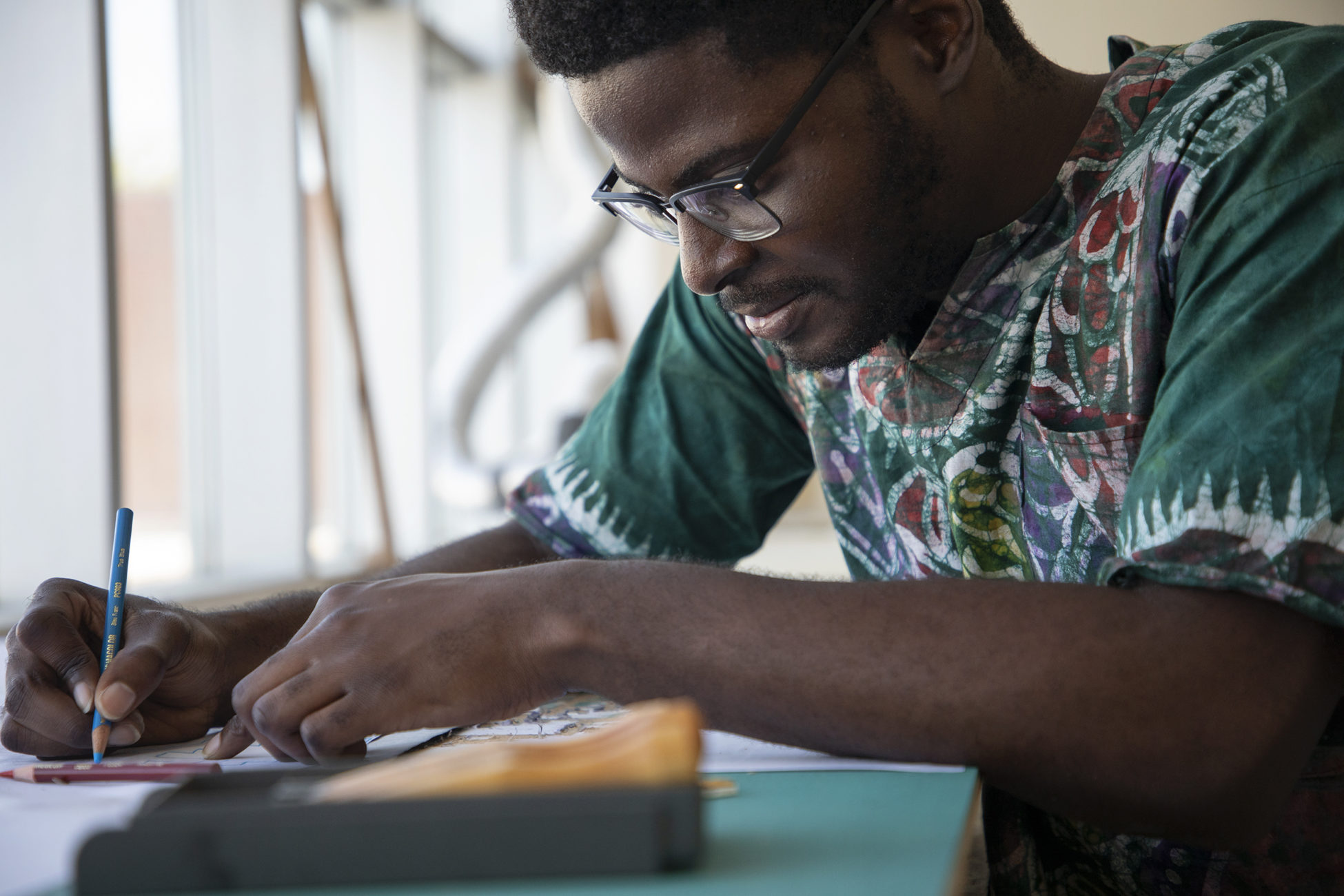 Tosin Olayinka, a biology major, sketches a design based on the mathematical concept of cellular automata. Throughout the course Olayinka learned to approach scientific ideas through the eyes of an artist, thinking about biological terms in different ways. "A lot of biological artifacts are prints, in a sense," he says, as an example. "Like fossils ­— they're not actually the bones of the animal, they're the result of rock formations onto bones. In a sense that's a naturally occurring print."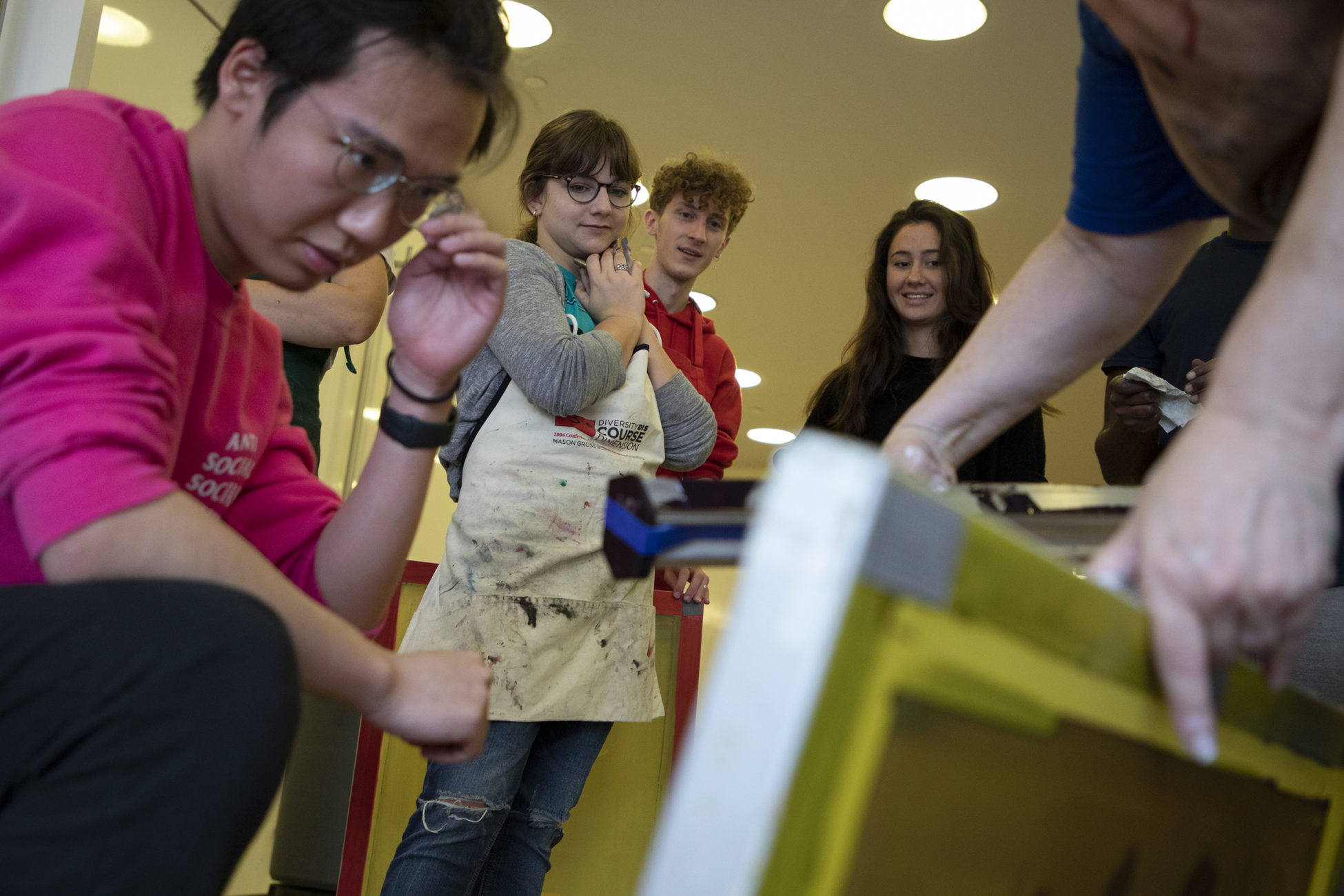 Students admire Yichen Wu's screen print. While biology and art students vary greatly in the content of their education, Grabowski finds common ground between the two in their process of exploration. "The creativity a scientist has and the creativity an artist has is very similar," she says. "I guess they both have the ability to find a question that they don't know they were looking for, that happens in both realms all the time."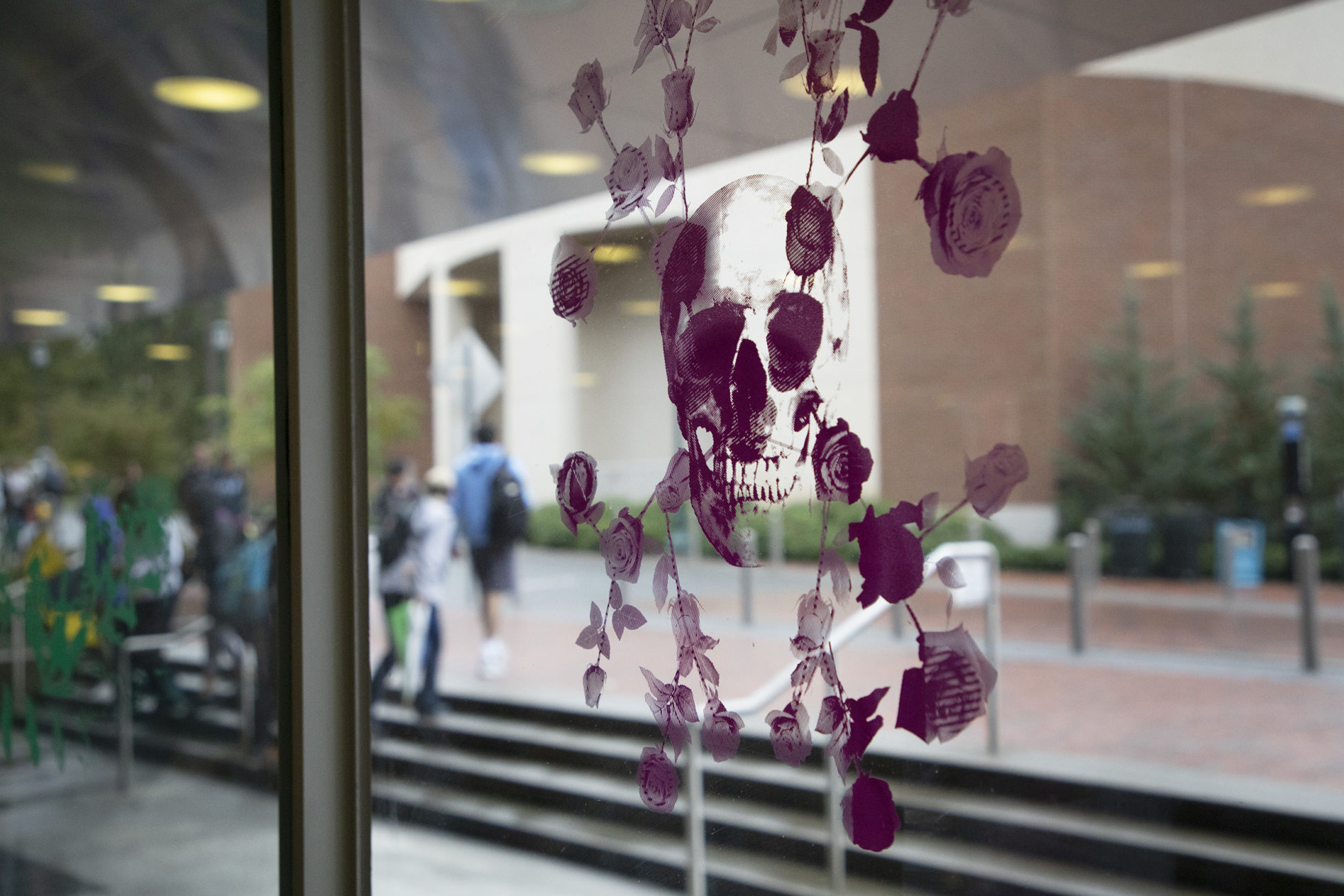 A screen print dries on the window of the UNC Genome Sciences Building. Students have the freedom to go in any direction their inquiring mind takes them, guided by brainstorming sessions with Goldstein and Grabowski. "Because the learning is all based on the students' curiosity it's supposed to be really powerful. They learn much more effectively," Goldstein says. "For example, with the final projects we have 14 students, so the science goes in 14 different directions."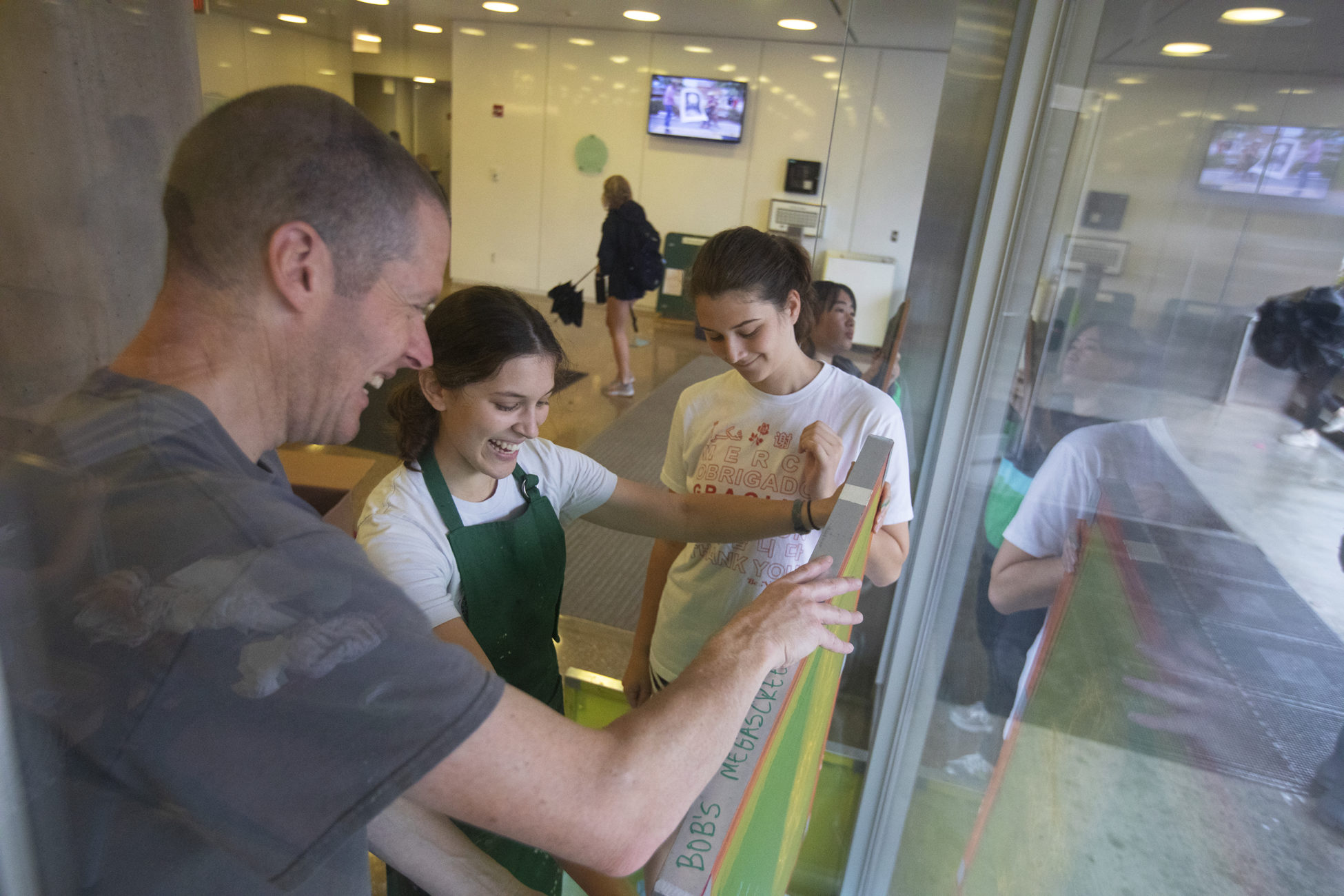 Bob Goldstein and Emma Haseley help Mary Diaz (center) print directly onto the Genome Sciences Building windows, where the class also held a gallery showing projects throughout the semester. When creating the class, the professors wanted to include public presentations of student work. "We've thought about how to bring the art to scientists [outside of class]," Grabowski says, "to a different population than those who would naturally come to the Hanes Art Center."