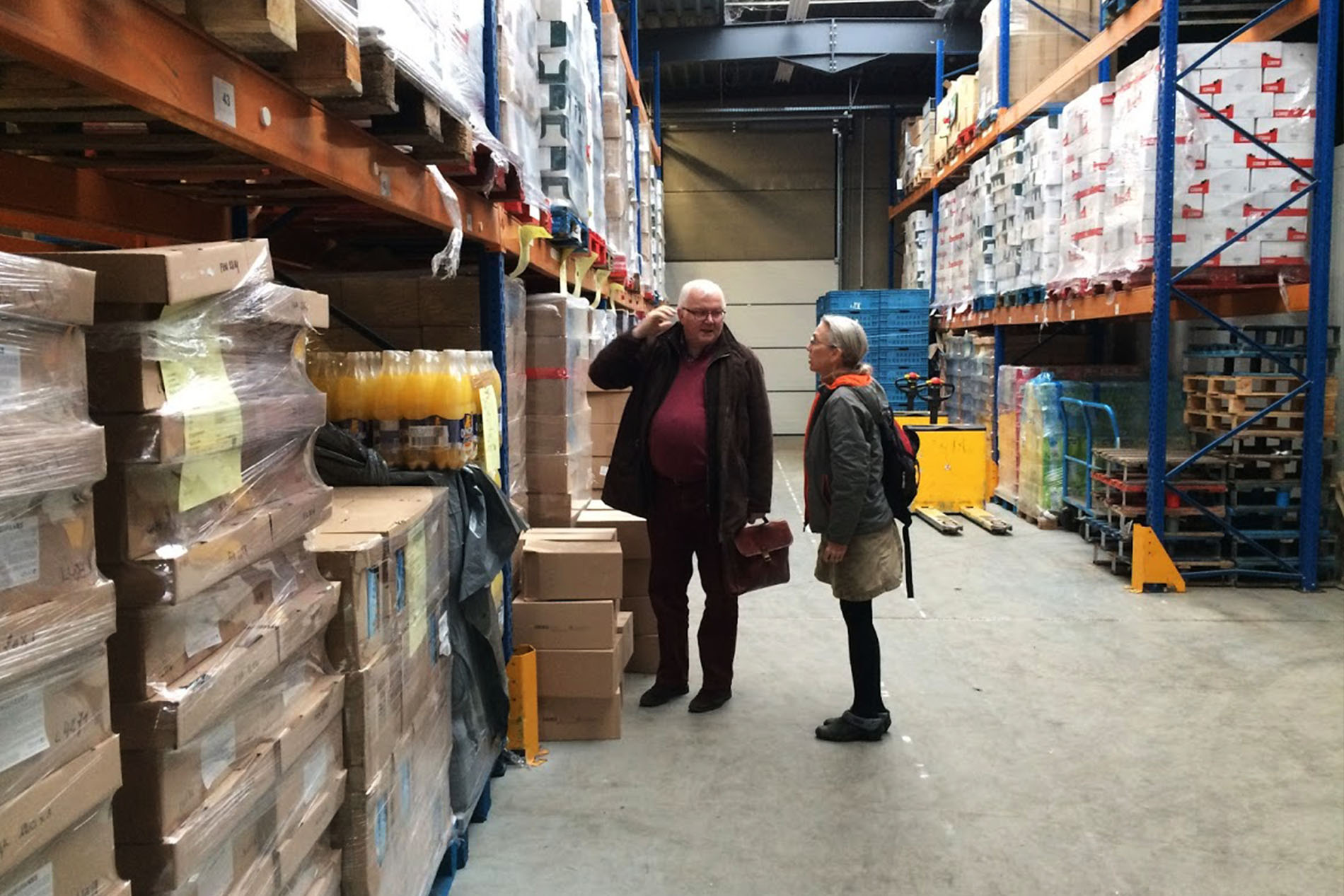 photo courtesy of Andy Berner
March 8th, 2018
Maureen Berner, a professor with the UNC School of Government, had long considered going abroad to do research comparing governmental and non-profit responses to poverty and food security. Much of the current research on these issues was coming out of Europe and Canada.
At the same time, Maarten Van Ginderachter, a history professor at Antwerp University, was looking to come to UNC as a visiting professor. He had already been a Fulbright Scholar at Harvard University and a visiting professor at the University of California at Berkeley. Van Ginderachter was, specifically, interested in UNC-Chapel Hill "because of its great history department, which is absolutely world-class when it comes to modern European history and nationalism studies."
In early 2017, the two met on a home exchange website. After a flurry of emails, Skype chats, various university approvals, and navigation through the international visa process — the deal was struck.
Berner and three of her four children — her oldest son, Will, is a UNC sophomore — began making arrangements to work and study based out of their new temporary home in Merelbeke, a suburb of Ghent, Belgium. She accepted a visiting scholar position at Ghent University and its Centre for Global Studies.
In North Carolina, Van Ginderachter, his wife, and their three kids settled into Berner's home in Carrboro. He spent most of his time in Chapel Hill working on his book, "Workers into Belgians and Flemings. Everyday Nationalism and Social-Democracy in Belle Époque Belgium."
Above and beyond food
The Belgian Federation of Food Banks assists more than 150,000 people in Belgium with the help of hundreds of volunteers and thousands of donors — which include supermarkets, producers, and restaurants.
But the food banks here aren't merely for food distribution.
"They are often used as centers for helping people get back on their feet through social inclusion — helping people find resources," Berner says. "There is a level of coordination between the food banks and local governments, all of which are working toward the same goals for citizens."
Berner spent the Fall 2017 semester in Belgium to gain a better understanding on Europe's perception of poverty as "material deprivation and social exclusion." Specifically, what lessons could Europe offer North Carolina through the lens of its own response to food insecurity?
Berner talked to leaders of the European Union's Fund for Economically Disadvantaged, the European Federation of Food Banks, the Belgian Federation of Food Banks, and related institutions in the United Kingdom such as The Trussell Trust and the Joseph Rowntree Foundation.
"I knew I was on the right track when an article I wrote based on the need for this type of comparative work was accepted to a journal shortly after I arrived," she says. "And then stories were published in Belgian newspapers on the same rising level of food pantry demand as we have been seeing in the United States."
Crisscrossing the country, she made site visits to regional food banks in Antwerp, Ghent, Liege, Brussels, Kuurne, and Tournai, as well as to Eindhoven in the Netherlands.
The effort of an entire community
In Belgium, Berner observed many similarities between Europe and America. "Europe also focuses on employment policies, job training, business growth, education, community development, and social welfare," she shares. "Affordable housing is a significant issue, and recycling is a priority. Local government is local government in most ways."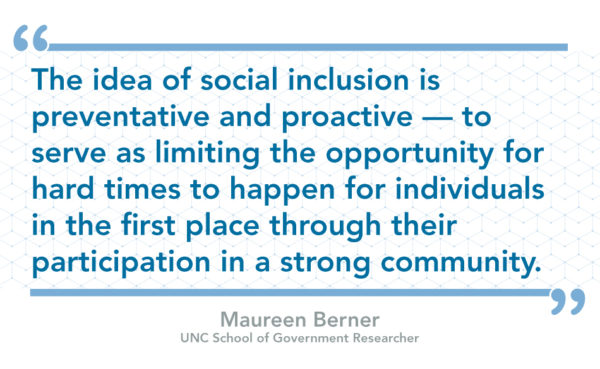 Where she found an immediate difference, however, was the over-arching theme of "Social Europe," a term that "seems to have caught fire" — although the term itself is not well-defined. A reflection paper from the European Commission released in April 2017 states that social dimensions address how to sustain our standards of living, create more and better jobs, equip people with the right skills, and create more unity within our society, in light of tomorrow's society and world of work.
"At first glance, social dimensions address specific work and social protections for individuals, but in reality are very broad, addressing issues from education to pensions," Berner explains. "In September 2017, an overview released on the specific policies that the European Parliament was discussing under the umbrella of the term Social Europe. And as an overall framework developed after two years of commentary and discussion, the European Pillar of Social Rights was adopted by EU institutions this past November in Sweden."
In Berner's interviews with food bank administrators and staff, she was surprised at the breadth of the term's use with individuals, suggesting that the social inclusion framework had been adopted across government services and used by citizens, non-profit organizations, and businesses — and not just applied to traditional social service/anti-poverty programs.
Social inclusion was targeted not only to low-income individuals, but was conceptualized as a right of everyone, according to Berner.
"My interpretation is that social inclusion means everyone has a right to participate in and benefit from a strong community, and also that everyone needs to foster and maintain it.  It is a much broader idea than we have in the United States, which is more about the social safety net. The social safety net is there to protect people if they fall on hard times. It is reactionary."
Three themes flowed from her interviews. The first is the use of material deprivation as a measure of need — things like housing, heat, food, and transportation — as opposed to using only income, the common criteria utilized in the United States.
The second was a focus on personal responsibility, with the idea that if someone were adequately participating in community life — such as having an education, a job, and social connections and interactions — then they should be able to maintain a minimum, acceptable living standard without intervention.
The third flowed from a "team" analogy. The government and nonprofits involved in food security were firm in understanding their distinct and limited roles. "We do not do that," was a common statement. But there was also a clear expectation of respect and collaboration in helping each other in those separate roles, promoting and enabling inclusion in community life.
19th-century Belgium in Chapel Hill
While at UNC, Van Ginderachter finished the manuscript for his book. In the 19th century, Belgium was the paragon of European modernity. Densely populated and urbanized, covered by a network of busy railroads, canals, and highways, it was the first industrialized country on the continent.
"I wanted to demonstrate how the experience of a small state — nestled in between France, Germany, the Netherlands, and the United Kingdom — speaks to wider European history," he says. "How it sheds new light on how multilingual societies fared in the age of mass politics and ethnic nationalism."
Van Ginderachter also wanted to give voice to the faceless masses that are so often overlooked in history. Using sources from ordinary people (including a late nineteenth-century precursor of "tweets" published in the labor press), he tried to uncover the everyday experience of working-class people in pre-WWI Belgium, and how they related to issues of nationhood, ethnicity, and language.
Soccer and bicycles
Living for nearly half a year in Belgium with her family, Berner found Belgians to be very warm and interested.
"Outside of my research, my favorite thing was being a football (soccer) parent with my 8-year-old's team," she says. "We were welcomed into the tradition of bringing our son to matches and, while the team warms up, sitting in the canteen (clubhouse) with other parents, sipping coffee and gossiping. Once the match is over, everyone returned to the canteen for more coffee — or beer — and the kids joined in for a Coke. In some games, the host team/clubhouse would provide homemade soup or sandwiches for the visiting team and families."
Berner also took to bicycling for most of her transportation. "I loved my bike! The best days included a brisk ride through town to get early-morning groceries, packing them into the bike saddle bags — even in the rain or wind — or evening rides on the narrow paths out into the country around town."
Culture and coffee
Van Ginderachter also enjoyed his time abroad, developing a love for UNC. "The department was so kind as to grant me an office of my own," he shares. "But I also spent lots of time in Davis Library and — for the grand décor — Wilson Library. I also grew into the American habit of working in coffee shops like the Stone and Leaf on campus or Open Eye Café in Carrboro."
His family grew fond of Chapel Hill and especially Carrboro. Their local favorites include the porch of Mama Dips, Elmo's in Carrboro, Maple View Ice Cream, and Weaver Street Market.
The family travelled regionally, enjoying the fall with hikes in the Triangle area, visits to the coast — "long live soft-shell crab and delicious scallops," exclaims Van Ginderachter — and the Blue Ridge Mountains. "Asheville is probably our favorite city in the state," he says.
When asked about differences with life in Belgium, Van Ginderachter notes that there was no real culture shock, but as a scholar of nationalism it is the small differences that are most interesting because they activate certain identifications as a Belgian or a European that otherwise remain under the radar.
"For instance, here in the South, people are generally friendlier in day-to-day contacts," he shares. "For a Belgian it is kind of unsettling to be greeted with a hearty 'how are you' when you're ordering coffee. We're accustomed to sulky service. As such, we are always momentarily wrong-footed when a stranger genuinely wishes you well. There is this two-second delay before we get our footing back and are able to stammer, 'I'm doing fine. How are you?'"
A continuing journey
Now back in Chapel Hill, Berner and her family have re-acclimated to their American life, but she continues to work through her notes and observations from her "study abroad." Through contacts made and ideas circulated, she returned to the School of Government with a broader view of an issue she has studied for more than 20 years.
"Obviously, there are great differences in how governments and non-profits work in Belgium and in Europe," she says, "but there is a lot of good information to be shared when we are all talking about the same issues and the same human condition."