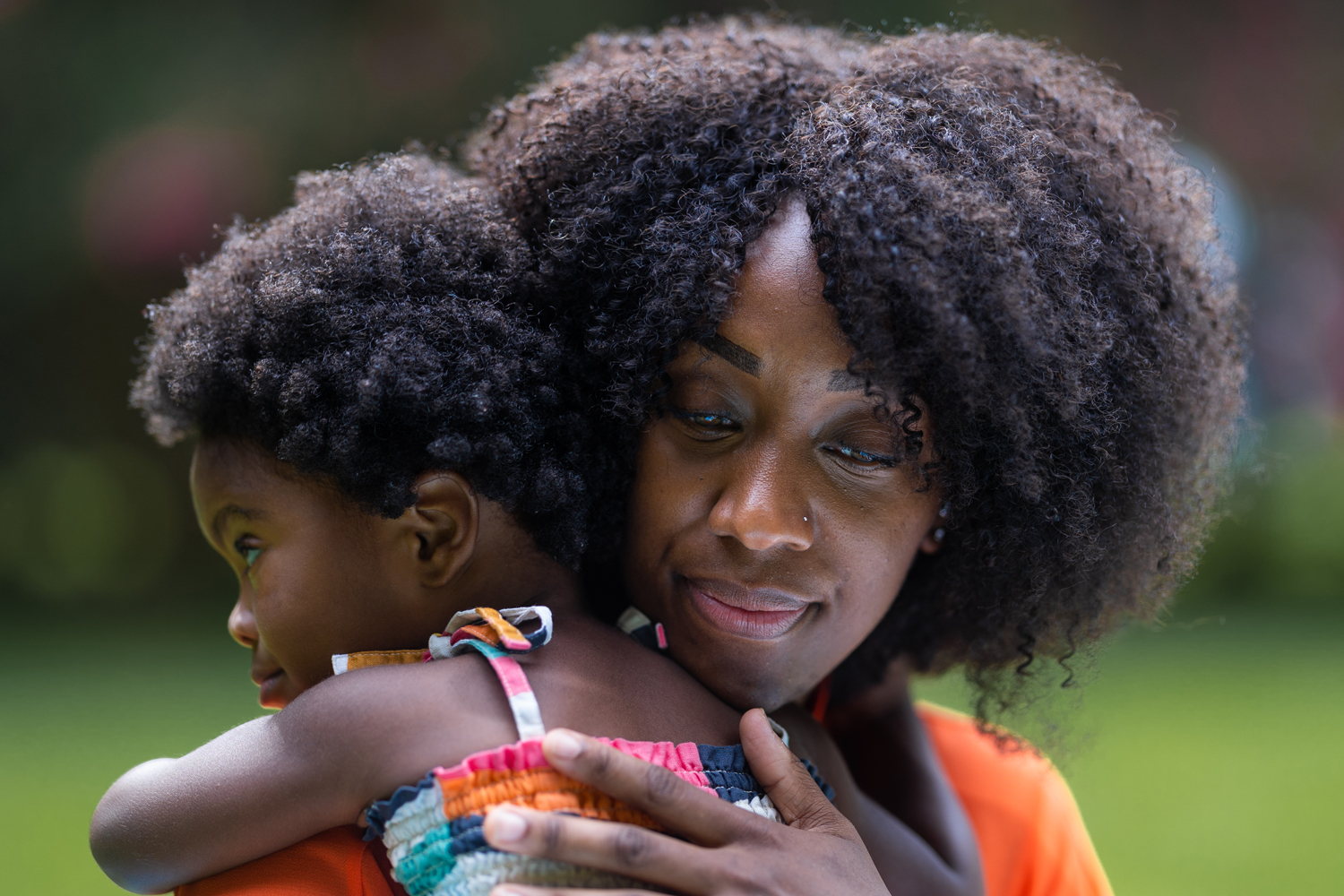 March 17th, 2023
Since she was a child, Ganga Bey has felt a strong sense of compassion and empathy for everyone around her — a feeling she attributes to lessons received from her mother, who she calls her "favorite person in the world."
Named after the life-giving waters of the Ganges River, Bey grew up in an equally nurturing household in Cleveland, Ohio. There, she and her siblings were homeschooled by her mother, who taught them how to separate self-worth from social status — a lesson Bey took with her into her adult years.
"I grew up with the Eastern philosophy that we are not our bodies," says Bey. "That was the first thing I ever learned, and it was the biggest lesson my mom taught us. She reinforced these ideas, which allowed me to have this freedom to experience the world with a buffer."
Upon entering adulthood, she realized that those childhood lessons were rare, and that most young people are taught that they must be better than others to feel valuable.
"We all have some kind of privilege that we hold onto secretly in our hearts that we think makes us better than other people," she shares. "That comes in different forms — like ableism, where we believe that because we're able-bodied we are better than people who are disabled. Or because we're men, we believe we're better than women. It may not be conscious, but I think it's one of our greatest disadvantages of growing up in an inequitable society."
Today, Bey is an accomplished postdoctoral researcher in the Department of Epidemiology at UNC-Chapel Hill, where she's developing ways to tackle systemic racism, other forms of systemic oppression, and the effects they have on our stress levels and health.
"I am interested in this idea that what we believe about ourselves and our relationships with others influences how we deal with stress in the world," she says.
A shift in perspective
In 2004, Bey began attending Princeton University to study biology. She dreamed of becoming a cardiologist because she wanted to help people in need and provide specialized care.
Two years into her degree, she registered for a class in medical anthropology — a field that dives deep into the social structure of health and how it's perceived by different groups. It opened her eyes to the whole system of illness that makes people sick in the first place, rather than just the individualized care provided to people after they're already sick.
This made Bey consider big questions: How does society contribute to people being sick? How does the way that we interact with other human beings contribute to people being sick? What is health?
"Sometimes, I couldn't even sleep thinking about all these connections and the ways that people were being affected," she shares. "I went from wanting to treat people who have heart disease to thinking that maybe it's society that's making people have heart disease."
Bey felt determined to find the answers, so much so that she changed her major to anthropology and African American studies.
Later, she pursued a master's degree in public health at the Icahn School of Medicine at Mount Sinai, where she realized that helping people extends beyond practicing medicine. She discovered a subfield of public health practice that aims to prevent disease and unpack patterns of individual risks among the human population.
"I had never heard of epidemiology," she says. "Once I did my master's of public health, I was like, Oh! There's a whole field that deals with this."
Epidemiologists identify the causes and risk factors of disease to develop health interventions —vital work for pushing policies aimed at reducing health disparities and addressing structural inequalities.
Determined to get her PhD in epidemiology, Bey attended the University of Massachusetts Medical School, Worcester. While there, she studied how social experiences affect heart health among Black and white women and men.
Previous research has not fully clarified these relationships, according to Bey, and the findings are conflicting. Some studies suggest an association between racial discrimination and heart disease in Black Americans, while others dispute this correlation. The development of risk factors like inactivity and obesity in Black women has been linked to discrimination, too. But few studies have examined these relationships in other groups and what these differences reveal about how discrimination actually affects health.
To fill these gaps, Bey began analyzing data from the Coronary Artery Risk Developing in Young Adults (CARDIA) study. Black women and men reported many more accounts of racial discrimination in a variety of settings in comparison to white women and men. Bey concluded that different experiences of discrimination may lead to different negative health effects — which might offer insight into the inconsistencies she's seen in linking discrimination to the development of cardiovascular disease.
These findings led Bey to develop a new theoretical framework for understanding the causes of health disparities she'd been thinking about throughout her PhD training but was hesitant to bring into her work: the Identity Vitality-Pathology (IVP) model.
What was novel about Bey's model was the argument that inequitable social environments shape health and disease risk through teaching people that their social identity is what gives them more or less value. By determining how people value themselves and what influences how they react to social stress, she is researching how identity shapes how stress influences health.
"I was excited for the opportunity to finally center my research on the lessons I'd learned from my mother and through my anthropology courses — that something about the way we identify ourselves and our worth might just influence how we interact with the stress of social inequity, which in turn could have important implications for addressing health inequity across social groups."
Her golden years
Now, as a postdoctoral researcher at UNC, Bey feels confident in her research and has been loving every second of it.
"My postdoc years have been golden," she says with a smile.
They've also been ripe with discovery. Her interests in identity and stress have pushed the bounds on what is normally studied in her field. There is a solid base of evidence that discriminatory experiences can affect health and aging, but Bey believes that people who experience multiple forms of inequality will manifest different risks for different diseases.
In a 2018 study, Bey examined the relationship between chronic stress and depression across different race and gender groups. She discovered that the association between higher levels of stress and depression was stronger for Black men and white women than Black women and white men. Such disparities could potentially be attributed to the distinct ways these groups have learned to cope with stress and the way access to different resources might influence their ability to do so, which could then manifest as depression.
Like the findings from her dissertation, this study offered additional evidence that Bey's IVP theory was on to something. She believes she's found an understudied but vital area of epidemiology.
"Much of the anti-racism work in epidemiology targets systems of inequity, as it should," she says. "But I think that we also must be conscientious of how we can improve the lives of people who are currently being affected while we are advocating for the deconstruction of those systems. That is the niche that I am sliding into."
Structural racism is a form of racism that is embedded in laws, beliefs, and practices and leads to discriminatory treatment of people of color. In the last two years alone, the media has produced story after story on this topic, which affects policing, voting, and financial practices.
"The media is stirring the pot here, and it is good in my opinion that these issues are rising to the surface," Bey admits. "It means we are more openly grappling with something that has been a reality in this country since it was founded. And to now see such a strong correlation being made between structural racism and health means we are thinking about this in a different way."
And that makes for a research landscape ripe for Bey's work.
Bey believes it's not just the people on the receiving end of the racist acts that are victims; those doing the oppressing are suffering, too. She is inspired by the growing commitment to anti-racism and hopes to develop identity-based interventions that can also be used to combat racism and identify and address biases among all populations. Such interventions use something Bey considers a form of "resocialization" — learning to think differently about what it means to identify as a certain race, gender, or other social designation.
"We need to get rid of the harmful environment, but we also need to teach people to be resilient within it — because that allows them to take more control of their own outcomes," she says. "And I believe that teaching people resilience is itself a way of deconstructing the harmful environment."
Now, Bey is developing a questionnaire to measure how people view their identity, individual value, and the value of other human beings. With this data, she wants to uncover the strengths and weaknesses of her novel IVP theory and hopes to see the field of epidemiology become more inclusive of identity.
The next generation
The opportunity Bey had as a child to learn in a way that supported her inclusive and broad conceptualization of her identity is the gift from her mother she would like to extend to others. Her ultimate goal is to open a school to learn if self-identification has real-world impact and to give the next generation tools to dismantle these long-standing inequitable systems.
"Part of the reason I loved being homeschooled was because we had the freedom to learn in a way that supported our identity and beliefs," she says. "It encouraged us to develop critical thinking skills and reinforced our values."
This starts with her own daughter, who is just 2 years old.
"My partner and I really emphasize courage, compassion, and curiosity in every aspect of her upbringing as a way of instilling those values and empowering her to deal with the challenges of the world."
Bey wants to instill interpersonal skills and effective ways to manage stress to a range of age groups, especially young children. So when they are inevitably exposed to discrimination themselves, they are not shocked and overwhelmed by the reality of those experiences, nor are they inclined to see discriminatory beliefs as advantageous. She believes such knowledge is powerful and can open new pathways toward a more equitable society.