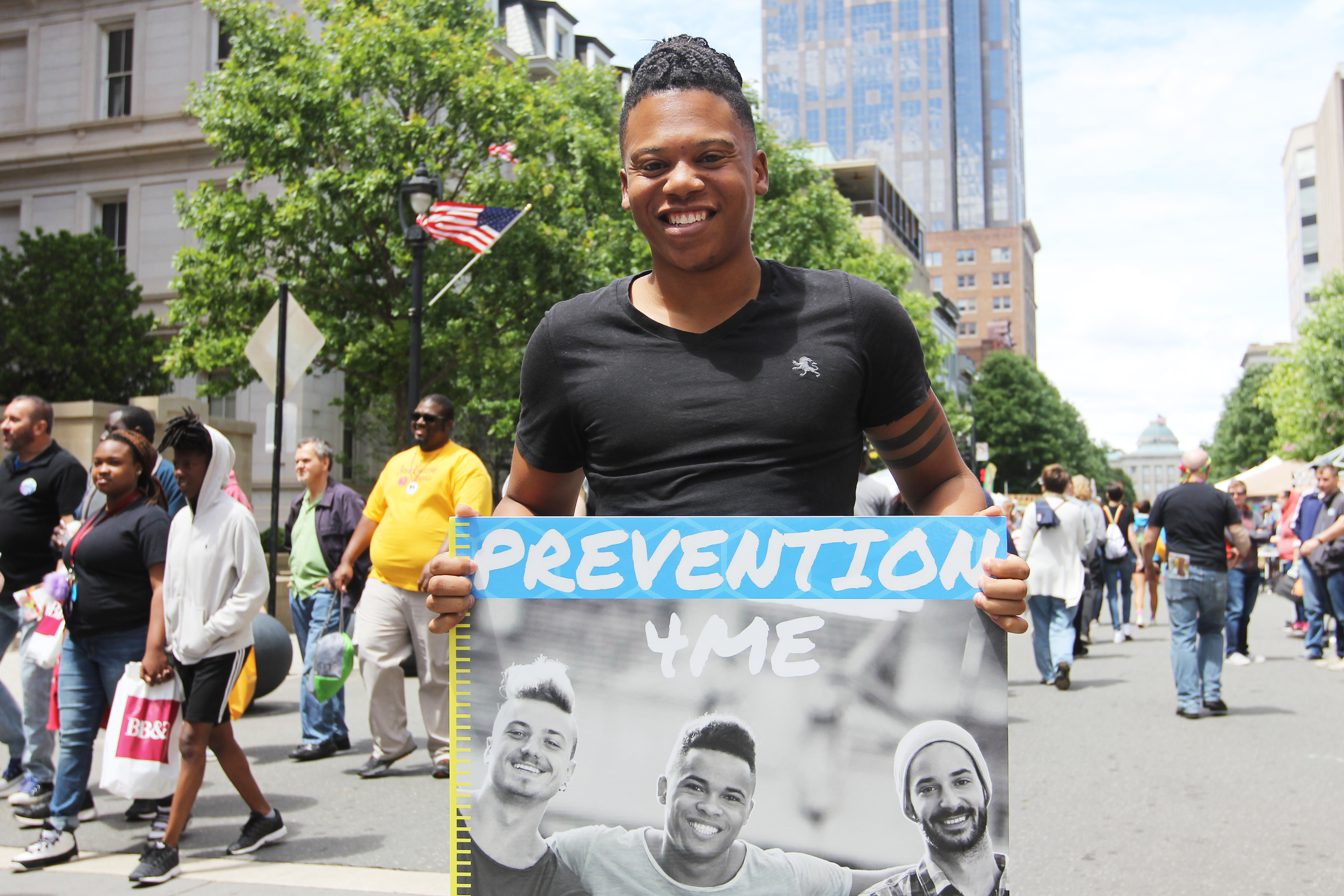 photo by Mary Lide Parker
May 9th, 2017
Social worker Michael Williams had never considered joining a research study, especially one to prevent HIV. But learning he was at risk prompted him to take control of his health. He is now participating in his fifth trial.
"Like a lot of people, I don't like using condoms," Williams says. "Then, my partner disclosed that he was living with HIV. He had an appointment at UNC's Infectious Diseases Clinic the next day. We asked about our options while we were there and that is how we found out about a research study testing a pill called Truvada to prevent HIV. I've been on that now for at least four or five years, and I am still HIV negative."
While the rate of new HIV infections in the United States has stabilized to around 40,000 annually, African-American gay men remain disproportionately affected. African Americans represented only 12 percent of the U.S. population in 2015, but accounted for 45 percent of new diagnoses, according to the Centers for Disease Control and Prevention (CDC). And even more startling, 82 percent of infections among men occurred in those who identified as gay or bisexual.
"Men who have sex with men are at higher risk for infection. Anal sex is the most efficient means of transmitting HIV sexually," Christopher Hurt, a UNC infectious diseases specialist and researcher, says.
The field of HIV research has come a long way in the 30 years since the virus was first discovered. Once considered a certain death sentence, HIV is now a manageable, chronic disease that can be controlled through daily, oral antiretroviral therapy with minimal side effects. In 2012, the Food and Drug Administration (FDA) approved the anti-HIV pill Truvada for prevention, thanks to the results and willingness of people like Williams who volunteer to take part in HIV prevention studies.
While HIV infection rates in the United States have declined since 2005, the increased diagnoses among minorities, gay men, and the transgender population underscore the importance of developing prevention options in addition to Truvada. For the first time, UNC's Division of Infectious Diseases will launch three prevention studies simultaneously. The timing is critical as the South, geographically, experienced the most new infections in 2015, according to the CDC.
"When you prevent HIV, you are protecting your personal health. HIV really takes a toll on your body and your immune system," Hurt says. "Separately from that, though, HIV still carries a lot of stigma in the United States, especially in the South. There are still a lot of misconceptions about what it means to live with HIV and what kind of person you are if you have it. So preventing infection helps to also unburden you from all that added stigma that gets attached to a diagnosis."
Adding to the toolbox
Hurt is the principal investigator of one of three studies launching this spring to observe different forms of pre-exposure prophylaxis, or PrEP, to prevent HIV. The study he leads, Give PrEP a Shot, is funded through the National Institutes of Health's HIV Prevention Trials Network (HPTN), of which UNC is a domestic site. The trial, also known by its HPTN study number, 083, tests the safety and effectiveness of a long-acting injection of a new anti-HIV drug called cabotegravir.
"This injection allows you to go a full two months before you would need to get another dose of anything," Hurt says. "Participants are randomized to get the injectable version of cabotegravir as the active drug or to get the once-daily pill Truvada."
A second study, called DISCOVER, is looking at the drug Descovy as an oral alternative to Truvada. Descovy was approved by the FDA last year for the treatment of HIV, but its prevention potential is unknown. "The agents in Descovy are very similar to Truvada, but they are packaged a little bit differently and avoid the potential side effects with the kidneys and bones that Truvada has," Hurt says. Just as all participants in Give PrEP a Shot receive an active drug, volunteers in DISCOVER take either Descovy or Truvada.
The final study is a joint effort of two NIH-funded research networks – the HIV Prevention Trials Network (HPTN) and the HIV Vaccine Trials Network (HVTN). The Antibody Mediated Prevention study, or AMP, tests a first-of-its-kind infusion of antibodies given every two months.
"The idea behind AMP is a little bit out-of-the-box," Hurt says. "It takes a page from vaccine work and gives people an antibody that attaches to the HIV virus. It's creating a little bumper around the virus so it can't attach to the cells in the body it would need to set up an infection."
Spreading the word
Felton Thomas learned about Truvada to prevent HIV through a conversation with his neighbor. He contacted UNC Community Engagement Manager Noshima Darden-Tabb and joined a study testing adherence to Truvada among African-American men who have sex with men. Thomas remains HIV negative and currently participates in the AMP study. Last year, Darden-Tabb asked him to become a community research ambassador to share information about AMP.
"I like getting my hands dirty in my community," Thomas says. "We have these revolutionary ways to prevent HIV that are being tested right now. And I'm just spreading the word about these prevention studies at UNC. Just making sure that the next person and the next person knows."
Thomas is one of 10 community research ambassadors. Ambassadors undergo outreach training twice a year and commit to spending at least four hours a month talking to people in their social networks about the HIV research being conducted at UNC's Division of Infectious Diseases. Thomas says he usually starts the conversation with general questions about PrEP. Anyone interested in learning more, like a friend from high school recently was, is referred to Darden-Tabb.
"You want this kind of information to disseminate very quickly and widely because there are still people that don't know there are ways of prevention," Thomas says. "That there is a pill. That there is anything past condoms. I just want members of my community to stay healthy for as long as absolutely possible and live to the absolute fullest."
All three studies are enrolling men and transgender women who have sex with men. The AMP study also includes transgender men who have sex with men.
To learn more about eligibility, call 877-643-9040, email prevention_study@med.unc.edu, or submit contact info through www.prevention4me.org.
All three studies are enrolling men and transgender women who have sex with men. The AMP study also includes transgender men who have sex with men.

To learn more about eligibility, call 877-643-9040, email prevention_study@med.unc.edu, or submit contact info through www.prevention4me.org.
Finding a family
Williams is now enrolled in the AMP study, his fifth trial at UNC. He credits his repeated participation to the study team's caring nature and ability to offer referrals to other resources. For example, research nurse Becky Straub helped him access Truvada after that first study ended.
"She and the study team actually called around and made sure my primary care doctor at UNC knew how to prescribe it. They really care," Williams says. "I'm not here to preach, 'You should come in and do this,' but I can say it works for me. HIV doesn't have a face. It can happen to anybody at any time. And you cannot help who you fall in love with. Through the research studies, you can still have a healthy relationship and feel protected."
In her five years working in HIV research at UNC, Straub admits that she never ceases to be moved by the generosity of study volunteers like Williams and Thomas. She is hopeful these three studies will yield additional options for the prevention toolbox.
"While managing HIV has become easier over the years, if you ask people living with HIV, they will tell you contracting the virus is a life-changing experience," Straub says. "There are increased doctor's visits. You can face stigma. And you have to have a conversation before sex with every new partner.
"Preventing infection is so important," she continues. "Through these new studies, we hope to increase the number of options we have for people to protect themselves. We want to give them a variety of choices for prevention that will fit with their lifestyle and keep them healthy."