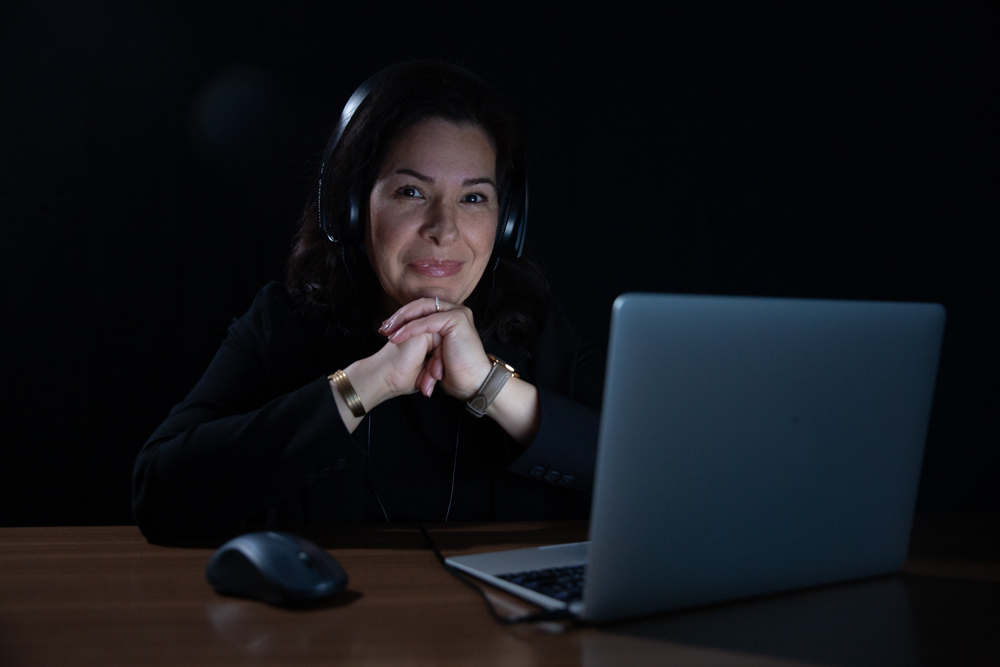 March 16th, 2023
When she was a child, Nazanin Knudsen's home shared a wall with an Iranian government building. In 1980s Tehran that meant listening to shells as anti-aircraft guns defended the city.
The Iran-Iraq war was pervasive throughout Knudsen's childhood, and the moments of noise and violence were unpredictable and varied in length. When they did happen, though, Knudsen's father would lead her to the window.
"It's the very earliest memory I have of back home," she shares. "To get me to calm down and not be afraid of it, my father would say, 'Hey, look! Look at the lights! How beautiful it is!'"
She was only 4 at the time, but she remembers those air raids like fireworks instead of anti-aircraft tracers thanks to her father.
Now, as a UNC-Chapel Hill filmmaker and non-fiction writer, Knudsen is storyboarding that memory and intends to produce it as an animated film called "The Window." She also plans to use it as the opening scene for her memoir, work that she hopes will allow American viewers to see Iran as more than a place of conflict.
"We actually had a normal life," she says. "There was war, and then you had parties. It's never black-and-white."
While much of Knudsen's work is about Iran, she covers other cultures and topics. Whether it's war in the Middle East or gun violence in the United States, she hopes to empower her readers and viewers to make change in their communities.
A life split between two passions
Knudsen's first exposure to filmmaking was as an undergraduate student at the Tehran University of Art. The school didn't have a creative writing program – Knudsen's true passion — so she chose the next best thing.
After finishing her degree in 2002, she applied for a visa to the United States to pursue her master's at the University of Arizona. Her applications aligned with then President George W. Bush's 2002 State of the Union address, when he called Iran, Iraq, and North Korea the "axis of evil." Knudsen's visa application was denied six times.
Despite the challenges, she edited her first television documentary series that year, and had the opportunity to work with Asghar Argon, an award-winning Iranian filmmaker. The docuseries they produced, "Rahian-e Behest," is about chemical veterans of the Iran-Iraq war.
Knudsen has always enjoyed writing in addition to filmmaking, but when she moved to the United States in 2003, filmmaking felt easier because of the language barrier.
Since graduating in 2005, she's worked with a variety of media companies making and producing independent films, oftentimes in collaboration with local artists. One of these recent projects is "The Reservoir, Episode 1: 5a.m.," a short documentary about Durham Commissioner Brenda Howerton's loss of two sons to gun violence — and how she channels that experience into her political career. The film is produced and directed by Lana Garland.
Knudsen's passion for teaching began in 2016, when she became a faculty member within the film program at the Art Institute of Raleigh-Durham. In 2019, she joined the faculty at the UNC Hussman School of Journalism and Media to teach digital storytelling to the next generation of journalists and media professionals.
After several years of teaching, Knudsen decided it was time to become a student again and began pursuing her master's in creative writing. Since graduating in 2021, she's had numerous works published in a variety of online literary magazines.
In 2022, her flash fiction piece "Simon" was published in a book of flash stories and essays. It was also nominated for "Best Microfiction" — an anthology series recognizing outstanding literary stories of 400 words or fewer. It's about the shift in perspective a child of color experiences during the course of his life — from outsiders admiring his curls in a grocery store to eventually being wary of his every move.
She is also in the process of editing "Across the Stream," a film about the loss of her mother, distance, and grief.
Knudsen's written and visual works carry a similar theme: using a small moment in time to reflect on larger cultural discrepancies. She believes storytelling is a way to hope and act for change even in times of crisis.
"We can be activists as much as we want, but there are a lot of things here that I can change," she says. "And my students in the classrooms, I think helping them is one way to give back to the world."
It takes a village
Knudsen is still editing and filming documentaries and is contributing as an editor at SugarSugarSalt magazine, but she continues to teach at Carolina.
Knudsen's class "Introduction to Digital Storytelling" is the first exposure most undergraduates in the journalism school have to visual storytelling. The students learn basic filmmaking principles, build web portfolios, and produce a short documentary.
She also helps students address issues in their own communities. Some have produced films about coming out to parents, overcoming stigma around obesity, and coping with refugee status.
Knudsen prides herself on having a classroom focused on student needs — a philosophy that stems from her own experiences during her master's program.
In 2003, just three weeks into her graduate studies at the University of Arizona, Knudsen began to struggle with blurred vision and raging headaches.
"Everybody told me, 'Hey, you know, graduate school is stressful. You don't understand half of the stuff that they're teaching, obviously because of language barriers,'" she says.
But upon seeing an ophthalmologist, she learned she had a brain tumor called a meningioma and had surgery to remove it three days later. After, the doctor told Knudsen she needed to walk around, but as she inched down the hallway with her IV stand, vision still blurred, she felt crippled by her pain.
"But then the nurse that was taking care of me that day found me and said, 'What are you doing?' And I just lost it," she shares. "I used to be the person that helped everybody, and now I couldn't even walk to my room."
He told her: "We all need people at some point, and it's okay to ask for help."
That experience, Knudsen says, has encouraged her to become a more compassionate teacher that accounts for the needs of different students. Journalism classes can be fast-paced and rigorous, and Knudsen wants her students to feel comfortable speaking up when they feel overwhelmed.
"A lot of times I ask them for help," she says. "I hope that I make them feel like there is nothing wrong with that."