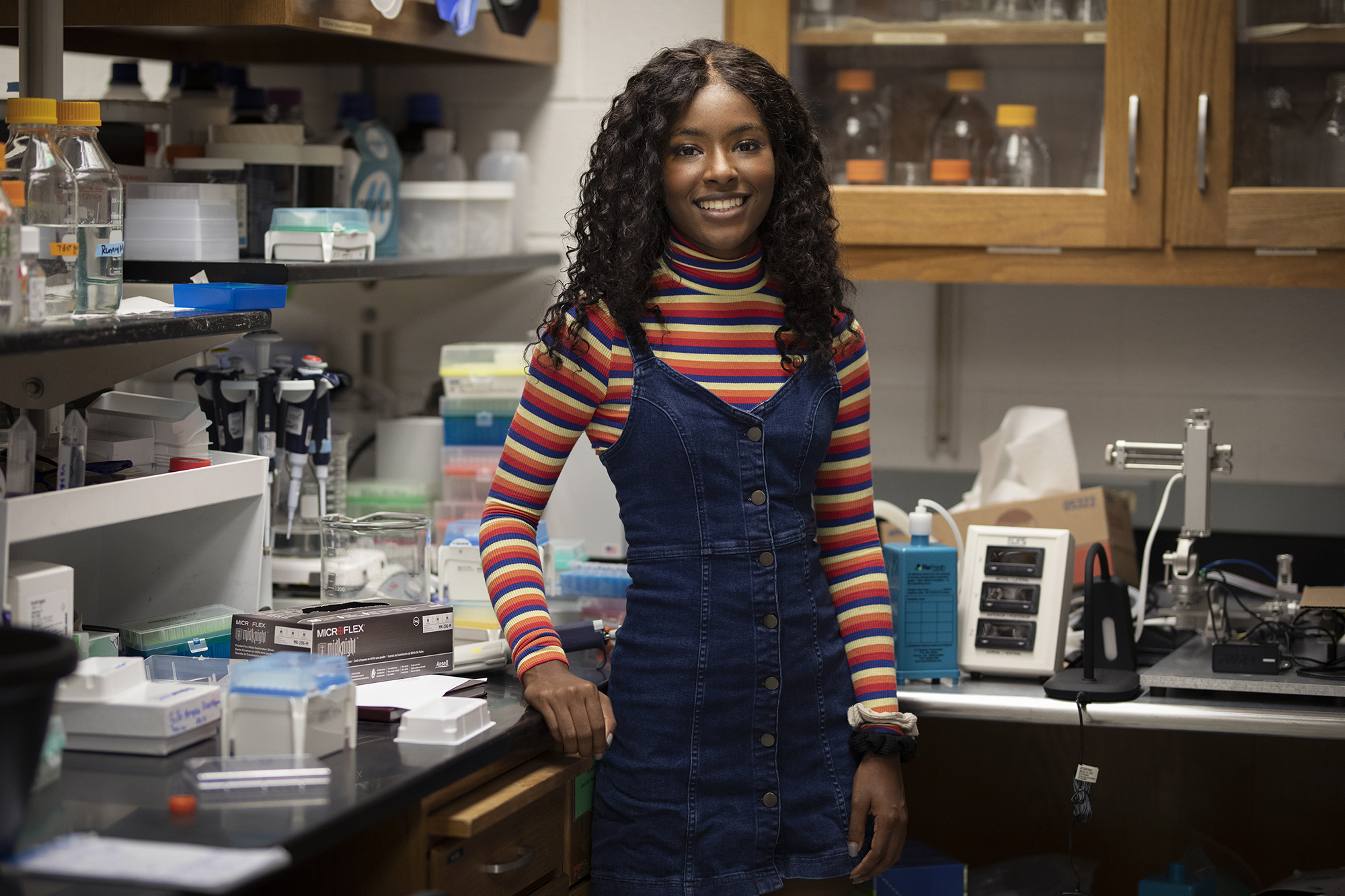 September 9th, 2021
Leaning over a laboratory work station, UNC senior Autumn Tucker gently prods what looks like fish scales floating in a petri dish. But the tiny, translucent flakes aren't from the marine world. They're minuscule slices of a mouse brain. Flipping through a book on parts of the brain, Tucker eventually makes an identification — she's looking at sections of the posterior part of the brain, home to the hippocampus and entorhinal cortex.
Tucker is an undergraduate researcher in the Leon Coleman Lab within the UNC School of Medicine's Department of Pharmacology. She studies the link between alcoholism and Alzheimer's disease and spent this past summer researching the long-term impacts of alcoholism. If someone struggles with alcohol abuse for a sustained number of years, that behavior can have repercussions for decades to come.
Alcoholism is neurodegenerative, meaning it is an illness that involves the death of certain parts of the brain. Just because someone recovers from an addiction, that doesn't mean their brain fully recovers from the damage. Neuroscientists have found links to alcoholism and the onset of dementia and Alzheimer's disease.
Tucker first reached out to Coleman the summer after her first year at UNC. While offered a position in January of 2020 Tucker had to adjust her plans due to the pandemic. This past January, she was finally able to work in person. Her days are split between running experiments assessing protein and genetic expressions of animal models, analyzing data, and researching papers that can clarify her findings or guide her next steps.
Tucker's day-to-day is a perfect example of what Coleman wants for his students — the opportunity to not only learn practical laboratory skills, but also develop their research.
"The sooner you can get in a lab and start gaining experience and confidence, the better," he says. "You can start by learning basic techniques and hopefully progress to a place where you can work on your own research project."
Conducting faculty-mentored research is correlated with many positive outcomes like increased student satisfaction and self-confidence, and a higher acceptance to graduate and professional programs. For many students, though, the difficulty lies in knowing where to start.
"It requires students to hustle a bit to identify research opportunities," says Robert Pleasants, the associate director for student engagement in the UNC Office for Undergraduate Research. "On top of that, I think some students are under the mistaken assumption that they can only do research in the natural sciences, so they might miss opportunities in the social sciences, fine arts, and humanities."
To help with these challenges, the Office for Undergraduate Research helps students understand how research works at Carolina, find resources and opportunities, and connect them with staff and peer ambassadors.
UNC Research spoke with Tucker to hear about her experience working in a lab, following her passions, and the lessons learned along the way.
When did you first become interested in your career path?
My aunt is a child psychologist, so I first became interested in psychology when I was in elementary school. I've always thought it was interesting to learn how we think and, diving more into the science side of that, why we do what we do. It's definitely a weird thing to latch onto at a young age. I mean, my more typical career dreams were being a pop star or a veterinarian, but when I learned about medical professions it really stuck with me.
What draws you to this type of work?
A lot of people can relate to being impacted in some way by alcoholism or addiction. I have a variety of interests in neuropharmacology, but that's one of the big ones. It's been really motivating to learn more about something that affects so many people.
How did the opportunity to work in a lab come about?
I first reached out to Dr. Coleman the summer after my freshman year and, at the time, I didn't have any real lab experience. I literally started off by looking up "neuropharmacology at UNC" just to see what was out there. I started reading through papers to see what stuck out to me and his research did — his work overlaps a lot with my interests in the field. Since that first summer I kept up with what he was doing, and I was offered the lab position in January of 2020.
 How have you grown as a researcher since working in the Coleman Lab?
I've grown a lot in my confidence and ability to communicate what I'm learning. Before, if I was ever challenged on what I was finding I'd likely say, "You're right, this doesn't make sense. I'm probably wrong." But now I'm more comfortable with my work.
This summer, I participated in the Carolina Summer Fellowship Program in the Department of Pharmacology. That was extremely helpful because we did a lot of career prep stuff like mock interviews and presentations. On top of career building, the social aspects of the program helped me connect with other young researchers interested in medicine and faculty with diverse paths in science. Overall, this experience further increased my confidence in sharing research outside my lab and viewing myself as a scientist. 
How has working in a lab added to your education at UNC?
It's been cool to actually apply what I learn in class to my work in a lab. It's not that lecture learning isn't effective, but it's sometimes hard to connect what you talk about in class to real life. For example, I took a genetics class my first year. We talked about a lot of techniques involved in genetic biology, but it didn't really click for me until I started doing those techniques in the lab.
What advice would you give to other undergraduates looking to get into research?
Be passionate about what you're doing. I know that's a big thing to ask undergraduates, but identifying what you care most about makes you more engaged in the lab work, what you're learning, and communicating with others. I think that's one of the biggest factors in being a great undergraduate researcher and growing as a researcher.