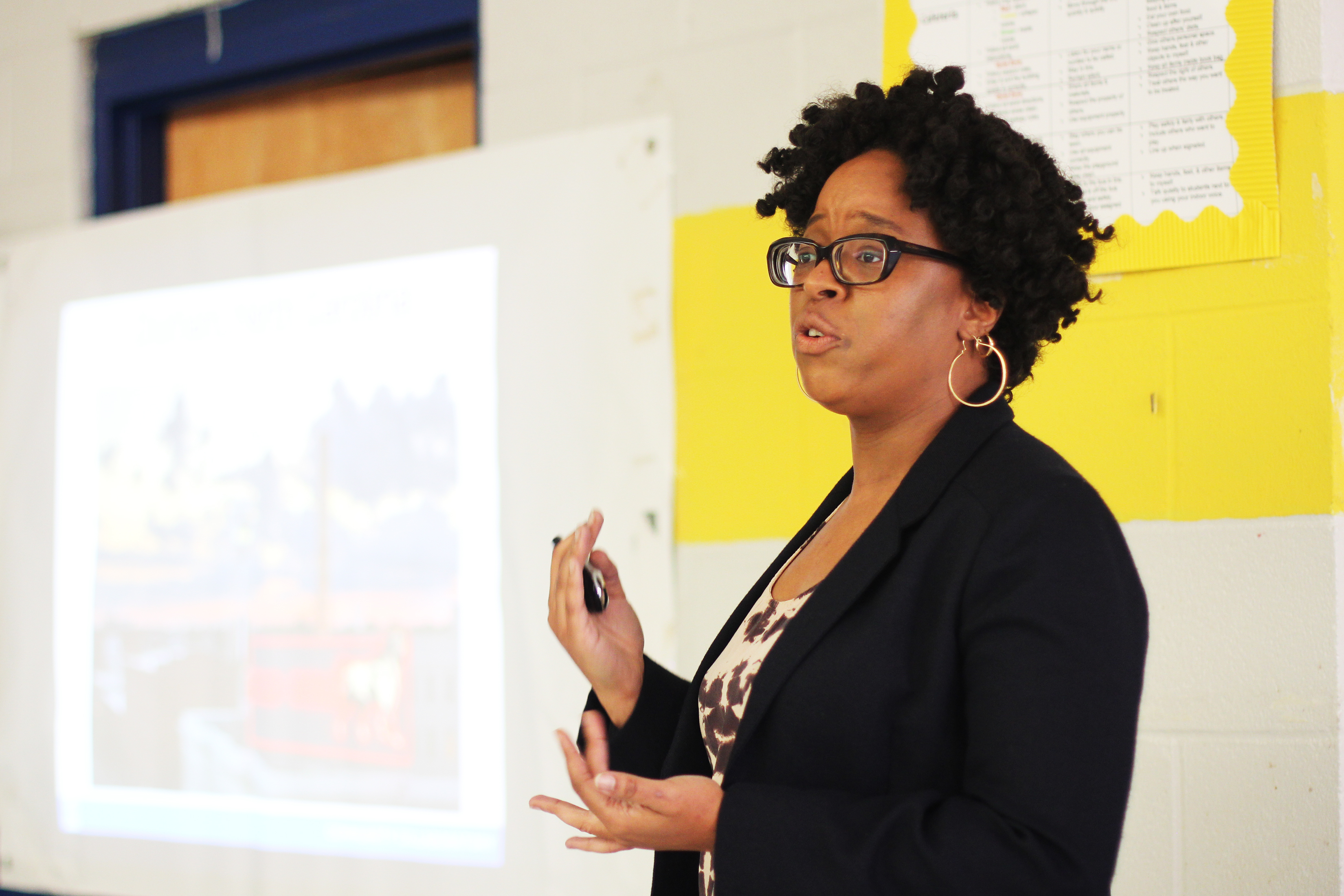 April 19th, 2017
Fruit platters, hummus and veggies, chicken wings, home-baked cookies, and large pitchers of sweet tea and lemonade cover a long table at Holton Career and Resource Center.  It's the third Tuesday of the month, which means Communities in Partnership, a neighborhood initiative of old East Durham, is hosting their monthly potluck.
Across from the table, Karla Jimenez, a graduate student from the UNC Department of City and Regional Planning, talks with a long-term resident of east Durham. Together they examine a large map of the neighborhood, and Jimenez asks her questions about local businesses and economic opportunities in the area.
The woman points to an area of Angier Road where there is a row of abandoned warehouses. "These buildings could be serving the community but they're not," she says. "It's hard to see people walking to the bus stop in the rain with bags of groceries. They have to commute by bus to the other side of Durham just to get groceries."
The conversation switches to food deserts, and while Jimenez listens intently to this woman's concerns about her neighborhood, another graduate student from UNC is taking down notes from their conversation.
"As a facilitator I was engaging participants—I asked them what their experiences have been like, but I was essentially letting them lead the conversation," Jimenez says. "Wherever they wanted to take the conversation we followed, because we wanted to understand what was important to them."
This is what community mapping looks like, and it's one of the ways UNC researchers hope to help some marginalized neighborhoods in east Durham.
"We've worked with other researchers but this has been the best experience," says Camryn Smith, one of the founders of Communities in Partnership. "Oftentimes researchers come in and research us to death and give nothing to the community in return. Having researchers like them who understand racism, inequality, and privilege is really important to us."
The changes
Durham County gained over 44,000 new residents between 2000 and 2010. In the past six years, the county has gained another 36,000 people—meaning the population has grown almost as much in the first half of this decade as it did in the previous 10 years. Durham will likely gain another 53,000 residents by 2020, according to Rebecca Tippett, director of Carolina Demography. "That's a growth rate of 19.5 percent," she says. "It's much faster than the national average, and we anticipate that growth continuing."
You don't have to look at demographic charts to see the increase in population and development, though. Danielle Spurlock, a researcher in the UNC Department of City and Regional Planning, started noticing it while driving to church. "I used to go to church in northeast Durham, so I had been driving that corridor across Alston for a fairly long time," she says. "I started to see more and more houses being purchased and renovated. Now you can just count the number of porter johns up and down the street—there is so much housing under construction."
Those construction projects result in higher property values. When the homes are renovated, new trees are planted, which has been deemed "green gentrification," according to Spurlock. "Once you see green projects going in, it's associated with gentrification as well," she says.
To help combat gentrification and the myriad of complex issues associated with it, Spurlock and her colleagues—Kay Jowers at the Duke Nicholas Institute for Environmental Policy Solutions, Deborah Gallagher from the Duke Nicholas School for the Environment, and Kofi Boone from NC State—applied for and received a grant from the Kenan Creative Collaboratory. Then, they started meeting with long-term residents of old East Durham. "We were asking for a community's trust," Spurlock says. Because their funding came from a foundation, it would allow them to pay for costs associated with neighborhood town hall meetings, like childcare and food—things that state funds often can't cover. "Those basic things are incredibly important in community spaces where you're trying to get people to come together and talk about some very hard issues."
The small team of university researchers established a relationship with Communities in Partnership.
"So much of the development that's going is not benefitting black and brown people," says Smith, who bought a house in old east Durham in 2010. In their attempts to elevate voices from their neighborhood through Communities in Partnership, she says they've run into problems with the mayor. "He doesn't want to hear our stories—he says he wants to see numbers. But behind those numbers are people's lived experience."
That is Spurlock's goal—to show the numbers within the context of real everyday life for these residents.
The numbers  
In east Durham, the price per square footage has increased by 32 percent. Much of that can be attributed to massive foreclosures during the Great Recession, according to Spurlock. "There are many people who see east Durham and its proximity to downtown as this investment possibility, and they have the resources to buy the homes cheaply," Spurlock says. "In many cases, you can't get a loan for a house that's on the market for $50,000 or $60,000, which presupposes a certain level of economic privilege."
On Driver Road, just down the street from the Horton Career and Resource Center, sits a block of housing units with three bedrooms. One resident told Spurlock: "I looked at that and thought about how we could make a three-bedroom work for our family—and then I saw the price." These units used to be affordable—around $600 a month. Now they are $1,600.
The term "urban renewal" has many negative connotations associated with it. "Revitalization" has become a more frequently used phrase in recent years, but the same problems persist. "It's not that people don't want revitalization to happen," Spurlock says. "But when that means they can no longer live in the place where they've always lived and paid taxes and contributed—that seems unfair."
Smith says having the right kind of university folks involved is crucial. "All of these folks are very community oriented," she says. "They really listen to us. They readily acknowledge that we're the experts on our community, but that we need help with infrastructure because we're a grassroots organization."
The conversations
Much of Spurlock's contribution is the ability to structure the conversation. What are the major issues? The most common responses include transportation, lack of economic opportunities, and housing affordability.
"But within those issues, we want to know what is actually happening," Spurlock says. "We want to provide many different ways for residents to participate—having a public meeting shouldn't be the only way folks can have their voices heard. That's part of the beauty of this project."
In addition to Spurlock's community mapping, the project includes support for PhotoVoice, organized by Deborah Gallagher at the Duke Nicholas School for Environment, and Walkshops, led by NC State's Kofi Boone.
"PhotoVoice is a platform for community members to share personal reflections about their neighborhood and to visually depict challenges and opportunities for change," Gallagher says.
"The goal was to physically explore the area to learn about the community's issues with transportation, housing, the environment, and the local economy," Boone says.
Housing is always one of the biggest issues that comes up in neighborhood discussions. "Because housing was by far the biggest concern elicited by the survey, we asked participants to tell us the best places to see gentrification and displacement in the neighborhood. We were also interested in the locations of the best and worst affordable housing and the best-kept and most poorly kept properties."
Spurlock's community mapping initiative involved bringing large scale maps to neighborhood meetings. As residents perused them, her graduate students asked questions and initiated discussions to help capture the narratives of housing affordability and transportation access.
"You might not be putting a highway through a community or doing huge block evictions for a commercial development, but the public policies that are in place still produce those kinds of outcomes," Spurlock says. "It's not as easy to identify as the scars of urban renewal, but I think it's scarring our neighborhoods in a similar way – it's just a little more difficult to see."
The old and the new  
The research team is assisting Communities in Partnership in developing a program to purchase properties to help keep long-term residents in their neighborhood. "Some of these people have been long-term renters," Spurlock says. "By making permanent affordable rental options accessible to them, they can help facilitate the changes they want to see in their community."
Creating a better local economy—one that encourages entrepreneurship—is another goal. "Folks who have small businesses should be able to scale them up," Spurlock says. "And people who have always wanted to start their own business should have resources and support."
Respecting a community for its expertise is the key to all of this. "I have a set of expertise in certain fields, but I'm not an expert in the lived experience of folks day-to-day," Spurlock says. "And that is just as valuable when it comes to making policy as the expertise I can provide when we're talking about re-zoning and building permits.
"In many cases there has to be both. There has to be this intermingling of expertise for us to conceive of public policy that meets the needs of those who actually have to live in it every day."