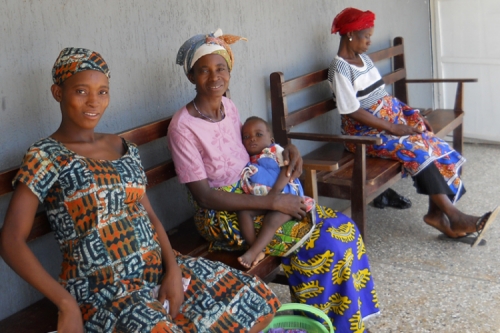 March 8th, 2016
In a small village in southern Ghana, a 29-year-old pregnant woman named Vivian goes into labor at 2 a.m. Her husband is visiting Ghana's capital city, Accra, over 100 miles away. With no means of transportation, Vivian, supported by her mother and grandmother, begins walking through the pitch black night to the nearest health post. It takes them two hours to reach it, at which point Vivian is exhausted and in pain. Once they arrive, a midwife tells Vivian there are complications with her delivery and she must get to a hospital. Vivian's mother manages to find a taxi to transport her there. After traveling most of the night, Vivian finally arrives at the hospital in the district capitol shortly after 8 a.m.
"When we got there, the doctor said he could not do the delivery so he sent me to the surgical ward," she recalls. "I went through a whole lot during those hours of delivery time. It was difficult for me because I had not given birth before and I thought I was going to be able to give birth without any complications."
Vivian had to get a blood transfusion, but by 11 a.m., she had given birth to a healthy baby boy.
Not all childbirth stories in remote Ghana have a happy ending. For every 100,000 babies born, about 319 mothers die during childbirth. For every 1,000 babies born, 54 will die before they reach the age of 5.
But compare that number to this statistic from the early '90s — for every 1,000 babies born, 110 of them died. Thanks to the tireless work of public health researchers, these numbers have continued to decrease over the decades. Project Fives Alive, an initiative started in 2008, focuses on finding the best methods to reduce mortality in children under the age of 5. For the past five years, a team of researchers lead by Kavita Singh from the UNC Gillings School of Global Public Health has partnered with the initiative.
"I've always seen maternal and child health as a human rights issue," Singh says. "Even though the United Nations Declaration of Human Rights says that motherhood and childhood are entitled to special care and assistance, many women and children aren't getting what they need. We value mothers as individuals, and their health and presence in a family has a huge effects on their children's health and well-being."
Giving birth in Ghana
Ghana, a small nation located on West Africa's Gulf of Guinea, is now classified as a middle-income country. "It's peaceful. It is considered a democratic success story in many ways," says Clare Barrington, a UNC researcher working on the project with Singh. "Accra, the capital, is becoming a city that rivals many other large African cities. At the same time, there is extreme inequality and disparities—there are still many rural areas that don't have access to quality health care."
To help combat these disparities, Ghana enacted a policy in 2005 that allows pregnant women to deliver their babies in a health facility free of charge. In 2008, another policy passed, allowing all pregnant women to receive free health care. Even with these incentives in place, a high number of Ghanaian women still end up delivering their babies at home.
To provide better access to health facilities, public health researchers propose different "change ideas."  These can range from creating a transportation network, to hosting community education sessions, to supplying midwives with cell phones. But which changes have the biggest impact on saving lives? What methods work best? What doesn't work? Where should money and resources be invested?
Facilitating change  
To tackle these big questions on a large scale, the researchers have to start small — and strategic. As the external evaluation group, Singh and colleagues worked closely with the implementation team.  In the pilot phase, quality improvement teams identified barriers pregnant women face when it comes to getting healthcare — whether it's a routine check-up or an emergency — and then come up with simple, low-cost solutions.
One common barrier across many remote regions of Ghana is a lack of reliable transportation. And one proposed solution, or "change idea," could be a policy that requires taxi cab drivers to transport pregnant women to a health facility free of charge. Each set of potential solutions is called a "change package" — and Singh and her team were tasked with figuring out the impact of each one. And these change packages aren't just focused on giving birth — they cover four major periods in a typical pregnancy timeline including antenatal care, delivery, postnatal care, and the first few weeks of the baby's life.
Breaking down barriers  
Despite the distance, Vivian made it to a health facility for an antenatal check-up every month of her pregnancy. But for many women in Ghana, simply going to a check-up can be a difficult endeavor. In addition to distance and lack of transportation, cultural norms and autonomy can become an issue — women sometimes have to ask permission from their husband or mother-in-law to visit a facility, according to Singh.
Sometimes quality of care is an obstacle. Not all facilities are staffed by doctors. Some of the smaller facilities are staffed by community health nurses who are not trained to handle a lot of the complications. Patient-doctor confidentiality — something we often take for granted in the United States — is not always guaranteed in small villages.
This is where community engagement is vitally important. Leslie Cofé, one of Barrington's grad students, spent three months in Ghana conducting interviews with women about their experiences during their pregnancies. Typical questions included: How were you treated? What kinds of advice did you receive? Did you feel respected?
Some women, like Vivian, find a way to get to regular check-ups at a clinic. Other women never even see a health care provider. One woman receives financial support and child-care help from her family. Another is terrified to tell her own mother that she's pregnant. One woman even reported that, in Ghana, women who become pregnant while attending school are mistreated so badly that they contemplate suicide.
Essential evaluation
In addition to first-person accounts, Singh says data-driven evaluation is essential. "Sometimes there is a project that sounds good so people assume it must be working," she says. "But if you don't do this type of evaluation, you don't really know if your program is reaching its stated objectives or not." Governments and donors invest a lot of funding into certain programs. They want to know if it's working, and if so, how? And if not, why not? So ongoing evaluations are particularly valuable because changes can be made constantly, Singh says.
How many babies are being born? How many are being born in health facilities? How many complications are happening? How many mothers die during childbirth? How many newborn babies die? All those numbers have to be tracked — and that's what Singh has done well. But tracking numbers and statistics doesn't go very far without comprehensive understanding and context.
The qualitative team, lead by Barrington and Cofé, researched the experiences of women, especially when they went into labor. "From the start of their pregnancy to their labor onset, we wanted to know what they went through," Cofé says. "How useful were the health providers? How good were the facilities?"
One woman recalls that the staff at a clinic was not able to pinpoint her exact due date — they gave her a range of days instead. Another woman says that a midwife encouraged her to deliver her baby at the same clinic where she received her antenatal care, so she did.
Saving lives
Big challenges remain but Singh is encouraged by the advancements that have been made over time.  "The improvements are maybe not as great as we want, but every year we see that the number of maternal deaths and under-5 deaths are going down," she says. "And there are stories of countries that have made huge improvements, and there is hope that other countries can make those same improvements."
In low and middle-income countries, children under 5 have the highest mortality of any age group except the very elderly. "They are too young to advocate for themselves. They need people to care for them and advocate for them," Singh says. "It's just such a critical time where they're growing and learning — and what happens during those first few years of life can carry on into their adulthood."