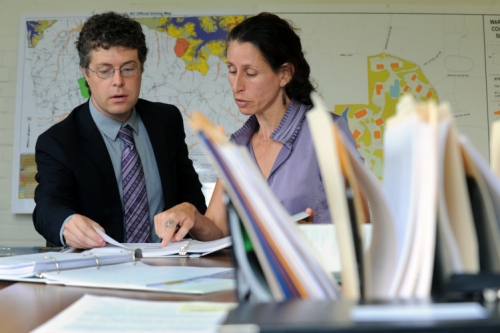 July 29th, 2014
Warren County was once one of the wealthiest in North Carolina. In this small, northern pocket of the state, agricultural production grew steadily well into the twentieth century, but now the average annual income is about $28,000. County officials want to create more jobs and opportunities that build upon, rather than detract from, the county's rural assets. Heather Hunt, a master's student in UNC's Department of City and Regional Planning, worked with county officials and the Frank Hawkins Kenan Institute of Private Enterprise to create a unique incentive policy to meet that goal.
Hunt is a lawyer with a passion for improving communities. For her master's project, she decided to research incentive policies—what she calls the perfect juncture between law and economic development. Around that same time, the Kenan Institute received a grant from the U.S. Economic Development Administration to support rural development in eastern North Carolina. That grant allowed the institute to bring Hunt and other UNC experts to Warren County. Hunt's first order of business was to outline the county's priorities with Gabe Cumming, at the time director of the Warren County Economic Development Commission.
"There's this economic development adage that says, 'Shoot anything that flies. Claim anything that falls,'" Hunt says. "The mindset is, 'we'll take whatever growth we can get. We don't care.' Our approach in Warren County was very different from that.
"You want to support the businesses that are already there that might expand," Hunt explains. "Those businesses are committed to the place. They're loyal. The idea is that you're trying to find businesses that synchronize with everything else." Some of the industries in Warren County include forest products, agriculture, and renewable energy, so the economic development commission hoped to create incentives for industries that would complement those.
One of Warren County's biggest priorities was respecting the land. "First and foremost, we have 270,000 acres of forests, farmland, and water bodies," Cumming says. "Those are great assets, and we wanted to develop an economic strategy that would capitalize on those instead of detracting from them."
Take lumber, for example. Warren County is home to three hardwood saw mills that produce a large quantity of raw lumber. But very little of that lumber is further processed in Warren County. When it leaves the sawmill, it leaves the county, to be used in plants across North Carolina, Virginia, and beyond. A more efficient, and more economically beneficial, approach would be to have those lumber processors located in the county. "We're trying to develop whole sectors, not just isolated firms that have no compelling reason to be here," Cumming says.
According to Hunt, county officials sometimes keep their economic development strategies confidential—they see other counties as competition and they don't want their ideas stolen. But when Hunt reached out to Dianne Reid, an economic developer from Chatham County, Reid was more than happy to help.
Chatham County's population is larger and has more resources at its disposal, but its comprehensive approach to economic development was something that Warren County wanted to replicate. "Chatham created a points-based system that provided a template for us," Cumming says. "And they awarded incentive points for nontraditional criteria. Instead of just looking at traditional measures like number of jobs and number of dollars, the officials in Chatham also took things like environmental impact and location into account."
The points-based system works like this: a firm considering location in the county can receive a certain number of points depending on factors like the number of local people they plan to hire or their environmental stewardship. "The more points you get, the more grant money you're given," Hunt says. "It rewards good behavior." Her expertise was crucial for working out the details of each potential incentive. "How do you prove that you've met certain environmental criteria? Which of those standards do you apply? What do other places do?"
This attention to detail will make the difference for preserving the rural charm that is so important to the residents of Warren County. "People need jobs, there is no denying that," Cumming says. "At the same time, I don't hear people saying that they want this place to become more like larger, urban areas. People here appreciate the peace and quiet of country life."