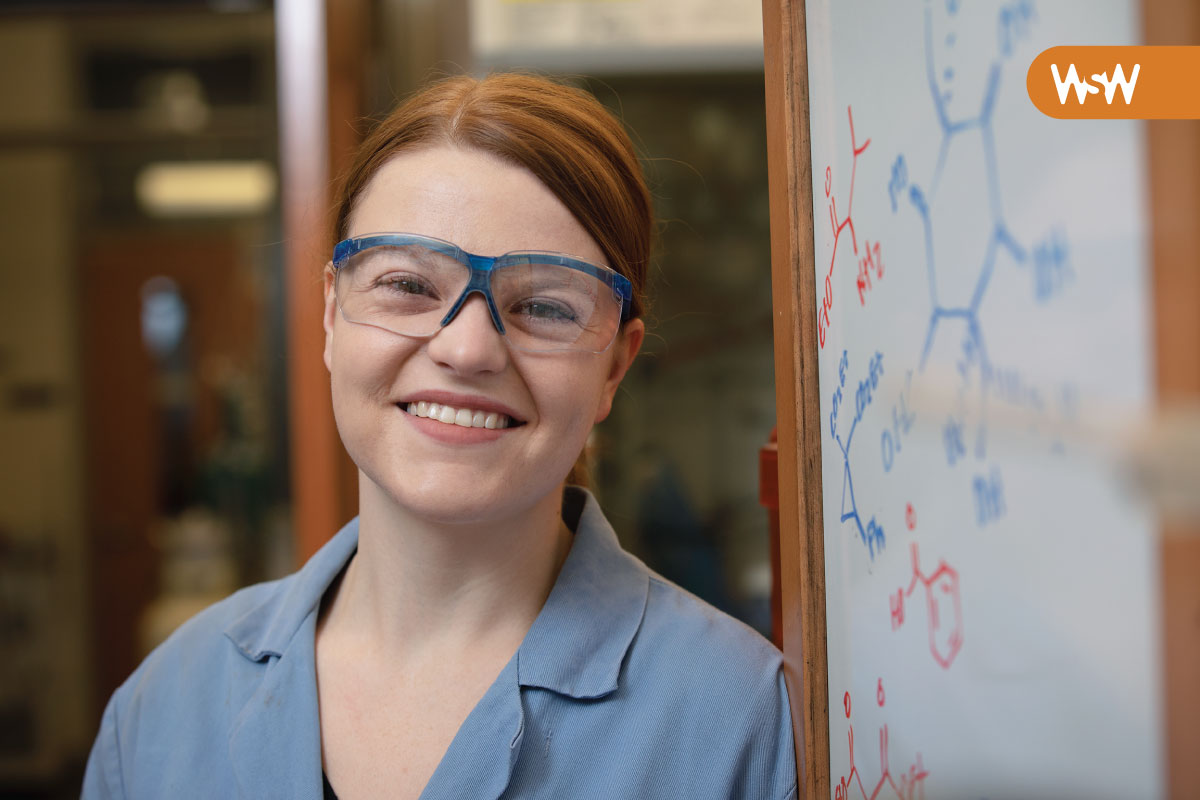 photo by Megan May
February 6th, 2019
When you were a child, what was your response to this question: "What do you want to be when you grow up?"
I had several very attainable career goals as a child including but not limited to: lead singer of a rock band, Olympic softball player, and cat-only veterinarian who never had to see blood. I didn't always want to be a chemist, but I have always been ambitious.
RESEARCH IN 5 WORDS:

"Architect of three-dimensional molecules."
Share the pivotal moment in your life that helped you choose your field of study.
As a child, I often asked my dad what he did as a chemical engineer, and he'd always say that he takes a new chemical and finds a way to make a lot of it. I always remarked how boring that sounded and told him he should just be the one to make the new chemical. Now that I'm not 7, I can see that I was, perhaps, not being very respectful. But chemistry has always been in my bones.
Still, it wasn't until my grandma was diagnosed with Alzheimer's disease and severe osteoporosis that I became interested in organic chemistry specifically. I was very close with my grandma, who I nicknamed "the Energizer Bunny," and I watched as both diseases consumed her and my family. I was in high school at the time, thoroughly enjoying my AP chemistry class. I realized that I could combine my passion for chemistry with my desire to help people and ease their suffering.
Tell us about a time you encountered a tricky problem. How did you handle it and what did you learn from it?
On two separate occasions during my doctoral studies, I have been faced with a very difficult decision: continue trying to optimize a reaction that was consistently yielding poor results, or go in a new direction after six months of work. Ultimately, my principal investigator and I developed a list of "last ditch efforts," and when those failed, I began working on a new project. Both times I was overwhelmed with feelings of failure. With no publishable results, I felt that I had lost six months of work.
Yet, retrospectively, I have learned the value of those projects and the decisions I had to make. I studied new synthetic strategies, developed new catalysts, and gained valuable insight into new classes of molecules. I became a better chemist for having studied them. But perhaps more importantly, I figured out how to step back from a single reaction and look at the bigger picture of my PhD training and its implications in basic chemical research. Knowing how to make a project work is an important skill for researchers, but I learned that knowing when to move on can be just as valuable.
What are your passions outside of research?
Research can be all-consuming if you let it, so every week I intentionally carve time out for three things: Dungeons & Dragons, church, and the campus organization I'm vice president of — Allies for Minorities & Women in Science & Engineering (AM_WISE). Each of these activities represent a passion of mine that I don't get to explore as easily in my everyday role as a researcher. Dungeons & Dragons provides a unique outlet for creativity and my not-so-secret inner nerd, church keeps me rooted in my faith, and AM_WISE allows me to advocate for underrepresented and marginalized individuals.
But perhaps more importantly, each of these passions allow me to form friendships with people outside of my chemistry bubble. These friends come from all walks of life and include tenured professors, a massage therapist, veterans, and a drug addiction survivor. They help me to keep my own challenges in perspective and remind me of what inspired my passion for organic chemistry in the first place: helping people.