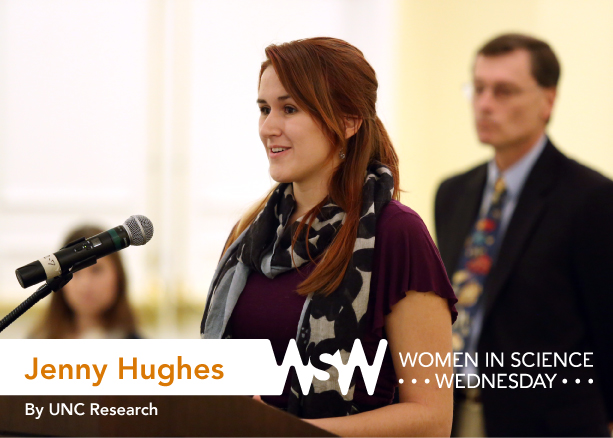 Photo by Melanie Busbee
March 16th, 2016
When you were a little girl, what was your response to this question: "What do you want to be when you grow up?"
Up until high school, I always said I wanted to be a veterinarian. I loved being around animals, and I thought that would be the best way to ensure I'd be working with critters.
Describe your research in five words.

"Are hungrier crabs less afraid?"
What made you want to be a scientist?
My love of science and the natural world began when I was very young — inspired by my grandfather. During visits, he would bring me pieces of old hornets nests to examine, take me down to the lake to catch minnows and baby toads, and constantly quiz me on math and science questions. When I got to college, I didn't know what I wanted to major in. I thought I would end up as a drama or journalism major. As I became accustomed to campus, I realized I was happiest whenever I was exploring Battle Park or discovering little creatures in the stream behind the baseball stadium. These things reminded me of how much I love to be outdoors, and I realized that I wanted my academic career to include exploring nature. When I was doing fieldwork at UNC's Institute for Marine Sciences, I felt more excited about my studies than ever before — I felt like I made the right decision.
Tell us a short story about a funny thing that happened during your research.
My Honors Thesis work is on marsh crabs. I use two species in my studies: one very small and the other very large and "scary" in comparison. When I first began my experiments, I had to learn how to cage the large, scary crabs overnight during my trials so they wouldn't eat the small crabs in the tanks. I made cages out of chicken wire for the first run of the experiment, secured the large crabs in the cages, and left for the night. I came back the next morning to find the large crabs had ripped holes through their cages, while the small crabs huddled terrified near the top corners of the tanks.
In honor of Women's History Month, share an anecdote that shows why women need to continue breaking barriers.
Growing up, there were plenty of times when boys would say things like: "You can't do that; you're a girl!" Comments like that always confused me because I never saw myself as less capable than my male peers. The worst comments came in high school. I had male friends who would roll their eyes dismissively at any passionate opinion expressed by a female. They made jokes about menstruation cycles and how women should stay in the kitchen. It was the first time I ever really doubted my goals and myself. This kind of culture is debilitating to the dreams of young aspiring women, prohibiting them from recognizing their full potential. Despite the tremendous strides made in women's rights within the past century, we still have a long way to go to create a truly equal and accepting society — one that seeks to foster the intellectual and creative growth of young men and women alike.
What advice would you give to up-and-coming female researchers in your field?
Don't let fear of failure or worries about inexperience keep you from taking risks. Without mistakes, we would never learn or grow. There's always someone who has been in your shoes before, and you'll always find friends to help you along your journey.