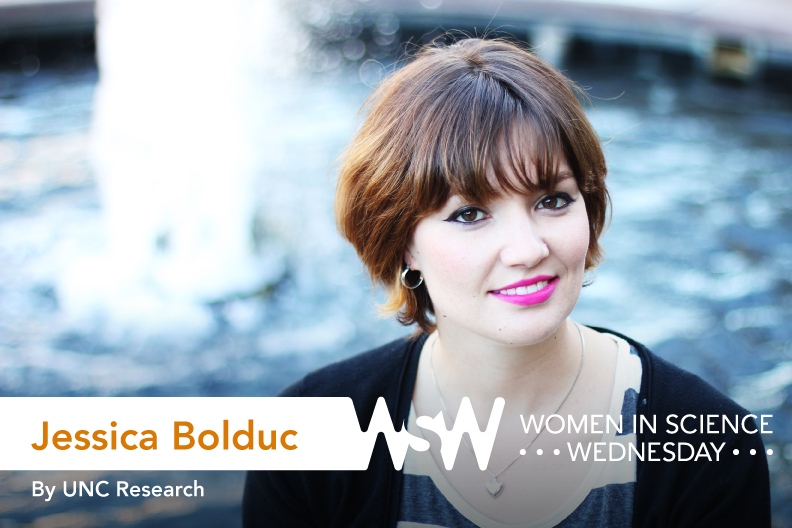 Photo by Mary Lide Parker
November 9th, 2016
When you were a child, what was your response to this question: "What do you want to be when you grow up?"
Ever since third grade, I wanted to be a chemist. I'm not sure where my interest in science originated, but I nurtured it with a steady stream of science-related content: "Bill Nye the Science Guy," "The Rats of NIMH," Asimov, Sagan, and National Geographic. I was a precocious kid, and I enjoyed impressing adults with scientific knowledge. I never swayed from that goal of becoming a chemist. In eighth grade, I attended a "forensic science-based" summer camp where we made tie-dyed shirts using chromatography techniques — that pretty much sealed the deal for me.
Describe your research in five words.

"Why do people get old?"
Share the pivotal moment in your life that helped you choose research as a career path.
By the time I was a sophomore in college, I was planning to attend medical school. That same year, though, I became involved with some independent research, and I fell in love with the research process. The following summer in preparation for my med school application, I volunteered at the local hospital's oncology wing to gain more exposure to a clinical setting.
I became close with one of the patients. She had actually been one of the first women who had graduated from my college's chemistry department. She ended up passing away, and I thought a lot about how her last days were spent getting chemo that made her feel awful and, ultimately, did not even work. Through that experience, I recognized my emotional limits when it came to being close to patients, but I still wanted to be involved in helping them get better. I decided to devote my life to developing newer, better treatments for diseases.
Tell us a short story about an interesting thing that has happened during your research.
I was in an interview for a technology commercialization internship one time, with a panel of male interviewers. "Would you date an engineer?" asked one of them. I was so taken aback by how irrelevant the question was — not to mention the question itself was based on so many assumptions: 1) Engineers are predominantly male. Women are doing that now!  2) I was heterosexual. 3) I was single. To me, the question seemed wrong on so many levels, but no one else in the room seemed bothered by it.
I sidestepped the question, but I knew he probably never would have asked a male interviewee that. I got the internship despite the awkward interaction, and it just strengthened my resolve to "make it" — at least out of spite if nothing else. I think that the more diverse scientific communities are, the more that type of micro-aggressive sexism and racism will disappear, and science as a whole will be better for it.
What advice would you give to up-and-coming female researchers in your field?
Don't let other people project their limitations onto you. Yes, you can have a family. Yes, you can maintain a happy work/life balance. Yes, you can get a faculty/tenure position despite the harrowing statistics.
Gender and racial bias can mean that you have to work twice as hard to get the minimum level of recognition, which is definitely not fair. It doesn't always happen but when it does, I remember what my physics professor in undergrad told me: "It's not your fault, but it is your responsibility." In order to make STEM more women-friendly and diverse, we, the underrepresented, have to put in the grunt work to gain positions where we have the power to change the overall system.
UNC Research is proud of every scientist on this campus, but we are especially excited to promote our female researchers in 2016. Each week this year, we will publish a short Q&A feature on one of them — whether she is an undergrad, PhD candidate, or full professor. Please click here to make a recommendation.