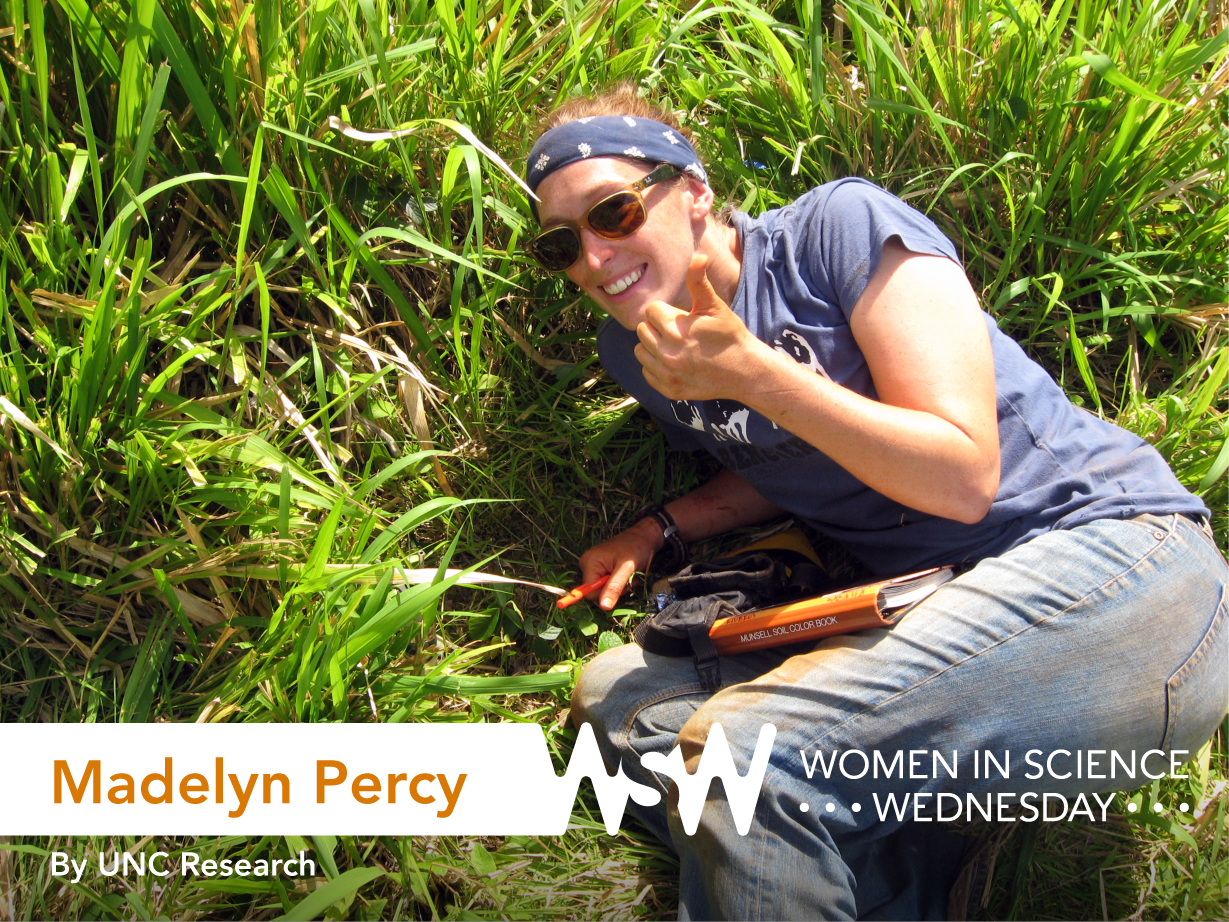 Photo courtesy of Madelyn Percy
January 13th, 2016
When you were a little girl, what was your response to this question: "What do you want to be when you grow up?"
I wanted to be a park ranger, an artist, or a train. I had a difficult time understanding that humans could not become trains.
What made you want to be a geologist?
I went into undergrad as an anthropology major, with a specialization in archaeology, but my first semester, I took a wonderful geology class that piqued my interest. I continued taking geology courses in college and then realized that it was my passion! I still love archaeology, and thanks to the interdisciplinary nature of geology, I can still work with archaeologists while pursuing a degree in geology.
Describe your research in five words.

"How do tropical soils form?"
After I graduated with my undergraduate degree, I taught high school through Teach for America, and then at a non-TFA school. While teaching, I had the opportunity to work with amazing students, and I concluded that I wanted to keep teaching, but at the college level, so I came back to school to pursue a PhD in geology.
What's the funniest thing that happened while you were doing research?
When I was on San Cristóbal (in the Galápagos Islands), I worked at a field site near a ranch house called Hacienda Tranquila, where there lived two friendly cats, one of which was not very bright. I noticed for about a week that the dumb cat was missing, but I figured that he was doing his usual cat-thing and wandering around the farm.
A Haiku by Madelyn Percy

Dirt at many heights
Are plants or climate key? Or
Another factor?
While excavating soil pits one day, my assistants and I heard loud yowling coming from a bush — and what should emerge but the dumb cat! It was clear that he had gotten lost, but had heard our voices and came running, hoping for food. He was muddy and had a small wound on his leg, so we carried him back to Hacienda at the end of the day, along with our shovels, rock hammers, and pick axe. It's not often that you get a cat as a field assistant!
What advice would you give to up-and-coming female researchers in your field?
Have fun! The joy of science is that you get to answer questions that no other person on this planet has answered before. There is nothing more exciting than sharing results of an experiment or field campaign with your friends and colleagues. Also, seek out a mentor to help you grow personally and professionally; I would not be where I am today without the influence of several spectacular scientists.