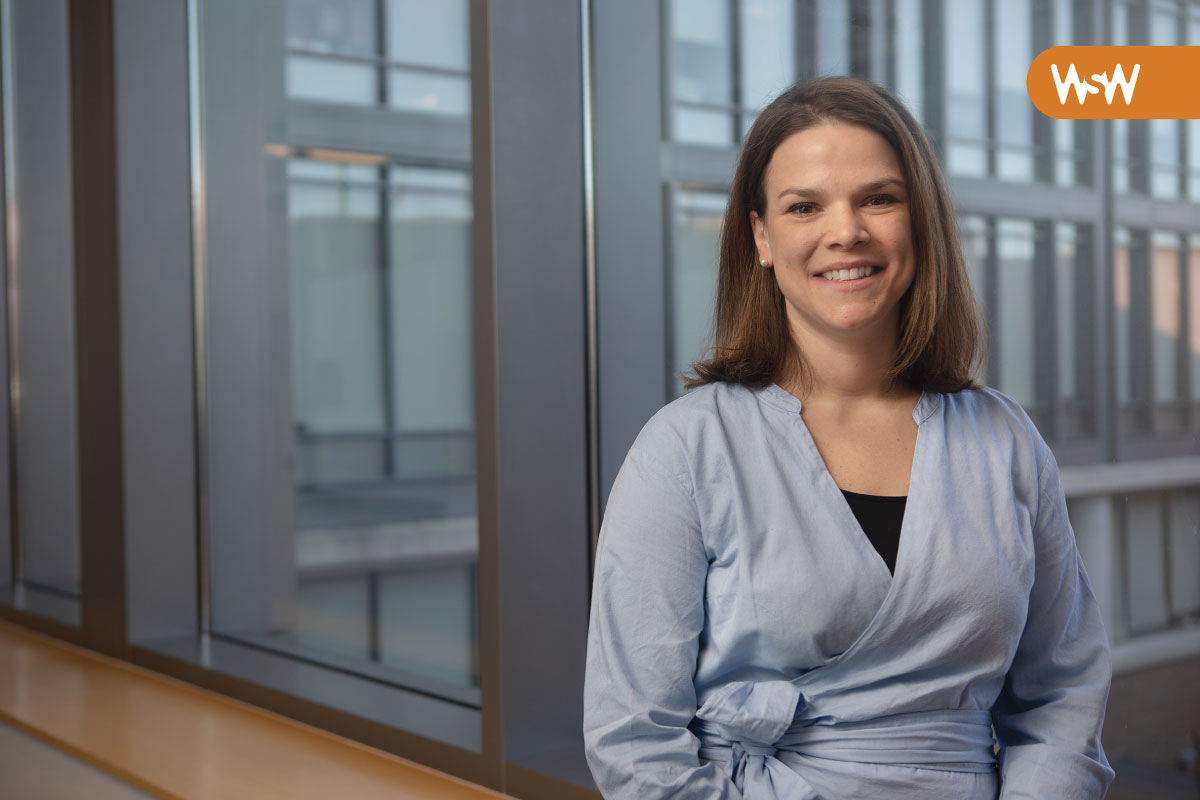 photo by Megan May
December 19th, 2018
When you were a child, what was your response to this question: "What do you want to be when you grow up?"
"I do not know yet." I was curious about everything. In retrospect, I should have known hearing science was a top contender. One of my science fair projects in elementary school was a study on whether sound traveled better through gas or liquid. I held up a bag of air or water next to the subject's ear, tapped a wooden block on the other side of it, and asked whether the sound was louder when presented through the gas or liquid. Though my love for high-waisted pink shorts faded (see photo), my interest in sound and hearing grew — and thankfully my research methods have improved.
RESEARCH IN 5 WORDS:

"Balancing electric and acoustic stimulation."
Share the pivotal moment in your life that helped you choose your field of study.
I wanted to learn as much as I could about cochlear implants while working on my clinical doctorate in audiology. I was fortunate to spend a summer with Charles Finley, a UNC biomedical engineer who developed a cochlear implant signal coding strategy that significantly improved patients' speech perception over previous signal coding strategies. On the first day he asked me, "What do you want to learn this summer?" I naively said: "I want to know everything there is to know about cochlear implants." He smiled and said, "Me, too." I knew then that I wanted a career where I could continue to learn about cochlear implants and investigate ways to further improve patient performance.
Tell us about a time you encountered a tricky problem. How did you handle it and what did you learn from it?
Patients who have poor hearing in one ear and normal hearing in the other struggle to understand conversations in noise and identify the location of sounds compared to people with normal hearing in both ears. Our team decided to investigate if a cochlear implant in the poorer hearing ear would help with this. While initial data from other researchers were promising, the results varied widely. We wanted to design a study that would control some of that inconsistency to allow for analysis of the subjects' growth in spatial hearing abilities over the study period. We used our previous research findings and clinical expertise to conduct a clinical trial that demonstrated the effectiveness of cochlear implant use in a new patient population and helped us better understand the variables that contribute to patient performance. One of the greatest strengths of the UNC cochlear implant program is the collaboration among researchers, audiologists, physicians, and speech-language pathologists.
What are your passions outside of research?
Outside of research, I am spending time with my family and friends. I enjoy working out with my husband, which now usually involves running around with our two small children. We enjoy cheering for the Tar Heels as a family! I am also fortunate to have close female friends who encourage and support each other. It is empowering when you know there are people who have faith in you and when you can be that voice for someone else.