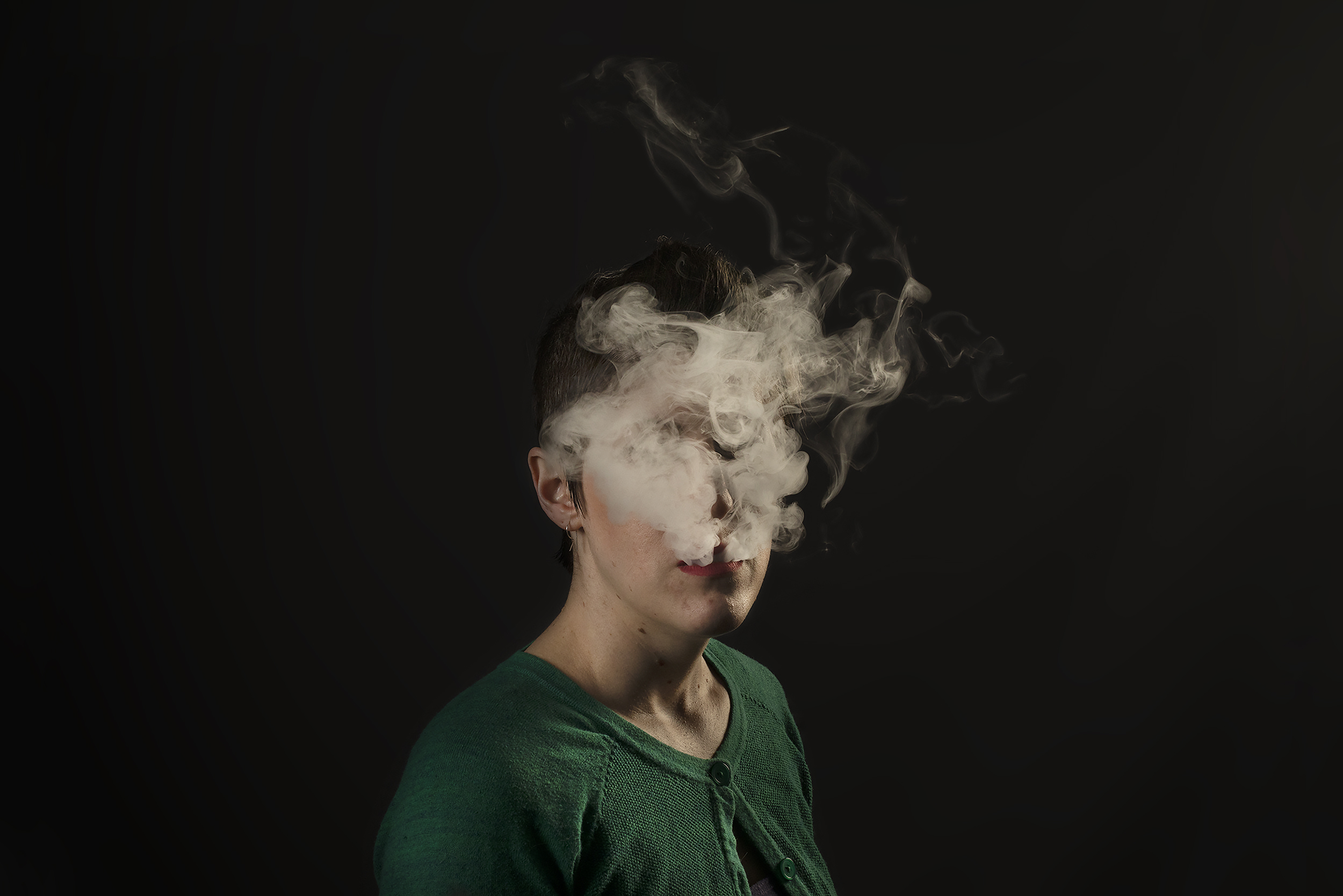 January 22nd, 2020
Small, long boxes line the shelves behind a store counter. Inside the sleek, well-designed packaging is a thin, rectangular stick with a magnetic USB charging dock on one side. It promises easy use, maximum discretion, and impressive portability. These are not flash drives, and this is not a computer store.
Electronic cigarettes, or e-cigarettes, not only look like the next cool tech toy — some of the nicotine-infused liquids to use with them come in a variety of attractive flavors from cinnamon to creamsicle. When the brand JUUL, in particular, entered the marketplace in 2015, it immediately pulled market share from all other veteran companies.
"It was the perfect storm of everything," says Kurt Ribisl.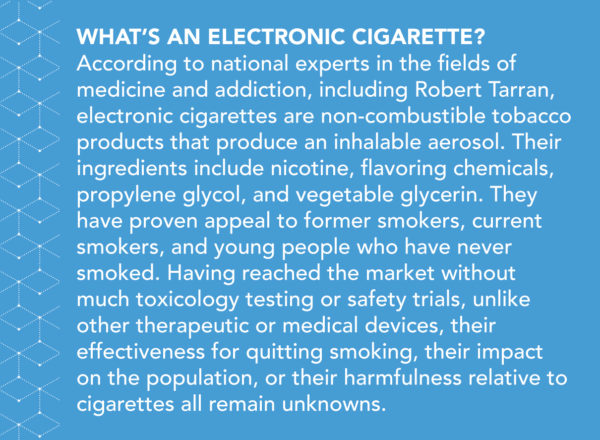 Despite being a multibillion dollar industry, vaping is largely unregulated, and more young people are picking up nicotine habits through e-cigarettes. One in every four high school seniors reported vaping nicotine within the last month, according to Monitoring the Future, an annual survey of teen behaviors. Eight percent of eighth graders reported partaking, too. These devices, designed as substitutes to traditional cigarettes, are widely available in gas stations and supermarkets across the country.
"There's a 78 percent increase year over year in e-cigarettes, and that's the fastest increase of any substance tracked in the last half century," according Ribisl, citing a University of Michigan study.
Ribisl has worked as a tobacco control policy researcher in the UNC Gillings School of Global Public Health for 20 years. While he focuses on how the products are obtained versus how to quit them, his efforts have been crucial to combat nicotine addiction among young people.
Ever since the futuristic products appeared on gas station shelves in 2007, researchers like Ribisl, Robert Tarran, and Ilona Jaspers saw the vaping crisis on the horizon — but none could have predicted the magnitude of these products' popularity or human health effects. Escalating cases of vaping-related hospitalizations and deaths intensified pressure to find answers, and increased public and media attention has lent much needed funding and brain power to the new field of vaping research.
Cigarettes, vaping, and the dark web
In 2019, Ribisl was listed as one of the most prolific electronic cigarette scientists by an independent analysis from the Rutgers Center for Tobacco Studies and Rutgers Robert Wood Johnson Medical School. That same analysis ranked UNC as the third-most prolific producer of scientific publications about e- cigarettes.
Over the course of his research career, Ribisl has studied how regulations like age restrictions and taxes impact tobacco sales. In 2003, he made significant waves with research that revealed how children could easily access traditional cigarettes online. It led to a congressional briefing and, eventually, a law was signed to address the issue.
Now, he says, vaping is where the action is. A more recent study on how minors access e-cigarettes led to a Food and Drug Administration ban. "There was a period there where states were allowing children to buy these flavored e-cigarettes," he says. "It seems crazy."
For the last few months, Ribisl has spent time surfing the shadowy corners of the dark web. He and his team use a virtual private network to ensure they are untraceable, and regularly destroy their hard drives. It may sound like modern espionage, but it's actually vaping research.
Their searches yielded dangerous homemade e-liquids, re-used vape cartridges, bootleg tetrahydrocannabinol (THC) chemicals, and other dangerous mixtures — all sold with virtual currency and no age verification. These products are linked to vaping-related deaths, but Ribisl says there is not much action by federal authorities to combat this. He believes this underground virtual market helps to fuel the health crisis around vaping.
"There's hundreds of sites selling these and they're doing virtually no age verification," he says.
Vitamin E acetate, a chemical found in makeshift vaping formulas, was recently identified as a chemical of concern in vaping-related deaths. This past summer saw a multistate outbreak of what the Centers for Disease Control and Prevention has called E-cigarette, or Vaping, Product Use-Associated Lung Injury, or EVALI. As a result, they have strongly recommended that people should avoid THC-containing vaping products, especially from informal sources.
"It's getting even worse than I thought it would," Ribisl says.
As of December 3, 2019, a total of 2,291 hospitalized EVALI cases were recorded in all 50 states, and 49 deaths were confirmed. Since EVALI cases started to accumulate last summer, media outlets and concerned members of the public scrambled to find answers from experts nationwide. Carolina, already a leading source of vaping-related research, received intense media attention.
Inside the lungs
In 2019 alone, Robert Tarran's research was mentioned more than 20 times in the news. He focuses on the pulmonary effects of vaping and has taught cell biology and physiology within the UNC School of Medicine for 15 years now. His academic career was largely dedicated to chronic lung diseases and tobacco smoke, but in 2013, Tarran was struck by the sheer lack of data available on the new vaping devices.
"It soon became apparent to us that e-cigarettes were quite biologically active and have the potential to do a lot to alarm," he says.
Because of his early participation research, Tarran has had a very busy summer. Members of the public want answers to difficult questions, and reporters want broadcast spots and interviews.
Heightened attention was paid to his recent study, which analyzed lung samples from healthy non-smokers, cigarette smokers, and e- cigarette users. This work revealed the potential development of emphysema, the build-up of a protein called protease, in the lungs of otherwise healthy vapers — which made major news headlines.
Tarran was also a co-author on a large, comprehensive review of vaping research, which combined expertise across the country in toxicology, physiology, pulmonology, and epidemiology. The paper offered medical experts and the media a much-needed explanation of what vaping can do to the lungs.
Mystery flavors
This year, Ilona Jaspers took her research out of her lab at the UNC School of Medicine and into classrooms across the country. When she first noticed flavored vaping products enter the market, alarm bells went off in her head.
"I've always been concerned from the very beginning about the flavoring chemicals," says Jaspers, who has specialized in inhalation toxicology since 1997. She has researched inhaled contaminants like air pollutants, cigarette smoke, and now, e-cigarette aerosol.
Jaspers knew that a proper risk assessment needed to be done on these chemicals. What were they? What was their potential toxicity? What should their allowable levels be?
While her lab is certainly a no-smoking zone, an exception was made in the name of research. The lab purchased an e-cigarette device and flavors like cinnamon, vanilla, and cherry. These chemicals are common, food-safe flavors labeled safe by the FDA. All bets are off, though, when they're plugged into e-cigarettes and aerosolized.
"First of all, when we found out how much the concentration of these flavoring chemicals are in these e-liquids, we were stunned," she says. "Absolutely stunned."
For their study, Jaspers' team exposed cultures of human lung cells to the e-liquids and aerosols and measured how these two methods would change respiratory immune responses.
"If you carefully look at what these chemical flavorings are, some of them are by definition reactive, and they are present in these e-liquids at concentrations that are really, really high," she says. "And there's no regulation on the flavorings — not for the type of chemical that can be contained or the level."
Phillip Clap, a postdoc in her lab, witnessed the hair-like structures on the surface of the cells, called cilia, slow down after a single exposure to the liquid or aerosol. Ciliated lung cells protect against infections and are vital for lung function. This research demonstrated just how dysregulating vaping is to the respiratory immune system. Jaspers was flabbergasted by the results.
"These are toxic chemicals, and the fact that they are allowed to be in e-liquids in these concentrations — it's unbelievable for me," she says.
A different study completed by Jaspers' colleagues concluded that flavoring chemicals react with e-liquids during the mixing stage of e-cigarette production. The reaction forms new, dangerous compounds — a finding Jaspers' lab confirmed.
From the lab to the classroom
Jaspers quickly recognized that these results needed to reach audiences beyond academia. Dana Haine, a science educator for the Center for Environmental Health and Susceptibility in the Gillings School of Global Public Health recognized this as well after first hearing Jaspers describe her research in early 2018. Haine, a former biology teacher, saw an opportunity to adapt Jaspers' research into a lesson plan tailored to high school biology courses.
Haine has been creating lesson plans in partnership with researchers like Jaspers for over a decade. She translates university research to make it  meaningful to audiences such as K-12 teachers and students and shares it through on-campus summer enrichment programs for high school students and teacher professional development workshops.
Haine collaborated with Jaspers and one of her graduate students, Elise Hickman, on a lesson featuring the research taking place in the lab. They released their lesson plan in August 2019 after a successful piloting with Advanced Placement Biology classes at Orange High School. Now, biology students across the country can analyze published e-cigarette data to examine health effects and draw their own conclusions. As an added bonus, they learn the true danger of these liquids.
Teachers nationwide have expressed interest in this work, Haine says. "Teachers are definitely dealing with vaping in their schools, even in their classrooms, and they're seeing students become addicted to nicotine, so it's a very real topic," she explains. "This timely topic can be used to reinforce required curriculum content."
Ribisl is also in collaboration with other departments to develop a Vaping Prevention Resource, set to launch in March 2020. As communities struggle to understand the impacts of vaping and the issue continues to permeate schools, Ribisl, Jaspers, and Haine hope to create an accessible resource of information and recommendations for the public.
The THC paradox
Despite massive strides, medical researchers like Tarran and Jaspers face a major roadblock — THC vaping liquids, which are linked to the EVALI outbreak. THC, which is the main active ingredient of cannabis, is a highly restricted substance. Federal law considers e-cigarette liquids contained THC to be Schedule I substances — the most dangerous of all drug classifications, meaning possession of such liquids is considered just as serious as heroin possession.
In order to study the THC products causing this public health crisis, researchers must obtain a special license from the Drug Enforcement Administration. Even with that license, though, they cannot acquire or study the illegal THC products that are likely culprits in many EVALI cases.
To obtain that THC would jeopardize university funding, creating a dilemma that leaves a void in vaping problems yet to be solved. Tarran, in particular, can't study the pulmonary effects of the e-liquids that continue to hospitalize people.
"We're in this weird position where we don't know if the THC is having any extra effects or something unrelated to that," he says. "We just can't study these e-liquids."
Their hands are tied, Jaspers agrees. "We're completely walking in the dark as to what these THC health effects and toxicities actually are, because nobody can really study it in the U.S.," she says.
Major developments in the growing body of knowledge around e-cigarettes are still to come. The spike in vaping-related deaths this past summer caused a shockwave of public concern. But there is also reason to hope — and it can be found at UNC. The rapid growth of research in this field is beginning to yield answers, and the passionate researchers at Carolina remained committed to driving the field forward and improving the health of future generations.