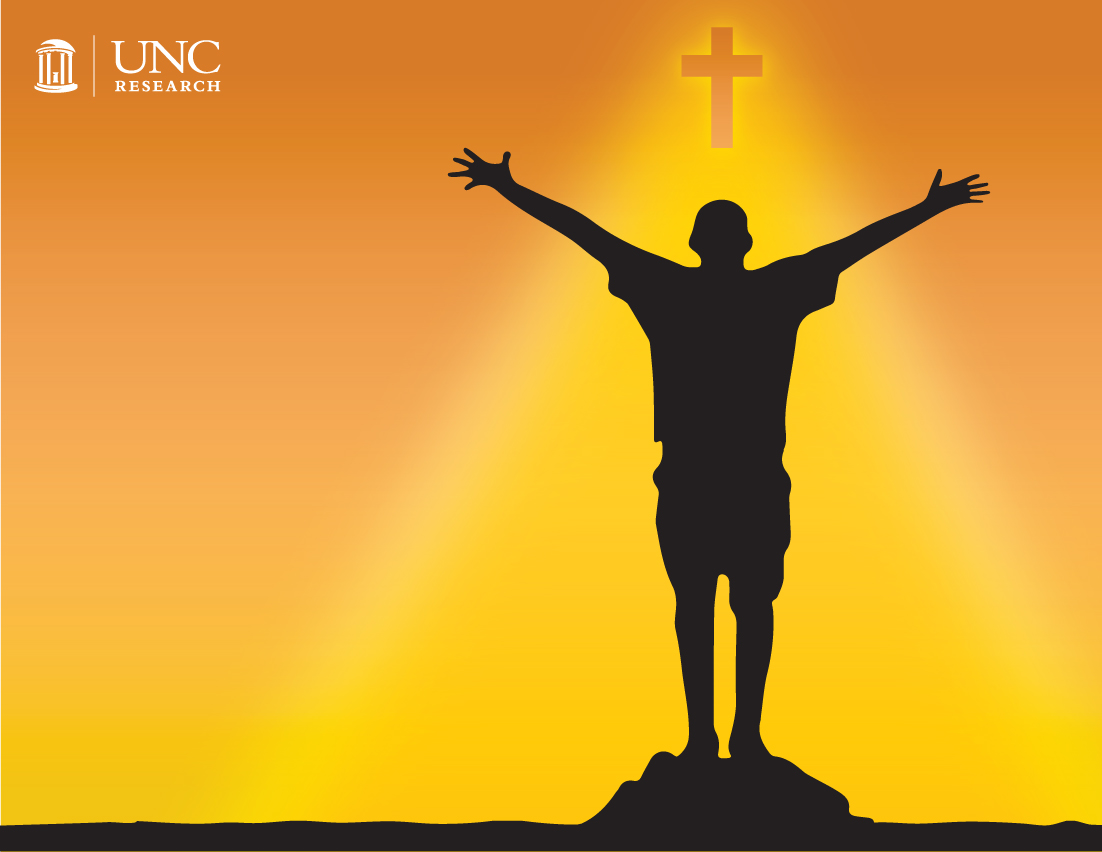 illustration by Corina Cudebec
December 15th, 2016
Structure. Loyalty. Faith. Leadership. The characteristics exhibited by churchgoers share many similarities to the values of gang members. Both groups believe in the power of the collective and something greater than themselves. At least, that's what UNC religious studies professor Brendan Thornton discovered after conducting research in the Dominican Republic.
The analysis Thornton provides is not always welcomed with positivity. To compare a Christian church to youth gangs is sure to ruffle some feathers. But the point that he wants to highlight is that these two groups provide transformative identities for people. "They both require members to follow rigorous rules, which include specific consequences for not following those rules," he says. "Morally they're very different, but structurally they are similar."
Getting to the Dominican Republic
Thornton has dedicated years of research to exploring Pentecostalism — a movement within Protestant Christianity that places special emphasis on baptism of the Holy Spirit — as well as the cultural shift associated with conversion. His work culminates in his most recent book "Negotiating Respect: Pentecostalism, Masculinity, and the Politics of Spiritual Authority in the Dominican Republic" (2016).
In 2005, Thornton initially chose Haiti as the location for his doctoral research on religion. He did not yet have a specific focus of study, but was attracted to the country's vibrant culture. "Initially, I was very interested in a broad, comparative project that looked at African-derived religions, as well as Pentecostalism," Thornton says. But multiple professors steered him away from Haiti because "it was really difficult to do ethnographic research that wasn't under the oversight of the government."
Instead, Thornton traveled to its neighboring country, the Dominican Republic (DR). While his knowledge about the DR was limited, he did know that a wave of Pentecostal Christianity was sweeping across the country and Latin America, in general. Historically, the DR is Catholic-dominated and, until 1965, only 1 to 2 percent of the population practiced Protestant faiths, according to Thornton. Today, it's closer to 15 to 20 percent.
Despite his frustration with the immense heat and constantly being mistaken as a professional baseball player, Thornton began to settle into life in the Dominican Republic and take note of his surroundings. Eventually, a friend invited him to attend a Pentecostal church service in Villa Altagracia, which became his study site. At first, people were puzzled why Thornton had come to observe them. But after visiting the church multiple times a week, and explaining his research and project to them, he soon became a familiar face and people began to open up to him.
Nine months later, he pressed the record button. His deep relationships with community members, especially those outside church walls, impacted his research immensely. "It doesn't matter if you're here, or in the Caribbean, with rich people or poor people — people want other people to take an interest in their lives," Thornton remarks. "I never found people unwilling to talk about their lives. And in some ways, because I was not a total outsider, they were able to share things with me that they probably wouldn't have with others."
As Thornton became more acquainted with the people and their culture, he noticed a trend that would eventually shape his research. "I was interested in talking with current gang members who were not converts. Everyone I met said that the only way to get out of a gang was to convert to one of these churches," he explains. But he didn't believe it at first.
A way out
One of Thornton's Pentecostal informants introduced him to a gang leader. He wasn't sure what to expect, since gang members were known to hold secrets about their involvement. "I met this guy, and right off the bat he's like, 'Hey. Here are the rules of the gang. I'm not supposed show anybody these, but you can have them.' So he totally opened the door for me," Thornton explains, adding that his status as a foreigner gave the gang leader the freedom to discuss the inner workings of the gang. "From his perspective, I'm eventually going to move back to the United States," he says.
Thornton began to understand that converting to Pentecostal Christianity provided opportunities to people in an area where opportunities for personal transformation were slim. "When they join the gang it's for life, but in this context, life or until you convert," Thornton explains. The Pentecostal church almost acts as a "Bible shield" for young men who want to move away from the dangerous lifestyle associated with street gangs. "One thing that gets them out of this reciprocal relationship with violence and gangs is to convert to these churches," Thornton says. "Former gang enemies leave them alone and so does their own gang."
Conversion has to be an all-or-nothing move, though. "You have to maintain a relatively religious and serious pious life in the church because the gangs are watching," Thornton says. "For them, it means you're not going to be caught up in their business. They don't want to see you at parties or at the bar." Not only do converts have to avoid former stomping grounds, but they must also refrain from using profanity, gang-specific attire, and drugs and alcohol. Breaking these rules could prove to be even more dangerous than actually remaining in a gang. Converts have been threatened by their former brothers for not following through with their conversions.
Beyond offering protection from gang life, the church provides leadership opportunities to community members, according to Thornton. "These young men use the church to earn prestige in ways that are otherwise closed to them in contexts of poverty and political marginalization," he explains. Instead of leading neighborhood raids with machetes and a posse, they lead church services with Bibles and a congregation. So when Thornton asked the 19-year-old gang leader what his plans for the future were, he responded: "Oh, I'll just convert when I'm ready."
The how, not the why
During his time in the Dominican Republic, Thornton worked with people who had few employment opportunities, brittle homes, and little chance to move elsewhere. He witnessed first-hand how Pentecostal conversion not only changes individual lives, but also creates broader cultural change. It became apparent to Thornton that his research would not serve to explain why people are converting to Pentecostal Christianity — avoiding the deeply personal, spiritual aspects — but rather how conversion is changing Dominican society at the individual and cultural level.
"I was very interested in how it was that people were using their religious identities outside of the church, particularly in relation to others," Thornton explains. "The research is relevant for understanding the diverse ways in which people in locations of poverty and distress mobilize the religious resources available to them to better their lives and their situations."