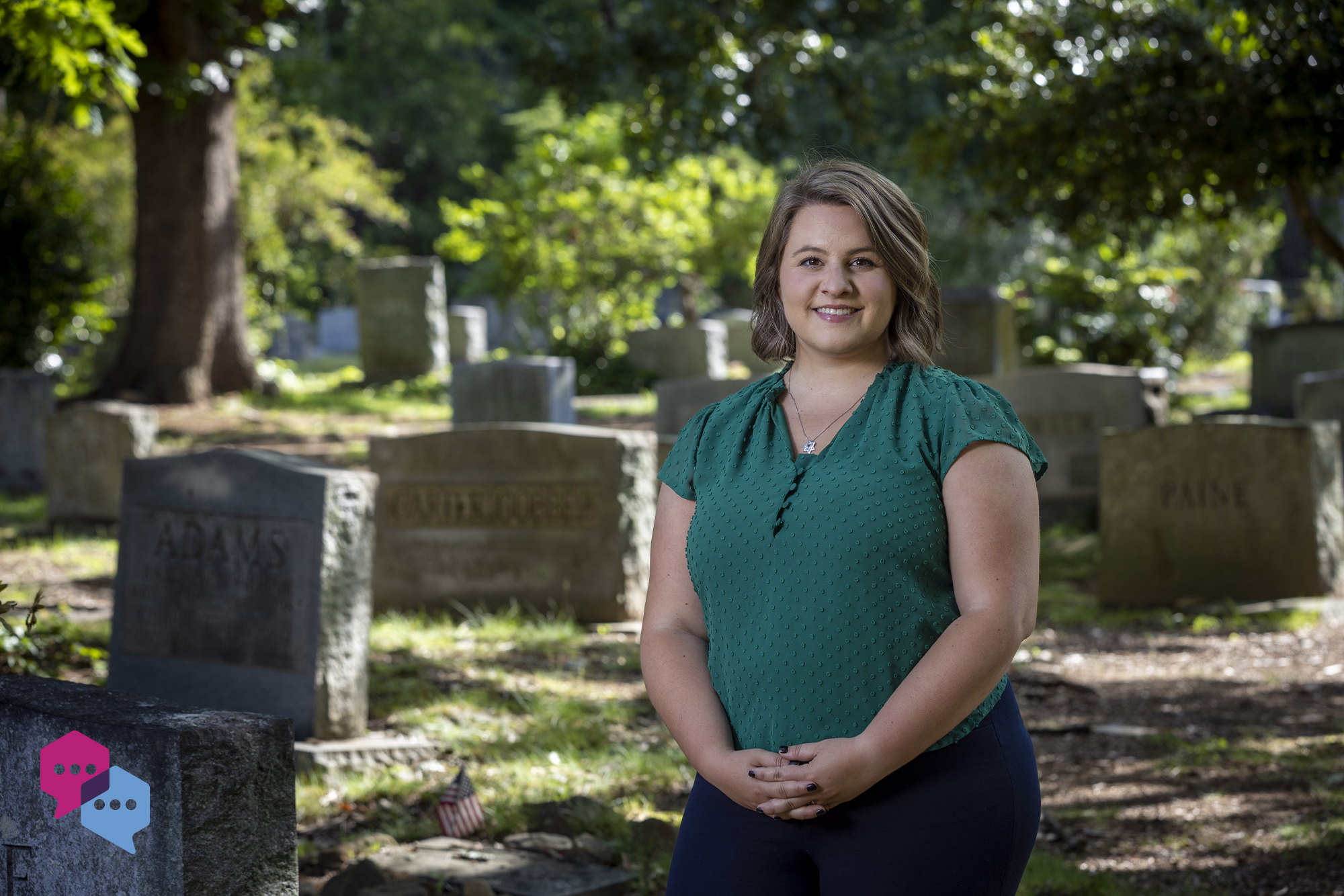 photo by Megan Mendenhall
June 28th, 2023
Alison Curry is a PhD student in the Department of History within the UNC College of Arts and Sciences. She studies the ritual, spatial, and functional uses of Jewish cemeteries in Poland between the interwar period (1918-1939) and WWII (1939-1945).
Q: How did you discover your specific field of study?
A: I first traveled to Poland in 2012 with my mother to learn more about our family's past. Both sides of my mother's family were from Poland, emigrating to the United States in the 1880s and 1910s. At that time, we knew little about their history — or Polish history, in general. We visited Warsaw's Okopowa Street Jewish cemetery, one of the largest in Europe today. I'm not a very spiritual person, but there is something quite special about that place that I've never been able to put into words. Since then, I've been to Poland seven times and have visited 25 Jewish cemeteries there.
Later, I realized I have always been interested in cemeteries. In eighth grade, I wrote my final history class paper on historic cemeteries in Maryland. Somehow, it seems like this project was predestined.
Q: Academics are problem-solvers. Describe a research challenge you've faced and how you overcame it.
A: For the past seven years, I've been learning Polish, Yiddish, and Hebrew. Language-learning is central to my research as most of the documents and sources I need to access are in these languages. East European Jewish history can also be a challenging field as many documents have been destroyed, often in one of the many wars taking place in this region over the past two centuries. This means I must be flexible. I take a macro-level approach to Jewish cemeteries for this reason, zooming in on specific towns to analyze their cemeteries. But, for the most part, I piece together stories from different places to create a coherent narrative.
Q: Describe your research in five words.
A: The dead impact the living.
Q: Who or what inspires you? Why?
A: My family. I'm fortunate to have amazing parents who know little about what it means to get a doctorate but are consistently supportive in every way. On a deeper level, I am also inspired by my ancestors: my grandfather, who immigrated from Poland as a young child; his parents, who left Poland with their seven children during the First World War; and their cousins, who didn't leave and ultimately died or were murdered in the Holocaust. I am not telling their stories in my research, but I wouldn't be doing it without them.
Q: If you could pursue any other career, what would it be and why?
A: A teacher. It's ultimately what I hope to do in the future as a professor. But I could see myself as a high school teacher if I didn't go down this path. My mother always pushed me to go to graduate school, but if she hadn't, there's also a chance I would've taken over one of my parent's businesses. My mother owned a preschool and childcare center, and my father owned a bowling alley.