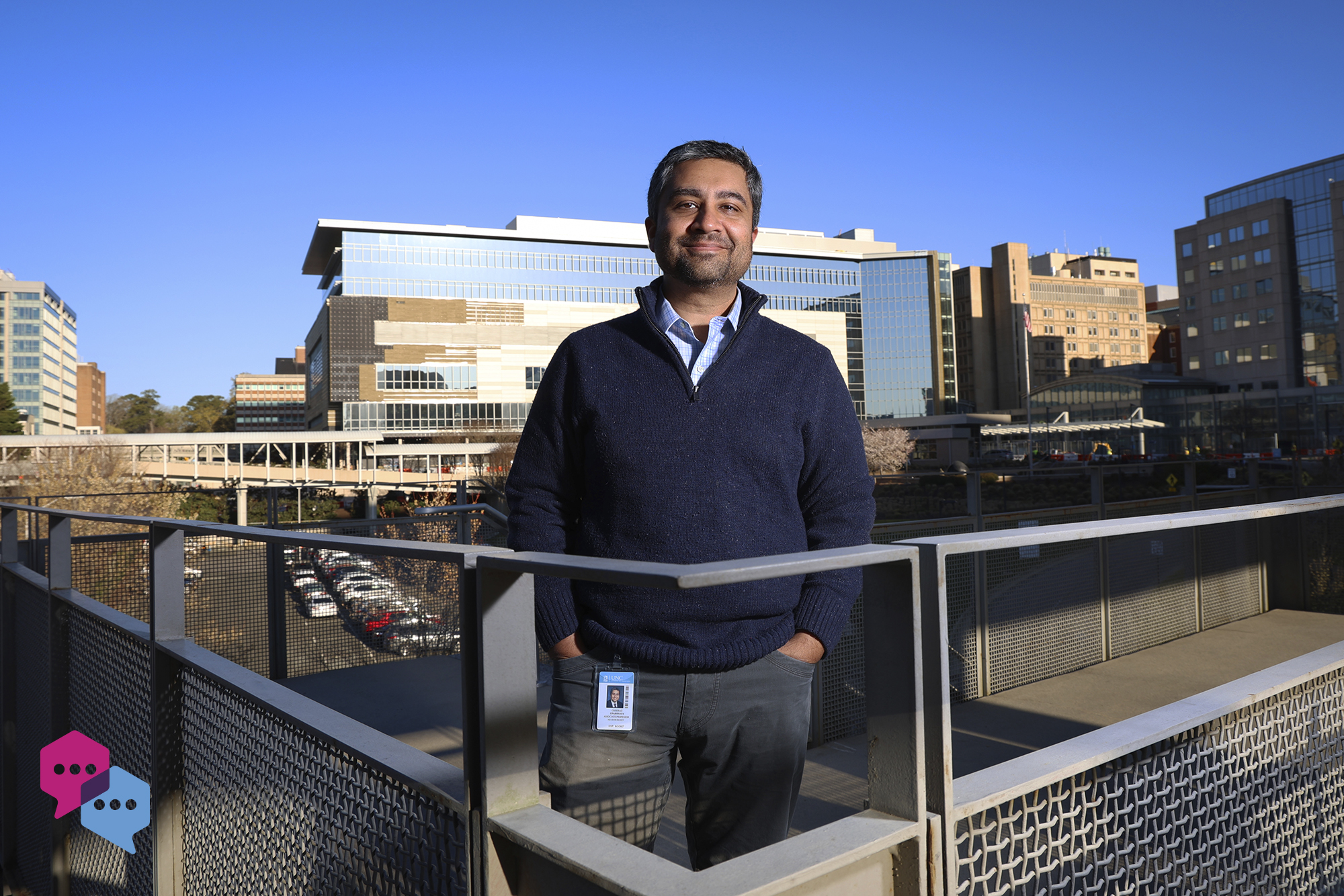 photo by Alyssa LaFaro
June 14th, 2023
Cheerag Upadhyaya is a clinical associate professor in the Department of Neurosurgery within the UNC School of Medicine. He studies the elements that influence patient outcomes, from clinical factors and surgical methods to health care operations.
Q: How did you discover your specific field of study?
A: I became interested in neurosurgery due to its complex and evolving nature. The field presents numerous challenges, particularly regarding our limited understanding of the nervous system and the intricate surgical techniques required. Additionally, the high acuity of patients and the potential for significant impact on their lives is both humbling and motivating.
Q: Academics are problem-solvers. Describe a research challenge you've faced and how you overcame it.
A: Before joining UNC-Chapel Hill, I was tasked with transforming a non-academic program into an academic one, which required establishing a research effort within a department that had limited infrastructure and faculty research experience.
I concentrated on laying the foundation required for data collection. This included acquiring the necessary funds to participate in a national registry and creating infrastructure to facilitate robust prospective data collection. As a result, I established a partnership with numerous institutions across the country, which allowed us to broaden our research efforts and access resources not available locally.
Overall, my approach involved starting small and gradually building momentum through collaborative efforts. While the initial challenges were significant, the program's ethos gradually shifted, and we were able to make meaningful contributions to our field of study.
Q: Describe your research in five words.
A: Improving spine surgery, patient outcomes.
Q: Who or what inspires you? Why?
A: While it may sound trite, my patients are the source of my greatest inspiration. Witnessing their resilience in the face of illness and their unwavering determination to recover fuels my desire to contribute to improving patient outcomes. There is no greater reward than knowing that my work can make a meaningful difference in someone's life.
I have also had the privilege of working with exceptional mentors and colleagues who have inspired and supported my journey in this field. Opportunities for collaboration are one of the primary reasons I joined UNC-Chapel Hill.
Q: If you could pursue any other career, what would it be and why?
A: This is a challenging question because I have a deep passion for being a neurosurgeon, but I have often contemplated what it would be like to serve as a legislator. To have the privilege of representing a community, advocating for their interests, and working collectively to pass laws that can enhance their quality of life would be an incredible opportunity.