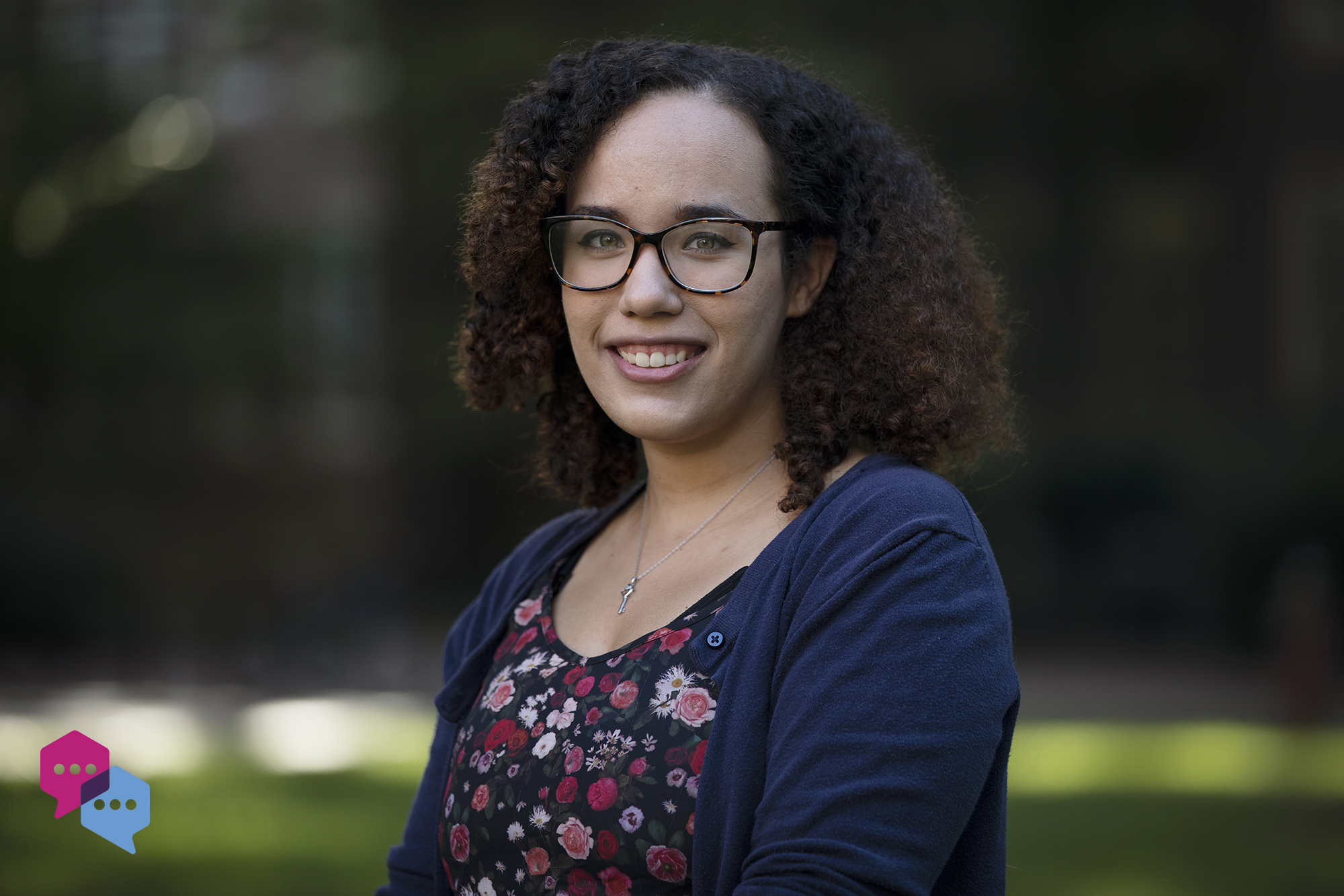 photo by Megan May
August 10th, 2022
Jamilläh Rodriguez is a postdoctoral researcher in the Department of Linguistics within the UNC College of Arts and Sciences. She studies phonology — how sound is organized within a language — and its relationship to syntax in understudied and endangered languages, particularly in Mesoamerica and diaspora communities.
Endeavors recently spoke with Rodriguez to learn what inspired her to pursue her field, how she's overcome obstacles, and a little about her life beyond academics.
Q: When you were a child, what was your response to this question: "What do you want to be when you grow up?"
A: A veterinarian or a lawyer. I was constantly sneaking stray cats into the house and bringing home snakes when I was younger. I think I loved the caring aspect of veterinary work, but the power of law. Plus, my father always told me I liked to argue.
Q: Share the pivotal moment in your life that helped you choose your field of study.
A: I absolutely loathed high school, so I only saw college as a means to get out of my situation and didn't believe I would enjoy it. I studied languages in my free time for fun, and I chose linguistics as a major because my guidance counselor at the time told me it would be a good direction to start — even though I had no idea what exactly it was.
In my first semester as an undergraduate at Stony Brook University, I was taking an Introduction to Linguistics course, and I really enjoyed it, so I unintentionally put in a lot of effort. It completely changed how I view language and, for the first time, I was looking at it as more than just memorizing words or learning how to conjugate a verb. When we got back our first exam, I was surprised to find a note saying that I had received the highest score in the class and that was the first time that I thought I could do well with something that I love.
Q: Tell us about a time you encountered a tricky problem. How did you handle it and what did you learn from it?
A: I was doing fieldwork in Mexico with a group of people who are systemically discriminated against, and I encountered an issue where the space I had been meeting them in would no longer allow me to bring them with me — and it was handled horribly. I had to reach out to multiple places about conducting research in their spaces instead and explicitly request that I be allowed to bring this group of people and that they not be stopped from entering.
In the moment, all I could do was find an alternative solution because I was an outsider with little power. I couldn't change the system and it was frustrating. I feel like I'm still learning how to juggle the limitations that come with my position in the world, particularly as a woman of color, and my desire to change injustice. Working with forcibly displaced communities has been eye-opening about how I can use what little power I do have to do some good.
Q: Describe your research in 5 words.
A: Understudied languages, not undervalued people.
Q: What are your passions outside of research?
A: I am a new mom, so I love to spend time with my family and read books to my baby. We go on walks on the many beautiful trails around the area. I also enjoy tabletop games and finding new hobbies. One month I'll be tatting lace, then I'll learn how to play the ukulele, then it's yoga, and so on. I like to feel unrestricted in my passions! But I would say number-one is always spending time with my family.