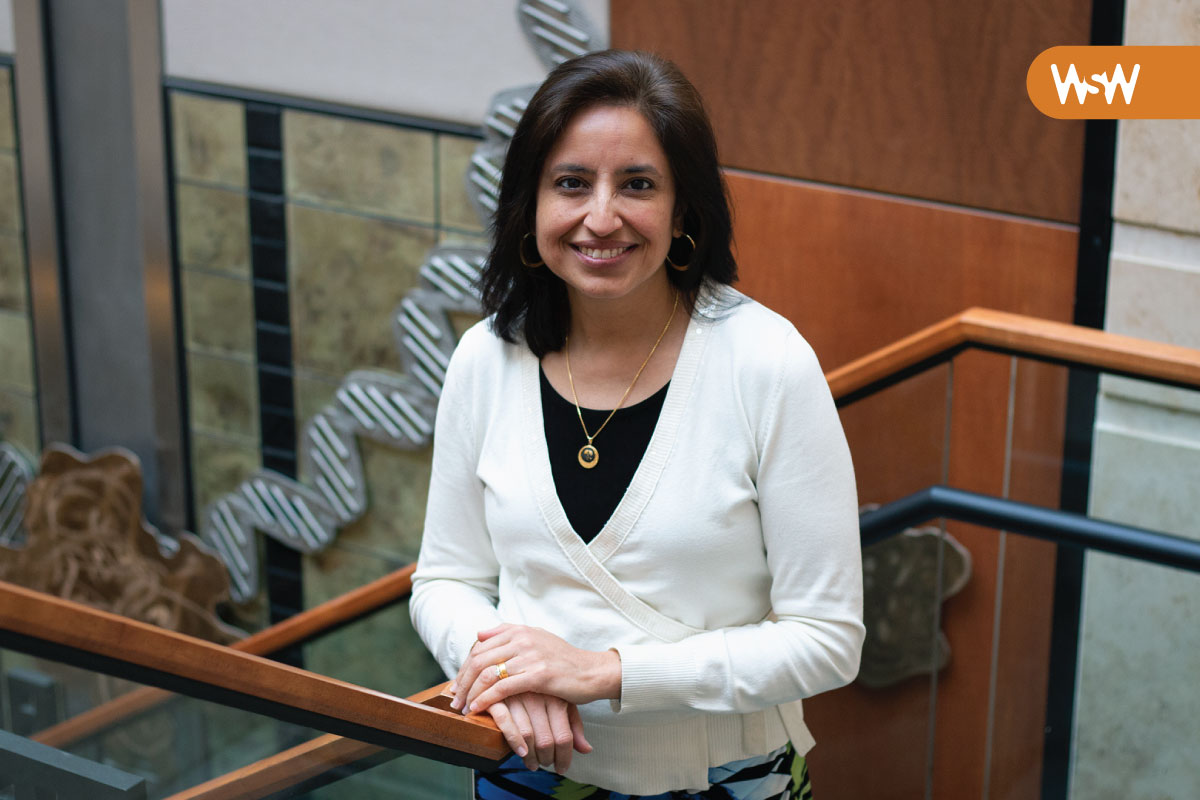 photo by Alyssa LaFaro
March 6th, 2019
When you were a child, what was your response to this question: "What do you want to be when you grow up?"
I wanted to be a doctor from an early age for two reasons — I wanted to be in a profession where I was helping people, and I was always fascinated by the way the human body worked. My parents had bought me a book from the "How and Why " series called "The Human Body," and I remember reading it again and again, amazed at how all of the systems worked.
RESEARCH IN 5 WORDS:

"Retinopathy steals and telemedicine reveals."
Share the pivotal moment in your life that helped you choose your field of study.
When I was 20, my father suddenly developed floaters in his vision. He immediately called his physician who referred him to an ophthalmologist, and specifically, a retina specialist. He was diagnosed with a retinal tear, which, if left untreated, could have resulted in a retinal detachment. Fortunately, it was diagnosed and treated in time, and the retina specialist saved his vision. When I saw my father's gratitude for this ophthalmologist and his vision-saving technologies, I knew that's what I wanted to do — work with patients. With degrees in electrical and biomedical engineering under my belt, I had always been interested in using technology to improve medical care, but I realized I wanted to do this in a way that helps people. It is still a great privilege today to be able to improve or save someone's vision.
Tell us about a time you encountered a tricky problem. How did you handle it and what did you learn from it?
Ocular telemedicine is when retinal photos are obtained in the primary care setting and then sent over a secure web-based, HIPPA-compliant network to an eye care specialist who interprets them and returns a diagnosis and management plan to the primary care provider. I received a grant to implement a telemedicine program for diabetic retinopathy within the state of North Carolina, where the rates of diabetes are far higher than the national average. I had five sites that spanned the state from Asheville to Greenville.
We wanted to recruit as many patients as we could to take advantage of this important research project, so we devised a friendly competition to see which site could recruit the most patients. The winner would receive a financial reward from the grant, which would be a great incentive to recruit patients. I thought that everyone would be enthusiastic about this, but one of the sites said it was unfair and got very upset. We ended up changing the competition to where everyone got a prize and the funds were divided evenly, which worked out well in the end.
What are your passions outside of research?
I love traveling the world with my husband, our four children, and our extended family and friends. I have been to India, Japan, Iceland, the former USSR, England, France, Spain, Italy, Austria, Switzerland, Jamaica, Canada, and Mexico — and hope to visit many more corners of this diverse and wonderful planet and its people. I am also passionate about yoga. I feel it is very important to have passions to feel complete and whole.