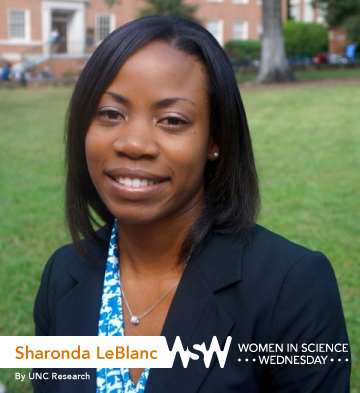 Photo courtesy of Sharonda LeBlanc
February 24th, 2016
When you were a little girl, what was your response to this question: "What do you want to be when you grow up?"
I always said I wanted to be a doctor, lawyer, or professional basketball player. I was way too shy to be a great basketball player, and I ended up running track in college. Being a scientist never crossed my mind, mainly because I didn't know what it was all about. Doing research is very different from any of those professions, but I love it.
Describe your research in five words.

Protein interactions in DNA repair.
What made you want to be a scientist?
I've always been very curious about, well, everything. I had great science teachers in high school, and decided to major in chemistry in college. Even then I thought I was heading to professional school (i.e. pharmacy). I decided to go to graduate school because I realized how much I loved to learn, and being in the research lab was a hands-on way to do just that.
What's the most interesting thing that happened while you were doing research?
While I was in graduate school, I had the opportunity to attend the 60th Meeting of Nobel Laureates and Students in Lindau, Germany. It felt a little surreal being around so many brilliant people on such a small island, but the experience was amazing. My highlight was having a conversation over dinner with Professor Rudolph Marcus (1992 Nobel Prize in Chemistry for electron transfer theory).
What advice would you give to up-and-coming female researchers in your field?
Find good mentors who support you, and believe in your dreams. Have the courage to be you, and don't apologize for it.