May 25th, 2022
In 1985, Edgar Waters, Sr. had an important request for his college-bound grandson, Darin. After Darin felt he had gained all the knowledge that he would need to be of service to his community, Edgar asked that he come back to Asheville and get to work. At 18, Darin was focused on college in Lynchburg, Virginia, and looking forward to leaving his hometown behind. At the time, he remembers thinking, "anywhere but Asheville."
Twenty-four years later, Darin Waters found himself back in Asheville, pursuing his PhD research for UNC-Chapel Hill. He was working in the archive at the historic Biltmore Estate when he remembered his grandfather's charge. On his first day in Biltmore's archives, Waters discovered three original documents written by his great-grandfather.
"To find those letters on the very first day that I was here at Biltmore Estate, and to make that connection, it was almost like I was kind of meant to do this study," Waters says. "And I felt like my grandfather, who had told me to come back and do this type of work, I felt like maybe he's out there somewhere kind of manipulating the strings to get me back to Asheville."
Growing up, most of what Waters knew about his family he learned from his grandfathers: Edgar, Sr. and Isaiah Rice. Both men had a strong sense of family and community, and they taught Waters the foundational role that history plays in building both. Those lessons shaped Waters into an advocate for history, evidenced in the work he does today as deputy secretary for the Office of Archives and History for the State of North Carolina. That title makes him the state's historian, and it's a role that allows him to continue the work he started as a PhD student in the Biltmore archives.
"The work that I do now as the deputy secretary and the state historian, it's reconfirmed to me the importance of public history," Waters says. "Understanding the folks who came before us is foundational to giving us an idea of where we are now and may give us some sense of where it is that we want to go."
History for himself
In 1990, after completing his bachelor's degree at Liberty University, Waters had his eye on law school. Initially, he went to work as a probation officer in Raleigh to get familiar with the court system. But after six years, he left that job for an appointment on the board of commissioners of the Raleigh Housing Authority, which he eventually chaired. Sensing his dissatisfaction, Jay Parker, a mentor of Waters, encouraged him to pursue his passion for history. He went to NC State for his graduate work and then onto UNC to pursue his PhD.
"If anything else, I figured I would be an interesting addition to any party because everybody loves history and wants to talk about history."
At Carolina, Waters focused his dissertation on the Black community of Western North Carolina. He picked the subject as a way to correct what he saw as a significant misconception surrounding his hometown of Asheville. In 2009, Waters told Endeavors that it was a commonly held belief that so few Blacks had lived in this region at the turn of the 20th century that their contributions to society were minimal. These assumptions were inconsistent with what Waters knew about his own family.
"Still, to this day, there's this ongoing assumption that when we're talking about Southern Appalachia, there's not really an African American presence in this region of the country," Waters says. "I knew my grandparents had lived here, and I got tired of people telling me that there was not an African American presence in this region of the state."
Waters figured his best chance to unlock the history of African Americans in Western N.C. was at the corner of Eagle and Market streets at the Young Men's Institute (YMI) in downtown Asheville. The YMI is an African American cultural center founded in 1893, making it one of the oldest organizations of its kind in the country. Still in its original building, it has been the hub for African American culture in the region for over a century. George Vanderbilt funded its construction and continued his support for the first 13 years of its operation. That connection to Vanderbilt led the director at the time, Harry Harrison, to approach the Biltmore Estate on behalf of Waters.
"Harry had the audacity to say, 'I'd like for you to give him access to your archives.' Well, I'm thinking to myself, I didn't even know there was an archive at the Biltmore."
The Biltmore opened its archive to Waters, pairing him with archivist Suzanne Durham. On his first day, Waters mentioned his great-grandfather, Lewis Waters, by name. Durham remembered seeing that name somewhere in the records. A quick search yielded three hits.
"I was deeply, deeply blown away. We go into the stacks, and there are three handwritten letters from what becomes my great-grandfather," Waters says. "I was deeply shocked by that when I saw those because Lewis Waters was born in 1860. He was born enslaved but then liberated with the general emancipation in 1865. I was questioning whether or not he might have been an educated man or not. Here was the proof."
These primary documents showed that Lewis Waters owned his own business and led a crew of workers that hauled debris away from the site of the Biltmore House's construction. Just like that, Waters learned that his great-grandfather was literate, owned his own business, and worked for one of the richest men in America.
Waters went on to complete his research and obtain his PhD. His work helped rewrite his own family's history and broaden the history of the African American community in Western North Carolina. It recast the public's view of George Vanderbilt, shedding light on his relationship with Asheville's Black population. But most importantly, it helped him answer his grandfather's charge of bringing his skills to bear in service of his community. He credits UNC and historians Harry Watson and John Hope Franklin, the co-chairs of his dissertation committee, with giving him the tools to complete his research.
"UNC-Chapel Hill prepared me for the work that I did for my dissertation. To be able to do that research, to be able to read it and unpack it for larger meaning and how it connects not only to where we are today, but glimpses that it might give us of the future."
History for the people
Waters continued his advocacy for history after receiving his PhD, teaching history at UNC Asheville (UNCA). In 2014, he found an even wider audience when he teamed up with UNCA religious studies professor Marcus Harvey to produce "The Waters and Harvey Show." The show, which just recorded its 100th episode for Blue Ridge Public Radio in May, offers a lively conversation across a broad spectrum of topics exploring the experiences of marginalized people.
Both Harvey and Waters bring a deep knowledge of history and culture to the show. A listener is just as likely to hear references to Alexis de Tocqueville and Martin Luther King as to hear a short history of country blues — sometimes even in the same episode. For Waters, it offers a chance to advocate for history beyond the academic world.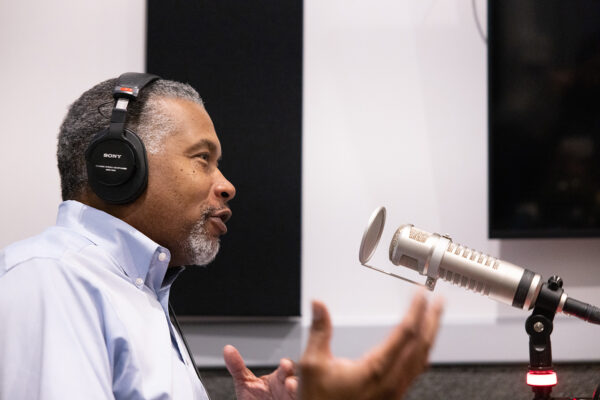 "The reason why I started the podcast that we do at Blue Ridge Public Radio
is because having served as a probation parole officer for years, working in communities kind of doing social work, I … had a chance to see how important it is to be speaking to not just an exclusive audience of students at a university, but to find a way to speak to the larger  public."
Waters also strives to connect his work to his two sons: Jonathan, 26, and Lewis, 22. Both have family names, and Waters has made sure to pass on the histories he learned from his grandparents. In January, they accompanied Waters to the launch of a new exhibition in the Biltmore House.
 Biltmore staff worked closely with Waters to produce Building Biltmore House,  centered around the people who built the estate. A picture of Waters' great-grandparents, Lewis and Emma, is featured prominently in the exhibition, which thrilled his sons.
"They never knew either set of great grandparents, but they feel that they know them because of the stories that I've shared with them and that their grandparents have shared with them," Waters says. "And just to see how that kind of has, well, it's inspired them. So that's what I think is so fundamentally important about understanding and knowing … family history."
Waters remembers accompanying his own father to the Biltmore Estate as a boy to attend Christmas parties in the Halloween Room, the site of the exhibition. He can't help but feel like he's come full circle with his research and the connections it's created.
LeeAnn Donnelly, senior public relations manager at the Biltmore, attended the exhibition the night it opened and watched as Waters' sons took it all in.
"I saw [them] looking at him at the opening, and they were just beaming," she says. "They were so proud of him."