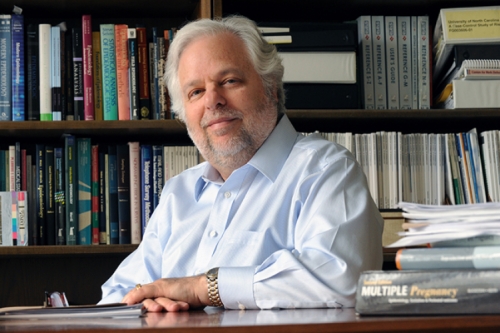 March 3rd, 2014
Each year in North Carolina, more than 4,000 children are born with birth defects. Doctors still don't know what causes most birth defects, even the ones—like spina bifida—that we can take some measures to prevent.
At UNC, epidemiologist Andy Olshan leads the N.C. Center for Birth Defects Research and Prevention, one of seven U.S. centers that investigate the patterns and causes of more than 30 structural birth defects, such as heart defects, neural tube defects, limb defects, and cleft lip/cleft palate.
Born in Massachusetts and raised in Arizona, Olshan joined the Gillings School of Global Public Health at UNC in 1992 and has been here ever since. We asked Olshan about his research and the difference it might make for children and families.
Why did you decide to study birth defects?
Birth defects are relatively rare, but they're still the leading cause of infant mortality, both nationally and in North Carolina. Most birth defects have an unknown cause. That means we have a lot of work to do.
How does your team study birth defects?
The N.C. Birth Defects Monitoring Program goes to hospitals and clinics in 33 counties in North Carolina. By state law, they're allowed to pull records to look for birth-defect diagnoses. Then a clinician here at the School of Medicine does a review of the records and determines who's eligible for this study.
We contact the mothers of those children and ask for their participation, and then we do phone interviews about a range of things that might cause birth defects. Diet and medications during pregnancy, the mother's and father's occupations, any family history of birth defects. We also send them a kit to get cells from the mouths of the mother, father, and child for DNA analysis.
The whole study has over 14,000 children. It's the largest study of this kind ever done—I think anywhere, but certainly the largest in the United States. North Carolina so far has contributed about 2,200 cases of children with birth defects.
What has the study found on the national level?
Some of these findings confirm what's been reported elsewhere, and some are things that hadn't been reported before.
The study found that a class of antidepressants—SSRIs—may increase the risk of certain defects of the brain, skull, and intestines.
Assisted reproductive technology, such as in-vitro fertilization, increases the risk of some types of heart defects, cleft lip, and gastrointestinal defects.
And there's a whole class of prescription pain medications—opioids—associated with congenital heart defects and other defects.
And what have you found in North Carolina?
We studied a birth defect called gastroschisis, in which the abdominal wall doesn't form. It seems to be increasing in North Carolina and elsewhere, particularly among children of younger, less-than-20-year-old women.
We found that gastroschisis is associated with a lower-than-average body mass index (BMI), and that lower BMI interacts with the mother's younger age to increase the risk. Usually a mother's age or BMI being higher is associated with increased risk of birth defects.
We have studies underway or not yet published looking at air pollution and at drinking water. And our national expert on physical activity, pregnancy, and health, Kelly Evenson, is looking at physical activity during pregnancy.
I worked with Anna Maria Siega-Riz in epidemiology and nutrition, and Amy Herring in biostatistics, and looked at dietary patterns. Not surprisingly, what's called a "prudent" diet (fruit, vegetables, whole grains, poultry, and fish) may decrease the risk of neutral-tube defects and congenital heart disease.
Tell us about the role of fathers in the causes of birth defects.
The role of the father in birth defects is very under-studied. We have some leads, but they're far from proven.
We did a study on fathers' occupations and the risk of birth defects, led by my former student, Tania Desrosiers. We looked at about 60 categories of occupations. The occupations that may have solvent or pesticide exposure, like machinists, mechanics, landscapers, and gardeners, have an association with a risk of birth defects.
But that's an assessment based on just the father's job title. We need exposure measurements from the workplace to determine what might be increasing the risk of birth defects.
What advice do you have for future parents about preventing birth defects?
We still don't know the causes of the majority of birth defects. That's why we do these studies. But there are some preventive measures that have been identified through the years.
Taking prenatal vitamins, not smoking, and not drinking while pregnant. Getting physical activity, having a lower BMI, and eating a healthful diet all seem to lower the risk of birth defects.
When a mother has a higher BMI, there's a whole spectrum of birth defects that show increased risk. That's not just from this study, but this study is probably the broadest, deepest analysis of it.
What do you hope to achieve for North Carolina in the next five years?
I hope in the next five years we'll identify or confirm risk factors that can lead to action by women, doctors, or policymakers. Things like avoiding certain medications when pregnant or changing your diet.
The next level would be environmental factors that are harder to study. If certain pollutants are associated with birth defects, then knowing that would—you'd hope—change regulation policy. In the next five years, I hope we'll be able to nail some of these things down.
Anything else you'd like to tell us?
Birth-defects epidemiology is a small club of researchers. Birth defects research on fathers is an even smaller one. We have a large training program in this department, and we're training future generations that will focus their research on birth defects. That's critical to our mission.