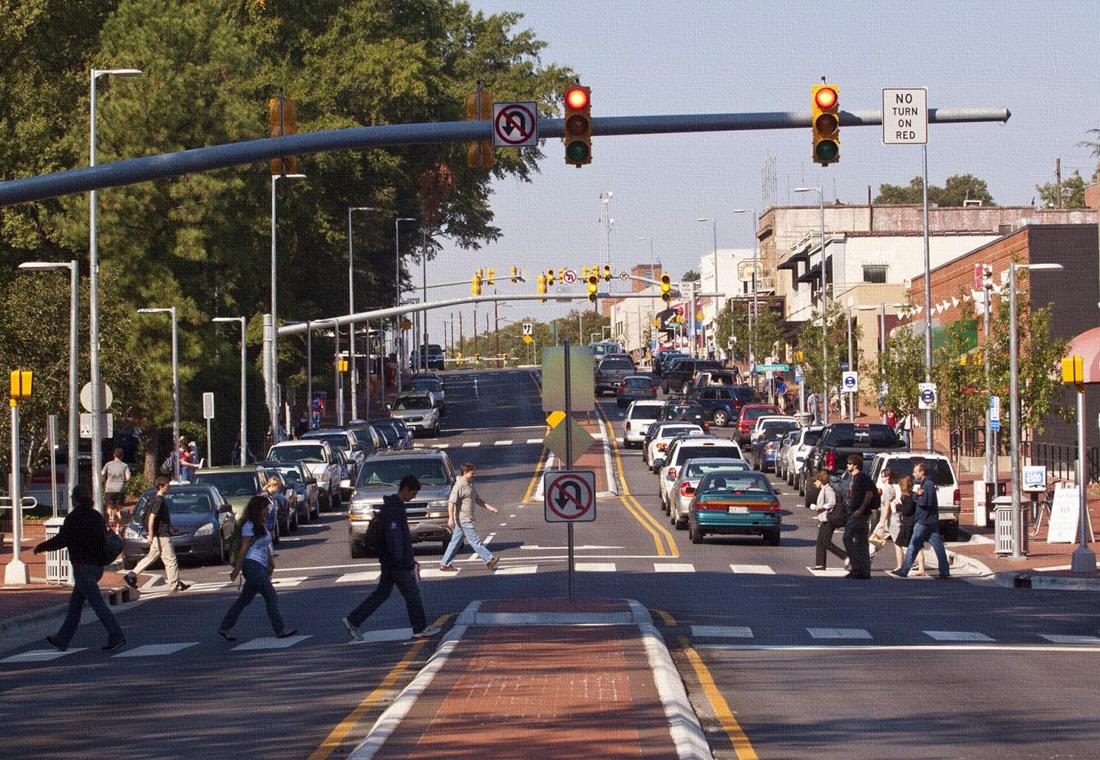 Photo courtesy of N.C. Department of Transportation
January 19th, 2016
Particulate matter — fine particles in the air like dust, dirt, soot, or smoke — is the most pressing air quality concern facing the United States, according to the U.S. Environmental Protection Agency. These particles can cause serious conditions: lung irritation, blood clots, and asthma attacks.
Ted Mansfield, an environmental sciences and engineering doctoral candidate at UNC-Chapel Hill, wanted to explore how the risks of particulate matter vary across the Research Triangle — the second-fastest growing metropolitan region in the United States in the past decade. The increased population has caused the city to spread into the suburbs and countryside, something researchers call "urban sprawl." Such an intense sprawl in a short period of time creates unique land use patterns, or the way a city is arranged — and Mansfield grew curious about how air pollution would vary along the Triangle's growing layout.
This past December, Mansfield's paper on the topic earned him a 2015 Best Paper Award from the Society for Risk Analysis (SRA). Each year, the SRA selects papers that have made the most significant impacts to the theory or practice of risk analysis. In December 2014, "The Effects of Urban Form on Ambient Air Pollution and Public Health Risk: A Case Study in Raleigh, North Carolina" was published in the society's journal, Risk Analysis. Out of the more than 100 papers published by the journal in 2015, only four of them received this prestigious award.
Mansfield and his team compared what the Triangle looks like today to two "alternative present" scenarios — visions of what the region would look like today if it had developed more compactly or more sprawled over the past several decades. They discovered that a more compact region reduced transportation demand, leading to fewer miles driven and slightly lower average air pollution — something they expected to find.
"In more compact cities, it's expected that many people would drive fewer miles," he says. But they also found that some of the densely populated neighborhoods in the compact development scenario were located in air pollution "hot spots," or areas with high levels of particulate matter — such as interchanges along major highways like I-440, I-40, and NC-147. "Population exposure to particulate matter increased in the more compact scenario," Mansfield explains, "a finding that I think surprised many of us."
While compact neighborhoods may increase air pollution health risks, such hazards are likely counteracted by the increased physical activity that often goes hand-in-hand with these cities. Policy that reduces automobile emissions, as well as incentives for electric vehicles, could improve air quality in these locations, according to Mansfield.
This award-winning paper looked at air pollution from both a planning and public health perspective, using methods from each field including risk assessment and transportation demand modeling. Mansfield's collaboration with professors from UNC's Gillings School of Global Public Health, Department of City and Regional Planning, and North Carolina State University provided readers with a perspective and policy lens unique to the field.
Jacqueline MacDonald Gibson, Mansfield's adviser and co-author of the paper, was not surprised by his win. "Ted is one of the most creative, self-directed PhD students in the Department of Environmental Sciences and Engineering," she says. "He started his PhD degree with a vision for how he could contribute to helping cities of the future avoid past pitfalls that have contributed excessive pollution, energy use, and health risks." Today, this paper and Mansfield's continued research influences policymakers to see how their choices about transportation networks contribute to health risks and benefits.
Mansfield believes that such data could lead to decisions about how the region grows as a whole — not just how Raleigh, Durham, and Chapel Hill grow as individual cities. "Regional growth patterns can have some pretty significant effects on a very local, neighborhood scale," he says. "I think one of the things we struggle with in the United States, in general, is the idea of regional governance and having a strong role for regional councils. We have these interesting cross-scale linkages that don't match how we make decisions."
Air pollution, especially particulate matter, should be considered both a regional and local issue, Mansfield says, because it can vary from location to location but may be driven by regional development patterns. "Particulate matter concentrations can vary a lot between neighborhoods," he says, "and transportation systems are often very hierarchical, so regional commuting patterns may channel a large number of automobiles through specific sections of the road network. If compact neighborhoods are located near these sections, population exposure to particulate matter can increase dramatically."
The most challenging part of the project, Mansfield admits, was "making sure different worlds talk to each other, and that we really were getting results that made sense across different disciplines." He hopes to see more walkable, bike-friendly neighborhoods with low air pollution levels, or "sweet spot neighborhoods" as he calls them, in the future. "It's the best of all worlds," he says. "Ideally, we want our cities to be clean and walkable. It's a win-win."