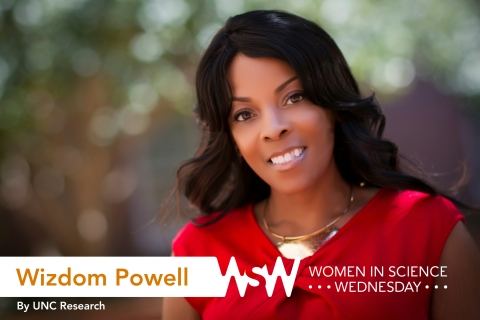 August 10th, 2016
When you were a child, what was your response to this question: "What do you want to be when you grow up?"
Whitney Houston or Sarah Vaughn. I am a vocalist and spent time training at the Governor's Magnet School for the Arts, won "Best Actress" in the state one-act play competition, and sang with the Virginia Opera company. By all accounts, I loved theatre and music, and thought I was headed for a career in the arts.
I am a first-generation college graduate and doctoral recipient so, truthfully, I had no idea that one could live a life of the mind. Most people who knew me in high school are surprised to learn that I am a college professor and researcher.
Describe your research in five words.

"Health inequities among AA men."
Share the pivotal "moment" in your life that helped you choose research as a career path.
I was a very inquisitive child and loved discovering new facts. I was fascinated with history and spent many long hours absorbing books at the local library. While studying at the John Jay College of Criminal Justice, I was approached by one of the faculty directors of the McNair Scholars Program. She asked me if I had ever considered pursuing a PhD. Honestly, I did not know what one had to do to acquire a PhD. I was working a 40- to 60-hour-a-week job during the day and attending class at night. My main goal was to finish my bachelor's degree and get a job. I applied for the program and was accepted. I still remember my first research presentation at the McNair Scholars national conference and meeting Ronald McNair's family. I left that meeting inspired. I was hooked.
What's an interesting thing that's happened during your research?
Most of my research has taken place in barbershops across the United States. In Augusta, Georgia, I encountered an 80 year-old African-American (AA) man who wanted to participate in our survey research study, but he could not read. The survey typically took about 45 minutes to complete — I spent more than three hours with him compiling responses to the questions. When we got to the portion of the survey that asked about experiences with racism, he recounted powerful stories about the kinds of oppositions he faced. It was such a privilege to hear and learn from him. In many ways, his words helped shape how I think about AA men's exposure to racism and its effects on their health.
What advice would you give to up-and-coming female researchers in our field?
When I entered the field, I had to quickly become comfortable with "being a woman about men's health." There are always sharp elbows around an issue table. To be effective, I had to quickly embrace my role as a link in a longer chain of black women health activists. I lost my maternal grandfather prematurely to a preventable health condition. I have nephews, a brother, and godsons who I hope will be able to live long and healthy lives. I claim my seat at the table because it is where I am supposed to be. I encourage women in the field to resist the urge to nullify or mute personal experiences. I believe that the most inspired research happens when we work on the wicked problems that keep us up at night.