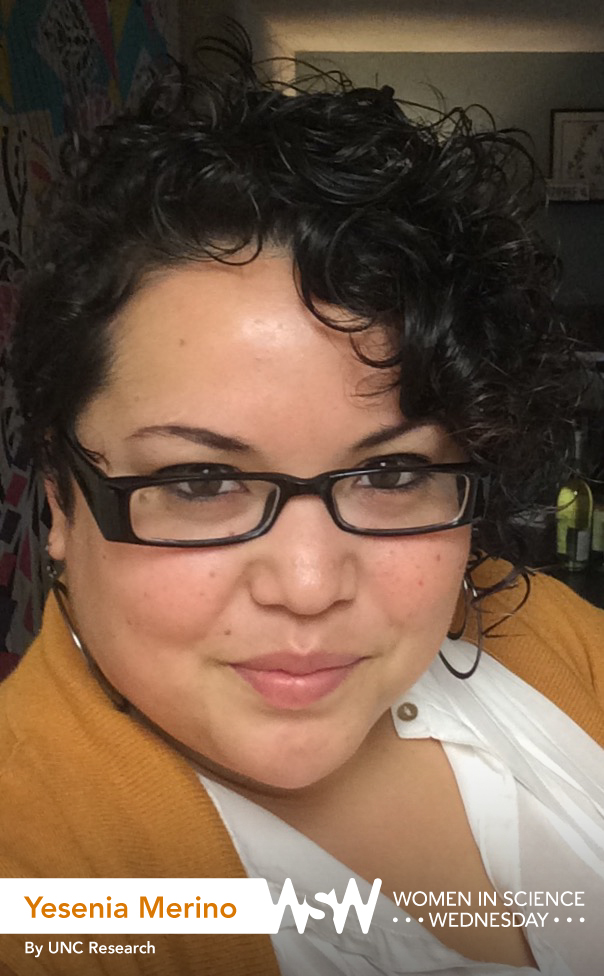 Photo courtesy of Yesenia Merino
March 30th, 2016
When you were a little girl, what was your response to this question: "What do you want to be when you grow up?"
I distinctly remember the first time I had to consider this question because it was in middle school for an honors English class. Our assignment was to write about what we wanted to be when we grew up and why. I didn't grow up in an environment where kids were asked to think about future career goals. I think my experience is reflective of what many first-generation students have to grapple with. There are certain assumptions about the preparation and grooming that kids have as they plan their lives that just aren't there for someone who is the first in their family to pursue higher education. My work in the First Generation Graduate Student Initiative seeks to address that.
Describe your research in five words.

"Why is health that way?"
What made you want to be a scientist?
I've always loved learning and consider myself insatiably curious (much to the chagrin of adults around me when I was growing up). As I made a career of working in sexual and reproductive health, I started to ask questions about health and the production of health knowledge that I didn't see being answered anywhere else. I've come to see how important representation in research is to the production of really meaningful health knowledge. I now strive to conduct research that centralizes the importance of marginalized populations and subjugated knowledges, in part because I identify so heavily with these communities.
What's the most interesting thing that happened while you were doing research?
A favorite project of mine has used Photovoice, a research method where community members work with researchers to develop a topic of sociopolitical importance and explore potential solutions through photography and group analysis. One of the themes that emerged was how much easier it was to get health needs addressed when they felt like they could talk to their medical provider. The research team had drafted some language about rapport with the provider being important. During the discussion, however, it was unclear what "rapport" meant, since it wasn't a term the participants used in their everyday language. I questioned if we should even be using it since it wasn't a word the participants would use. This was their opportunity to be heard (the "voice" part of Photovoice), so if we were using a word they wouldn't we were getting it wrong. That small interjection was kind of a big deal. In this perpetual outsider-within role, the only way I'm going to generate the kind of knowledge that I'm trying to make is to keep central the expertise of my participants. It's not so much research on communities as with communities.
In honor of Women's History Month, share an anecdote that shows why women need to continue breaking barriers.
I participate in a workshop that meets periodically to discuss relevant work, troubleshoot ongoing manuscripts and grant proposals, and generally bounce ideas off one another. One day, we were sitting in the session and one of the male attendees kept trying to attribute what female attendees were saying to the male faculty member. We're living in a time where overt sexism is pretty identifiable and tends to be called out when it occurs. The subtler issue is the way in which female scholars' voices are diminished or dismissed in public spaces. It's not usually out of any malicious intent, but that doesn't change the impact. Women still have to work harder than men to be heard and taken seriously in the university, especially when we're talking about positivist or quantitative areas of study.
What advice would you give to up-and-coming female researchers in your field?
Find fellow researchers to commiserate with. You learn more outside the classroom than you do inside, and you need people going through the same things as you. You chose this path for a reason. It's not always sunshine and roses — sometimes research can be downright tedious — but ultimately you're doing research because no one else has asked these questions before, so your field needs you. Remember that you volunteered as tribute.