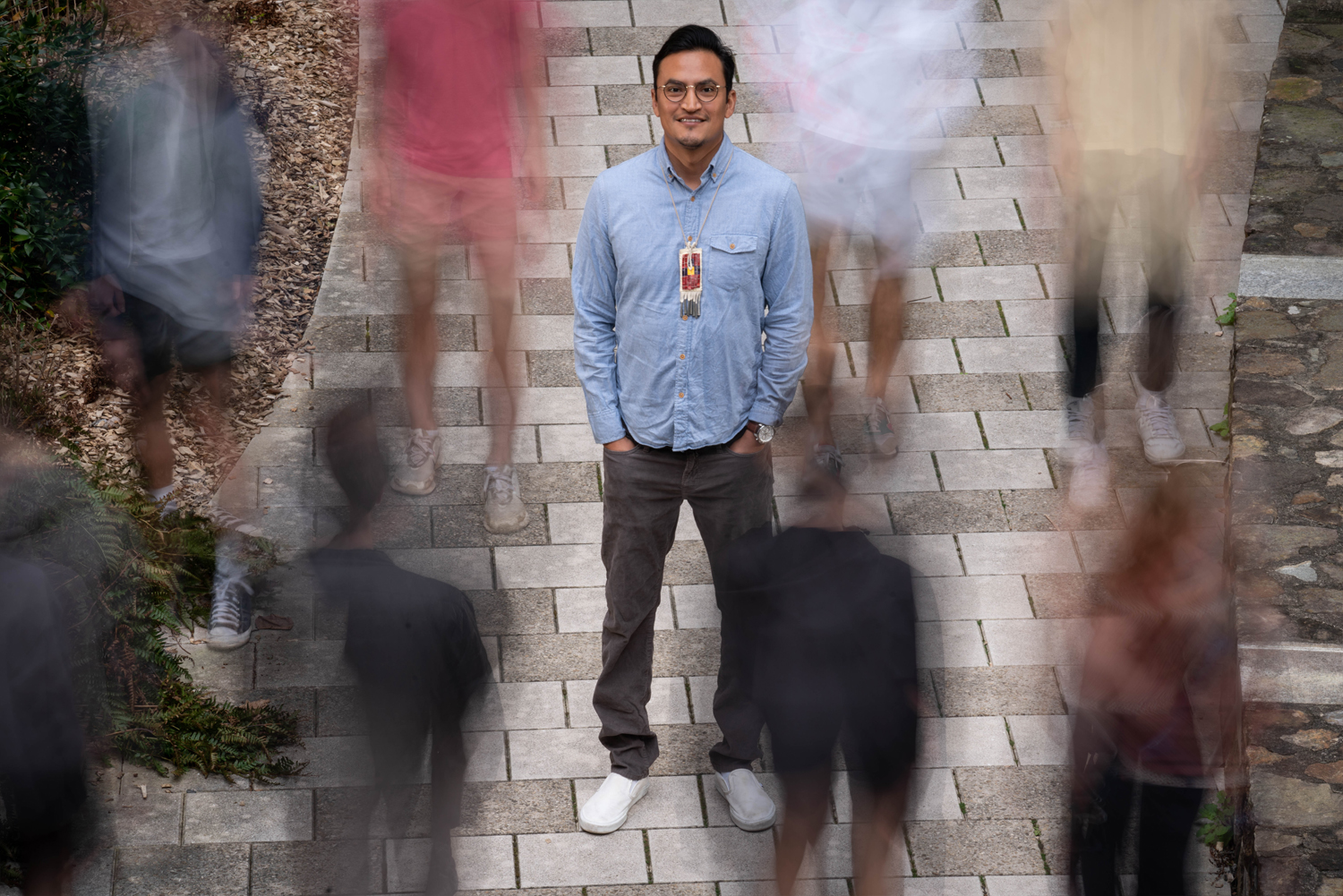 March 14th, 2023
Driving down a dirt road jostles any driver and passenger, but stomach cancer amplifies every stone, hole, and rut.
Outside of Shiprock, New Mexico, there are a lot of dirt roads, and not a lot of places to seek cancer treatment. Albuquerque, the home to the nearest cancer center, sits three-and-a-half hours away — a long trip that adds to the already high cost of care, both financial and physical. Marc Emerson and his dad have made this drive many times.
In 2016, during Emerson's PhD program at UNC-Chapel Hill, his father was diagnosed with stomach cancer.
"It started off hopeful, so I traveled home to visit a lot," Emerson says.
He, his family, and the doctors chose to take a curative approach, treating and operating on the cancer in what Emerson considers the first phase of the process. After a few months and multiple surgeries, the outlook shifted.
"Phase two started when we realized there were no more surgeries. That's when I moved home."
Classwork offered Emerson a distraction from caretaking, and Indian Health Services — a federal health care program for American Indian and Alaska Native (AIAN) communities — provided a hospice nurse who would speak with his father in Navajo.
The community came together from all directions. Elders spoke to Emerson's father about life and death, others helped on their farm, and some checked in with Emerson to make sure he was not only taking care of his father, but himself, too.
In the summer of 2017, a few months after moving home, his father passed away.
Alongside Navajo Nation, the U.S federally recognizes 574 tribes from the southern tip of Florida to the northern reaches of Alaska. Recognition provides them with access to Indian Health Services and government funding for infrastructure, but the needs of each tribe — and the individuals within them — vary.
Emerson's experiences, empathy, and Indigenous heritage shape his research today. Now an epidemiology professor within the UNC Gillings School of Global Public Health, his talks and presentations begin with a land acknowledgement — K'é, a traditional practice of introducing his roots and relations — and a tribute to his father. Within minutes, his intentions are clear: Put the people first and the statistics second.
"I want to take a person-centered approach to big data," he says.
Learning from his community
Navajo Nation occupies 27,413 square miles in the corners of Utah, Arizona, and New Mexico — an area more than half the size of North Carolina. There, Emerson grew up on his family's farm until attending San Diego State University for a bachelor's in psychology. Over time, as community members grew disconnected from their heritage, Emerson's father worked hard to educate the next generation about food and farming.
While Navajo Nation is larger than 10 individual states, it only has eight grocery stores — that's one grocery store for every 3,427 square miles. Emerson and his family grew food on their farm to access a healthier diet, connect to their land, and honor their heritage. But the lack of grocery stores correlated with a lack of other resources that degraded the health equity of the AIAN community he was a part of.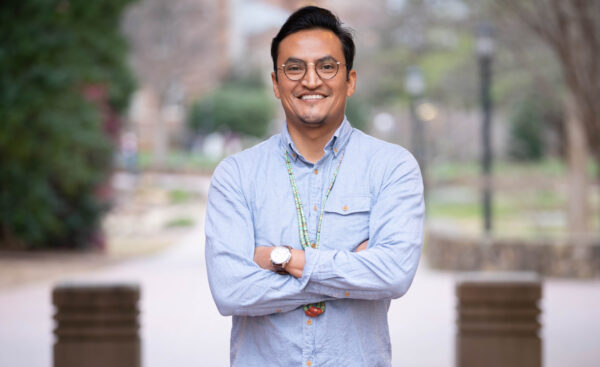 photo by John Gove
Several factors contribute to a person or community's ability to live a healthy life. This is called health equity. Equitable access to health insurance, quality health care, food, and medical research all contribute to it.
"There is a history of why we are where we are now with health equity," he says.
The three-and-a-half-hour drive to a cancer center, poorly funded medical facilities, high rates of poverty and unemployment, and a low rate of education prevent Navajo Nation from achieving a stable health system.
Emerson took note of the differences on the reservation, or "the res," and used these inequities as his why, going on to earn his master's of public health in epidemiology at San Diego State and PhD in epidemiology from UNC-Chapel Hill.
Searching for a needle in a haystack
The AIAN population in the U.S. falls somewhere between 1% and 2%, so they are often engulfed by the "other" category in research, making data on health equity within AIAN communities sparse.
Between 2016 and 2019, as a PhD student, Emerson found a starting point within Northern California, where a high density of AIAN individuals live in urban areas. Thanks to data from a care consortium called Kaiser Permanente (KP), he uncovered a relatively large sample size within a small geographic range, which strengthened his data and started to lay the foundation for his future research.
The Northern California population differs from many AIAN communities, though.
"I was looking at the best-case scenario, and there were still disparities," Emerson says.
In a 2021 study, he analyzed how consistently AIAN breast cancer survivors received endocrine therapy, a treatment for hormone receptor-positive breast cancer. The KP data he analyzed included women living in urban areas of California with stages one, two, or three breast cancer — but only 98 of the 23,680 people identified as AIAN.
This group represented a sector of the AIAN population with better health equity than the rest of their community. Unlike most of their peers, these individuals had health insurance. They also lived in urban areas, so they were much more proximal to healthcare facilities than people like Emerson and his father.
Even with better access and insurance than other groups in the AIAN community, Emerson found that these 98 breast cancer survivors were least likely to follow through with their five-year treatments. Many had stopped their therapies within the first year. He wants to understand the reasons behind these disparities.
In a separate study, he analyzed data on prostate, lung, breast, and colorectal cancer — and found that AIAN people had the lowest five-year cancer survival of any race. Again, the population was in California and there were 582 AIAN individuals, compared to 82,696 of their non-Hispanic, white counterparts.
"This research is the first step to figuring out what is happening," Emerson says. "Step two is figuring out why."
Identifying problems across regions
Northern California's resources are better than most areas of the U.S., and the disparities only worsen in other places.
Emerson's family spoke a different language outside of Shiprock, New Mexico, than the recognized tribes in central or western North Carolina. The dry desert climate on his farm yields different crops than the oppressive humidity of the Southeastern U.S. But neither of these areas face the issue of melting permafrost that some communities in Alaska face.
Geography defines resources. Just as food and climate pressures vary by location, so does access to health care. Funding is only allocated to the members of the 574 tribes, leaving those in areas that are remote or not federally recognized with few options.
"Everyone has different lived experiences," Emerson says.
In samples as small as those in Emerson's Northern California studies, each individual carries a lot of statistical weight. Working with those databases, which store their data in-house, means Emerson and his colleagues must ask for the data instead of searching for it on their own. Those interactions have led to collaborations, stimulating further research.
Now, as an assistant professor, he aims to design and fund his own projects.
"Finding my own funding will allow me to tailor my research to what I think is important," he says. "I want to take a holistic approach and differentiate between community-based versus population-based work."
This is where Emerson's empathy lies. Big data can paint a picture of disparities, but personal stories can make the disparities more tangible.
Back in Navajo Nation, his own personal story was that of community. Everyone came together to support him and his father during their journey.
"Everywhere has community, but the res has its own unique flavor," Emerson says.
"I hope to tie together those different lived experiences with world views to better my research."