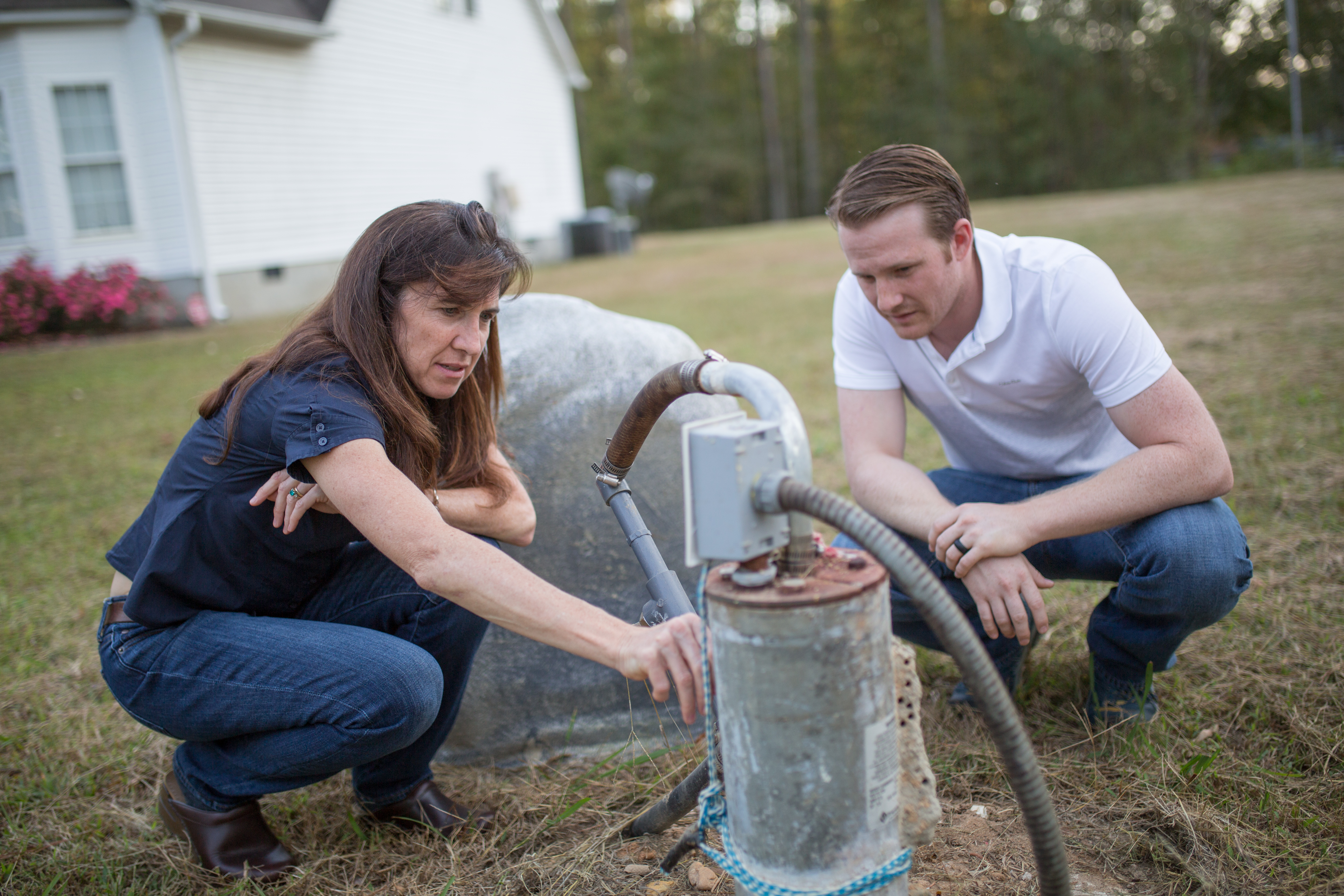 courtesy of the UNC Gillings School of Global Public Health
April 11th, 2017
Frank Stillo grew up in New Jersey drinking water from his family's nearly 200-year-old private well. He spent most of his life believing the common misconception that well water is both cheaper and superior to municipal water systems. Between 2002 and 2009, more than 62,600 of New Jersey's wells were tested across the state.
One out of every eight contained arsenic, radionuclides, mercury, nitrates, or volatile compounds (VOCs) — contaminants arising from natural geologic deposits, agriculture, and urban sprawl and over-development. These contaminants pose higher risks in private wells than in regulated community water systems, because community systems must monitor their water and treat it to remove contaminants if they are detected — regulations that don't apply to owners of private wells.
"I always thought having well water was so great," Stillo admits. "But if you spend five minutes researching the topic, you quickly realize that might not be the case."
More than 14 percent of U.S. households rely on private wells for drinking water, according to the U.S. Geological Survey. These wells use groundwater that may be contaminated from natural geologic formations, failed septic tanks, fertilizers and pesticides, landfill seepage, and many other sources. Drinking dirty water can lead to gastrointestinal illness, reproductive problems, neurological disorders, and much more — and it's up to well owners to monitor the safety of their own supply.
This isn't just a problem for the residents of New Jersey — it's happening in our own backyard. In fact, North Carolina has the third-highest population proportion (35 percent) relying on private wells. Although many reside in rural areas, others are in urban environments that could be served by neighboring, regulated city water systems. Approximately 3,800 people in Wake County's urban, predominantly black neighborhoods rely on wells and septic systems.
In 2014, Stillo, now a PhD student studying environmental science and engineering, and his advisor, UNC Gillings School of Global Public Health professor Jacqueline MacDonald Gibson, tested the well water of 57 homes just outside city limits. Sixty-five percent of households tested positive for at least one of three microbial contaminants — a problem that Stillo and MacDonald Gibson linked to increased risk of emergency department visits for acute gastrointestinal illness. Connecting such households to nearby municipal water lines could help decrease this threat.
"Raleigh has an outstanding, well-funded municipal system." MacDonald Gibson stresses. "People who have access to municipal water can be sure they're getting really good water protected under the Safe Drinking Water Act. But these excluded communities along the edge of the city limits don't have that protection."
Understanding underbounding
A form of residential segregation, underbounding occurs when cities and towns grow around communities of color, keeping them just outside of municipal boundaries. These neighborhoods lack access to municipal services such as police and fire protection, solid waste collection, street maintenance services — and city water. They also have little political voice in land-use and permitting decisions. "Some of these areas are doughnut holes in the middle of the city," MacDonald Gibson explains. "If there's a fire, they have to wait for the county fire department to arrive, even if the city fire department is closer."
Underbounding dates back to two historic land ownership patterns. The first took place during the post-Civil War era, when emancipated slaves were given land on the outskirts of town. Almost a century later, in the 1960s and '70s, many rural black migrants settled just outside the borders of towns and within small pockets of cities. Some of this geographical isolation is attributed to the manipulation of town limits.
In Mebane, for example, local officials have used extraterritorial jurisdiction — a law that allows cities to control zoning, land-use regulations, and development of areas with varying distances of their corporate limits — to keep the town's African-American population concentrated into four communities.
"These actions keep white voting power in the government," explains MacDonald Gibson, who first learned about underbounding when Jeff Engel became the state health director in 2009. "He said one of his top priorities was to figure out the water quality and health implications for underbounded communities within the state. But there wasn't any public information on where these neighborhoods were located."
Mapping Wake County's wells
MacDonald Gibson chose to focus her research on Wake County because of the completed data sets for access to municipal water supplies available in property tax records. From this information, she and her team of students mapped the locations of these small, fragmented communities. Then, they sent out a letter describing the study to more than 1,000 residents with wells. Over the course of six months in 2014, MacDonald Gibson, Stillo, and research assistants received funding to collect three samples from the first 57 homes. Approximately two-thirds of the water systems were contaminated.
Because so many different kinds of waterborne pathogens exist, researchers use indicators to test for water contamination. MacDonald Gibson and Stillo used three: coliform bacteria, E. coli, and enterococci. Coliform bacteria, the weakest indicator, exists in water, soil, and on plants, so its presence doesn't necessarily mean contamination. E. coli, a type of coliform bacteria, is a stronger indicator that suggests fecal contamination — it's commonly found in the guts of animals and humans. The latter is the most dangerous and can lead to infections within the urinary and digestive tracts, blood, and brain.
"When you find enterococci, there's a good chance that the water is contaminated with either human or animal waste," MacDonald Gibson explains. "That's how waterborne diseases spread. Some of these homes had really, really high concentrations of organisms — too many to count. And that surprised me. I wasn't expecting to see so much."
Contaminated wells and septic systems decrease property values — and if the county health department learns that they're not up to code, they may condemn the property unless the owner can pay to repair the well or replace the septic system. "When a septic system in a tight, urban community fails, it affects everyone in that community," Stillo points out. The average cost of installing a new system is $5,000.
"It's a burden that many can't afford," MacDonald Gibson adds. "Very few owners in these communities ever test their water, so they don't know it's contaminated. My students conducted in-depth interviews with about 20 households and found that only one gets his well water tested on a regular basis."
Testing for lead
Now, MacDonald Gibson and Stillo are testing for prevalence of lead in these water systems. So far, they've collected water samples from 29 Wake County homes — eight of which have elevated lead levels. "In Flint, it was an entire city of people," MacDonald Gibson says. "Here, it's one household at a time — but it's still people. I've been to these houses. One woman's grandchild visits her every day after school."
To continue testing for lead, MacDonald Gibson wants to grow the project through a partnership with RTI. With additional funding, she and Stillo can collect water samples from more houses in Wake County, as well as blood samples from the people in these neighborhoods, particularly children — who can suffer IQ loss from much lower levels of lead exposure than adults, according to the CDC. Previous studies have reported that, for every 10 µg/dL increase in a child's blood lead level, their IQ decreases by four to seven points.
"The World Health Organization has this calculation called disability-adjusted life year," Stillo explains. "If a child was at a certain IQ level and lead exposure brings them down to a mental disability level, then there's a cost for that. It helps stakeholders understand that, yes, there's an up-front cost to infrastructure extension, but there's also a cost of doing nothing. And right now, that cost is unknown."
Stillo understands how detrimental unsanitary well water can be for a family who doesn't know to test their water. "We may be a global public health department, but this is happening in our backyard," he says. "Some of these neighborhoods are as small as seven houses and are in some of the riskiest areas for water contamination. I think, some day, water is going to be in the news a lot more than it is now. I think it's becoming clear that it's something we need to worry about, and I hope that, maybe, we can be a voice for these people."