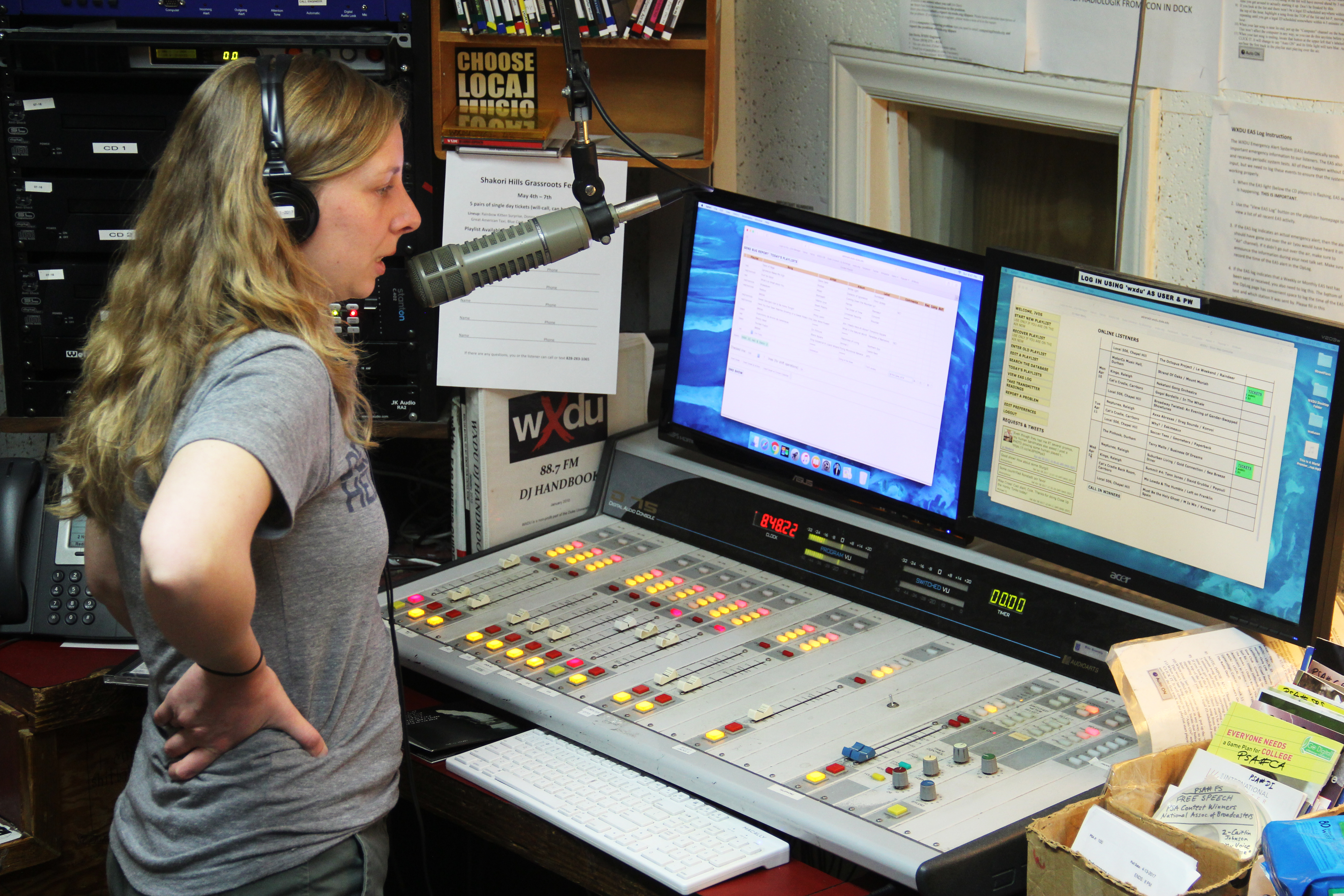 photo by Alyssa LaFaro
June 5th, 2017
In 1996, on a warm summer evening in small-town Iowa, the sound of an electric rhythm guitar siphons through the speakers of a 1980s Sounddesign stereo. Seven-year-old Jaycie Vos and her dad lounge on lawn chairs in the driveway, sipping on root beer. Her father shares musical memories from the evening's playlist — the most popular disco songs of the '70s on rotation at the local Des Moines station, Star 102.5. The stillness of this Saturday night ritual is only broken when Vos heads inside to call in a request: "Funkytown" by Lipps Inc.
"That was when I realized I love radio," Vos says. "There's a freedom and a power in the request. As a 7-year-old, that was wild to me and just very inspiring. It was also an amazing bonding moment that I feel really shaped my relationship with my dad. It was something we both loved and participated in together week after week for a lot of my childhood."
In a roundabout way, Vos' tradition with her dad continues today in North Carolina — but now she's on the other side of the speakers. Every Sunday at 8 p.m., she DJs an hour-long show at WXDU, Duke University's radio station. Her dad tunes in online in Iowa. She doesn't play the best of the '70s, but instead focuses on music from new artists of all genres. "I explore whatever is new," she says. "It can be blues, electronic, something from Brazil. It's not about genre — it's about giving new music a chance to be on the air."
She loves being behind the controls, but perhaps even more, she appreciates the passion of the WXDU community. "There is this immense sense of love for the station," Vos explains. "Both for the community it provides and the artistic expression/space for experimentation it offers. People are so grateful that this place is an outlet for them. They are so willing to give their time and energy to it. And it's 100 percent volunteer — nobody gets paid for this."
That strength of spirit isn't simply inspiring Jaycie — it's fueling her thesis for the folklore master's program within the UNC Department of American Studies. "I'm interested in how being a DJ at WXDU has shaped people's individual identities and the communities that they are a part of," she explains. "How they see themselves within the local music scene, and what it means to them as a person to be able to have access to this physical space."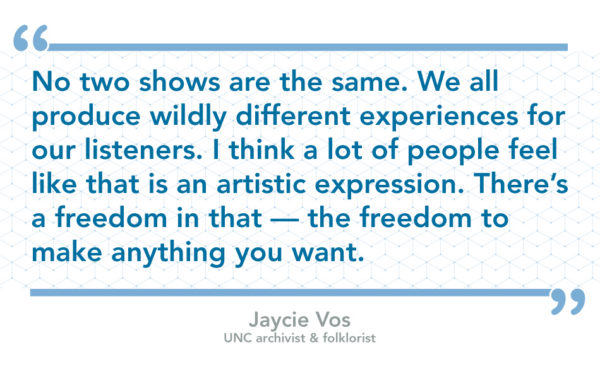 A contrapuntal community
Folklore focuses on the creative endeavors that fill communities with meaning — "everything from quilt-making to hip-hop free-styling," according to the Department of American Studies' website. To study it requires an ethnographic approach, meaning to immerse yourself into a specific group of people, to become a part of their society, to be a part of something greater than yourself. And the college radio environment is the epitome of that sentiment, according to Vos.
The opportunity for creative expression comes up often in Vos' interviews with DJs from the station. "We all have the same raw materials," she points out. "The same records and CDs and playlists in front of us. But no two shows are the same. We all produce wildly different experiences for our listeners. I think a lot of people feel like that is an artistic expression. There's a freedom in that — the freedom to make anything you want."
Unlike other college radio stations, WXDU allows community members to DJ. At least half of the 100-plus-person staff is comprised of people who didn't attend Duke and range in age from 20 to 50 years old.
Archiving sound experiences
When Vos isn't laying down tracks — or catching live acts at one of Chapel Hill or Durham's many music haunts — she can be found at the Love House on Franklin Street. A UNC-trained archivist, she documents community histories for the Southern Oral History Program.
Her passion for preserving the past translates well in the folklore program and, particularly, this project. "The big advantage of being an archivist is the active awareness that what I'm doing can be shared with others to capture and preserve what WXDU means in 2017," she says. Many of the DJs at the station recognize the value of an in-house archive with audio recordings of interviews, photographs, and written text in the form of Vos' thesis.
"They're happy about my project for that very reason — because it will give them the ability to look back at this time in their lives," Vos says. "At this space for self-expression and self-discovery, with people from all walks of life coming together to share their love for music and desire to learn from one another."
A tuneful time capsule
A core component of Vos' thesis will focus on the fact that the radio station is moving to a new location at the end of this year, and what that change will mean for this tightknit, music-minded group. "Some people feel a little sad to leave the space because it's like a time capsule," Vos explains. "It's like someone's basement — comfortable with a lot of junky old furniture and the walls are covered in posters and stickers. It's just really lived in and something created over time from DJs past who have left their mark."
The new location will be within the 71,000-square-foot Arts Center that's currently under construction across from the Nasher Museum. It will be ADA compliant and feature a state-of-the-art production room that will make in-studio interviews possible. Unlike the current space, the music library will be located outside the production room and will showcase the CDs in clean cases with rolling Plexiglas doors.
"I keep thinking about how people interact with the physical space," Vos says. "Right now, our space is organized but chaotic — very herky jerky. For example, if you want to play something from the classical part of the library you have to crawl into this little nook behind some of our records. There's a very physical searching and digging element that might not be maintained in the new space."
Vos sees both sides of the equation, though. She recognizes the need for and understands the benefits of a fresher space. "I'm sad to leave the current station location, but I'm also excited for newer and younger DJs to have the chance to make their mark on it, to make it their own."
Regardless of the station's physical location, Vos remains confident that the community within will remain creative and supportive. "It will continue to be this place for DJs to learn new things, to try new things," she says. "It's almost like a lab: Is this working? I don't know, but we're going to do it anyway."