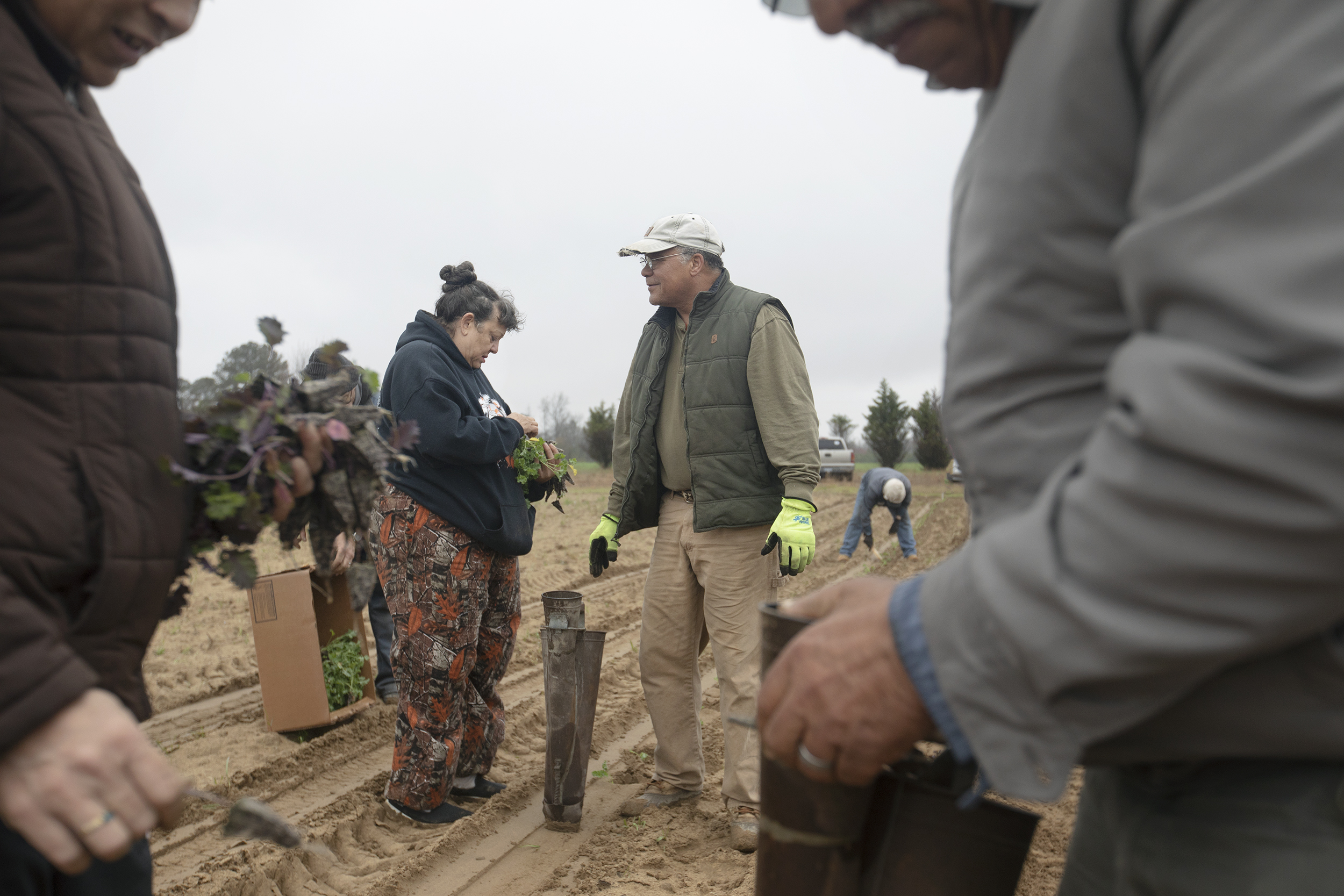 Photos by Megan May
March 21st, 2019
Every fall, after stripping the sorghum stalks of their leaves and chopping them down, the Coharie tribe gathers to make syrup. They squeeze the corn-like plants and let the fluid cook for more than five hours, separating out the chlorophyll to leave behind a sweet-smelling caramel-colored liquid. "When it gets to the right temperature and consistency, you take the fire away from it and you have a golden brown, beautiful syrup or molasses," says Greg Jacobs, tribal administrator of the Coharie tribe in Sampson County, North Carolina. "It goes really good with a biscuit."
In a state steeped with food and agriculture, the Coharie tribe's sorghum tradition is one of many that makes up North Carolina' rich history and culture — but their story is rarely told. UNC senior Sierra Dunne wants to help change that.
"There are a lot of documentaries and writing on sorghum and its history in America already," Dunne says. "But most of it comes from a white perspective, so there's not really any Native voices included in this story." An American studies major, Dunne feels that the traditional narrative about the South often excludes Native history and influence. "Native people were here for 12,000 years before white people settled here. From white settlement on is usually the only history we get," Dunne argues. "Even from that point in time onward, modern Native history is kind of erased. To have a holistic understanding of the South you need to hear everyone's story."
To help expand knowledge about the Coharie tribe and Native traditions in North Carolina, Dunne filmed a documentary focusing on the garden where the tribe comes together to grow the food feeding their community, nourishing both their physical and spiritual health.
Sorghum's strength
Dunne first met members of the Coharie tribe while on last year's Food for All service-learning spring break trip, which helped students explore North Carolina's diverse food systems from the coast to the mountains. They stopped in rural Sampson County, one of the most prominent agricultural counties in the state, where they spent an afternoon helping the tribe prepare potatoes for planting. Jacobs introduced Dunne — her video camera in hand — to those gathered there.
"She asked permission to have a conversation with some of our elders and other community members who were sitting around cutting the potatoes," Jacobs says. "Of course, they enjoyed sharing their talents and the information that they had gathered over the years." Dunne had just received a Summer Undergraduate Research Fellowship to study women in agriculture, but after her visit, she decided to completely change the course of her research.
A few weeks later, Dunne reached out to Jacobs and asked to come back and make a documentary with the tribe. Through the film, she strives to show North Carolinians the lessons the Coharie can teach, from caring for nature to caring for neighbors. "It's important for people to learn about different cultures, especially the ones in the state that they grew up or reside in," Dunne says. She hopes her project will not only do this, but, on a larger scale, help people understand the diversity and richness of the South.
Dunne was especially interested in filming the community garden. It began a few years ago through the Healthy Native North Carolinians Network, an initiative connecting tribes, the North Carolina Commission of Indian Affairs, and the American Indian Center at UNC. Beginning as a small garden behind the tribal community center, it has expanded to include a larger space down the road that grows an abundance of squash, turnips, collards, okra, butter beans, peas, cantaloupes, watermelons, and, of course, sorghum.
"The last few years we've been fortunate to produce enough that people can come and get it free of charge," Jacobs says. "So it gives families that would struggle if they weren't here some security and eases their financial strain." Tribal members can pick up the produce at the center, and there's also a distribution network in place to help those without the means or capability to travel. "We all join together to harvest, we take what we need, and we make sure that the needy and the underprivileged get what they need," he says.
When Dunne visited the tribe again, she made it clear that she wanted to learn as much as she could while giving back in the process. Everything she films comes with the tribe's permission, and the footage will go to the tribe for its own use. "I want to learn about the sorghum and how it ties into the greater agricultural history of both the Coharie and Sampson County," Dunne says. "In return, they want me to document oral history and get stories from elders of the tribe."
Many of those stories tell of hardship and oppression. Within the last century, the Coharie's opportunities were, traditionally, restricted to agriculture, subsisting off Sampson County's sandy soil while working 10- to 12-hour days on tobacco farms and in hog slaughterhouses. "There was very little money to spend, so they depended on the soil to give them everything that they needed," Jacobs says. That soil gave them sorghum, a sweat treat.
As times changed and opportunities for the tribe expanded, the Coharie have gotten the chance to step back and redefine their relationship with growing food, reclaiming the practice as a method of healing and togetherness. "Since we're not dependent on it and we're not forced to it, we see that it's a beautiful way of life," Jacobs says. "So a labor of mandatory necessity in the past has become a labor of love now."
The sorghum harvest especially strengthens community and intergenerational connection. "The sorghum seems to have a spirit of its own, a spirit of yesteryear," Jacobs says. "It makes people happy, so us to be planting sorghum each year here is another opportunity for all of the generations to get together, be happy, tell stories, and produce an end product that we enjoy."
The garden also represents a take-back of control over nutrition and food access issues in an area surrounded by farms but few affordable sources of produce. American Indians are 30 percent more likely to be obese than white populations, according to the U.S. Department of Health and Human Services. "It is definitely a form of empowerment," Dunne says. "They want their community to survive and be healthy. They're taking this into their own hands to make sure that gets done by providing fresh food."
But, as is the case with all gardening and farming, success depends on forces beyond their control.
Nature's power
When Hurricane Florence made landfall in September, it hit Sampson County hard — and uncovered another vital piece of the Coharie's story for Dunne. "In Sampson County and Robeson County, where the Lumbee tribe is, they are in low flood plains. That is not accidental," she says. "They were pushed to these areas that other people did not want to live in because they knew it wasn't safe, so you see, this environmental racism from the past still affects people today."
The hurricane knocked the power out in tribal homes for several days, putting a strain on its more vulnerable members. Many houses were damaged including a handful that suffered from major flooding.
The hurricane also destroyed the majority of the sorghum crop, which was only a few weeks away from harvesting. One of the two varieties planted made it through wind and water, though, leaving enough to make syrup. Dunne helped the tribe with the harvest and, in between cutting down stalks with a machete, filmed its members doing the same.
Future sorghum crops may not fare as well, though. Like much of eastern North Carolina, the low-lying homes where the Coharie live will be subject to more frequent, powerful storms and rising floodwaters due to the changing climate. This combination of factors makes life, let alone agriculture, a little more uncertain.
The Coharie tribe has already taken action to save their land. In addition to the community garden, the tribe has also started an initiative to clean and restore the Coharie River, which became clogged with debris in the 1990s, when major hurricanes like Emily, Fran, and Floyd turned it into more of a stagnant swamp than running river. So far, they've cleared out 15 miles and plan on another 30 with the support of the American Indian Center.
"As citizens and people of the Coharie River, we've taken it on as our responsibility to help our river to be life sustaining again," Jacobs asserts. "Not only that, just as the sorghum and our community garden is medicine, we realize that that river and the spirit in that river is also medicine." In addition to reconnecting the Coharie with a treasured part of life, Jacobs believes the initiative helped minimize the flooding from Hurricane Florence by giving the water a place to flow.
Jacobs appreciates the support for the river initiative as wells as Dunne's interest in documenting the tribe, which are just a few examples of the resources it has received from UNC over the years. "I would like to hold up the American Indian Center, UNC-Chapel Hill, and it's community engagement activities that have helped us so much to increase our capacity to help ourselves," Jacobs says. "I'm just amazed that the day has come where there's such collaboration and such intermingling with rural North Carolina and with our educational facilities across the states."
Generosity's influence
Every time Dunne visits Sampson County, Jacobs takes her around the community to help her learn about the tribe's history, conduct interviews, and, most importantly, get to know its people. "In the Coharie tribe, home is not just your house or your family," Dunne says. "Home is everyone in this community. You can go to any person and any house and they will take you in."
In her time spent with the close-knit tribe, she's seen countless acts of care and generosity. She recalls one occasion when she was in the sorghum garden with Chris Faircloth, the master gardener, and a woman stopped by to explain how she'd been waiting for someone to come mow her lawn. Faircloth immediately volunteered to do it himself. "Everyone looks out for each other in a way that's just incredible," Dunne says.
Generosity extends to those outside the tribe as well. "Whenever I go, I always come back with a trunk full of food," Dunne says. "They're the most generous people I've ever met."
As the South becomes more inclusive of its inherent diversity, the Coharie community garden represents a place of cultural identity and recognition where both members and non-members of the tribe can learn and interact with its traditions. "We need to figure out ways for food justice initiatives to incorporate more than just people harvesting food in a garden — it's about bringing this sense of belonging, compassion, and cultural celebration to something that modern-day agriculture has lost," Dunne says.
Whether harvesting sorghum in the garden or sharing meals with members of the tribe, she learned an important aspect of research that isn't always captured in data and journal articles: building genuine relationships and trust. "It's not just getting what I think is necessary and then leaving," Dunne says. "lf they ask you to stay, you stay and you eat with them. It really doesn't feel like research. It's more getting to know a group of people in a way that I can share their story."
What did she learn from this story? "Food justice is not just about how many we can feed," Dunne reveals. "It's about interpersonal communication and understanding. In my interactions with anyone I meet while doing this research, it's clear it's a nourishment of body, mind, and spirit."