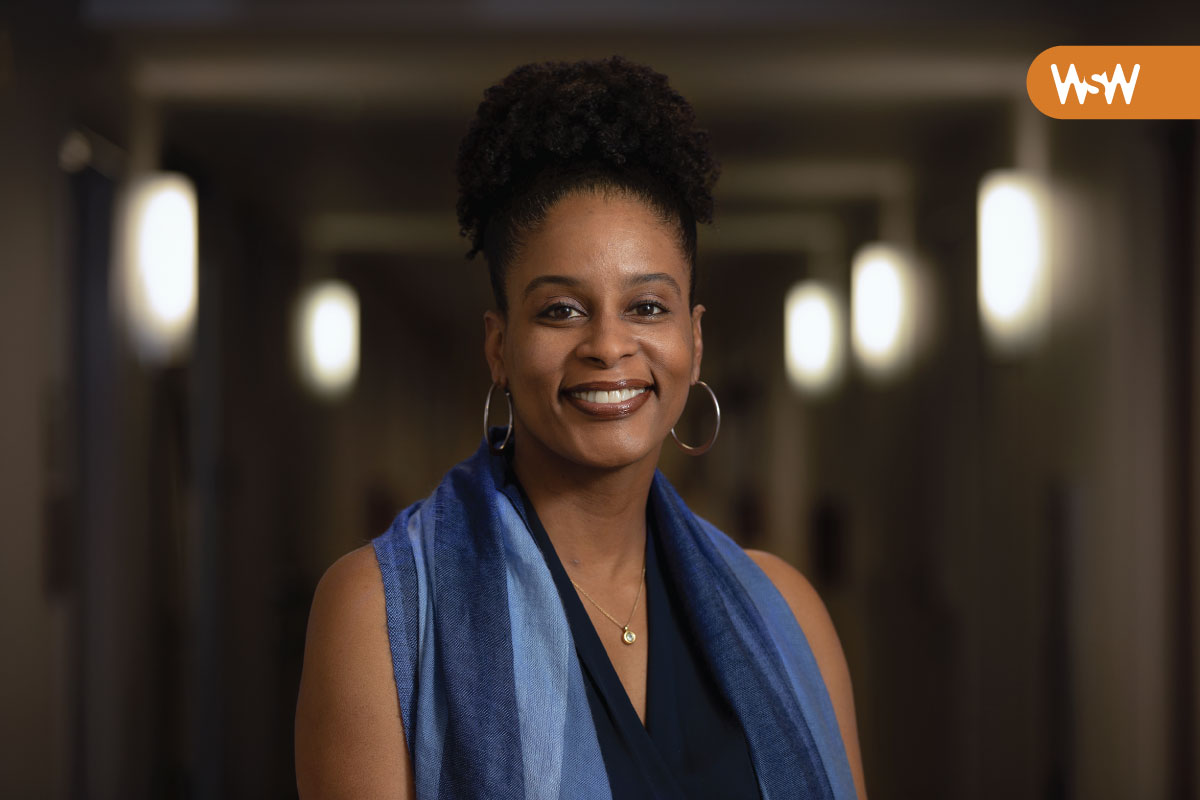 photo by Megan May
May 1st, 2019
When you were a child, what was your response to this question: "What do you want to be when you grow up?"
A veterinarian. The only animal my mother let me have as a child after years of begging was a guinea pig — which had to live in our basement because my mother didn't like animals. I named her Cinnamon and fed her copious amounts of lettuce because I thought that's what she was supposed to eat. I thought she was pretty amazing and that I would love to work with animals. But I soon discovered my dream would never become a reality because I am allergic to many animals including cats and dogs!
RESEARCH IN 5 WORDS:

"Black women: rest, don't stress!"
Share the pivotal moment in your life that helped you choose your field of study.
I have a bachelor's degree in physics, and I worked as a chemist for many years. But after the birth of my second child, who was delivered by a nurse-midwife, my perspective on women's health was forever changed. I knew I wanted to be a nurse-midwife. I quit my job and sold my house. My family of four moved into a small, two-bedroom apartment in my hometown of New Haven, Connecticut. We lived there for three years while I pursued my master's in nursing from Yale University. I've always been a questioner and curious about why we do the things that we do in health care. After being a nurse midwife for eight years, and driven by what I saw in private practice, I decided to go back to school yet again to pursue a PhD in nursing so that I could, specifically, explore women's health, anxiety, and depression and integrative health approaches.
Tell us about a time you encountered a tricky problem. How did you handle it and what did you learn from it?
My dissertation research involves examining stress and psychological distress in perinatal African-American women. I originally thought I would explore this problem through quantitative methods and design such as surveys, but I realized that this approach would not tell the entire story. This led me to think about a mixed-methods approach incorporating both quantitative and qualitative methodologies such as focus groups and individual interviews. I think it's a more robust way of considering the different aspects of the African-American woman's experiences, perceptions, and beliefs regarding their stress and stressors during the perinatal period.
What are your passions outside of research?
I love Carolina basketball, running 5ks, traveling, listening to music, and taking long walks with my fiancé. I feel it is important to travel because I am always enlightened and blessed by the universal kindness and love of others, especially when we don't see it much in our day-to-day lives. Music transforms my mindset, shifts my perception, and elevates my mood. Long walks with my fiancé allow me to decompress from my day, reconnect with him, and exercise at the same time. I love to multi-task!