January 17th, 2018
A green, speckled spadefoot toad sits on a platform in the middle of a kiddie pool. She waits there patiently until a nearby male snags her attention with a mating call — it sounds like the creak of a door on a rusty hinge. In response, the female leaps into the water and swims to the edge of the pool.
But the male toad doesn't react. Why? Upon closer inspection, he's made of plastic — even though he has a fully functioning vocal sack that blows up like a balloon when he calls. As air pumps through a tube attached to his back to inflate the sack, a mating call pours out of a nearby speaker.
Catherine Chen — a UNC PhD student studying how auditory signals affect the mating decisions of female spadefoot toads — spent two months this past summer designing her pseudo amphibians with Charlie Cummings, the former director of UNC's makerspace program. "I had this idea — and no clue how to make it happen," Chen admits. "Charlie helped me plan it out and came up with a lot of the actual mechanics."
After 3-D scanning a preserved toad into the computer, Chen used a 3-D Printer to create its plastic counterpart. Then, Cummings helped her set up the tubing system and an Arduino — an open-source prototyping platform for creating interactive electronic objects — to sync the motion of the vocal sack with the speakers.
"The actual mechanics of assembling everything wasn't that bad, but getting the sound and the valves to operate together took a while," Chen says. "But once we got it working, it felt super satisfying and awesome to be able to come up with an idea for something I didn't really know how to do — and then get the resources and help I needed in order to actually make that happen. I have high hopes that it will lead to some cool, scientific results."
—-
Unlike most college campuses, UNC's BeAM (Be a Maker) makerspaces are open to students, faculty, and staff in any department. What's more, there is no cost to use the equipment or materials found there.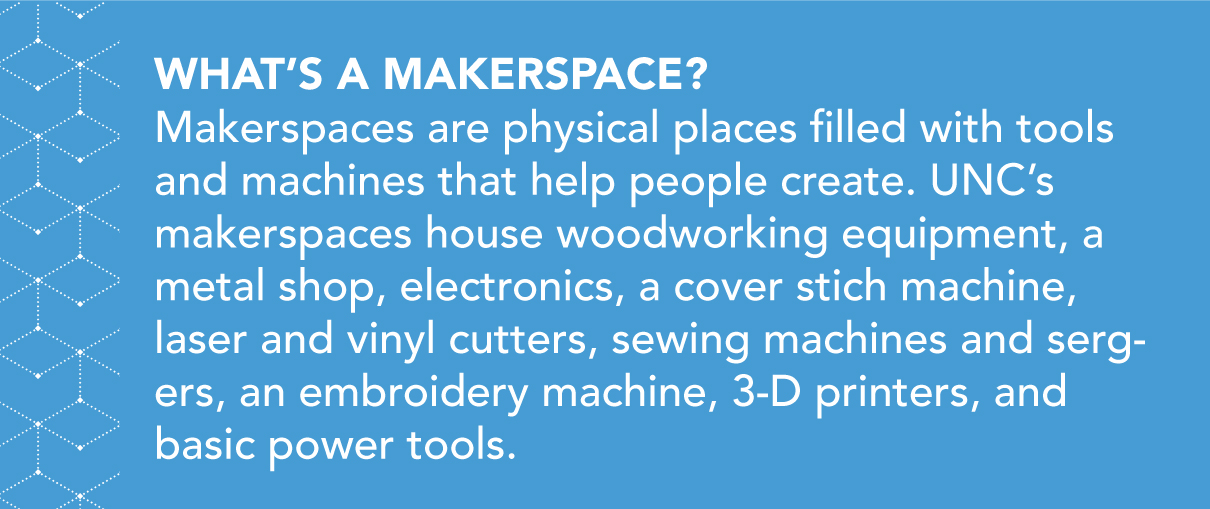 "I don't know of any other program in the nation that is set up like this," Cummings says — and the cost is worth the reward. Like Chen's frogs. Or UNC biology major Rachael Hamm's Braille textbook illustrations. Or the UNC-based nonprofit that makes prosthetic hands for children.
The filament — or "plastic string" — that feeds through the 3-D printers is provided by Eastman, a global advanced materials and specialty additives company headquartered in Kingsport, Tennessee. What began as a collaborative chemistry and materials science research partnership in 2013 has extended into the entire university community.
"From a research standpoint, we realize the world is changing and that 3-D printing or additive manufacturing is going to be very important," says Steve Wright, a technology fellow at Eastman. "We're not sure how yet, but we want to be prepared for it, so we're doing materials research to support those types of needs. That's why it's important to have this capability at UNC — to achieve those goals."
Beyond supplying the filament for the 3-D printers, Eastman also provides hands-on training workshops for using them. This past December, the materials company hosted its first of many seminars on 3-D printing technology advancement at UNC. "Our partnership with Eastman gives us access to materials and expertise that we wouldn't have otherwise," says Glenn Walters, technical adviser for the makerspaces and research associate within the UNC Gillings School of Global Public Health.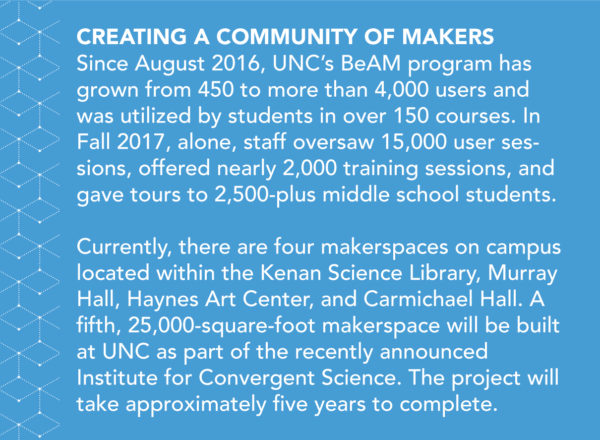 "They have really prioritized research, and they value the importance of pursuing things just because they seem interesting," he continues. "That's important in a makerspace — you don't always have to have a good reason to start doing something. And their support of what we do allows us to bounce crazy ideas off them."
The Eastman Foundation invests in initiatives and programs that focus on education, environment, empowerment and economic development. "This partnership and makerspace is a great example of opportunities to simulate real-world situations, helping students to develop interdisciplinary skills and gain hands-on experience in an academic environment," says CeeGee McCord, director of the Eastman Foundation and Global Public Affairs.
In turn, Eastman appreciates the constructive feedback and new ideas they receive from working with students and faculty at the university. "We love that we have a fresh pair of eyes on projects," Wright says. "We want to understand how our materials can play in a space like this, and what we can do differently. Right now, I've got five or six ideas to bring back to our technical people — and it's the smallest ideas that turn into the biggest successes."
Eastman believes in the need for students to achieve the hands-on capability to make things — and BeAM personifies that perfectly, according to Wright. "We cannot afford to be close-minded about the ways we look at addressing the big problems in the world," he says. "Working with world-class research institutes is absolutely vital for us."