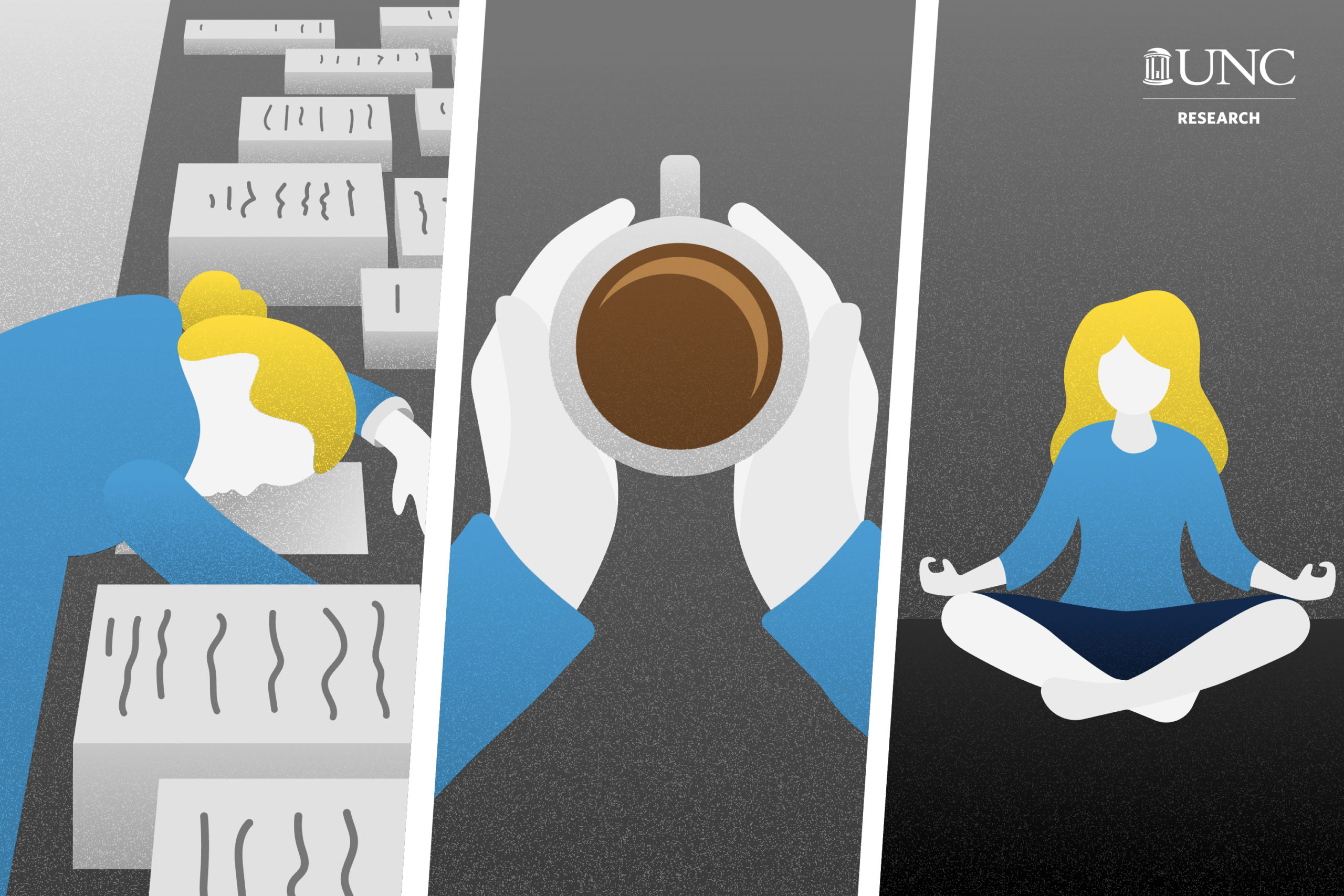 graphic by Corina Cudebec
March 11th, 2020
Mike Christian sits in the middle of a crowded restaurant, watching the waitstaff move from table to table. The background noise  is high enough that he can barely have a conversation with the people sitting across from him. It's so loud even the servers struggle to record customer orders.
Amidst all the bustle, Christian manages to find a moment of quiet in his brain. He wonders about the full effects of sound on working conditions and breaks down the problem scientifically. How could he model it? What are the variables involved?
Christian has a special affinity for restaurants — they are where he gets some of his best ideas.
Before becoming a professor in the UNC Kenan-Flagler Business School, Christian worked in the restaurant industry in San Francisco, starting as a waiter and moving his way up to assistant general manager. In 2000, when the upscale eatery he managed began to lose money, he teamed up with the general manager to reinvent its identity.
"We were totally wingin' it, and we needed a change," Christian says. He scraped together a management plan and transformed the strategy, cut costs, and hired new personnel.
The experience gave him a taste of some of the major difficulties involved in personnel management and earned him and his team an award from the San Francisco Bay Guardian. More importantly, the experience motivated Christian to go back to school and pursue a PhD in organizational behavior.
While Christian does hold bachelor's and master's degrees in psychology, his PhD and his research interests combine his passion for business and psychology. "My social psychologist friends like to chide me about being just like a social psychologist except I say, 'in the workplace' after what I do," explains Christian, chuckling.
When he started on his path toward a PhD, Christian wasn't interested in business as much as trying to help make people's lives better. In his time at Kenan-Flagler, Christian has focused on the mind-body connection in the workplace. He studies how things like sleep deprivation, caffeine consumption, chronic pain, and mindfulness affect employees.
While these topics don't sound like something you'd find in a business school, they fall into the realm of organizational behavior — a UNC department that examines leadership, team dynamics, decision-making, employee well-being, creativity, motivation, and much more.
"Oftentimes, we allow work to steal from other parts of our lives," he says. "We are willing to sacrifice our bodies and physical well-being for work — and I think that's a pretty negative trend in our society, but one I don't fault people for. It's easy to get sucked into."
We've all worked while sick or after having a poor night's sleep, Christian points out. We probably weren't very focused or productive and were much more likely to make poor or unethical decisions — and that mind-body connection fascinates Christian.
Sleep, coffee, mindfulness
Christian has long been curious about how people's mental and physical energy connect. As part of his PhD research at the University of Arizona, he began studying a new catchphrase gaining steam in the management world: employee engagement.
"My thought was that it was essentially job satisfaction renamed," Christian says. "It's old wine in new bottles."
He was surprised by what he discovered. Where job satisfaction represents a person's attitude toward their job, engagement is the energy an employee puts into the work itself. It's about authenticity — and it's personal, Christian says.
This makes engagement, he concluded, an excellent predictor of performance and well-being. High engagement is beneficial on two levels: both for employees to feel they're working at their highest level, and for organizations that want their employees to perform well.
"That paper became a defining element of the science that I love," he says. "I wanted to maximize my own engagement in my work, investing in the teaching and research that I was passionate about, but I also wanted to study the factors that affect human energy and potential."
Most decision science and psychology has been built on a brain-based model that doesn't account for physical experiences, Christian points out.
When we don't sleep well, for example, our decision-making skills suffer. In a 2011 study, Christian found that sleep deprivation makes employees more susceptible to unethical behavior such as a boss influencing you to fudge numbers on a financial report. In a 2014 project, Christian observed how caffeine works to counterbalance that susceptibility, strengthening self-control and willpower when exhausted.
"A coffee company actually reached out to me because they wanted me to say that caffeine makes you ethical," Christian says with a wry smile.
Most recently, Christian has been researching the benefits of mindfulness in the workplace. Mindfulness is the conscious practice of focusing on the present moment without judgment, which encourages a more positive and productive response to stressful events. Studies on the topic have shown that mindfulness can reduce stress, boost energy levels, and improve brain function.
For the study, Christian divided participants into two groups: One received training in mindful breathing exercises, while the other did not. Each group underwent a series of tasks they expected to be paid for. When both groups were unfairly told they wouldn't receive compensation, the people in the mindfulness group were much calmer than those who were not. Just 10 minutes of mindful breathing exercises, Christian concludes, reduces anger, feelings of mistreatment, and retaliation.
"That work helped me realize there is something optimizing in the ability to be in the moment and accept things as they are without reacting," Christian says. "That helps us to live healthier lives."
Shift changes, burnout, autopilot
People with one of the most difficult careers for work-life balance are nurses, according to Christian, who has conducted a series of studies on the profession. Most recently, he has a project dissecting the interactions that take place during patient handoffs — when nurses change shifts.
A handoff is a critical pinch point where two employees come together to transfer patient information. But that's not all that's getting shared — attitudes are passed on, too, Christian says. He is specifically interested in burnout and how emotions like cynicism are transferred from one employee to another. His data show this has major ramifications for shift performance.
"It's like a contagion," he says.
Christian believes people have the option to step back in these moments, recognize how they're feeling, and then respond to that feeling — a process he calls energy crafting. This involves two parts, he says. One is recognizing current energy levels, and the other choosing a behavior, task, or activity that addresses that energy deficit or influx.
"I think that all too often we go through life mindlessly, like we are on autopilot," Christian says. "I'll sometimes find myself in periods of stress that last for days or even months. I neglect my personal energy — because unless I specifically prioritize it, I tend to prioritize work."
To study this, Christian is looking at other moments of transition in the workplace like commuting or leaving the office for lunch. He and PhD student Sal Affinito are observing the intentionality behind those processes and how that affects productivity. In different projects with Ben Rogers and Casher Belinda, also PhD students, Christian is observing how mood affects employees across tasks and how relationships at work affect energy and engagement.
We can choose how we want to expend our energy in all these scenarios, Christian hypothesizes.
"We need to give ourselves permission to take care of ourselves, whether that's taking a break or going for a run," Christian says. "We can't easily change the way workplaces are organized, but we can change the way we think about work."