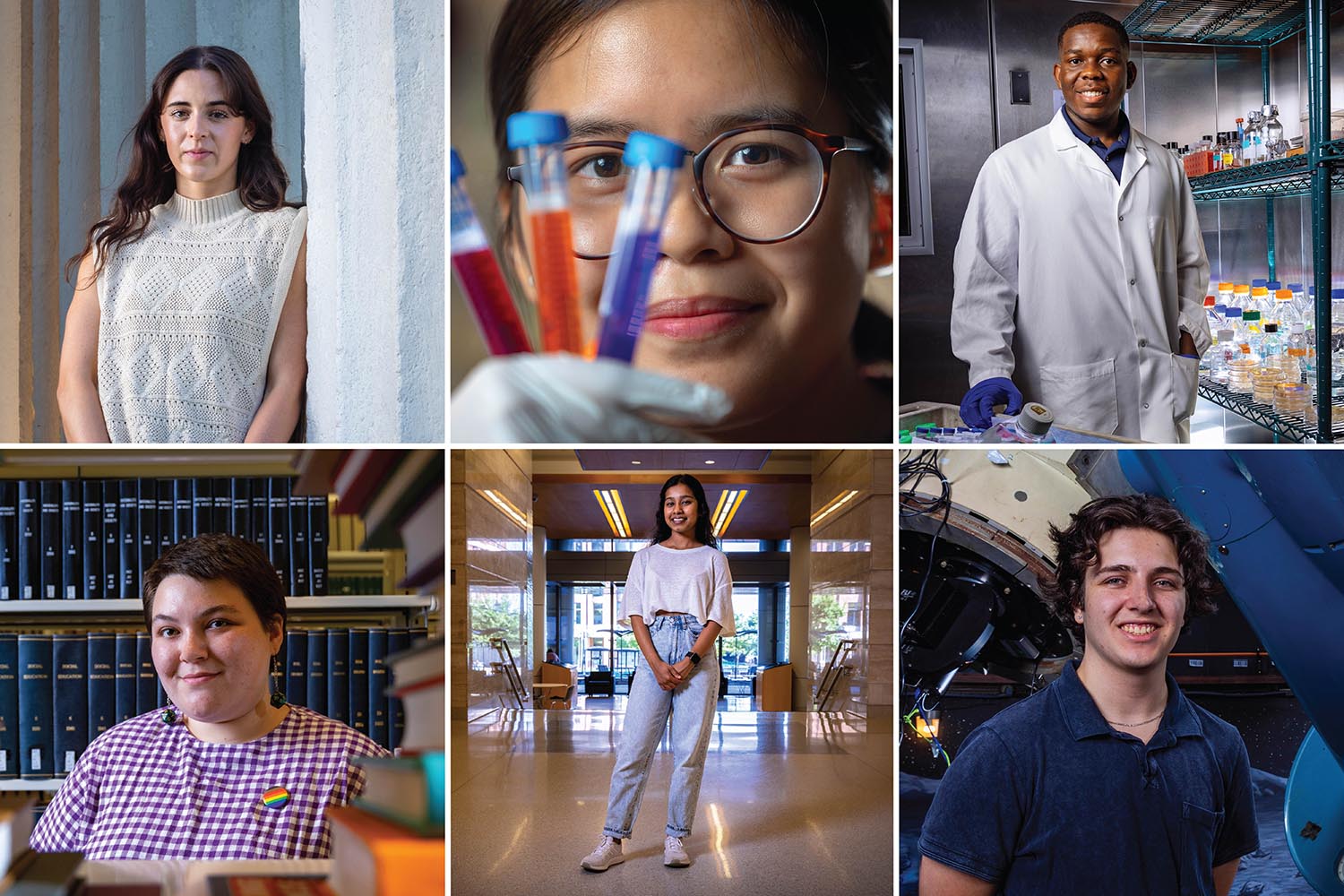 July 26th, 2023
In July, UNC-Chapel Hill's campus is eerily quiet. A few students can be found meandering the Polk Place pathways, headed to summer classes — a far cry from the nearly 20,000 that fill them during the fall and spring semesters.
But don't let the relaxed atmosphere fool you into thinking nothing exciting is happening here. Just ask the 2023 Summer Undergraduate Research Fellowship (SURF) recipients. They will tell you that summer is anything but slow.
Administered by the Office for Undergraduate Research, SURF awards engage undergraduates in research opportunities and provide them with funding for living expenses, travel, and supplies while conducting projects.
This year, 61 fellows are pursuing studies across multiple disciplines. Some work in labs, while others are out in the field visiting research sites, interviewing subjects, and collecting data.
Kaylee O'Brien | class of 2025 | sociology and philosophy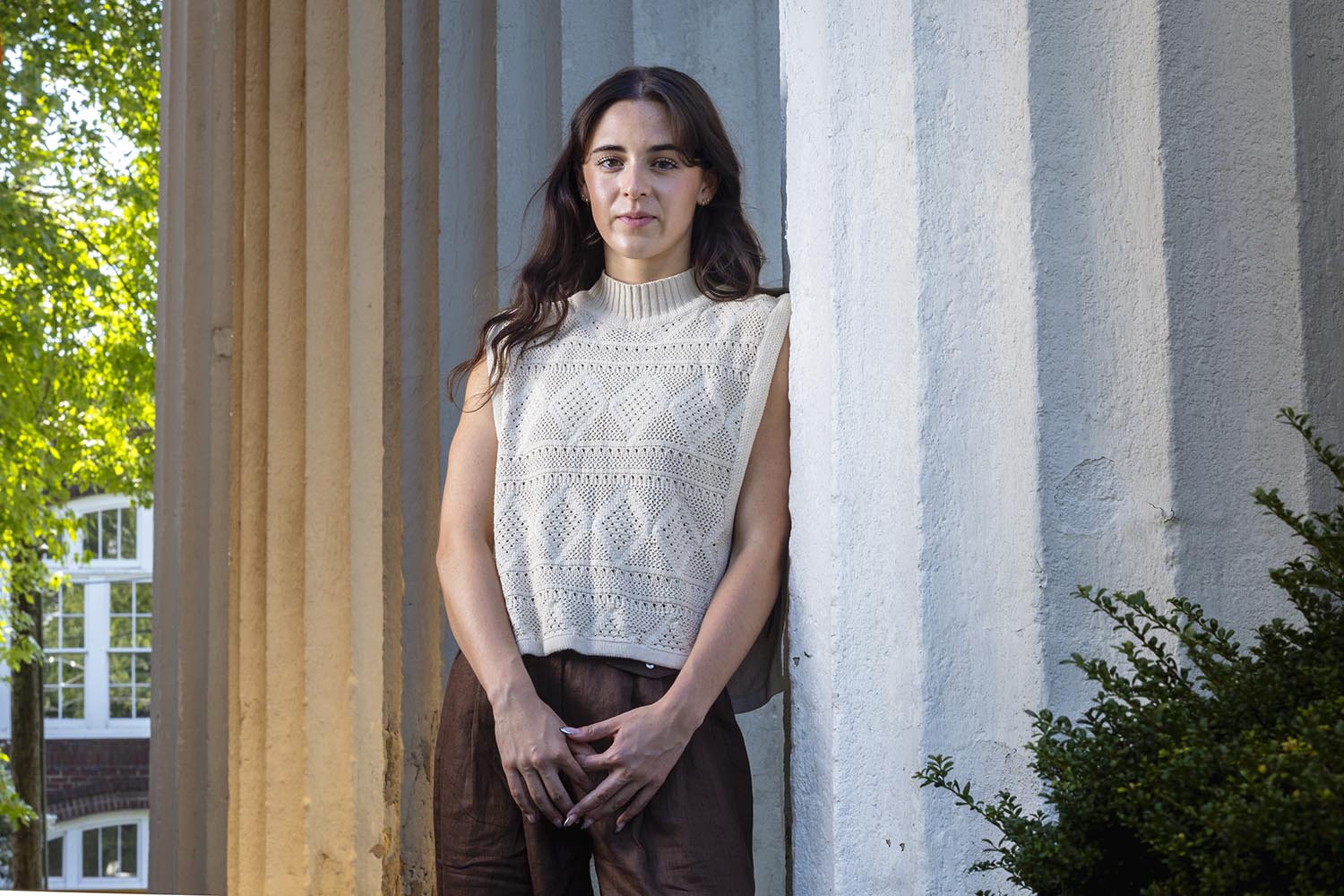 photo by Megan Mendenhall
Kaylee O'Brien didn't know much about the death penalty before she came to Carolina.
She thought it was a controversial topic and that conversations about it were often opinionated and ended in an emotional debate about morality.
But her perspective changed after taking a political science course titled, "The Decline of the Modern Death Penalty," taught by Frank Baumgartner. Rather than focusing on the morality of capital punishment, Baumgartner used data and statistical analyses to drive discussions on its effectiveness.
"He gave us books that use statistical evidence, analysis, comparisons — everything that would persuade you in a conversation that had nothing to do with the ethical side of things," O'Brien says. "I thought that that was so empowering because it allowed two different kinds of people to have the same conversation about the same numbers."
Now, thanks to a SURF grant, O'Brien is spending her summer compiling a statistical analysis of the North Carolina death penalty system.
She is utilizing Professor Baumgartner's comprehensive national database, which contains information on every death sentence since the inception of the modern death penalty in 1976. Her research project focuses on the specific facets of North Carolina sentencing, including demographic trends, racial disparities, and risk factors to evaluate the system's effectiveness within North Carolina.
"I am excited about the opportunity to contribute to the ongoing conversation by approaching the topic from a statistical perspective," O'Brien says. "It provides a fertile ground where diverse viewpoints can converge and foster meaningful dialogue."
Jackqueline Nguyen | class of 2024 | biology and public policy
photo by Megan Mendenhall
Science has always clicked for Jackqueline Nguyen.
After attending a mentorship program designed to introduce high school students to STEM, she knew she wanted to pursue research in college.
During her second semester at UNC-Chapel Hill, she began cold-emailing professors and principal investigators who were involved with environmental health research. One of them was Timothy Moran, who studies how environmental exposures impact the development of allergic diseases and food allergies. After a string of replies, Moran agreed to meet with Nguyen and eventually offered her a research position in his lab.
While talking with Moran about possible summer research projects, he suggested studying the relationship between textile dyes — natural and synthetic pigments used to color clothing — and peanut allergies.
This inspired Nguyen's current summer research project: investigating how textile dyes commonly used in fast fashion and found in indoor dust may influence peanut allergy development in children. She hopes her research could help uncover interventions for these reactions.
"I am excited to learn about food allergy development because its prevalence has increased in the last couple of decades, which indicates that environmental factors may have a role in food allergy progression," Nguyen explains.
Jerald Whitley, Jr. | class of 2024 | neuroscience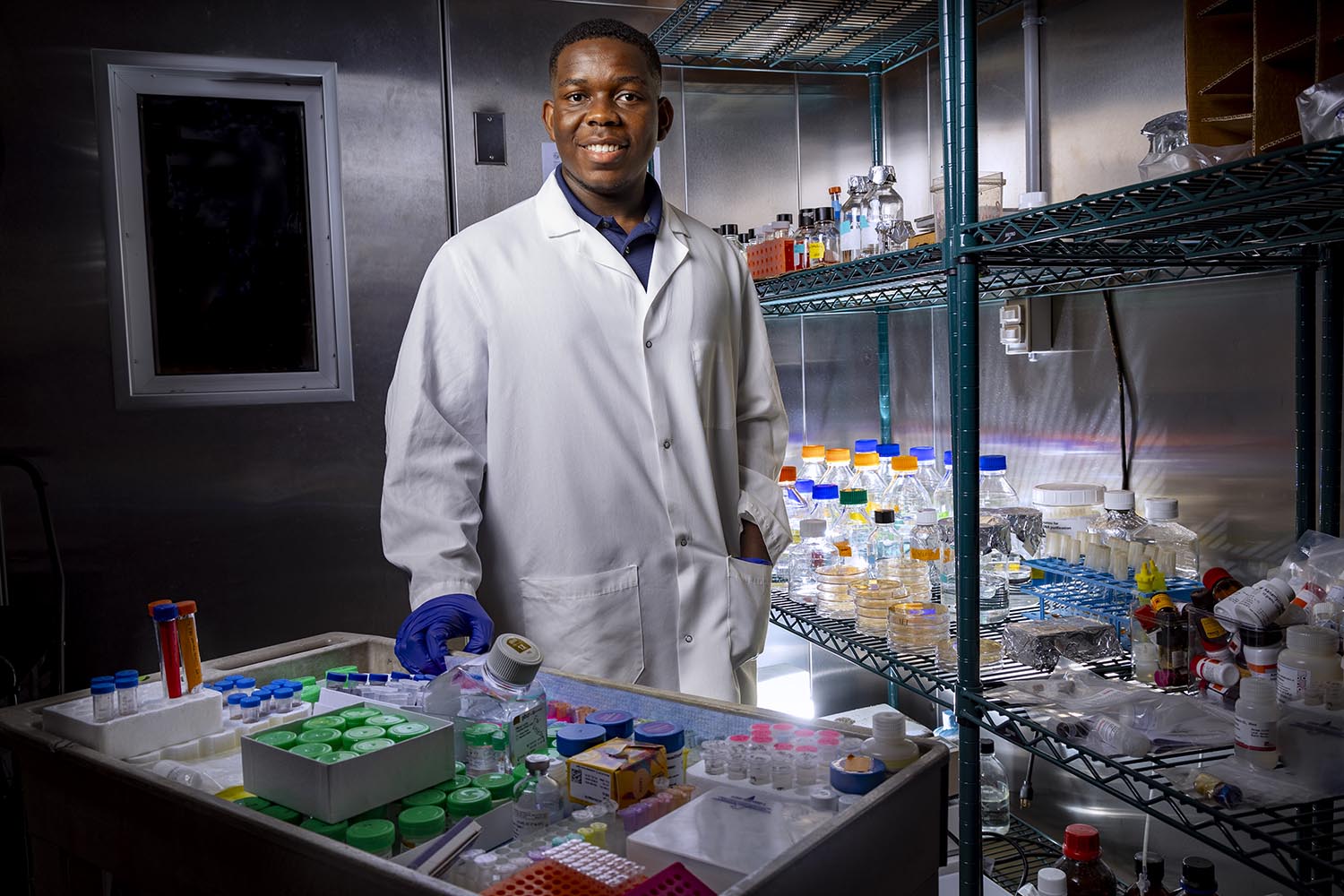 photo by Megan Mendenhall
Jerald Whitley believes there needs to be more Black representation in medicine, a driving force behind his desire to become a doctor.
"Growing up, I never had a doctor who looked like me, and I want to change that for other kids," he says. "I would be the first medical doctor in my family, something I would value deeply."
He works in Natasha Snider's lab, which studies liver disease and a rare pediatric disorder called Giant Axonal Neuropathy (GAN). Most children with GAN become wheelchair-bound before age 10. Few live beyond their 20s.
For the past two years, Whitley has focused on learning lab techniques such as Western Blots, genotyping, and tissue collection, in addition to assisting on several projects involving microscopy imaging.
This summer, he's researching how development of chronic liver disease differs between males and females via a protein called epidermal growth factor receptor (EGFR), which helps repair the liver when it's damaged. Understanding how EGFR affects different sexes could help with the development of personalized treatments for people with liver diseases.
"I am naturally curious and enjoy finding answers to questions that have yet to be solved," he says.
Elias Horowitz | class of 2024 | history and public policy
photo by Megan Mendenhall
Elias Horowitz began researching the concept of self-censorship of LGBTQIA+ literature in public school libraries as part of their high school AP Research course in 2019.
The term self-censorship can be implicit, meaning that the school district doesn't need to ban books outright for censorship to occur. Libraries can engage in self-censorship by choosing not to purchase or make certain types of literature available or by choosing to purchase one kind of literature over another, often out of fear of facing a book challenge.
In the last two years, 189 books were challenged across 115 public school districts in North Carolina, including within the high school Horowitz attended.
"The book bans made me very emotional," Horowitz shares. "As a queer and Jewish person who grew up in the South, to see books like 'Lawn Boy' or 'Maus' be banned or suggested to be banned in nearby states or challenged in my own was disappointing, angering, and scary."
Working with their advisor, William Goldsmith, Horowitz created two lists of young adult literature for their project. The first included 25 notable queer books written for middle-school and young adult audiences, while the other featured 25 popular books with no references to LGBTQIA+ experience or characters. Horowitz considered differences in school budgets and resources, which may result in fewer books in libraries overall, regardless of their topics.
Horowitz then searched for the books from both lists in public middle and high school libraries in Wake and Gaston counties in North Carolina. In Wake County, many high schools have more than half of the queer titles, but middle schools have far fewer. Both middle and high school libraries in Gaston County are much less likely to have more than half of the list.
Horowitz also created a written survey asking librarians about their selection policies, perceptions of collection diversity, and the challenges that have impacted their libraries.
"I already know that LGBTQIA+ centered pieces are underrepresented in the majority of public-school libraries," Horowitz says. "I hope to learn the depth of this representation and the steps that can be taken to fill the gaps."
Krithika Senthil | class of 2024 | nutrition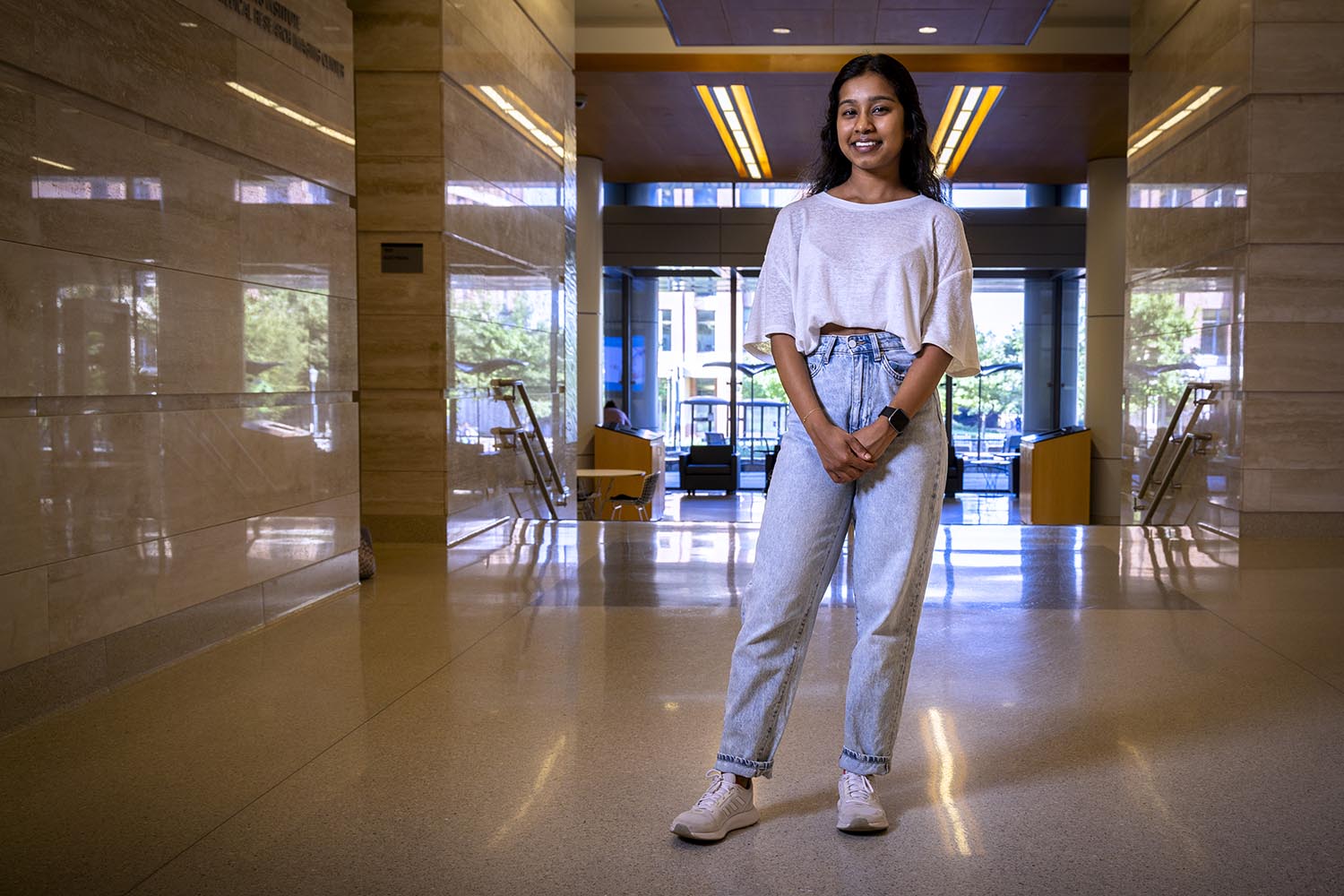 photo by Megan Mendenhall
Krithika Senthil is interested in the role nutrition plays in the treatment of disease.
This summer, she's putting that interest into practice while working in Janelle Arthur's laboratory. Under the guidance of Tyler Culpepper, Senthil is examining the potential use of probiotic yeast as a treatment for inflammation of the intestinal tract caused by chemotherapy.
"What I find most exciting is the clinical applicability of this research. Cancer, and subsequently chemotherapeutic-induced side effects, is unfortunately prevalent," Senthil says. "And while chemotherapy is an amazing option, mitigating the associated side effects will only improve the efficacy of this treatment."
Senthil is spending the summer on the first phase of her project, which includes optimizing her experimental model in mice. This fall, she'll start the second phase, where she will study the effectiveness of the yeast as a potential cure.
"Through this process, I hope to better understand the nonlinear nature of research while also learning about the complicated relationship between the gut microbiome and inflammation," she says.
Donovan Schlekat | class of 2025 | physics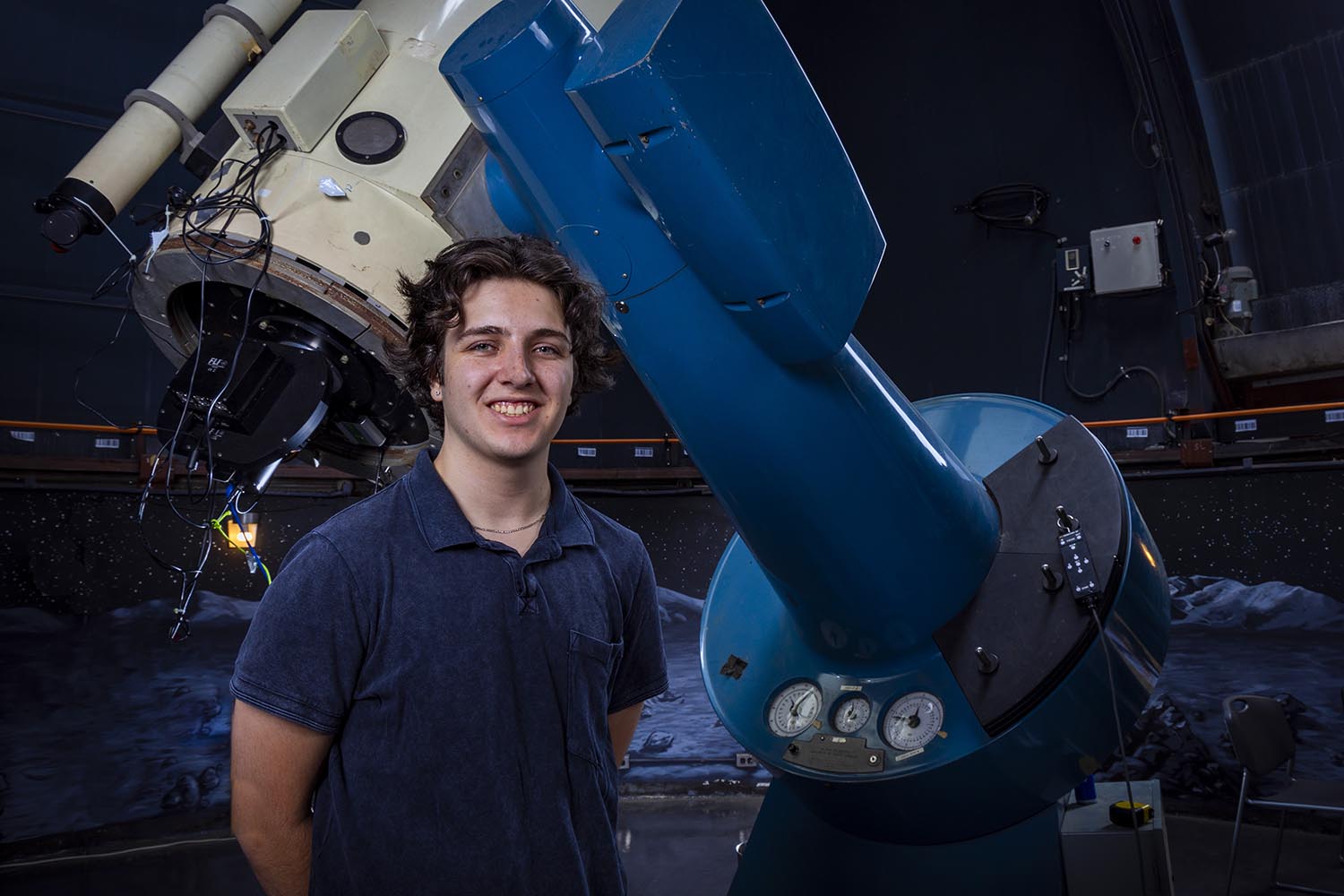 photo by Megan Mendenhall
During Donovan Schlekat's second year of college, he participated in a week-long radio astronomy program at the Green Bank Observatory in West Virginia. While there, he learned to use radio telescopes, which record radio waves or light from space.
"Growing up, I loved learning about the solar system, stars, and galaxies," he reflects. "Telescopes are amazing instruments: They simply collect light, but they also tell us so much about the universe that we would otherwise never know."
In August 2022, he began working as a developer for the Skynet Robotic Telescope Network, a system of remotely operated telescopes and observation scheduling software that's managed by the UNC Department of Physics and Astronomy. Skynet is used by thousands of high school and undergraduate students in introductory astronomy classes and by professional astronomers conducting research in various fields.
Under the direction of Daniel Reichart, Schlekat maintains Skynet's website and application programming interface, which improves its usability. Throughout his summer project, he hopes to learn and develop technical skills that will serve him well in the future.
"The most surprising thing I have learned this summer is the amount of work that goes on behind the scenes to equip students and researchers in astronomy with the tools and technology they need to succeed," Schlekat says. "It really makes me appreciate all the things we usually take for granted that help us learn about and conduct research."