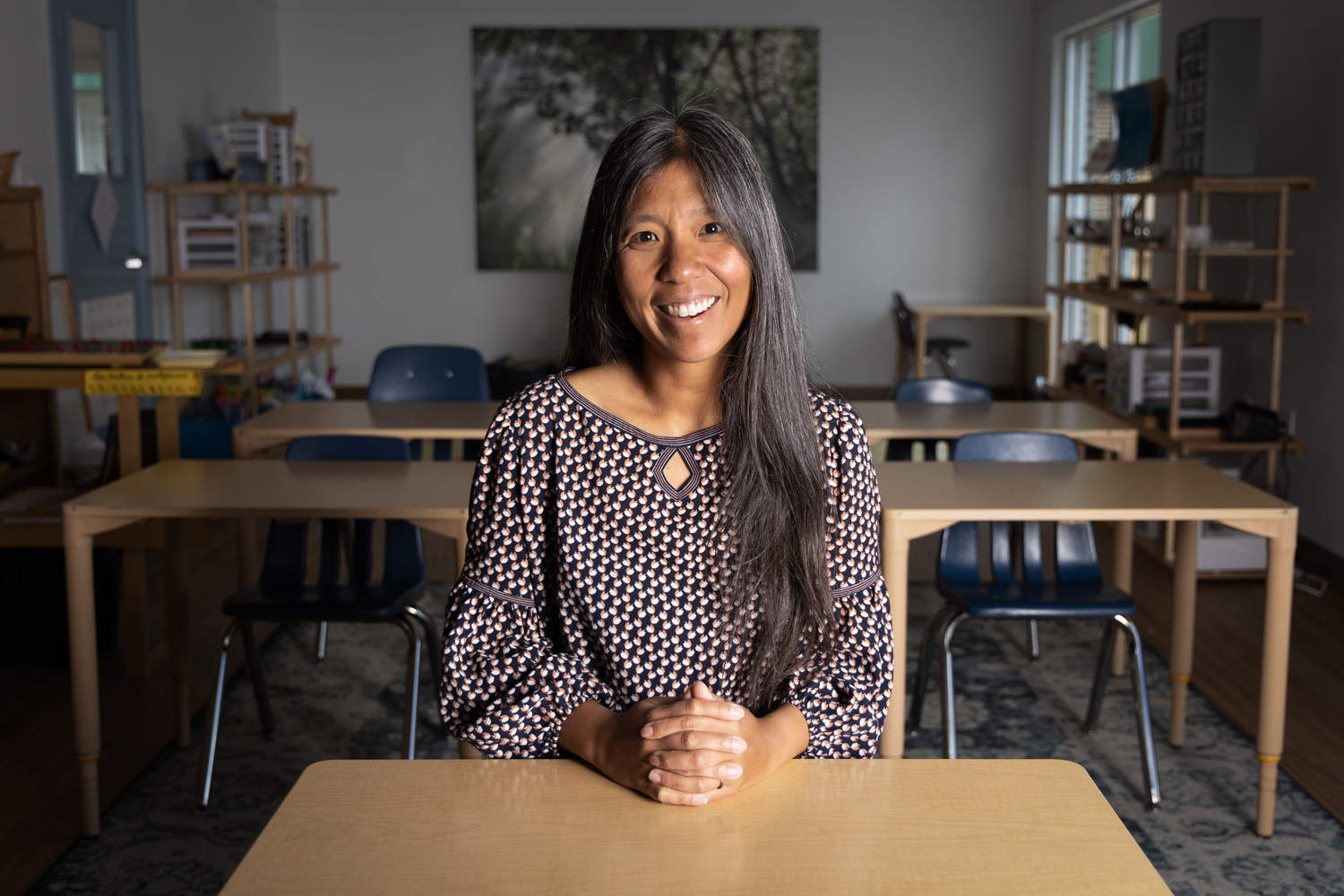 May 18th, 2023
In her fourth year of medical school, Christina Cruz arrived at an examination room and knocked. When she entered, she found an 11-year-old girl lying on the floor next to an oxygen tank. Her mouth was pressed to the valve — and she was speaking, as if in mid-conversation, but no one else was in the room. This wasn't a childhood game of the imagination. It was more like a hallucination or a delusion.
"This was the first time I had ever seen her," Cruz shares. "But it was clear that she was experiencing psychosis."
Upon further investigation, Cruz discovered that the patient had showed signs of psychosis for the past four years, eventually culminating in this moment.
"I talked to her teacher. They had been worried about the issue for several years, but didn't know what to do," Cruz says. "And the family, understandably, was hoping she wasn't experiencing this.
Cruz thought this situation was preventable. She examined the child's environment, looking for places where intervention could have happened. She thought about who would have an objective view of the child's behavior.
"That's when I landed on schools."
Cruz's work has taken her all over the world, from UNC-Chapel Hill to India and the Philippines. She hopes to change the conversation by training teachers in low- and middle-income countries to incorporate mental health treatment into their curriculum, providing care as early as possible.
Tealeaves for thought
After the lifechanging encounter with her 11-year-old patient, Cruz took a year off medical school to pursue a master's degree in education. During this time, she was approached by one of her colleagues, Michael Matergia. He and his wife Denna were returning to Darjeeling, a town in the Indian Himalayas. After having lived in the region as teachers, they started a non-profit focused on the health and education of children in the region through the merging of the two fields.
Michael and Denna were targeting attributes of physical health, such as improved iron uptake and decreased rates of diarrhea. But during their time there, they saw that mental health was an issue that also needed to be addressed. That's what led them to Cruz.
In a region like Darjeeling, the only consistent institution is the school system. There isn't always medical or mental health care. So, Cruz spent a year searching for the answer to this question: Without increasing their burden, how can teachers support children with mental health concerns?
In the end, she and her colleagues arrived at Tealeaf, or Teachers Leading the Frontlines, a curriculum for teachers providing training in how to treat mental health symptoms.
In the beginning, it was about diagnosis and educating teachers about what they were seeing. But after working with Priscilla Giri, a Darjeeling local, Cruz decided the diagnostic route was not the right path to take.
Teachers wanted something practical, applicable, tangible. They wanted to know what to do in the moment of struggle, not what was causing it. Cruz and her colleagues changed their approach, focusing on behavior and treatment.
By combining her degrees in medicine and education, she was able to translate therapeutic techniques that were used by professionals into methods that could be used by teachers.
"It evolved from informing people about diagnosis to here is a tangible skillset to use," Cruz says. "It doesn't really matter if the child has anxiety or depression. It's about the behavior they are exhibiting, and here are ways you can treat it."
Say a student is having trouble completing assignments. Cruz and her partners have found this can be a common sign of mental health concerns with the students they work with — a type of avoidance behavior that can be a symptom of conditions like anxiety, depression, and more.
The optimization of Tealeaf has reduced the necessity for teachers to provide a correct diagnosis. Instead, it trains them to treat the behavior itself.
For the student exhibiting trouble completing assignments, this can take the form of exposure therapy. The teacher can give the student small, easy assignments to build their confidence and comfort, and gradually scale up the size. The goal is that, eventually, the student will feel comfortable completing their regular assignments — an effective treatment regardless of the root cause.
This is the key to Tealeaf.
"I see this as a form of therapy, but the teachers we are working with simply see it as individualizing their pedagogy to the point where it lowers their burden," Cruz says.
Early trials show in just one year that children receiving Tealeaf have gone from clinical levels of mental illness — meaning they might need to see a doctor or therapist — to neurotypical levels, exhibiting brain function considered to be usual or expected.
"They improve as if they have been going to one-on-one therapy for a year," Cruz says. "That's powerful because it shows there are different ways to improve and maintain mental well-being, even in places where you don't have the resources to bring the latest technology or studies."
Global mental health education
If the early data holds true, Cruz and her colleagues have created a method of mental health care that could change the world. While Tealeaf was made with and for Darjeeling, she believes it can be utilized everywhere. Through two internal funding sources secured this year at UNC-Chapel Hill, Cruz and her team can bring Tealeaf to public schools in Manila, Philippines.
The next step is to use a bigger trial to further show Tealeaf's effectiveness. Afterward, Cruz plans to expand the program both inwardly, by modifying the program to work for children in adolescence as opposed to elementary school, and outwardly, by moving to more global regions.
"It should be applicable everywhere there are teachers — and, hopefully, in different areas of the world," Cruz says.
The method isn't exclusive to low- and middle-income countries, either.
"It is absolutely applicable in wealthier countries like the United States and Western Europe," she says. "In the United States, teachers are not required to have had exposure to mental health education. Some do; some don't. But clearly, the students with mental health concerns will be in school."
Cruz envisions Tealeaf being a part of her work for the rest of her life. Using Darjeeling and Manila as strongholds for the program, she hopes to see it spread around the globe.
Through this same method of systemic thinking and working with the resources available to this community, Cruz and her colleagues have started several offshoots of the Tealeaf project. This includes ways to make Tealeaf adaptable to students with autism and working with local farmers showing signs of mental health conditions related to climate change.
While Tealeaf could prove to be a massive step forward, Cruz stresses there is more to be done to address challenges like income disparity, poverty, racism, and sexism, to name a few.
"I want everybody to realize that while tackling mental health is an important cause, sometimes it's only a Band-Aid," Cruz says. "Mental health can be biological, but sometimes it's also environmental. Solving the mental health issue doesn't mean you've fixed the environment that caused it."
For Cruz, Tealeaf is an expression of humanity. While there is concrete science and extensive research backing it, at its core Tealeaf is a way of caring for others. It's training to make the interactions of non-therapists therapeutic. Suddenly, mental health treatment isn't reserved for professionals, but engrained in society itself, making it accessible, pervasive, and normalized.
"Tealeaf embodies the fact that mental health is in all our hands. For ourselves and each other. In the workplace, schools, home, and peer settings. Help and care can be present everywhere."