October 10th, 2017
From North Carolina to Ecuador, from New Mexico to Antarctica — the work of researchers in the UNC Department of Geological Sciences spans the planet. As department Chair Jonathan Lees wrote in a recent op-ed, "Geoscience research and the focused investigation of our planet have never been more critical for society. We provide the research and analysis that describes the past and present interactions of the solid earth, ocean, and atmosphere. The fundamental parameters used for urban development, building codes, and sustainability rest on a foundation of geological knowledge of the earth."
How far can geological science research go? Danny Bowman, a former PhD student in the Department of Geological Sciences, answered that question with the stratosphere.  "For the first time in half a century, we're gaining access to a region of the atmosphere that hasn't been directly observed in sound waves," Bowman says. "The instruments we send into the stratosphere measure rapid changes in pressure. So if a sound wave goes by, the pressure fluctuates and that produces a signal that we record on our data loggers. And low-frequency sound travels a long way."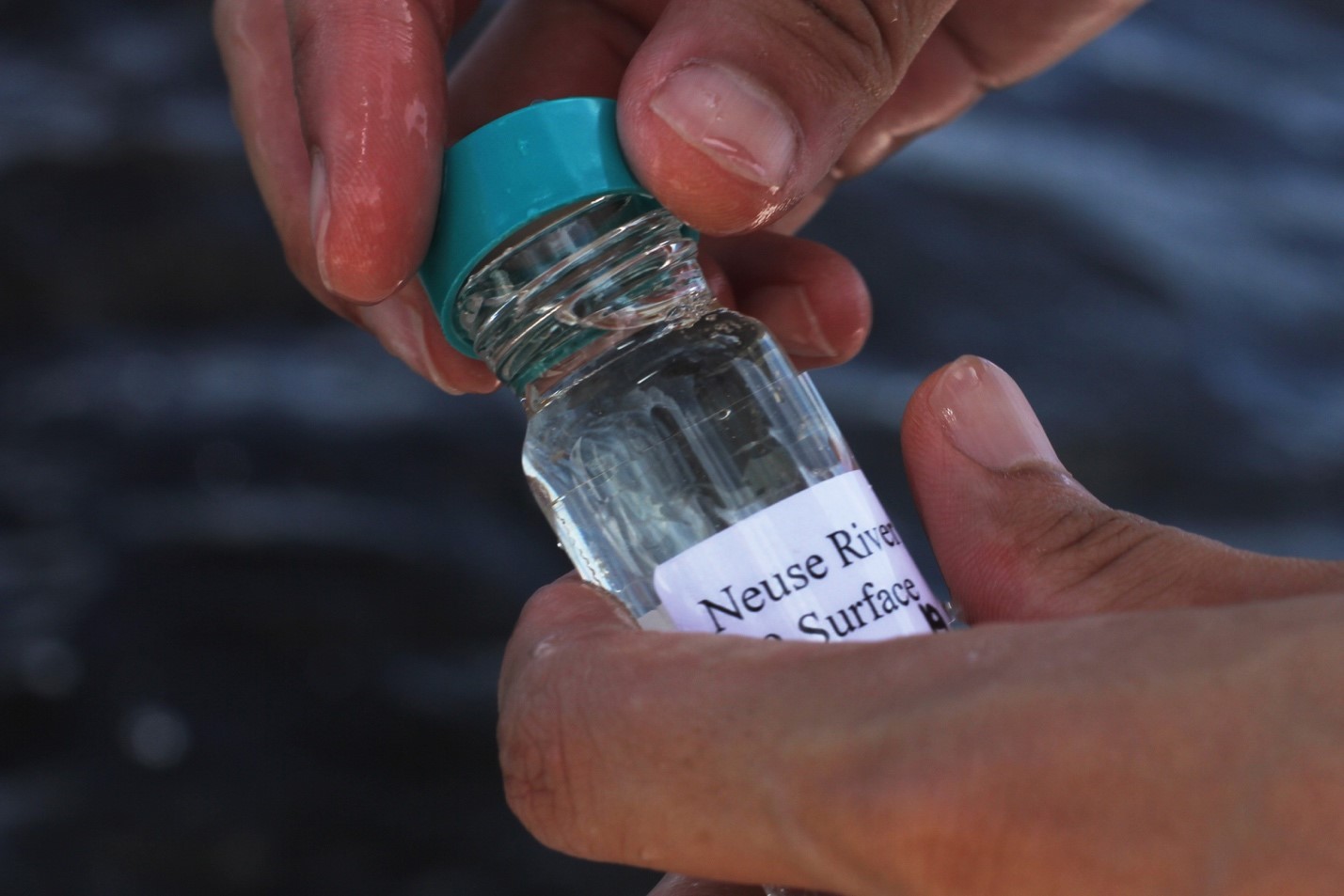 When too much nitrogen enters a water body, algae blooms form, producing a suffocating effect on the water and the fish in it. A textbook example is the Neuse River — part of the Albemarle-Pamlico estuary system that serves as a nursery for 90 percent of commercial seafood caught in North Carolina, according to the NC Division of Tourism. While coastal scientists have been studying the Neuse River for decades, researchers from the UNC Institute of Marine Sciences are now taking a new approach to understanding why and how microalgae blooms occur — through genetic sequencing.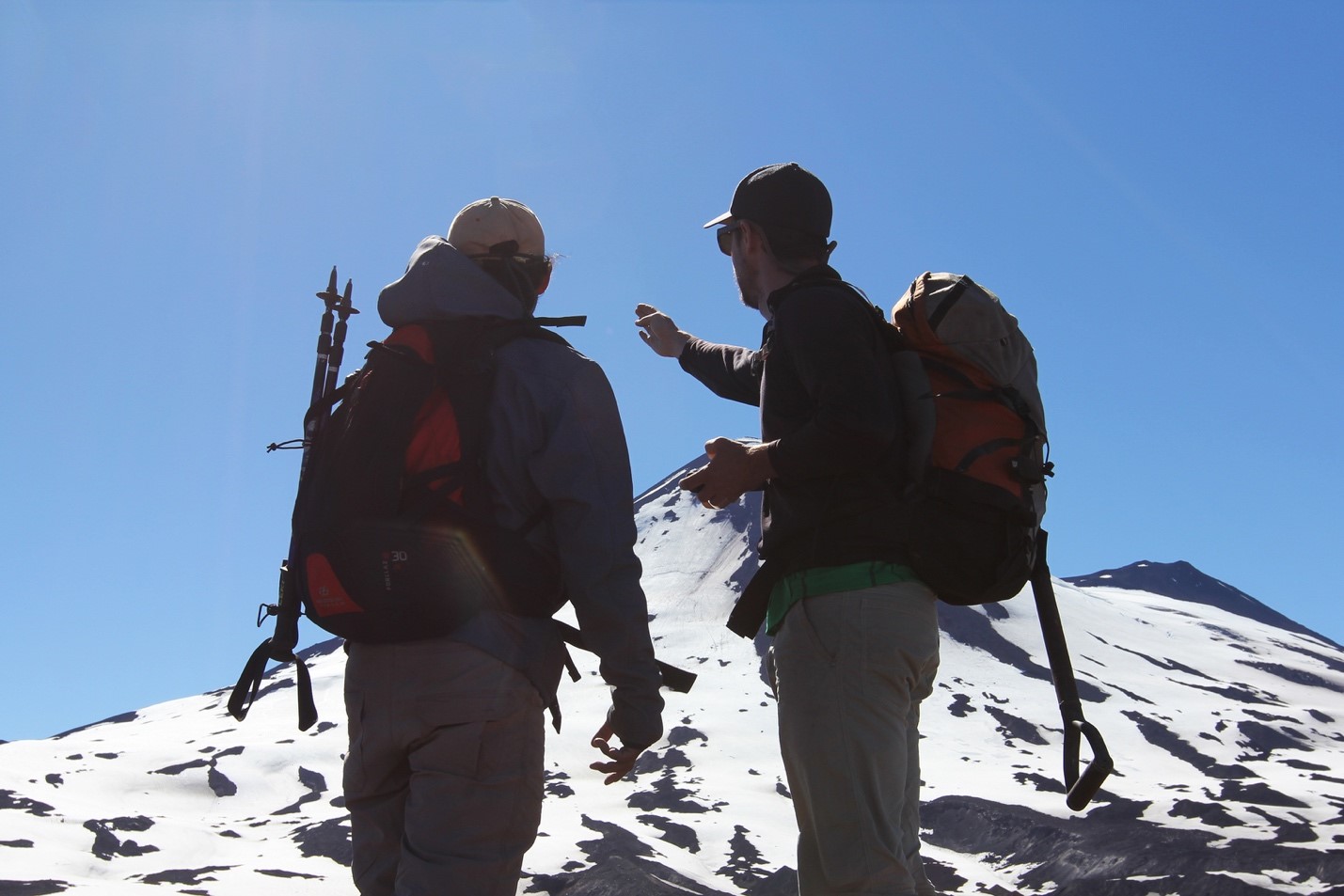 Geophysicists grasp a better understanding of volcanic activity by installing seismometers on active volcanoes. Here, Armando Pineda and Dylan Mikesell plot a route for installing a seismometer on a high elevation point of the Llaima volcano in southern Chile.
Jonathan Lees, chair of the Department of Geological Sciences, compares a volcano's seismic activity to a human heart. "Your beating heart is very similar to the little earthquakes happening around a volcano," he says. "So imagine you have little monitors tracking your heart rhythms. Suppose you have a heart attack — those monitors could assess the level of stress your heart is under to determine the proper response."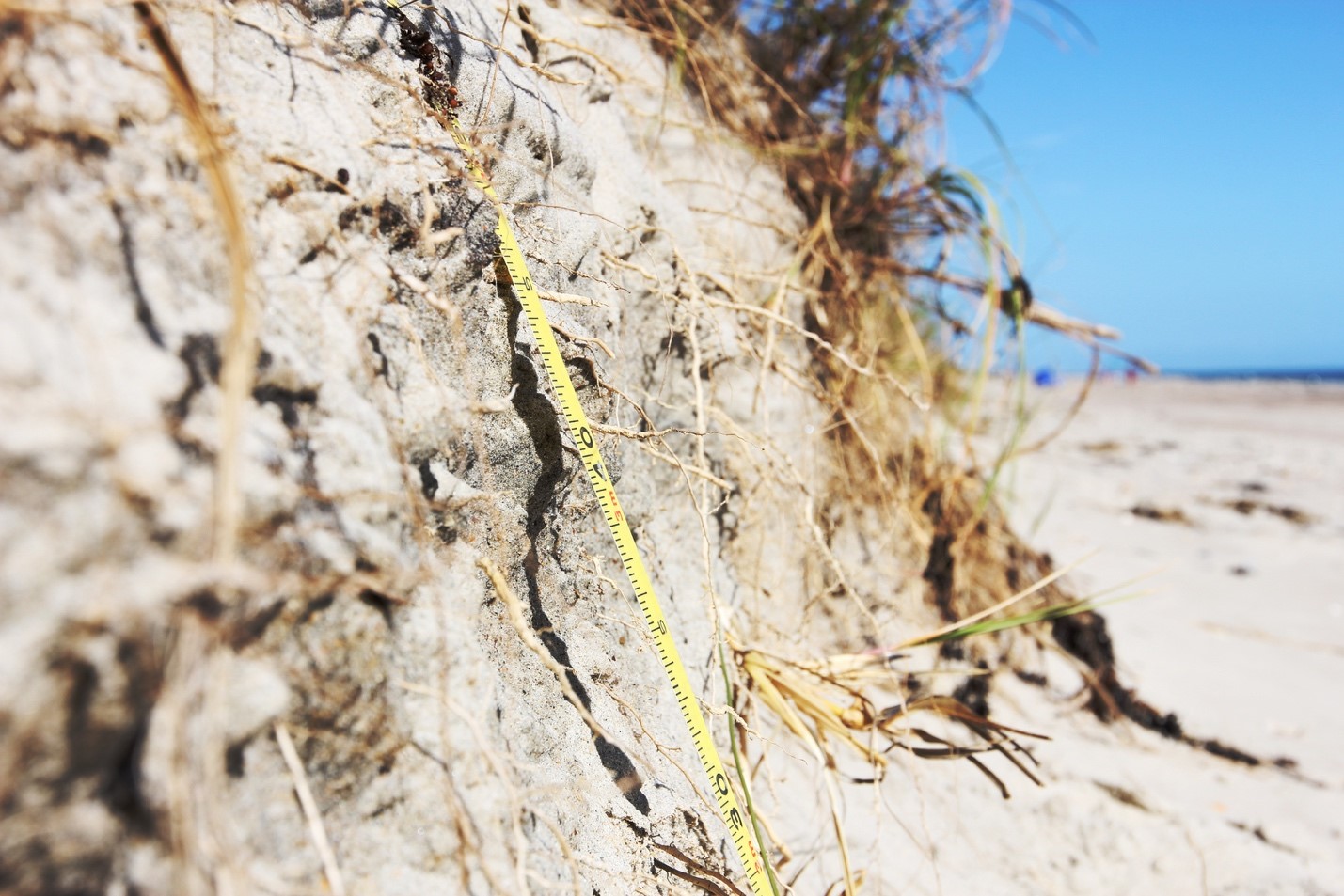 "Scarp" is the term used to refer to a dune that has been eroded by recent high water such as a strong storm or hurricane. Here, researchers from the UNC Coastal Environmental Change Lab measure the scarp on Atlantic Beach just one week after Hurricane Matthew hit the North Carolina coast in 2016.
The Cotopaxi volcano is located just 30 miles outside of Quito, the capital city of Ecuador. Due to its high level of activity and its proximity to a major metropolitan area, Cotopaxi is one of the most heavily monitored volcanoes in Latin America with 14 seismic stations, five infrasound sensors, four detectors of volcanic gases, and a system to detect whether or not magma is moving in the volcano's conduit. Thanks to the work of Mario Ruiz, the UNC Department of Geological Sciences maintains a close relationship with natural hazards officials in Ecuador and works diligently to monitor the activity of several dangerous volcanoes in the region.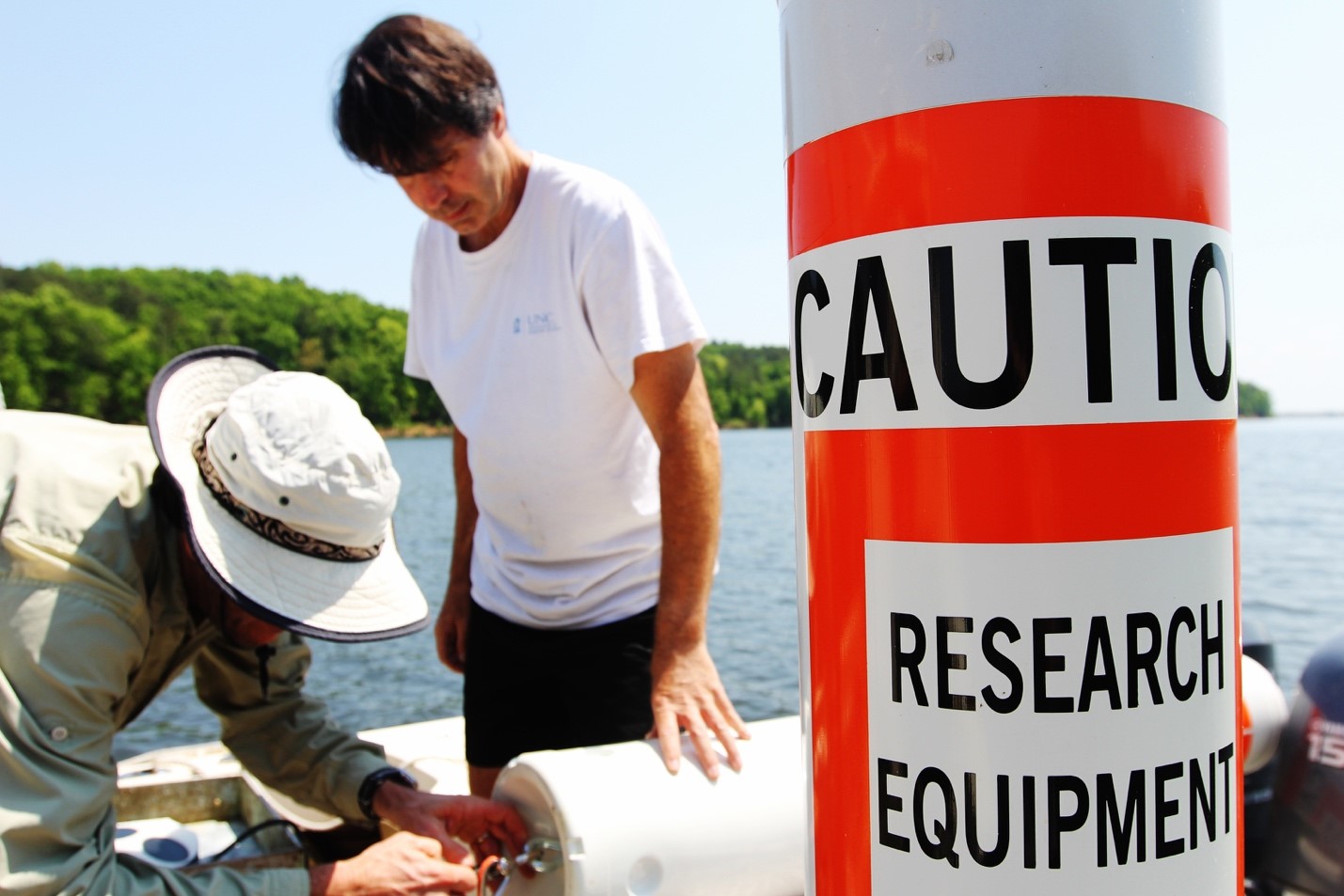 Since its impoundment as a reservoir in 1983, Jordan Lake's water quality has raised concerns among natural resource managers.  In 2009, the state developed rules intended to reduce the nutrients entering the lake and thus improve the water quality. Now, the North Carolina legislature has asked researchers at UNC to gather more detailed data about the sources of contamination to the lake, the impacts these are having in the lake, and strategies for controlling these inputs.
More than two dozen UNC faculty, staff, and students are engaged in a three-year study that includes the deployment of state-of-the-art instrumentation and laboratory analyses for measuring water quality in the lake. Here, a team from the UNC Institute of Marine Sciences prepares the equipment before lowering it into the water. They have deployed multiple stations in the Neuse River, as well as the New River, Onslow Beach, and Cape Lookout — but this is the first time they're putting them to work in a lake.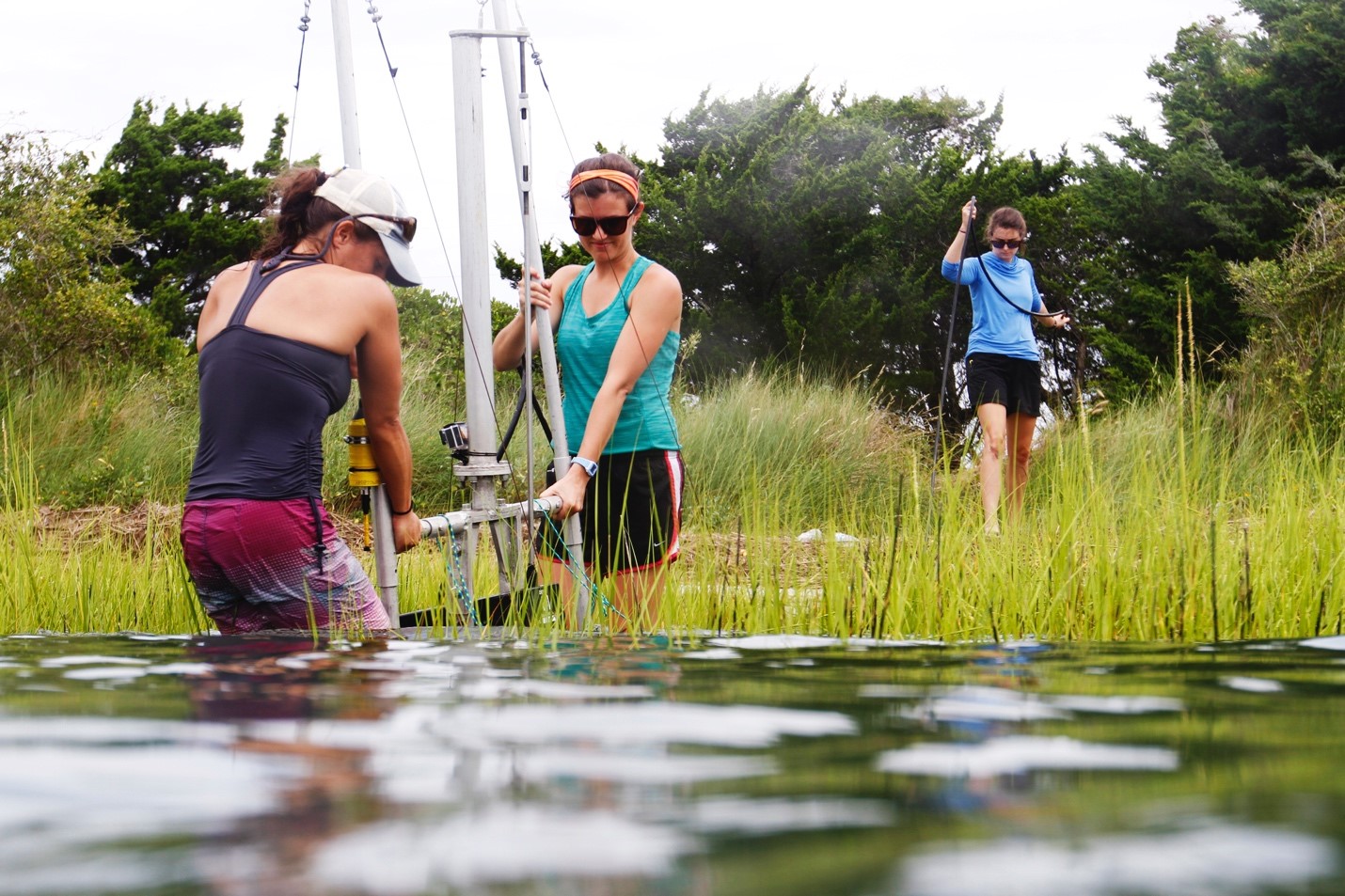 A team of graduate students from the UNC Institute of Marine Sciences moves their fish-finding rig into position in the marsh near the Duke Marine Lab in Beaufort, North Carolina. Carter Smith, Avery Paxton, and Becca Gaesser utilize a Dual-frequency Identification Sonar (DIDSON) to better understand how fish use different types of shorelines, ranging from human-built walls to natural marsh shorelines.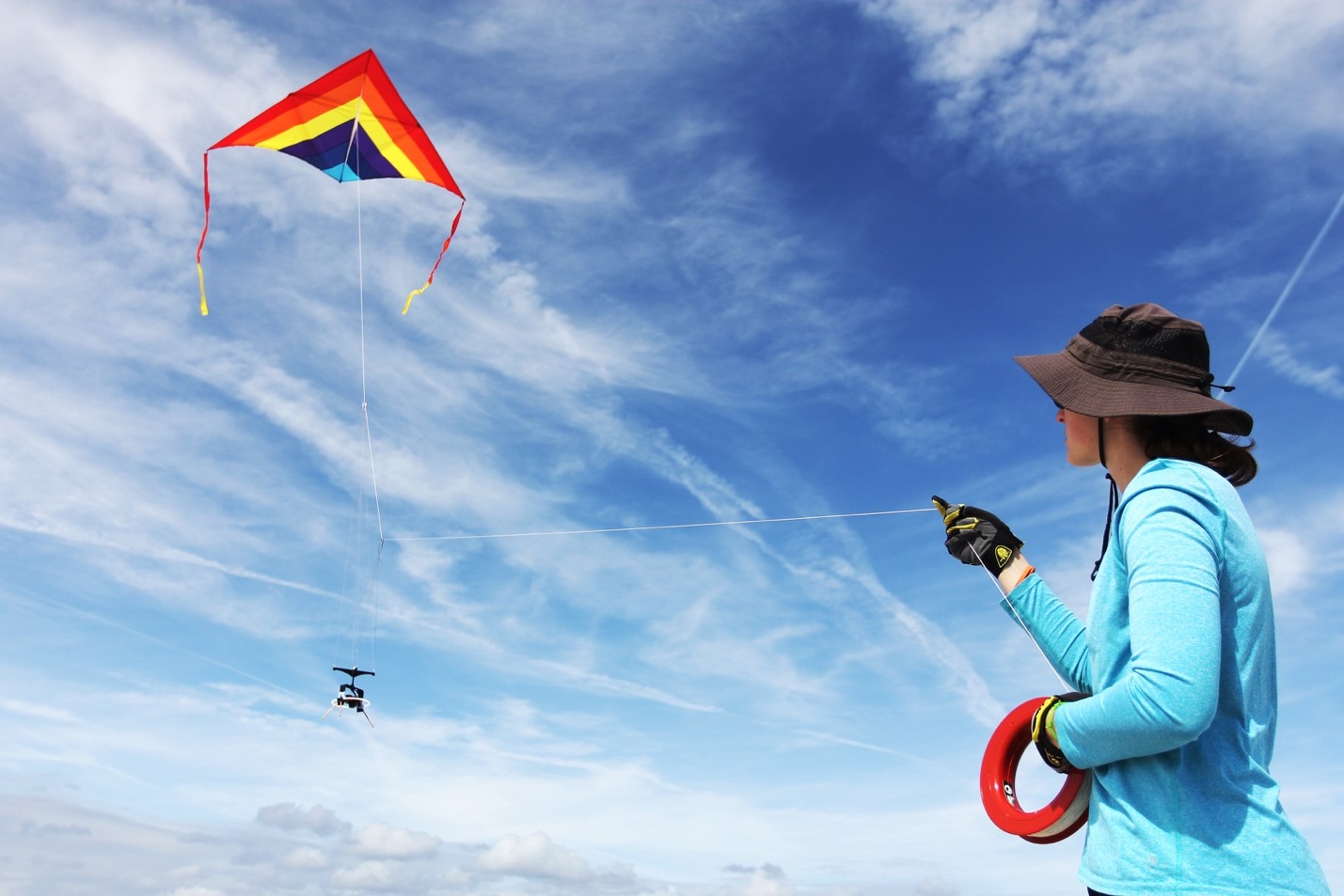 Elsemarie deVries, a graduate student the Department of Geological Sciences, obtains an aerial survey of dunes in Edisto State Park by flying a kite with a camera attached to it. The camera takes approximately 200 to 400 photos that are then stitched together with software to create a topographic model of the area. "You can measure changes in dune volume alongshore, not just in one line," she says.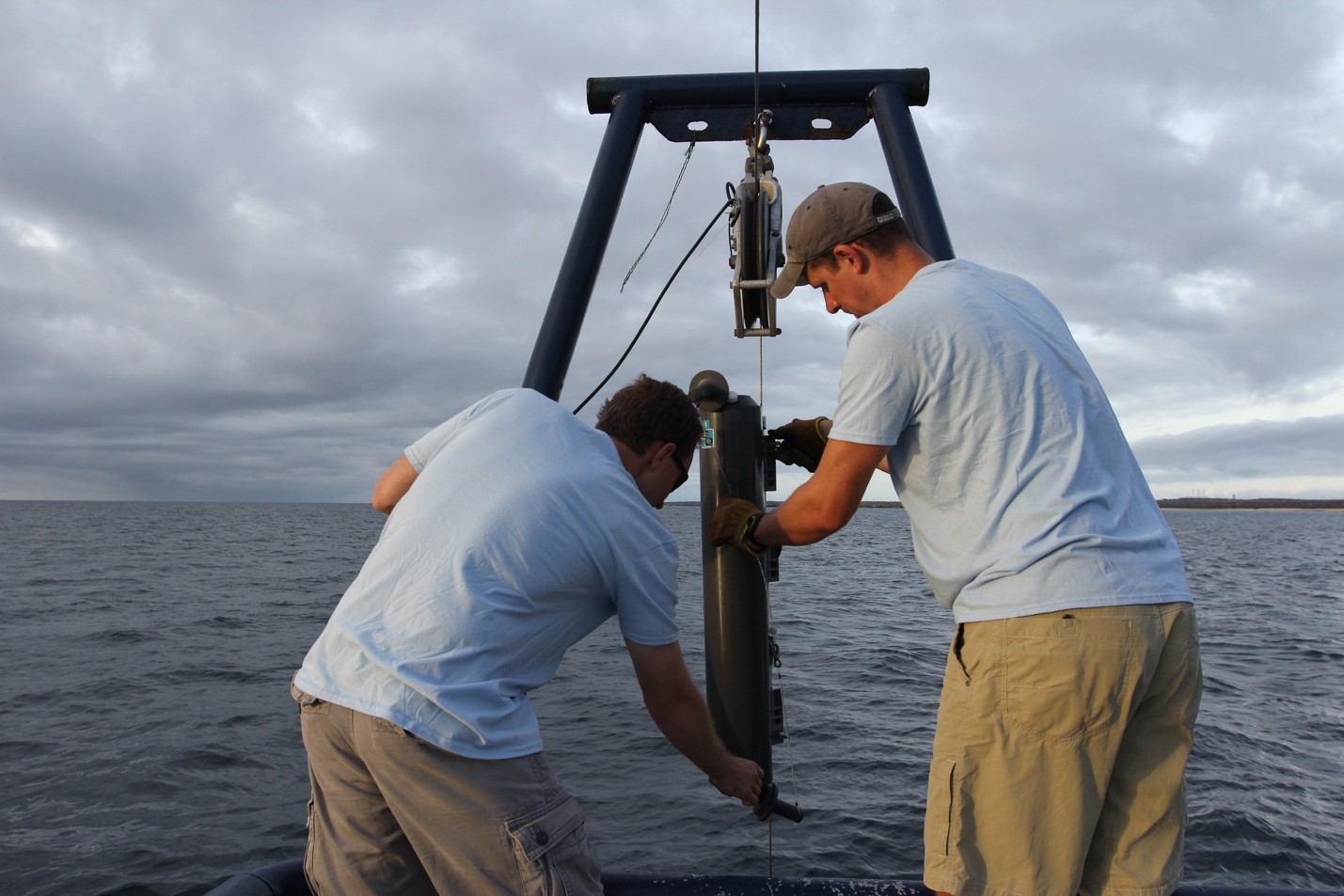 Scott Gifford (left) and Adrian Marchetti prepare to drop a Niskin bottle into the waters of Galápagos. During the last El Niño event in 2015, the two UNC oceanographers spent three weeks on a ship, collecting data on phytoplankton and productivity levels of the archipelago's water.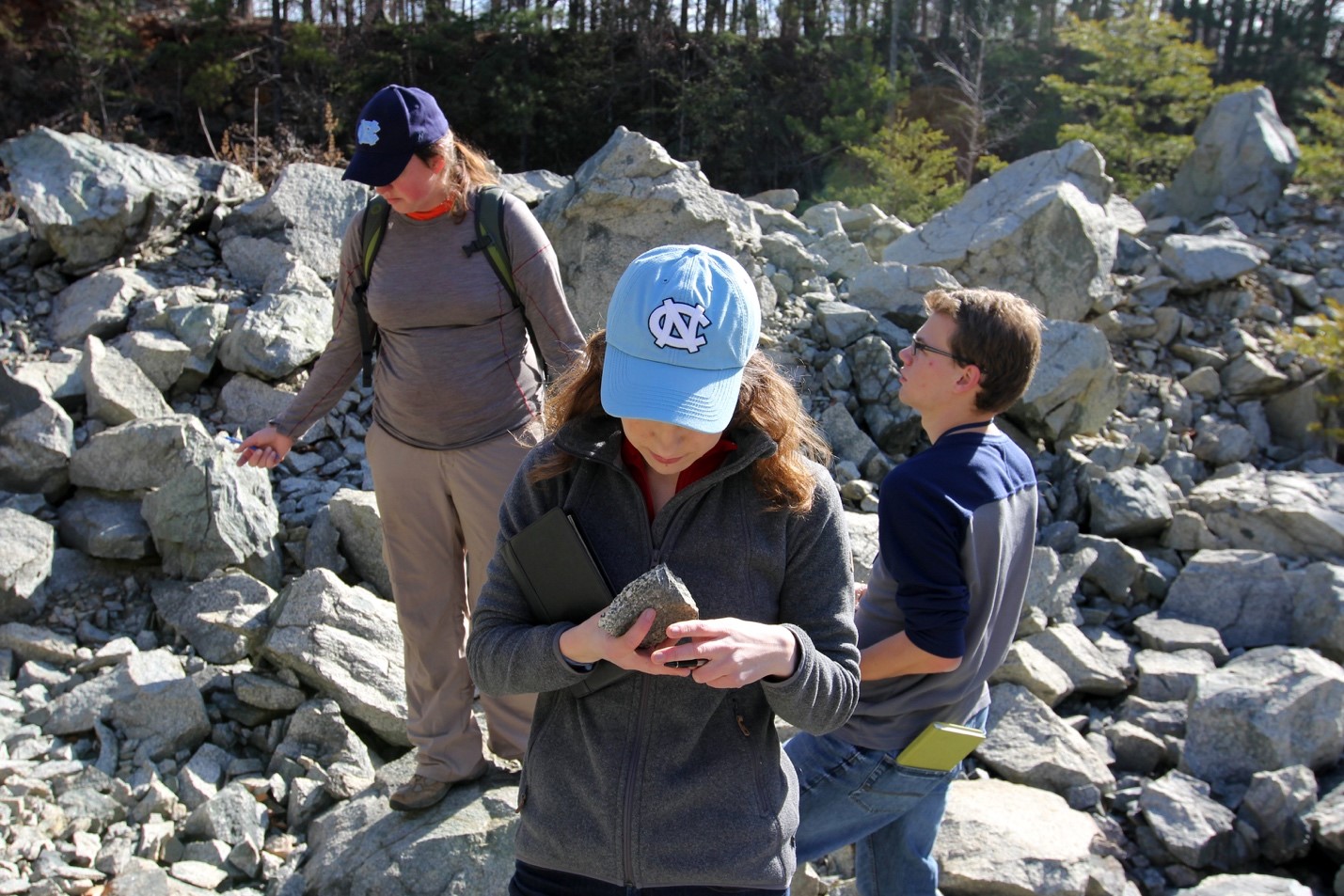 Students from the Department of Geological Sciences inspect rocks at an ancient magma chamber (roughly 600 million years old) in Hillsborough, NC. The Department of Geological Sciences regularly sponsors hands-on field work to encourage students to develop a stronger connection with the materials they're studying.