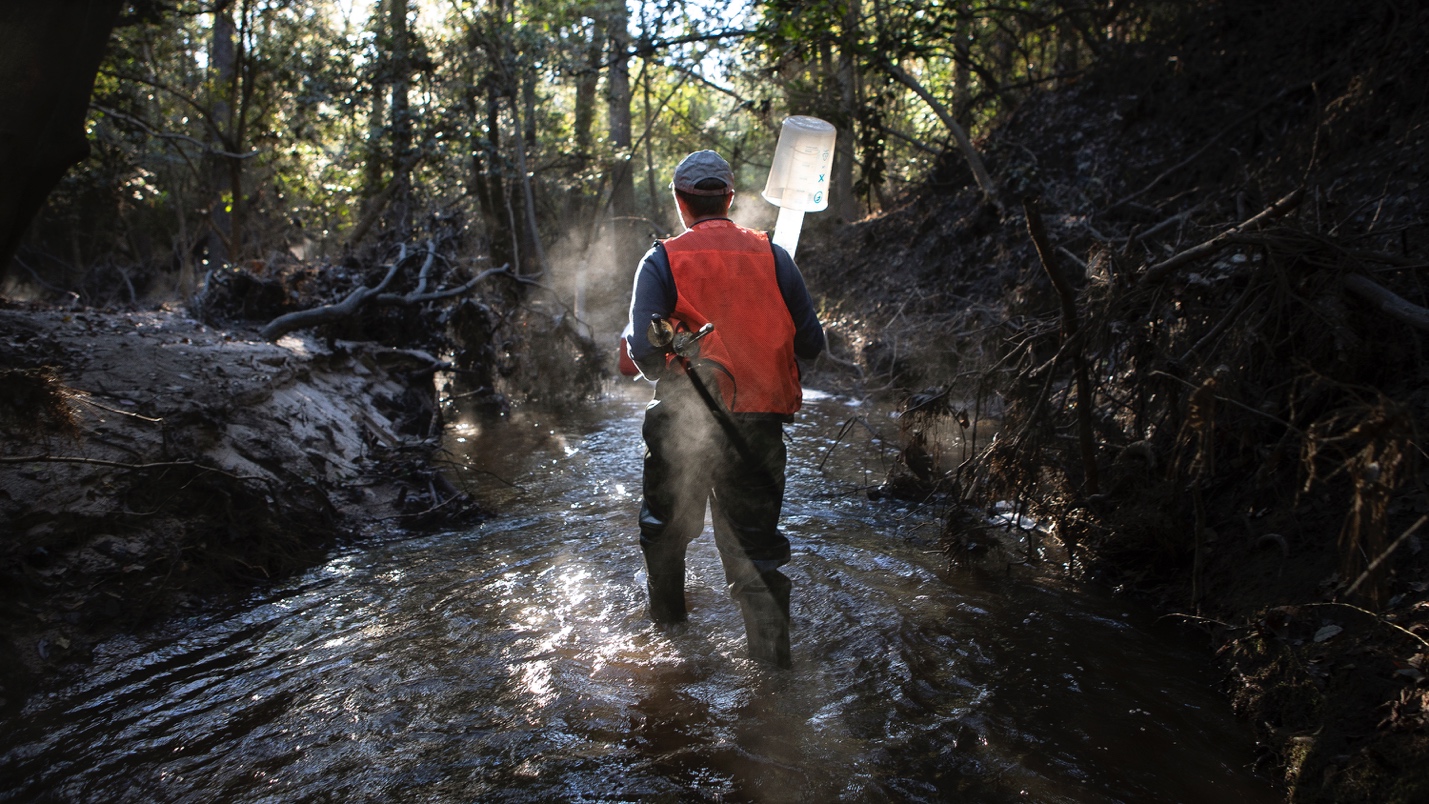 August 6th, 2019
Karsten Baumann balances his entire upper body over the side of the second-story porch at his home in Morrisville, retrieving a device used to gather air samples. The UNC-Chapel Hill environmental engineer at the Gillings School of Global Public Health brings the equipment into the makeshift lab in his kitchen, carefully removing each compartment to collect the filtration system within.
What is he looking for? He's not exactly sure.
Baumann is gathering samples to detect per-and polyfluoroalkyl substances (PFAS) — a family of chemicals used in the creation of products containing non-stick coating like cookware, food wrapping, clothing, cosmetics, carpet, and even dental floss. Because this class of chemicals contains over 5,000 different types, he will only be able to detect about 55.
Although these compounds are used in thousands of products, their impact on the environment and human health is largely unknown.
"I think the challenge has been that there haven't been enough health studies on these compounds simply because we're just realizing the extent of the problem, especially in the last decade or so," says Jason Surratt, a UNC-Chapel Hill atmospheric chemist and director of the NC PFAS Testing Network –– a collaboration between seven NC universities assembled to research these contaminants.
Extensive research has been conducted on one particular PFAS, called PFOA, in large part due to a lawsuit brought against the chemical manufacturing company DuPont for knowingly dumping the toxic chemicals in the Ohio River and contaminating drinking water supplies for residents throughout Ohio and West Virginia. In 2016, researchers published evidence of high rates of PFAS in the Cape Fear River basin – a drinking water source for 1.5 million North Carolinians.
Previous findings have associated PFOA with a multitude of health concerns like high cholesterol, weakened immune system and response to vaccines, ulcerative colitis, thyroid disease, fetal development issues, and kidney and testicular cancer. These compounds are thought of as systemic toxicants in that not just one organ is particularly impacted –– the entire body is affected.
Despite concerns from the scientific community, a majority of these compounds are approved for manufacture.
"A feature of all of these compounds is that they're unregulated," says Detlef Knappe, a civil and environmental engineer from North Carolina State University. "So there's no safe value that we can convey to the public or that a water treatment plant could target. So far, no PFAS has been tested that was deemed perfectly safe."
In recent years, researchers have uncovered high concentrations of these chemicals in drinking water sources across the country, causing alarm among communities. Knappe bets that if any one person in the United States were to have their blood sampled, PFAS would show up in the results.
The North Carolina PFAS Testing Network, established by UNC-Chapel Hill's NC Policy Collaboratory, was born out of this public health concern.
Formed in 2018 as a legislative mandate by the North Carolina General Assembly and currently funded with $7 million in state appropriations, the network is comprised of researchers from UNC-Chapel Hill, NC State University, Duke University, UNC-Wilmington, UNC-Charlotte, East Carolina University, and NC A&T State University.
Their goal is to answer a wide range of questions about these compounds — from how they are transported through water, air, and soil, to potential human health impacts, and the effectiveness of at-home removal systems.
The network consists of five different research teams, each focused on a different aspect of PFAS research.
"We're really fortunate in this state to have some of the nation's leading PFAS researchers at these universities," Surratt says, "So we've been able to assemble a very strong team of researchers to address this question."
History repeated
In 2010, Knappe was investigating how PFAS could be removed from water. Collaborating with scientists from the Environmental Protection Agency (EPA), the team focused on the Cape Fear River basin — a drinking water source for over 1.5 million North Carolinians.
On average, the researchers found 630 nanograms per liter of the PFAS GenX in their samples. At the time, this wasn't cause for alarm — the EPA provisional health advisory level was a combined 600 nanograms per liter for two types: PFOA and PFOS.
But then came a shift that changed everything, Knappe explains. In May 2016, the EPA changed the advisory level from 600 to just 70 nanograms per liter.
In addition, the team detected a large array of other contaminants in the river. Knappe estimates that by looking at the entirety of all the PFAS detected, their samples included tens of thousands of nanograms per liter.
"Besides GenX we found a lot of other PFAS in the water that were present at much higher levels, but we didn't have analytical standards for those compounds," he says. "So we couldn't exactly tell people, 'There's this concentration in the water.' We just had a big signal on the instrument."
This issue is common when searching for PFAS. With thousands of different types, researchers often run into the problem of "you don't know what you don't know."
GenX, designed as a "safer" alternative to PFOA, was approved for manufacture in 2009, but has been dumped in the drinking water supply as a byproduct since the 1980s. Only recently has it been detectable with today's technology. That same problem applies to the other PFAS; it is difficult for scientists to keep up with the pace at which these chemicals are released.
So who is responsible for these compounds getting in the water in the first place? The good news is researchers found a specific point source along the Cape Fear River basin. The bad news is this is not the only source — there is a plethora of ways these compounds can enter the environment.
The Fayetteville facility of the chemical manufacturing plant Chemours, a spinoff of DuPont, has been cited as the main source of these chemicals in the Cape Fear River. Not only has the facility released its PFAS-contaminated wastewater into the river for decades, but high levels of GenX have also been found in over 600 private drinking water wells within a 5.5-mile radius around the plant.
Since the Wilmington Star-News broke the story of Knappe's findings in 2017, state officials have been investigating and regulating the release of chemicals from the company, with varying degrees of success.
Efforts include determining if Chemours violated the terms of its permits and the Clean Water Act, as well as an order from Gov. Roy Cooper to assess whether a criminal investigation is warranted.
Those steps, though, are just the starting point of assessing the extent of PFAS across the state.
Statewide analysis
A morning fog rises off the shallow water as NC State University's Craig Jensen follows a fellow graduate student through a creek off the Cape Fear River in Fayetteville. At their designated sampling site, they carefully put their equipment on the shoreline and get to work, sticking a long metal rod into the soft creek bottom to extract the ground water below.
Over 140 miles away, NC State University toxicologist Scott Belcher and his team are wrangling a 10.5-foot alligator onto the shoreline of the Lake Waccamaw canal. Once the animal is safely subdued, they give it an on-the-spot vet check — determining sex, measuring its size, collecting a blood sample, and administering a tag.
While the scientists from each site are conducting dramatically different fieldwork, their goal is the same: gathering data for the NC PFAS Testing Network.
Two of these teams are looking at water contamination. One is sampling every public water municipality in North Carolina, totaling over 350 water sources, while the other is sampling private water wells across the state. The air emissions team looks at how the chemicals can be emitted through the air and deposited back down through rain. Then comes PFAS removal, investigating existing and emerging technologies that can remove these contaminants.
Last, but not least, is the applied research opportunities team, comprised of scientists looking to answer questions beyond those mandated by the North Carolina General Assembly.
They are studying human placentas to identify how PFAS affects development, taking samples from fish and alligators to see how the chemicals move through the food chain, gathering landfill leachate water to analyze its role as a point source, investigating what PFAS does to the immune system, studying how these compounds are taken up by crops, and building analytical models to understand how PFAS moves in the environment and living organisms.
Data collected over the course of the past year will be reported back to the North Carolina General Assembly and made public online. From this baseline information, they hope to better inform stakeholders what future studies and steps should be considered.
While the network is focused on PFAS in North Carolina, Surratt says concerns expand way beyond state borders.
"The thing that people need to realize is that PFAS like GenX is not only a North Carolina problem, it's a U.S. and worldwide issue," he says. "We're just realizing the extent of the it."