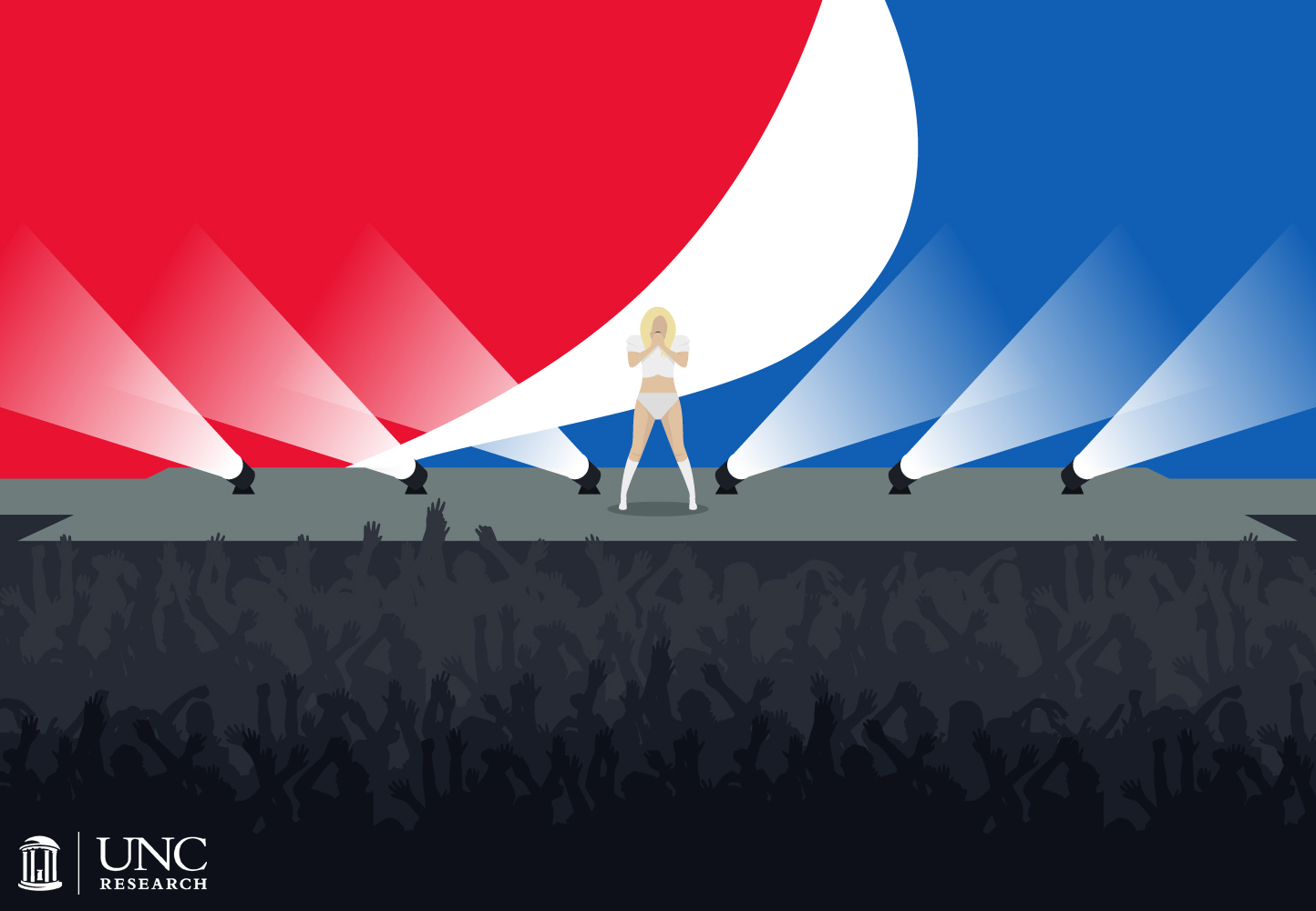 illustration by Corina Cudebec
February 7th, 2017
The roar of 70,087 fans at NRG Stadium in Houston, Texas settles into a calm murmur. The cameras pan toward the top of the stadium, and Lady Gaga appears, ready to begin the Pepsi Zero Sugar Super Bowl LI Halftime Show. As she sings a medley of "God Bless America" and "This Land is Your Land," a fleet of lighted drones form an American flag behind her. She then jumps from the top of the stadium and slowly descends toward the field, supported by cables. This is only the beginning of one of the most elaborate halftime shows in Super Bowl history.
It costs millions of dollars to put on a spectacle like this, so where does that money come from? It's right in the name of the show: Pepsi.
An NFL sponsor since 2002, Pepsi has funded the halftime show six times. Jonathan Jensen, a sports marketing researcher at UNC, says that the company's commitment to sponsor the show comes from a long-term strategy to connect with youth. "They're trying to say Coke is the old guard – what your grandma and grandpa drank. It's been around forever," Jensen says. "Pepsi's more about youth and fun and being different. That's how Pepsi uses sponsorship. "
Jensen studies the longevity of sports sponsorships, particularly those related to non-profit sports organizations like the World Cup or the International Olympic Committee, which depend on sponsorships to exist. They typically view the percentage of sponsors that renew their contracts as an indicator of the health of the relationship.
This method is somewhat archaic, Jensen says, because it only accounts for the beginning of a sponsorship and ignores other factors that may influence a renewal actually happening. He takes a different approach, using analytics from the sports industry as inspiration for a new way to study these sponsorships: survival analysis.
Probabilities and predictive analytics
"Analytics have told us so much about what's happening on the field or on the court, like when you should pull your goalie in hockey or why you shouldn't take a mid-range jumper," Jensen says. "It's really just over the past couple of years that it has been applied off the court, to the business side of an organization."
Biostatisticians typically use survival analysis to predict the length of a person's life, inserting different events into equations to determine how they affect survival past a certain point. These events, called covariates, could be anything from being diagnosed with cancer to starting a different diet. Covariates either increase or decrease the hazard in the equation, or the probability of the unwanted outcome occurring. For a biostatistician, that's usually a person's death. For Jensen, it's the end of the sponsorship.
Economies are a big factor into whether or not a renewal may happen. Specifically, inflated economies are bad for sponsorships. Jensen's research found that for every 1 percent the average annual growth rate of a country's consumer price index increased, the likelihood that a sponsor in that country would renew their contract decreased by almost 30 percent. "If you're the decision-maker and you're deciding if you're going to continue this sponsorship, prices are rising but maybe your budget isn't," Jensen says.
Congruency factor
Congruence between the sponsor and the sport organization also plays a role in how long a deal will last, Jensen says. Sponsors whose products or services fit with the organization tend to have much longer sponsorship deals. "Congruence is like the fit between the brand and the property, such as Adidas sponsoring the World Cup," Jensen says. "They use the ball. They're endemic to sport. It kind of makes sense, right?"
Congruence has a huge impact on how long a sponsorship lasts, decreasing the likelihood of one ending by over 60 percent, according to Jensen. Even partnerships that don't exactly match up — think Buffalo Wild Wings sponsoring college football bowl games — have this effect. It's only important for there to be a perceived relationship between the sponsor and organization.
"When you think Buffalo Wild Wings, what do they want you to think?" Jensen queries.  "Sports, right? It says it right in the commercial: Wings, beer, sports. So even though chicken wings have nothing to do with sports, it's a congruent partnership."
Too much clutter
One thing that may actually increase the likelihood of a sponsorship ending is what Jensen calls "clutter" — how many sponsors there are. Think about the number of logos and brands that cover a NASCAR car. Each additional sponsor increases the probability that a sponsorship will end by about nearly 50 percent.
"In the Olympics and World Cup context, you're talking about a very small group of elite, global sponsors: Coke, McDonald's, Samsung, Panasonic," Jensen says. "They don't want additional sponsors coming in there and stealing their thunder, and research has shown that cognitively consumers can only accept so much information."
Brand equity, or the commercial value that comes from how consumers perceive the brand, also affects the length of sponsorships. Coca-Cola, for example, had the highest brand equity in the world until Apple dethroned them. These businesses look at sponsorships as long-term brand building exercises, according to Jensen. Typically, a company will use an event like the Olympics to associate themselves with feelings around that event.
"The Olympics are about people coming together and the power of sport and all this good in our society," Jensen says. "When you put your brand next to those Olympic rings, people respond to that."
This is why brands that don't meet the congruence test may choose to sponsor an event. Wells Fargo chooses to sponsor a number of UNC sporting events, despite banking and sports not aligning on even a subconscious level. The attitudes consumers associate with a Carolina football game can transfer into how they feel about Wells Fargo, and as a result may choose to do business with the company in the future. This can work for any type of company.
"There's a like-mindedness that if you see their sign during a football game, you're going to say, 'Oh, they like UNC just like I do.' So when you go to the grocery store, whether you consciously do it or not, you're going to choose that brand over another brand because you're going to have positive feelings about it," he says.
Knowing what affects sponsorship longevity can help extend the lifespan of sports organizations, as most depend on the money they provide to survive, Jensen points out. It is much harder for an organization or event to get a new sponsor than to keep the ones they already have. "You've created all this investment, and to not continue it doesn't make a lot of sense," he says. "You're trying to change attitudes about your brand, and that's what sponsorship typically does."